Every industry in the world organizes events and conventions where people can meet and share their experiences. Naturally, the same goes for the entertainment industry – the fans simply love events where they can meet their favorite stars, get autographs and take pictures.
Although porn is still a taboo subject, the adult industry still enjoys immense popularity. So much so that there are now porn events and conferences being hosted throughout the year.
Now, you might be wondering: what's the difference between a porn convention and a porn conference?
It's simple. A porn conference is a gathering of people who discuss a certain adult topic with a specific purpose. Here, we usually see a keynote speaker who delivers a speech.
On the other hand, conventions are far larger in size and they bring together like-minded people so that they can learn and talk about new happenings, go over the new products and so on. Conventions are typically held annually and they have are constantly growing in size.
To make things more complicated, we also have porn exhibitions where adult exhibitors display their work as well as film festivals that recognize the best works in a given year.
Now that we have explained the basics, let's focus on the best porn conventions in the world.
Porn conventions
AdultCon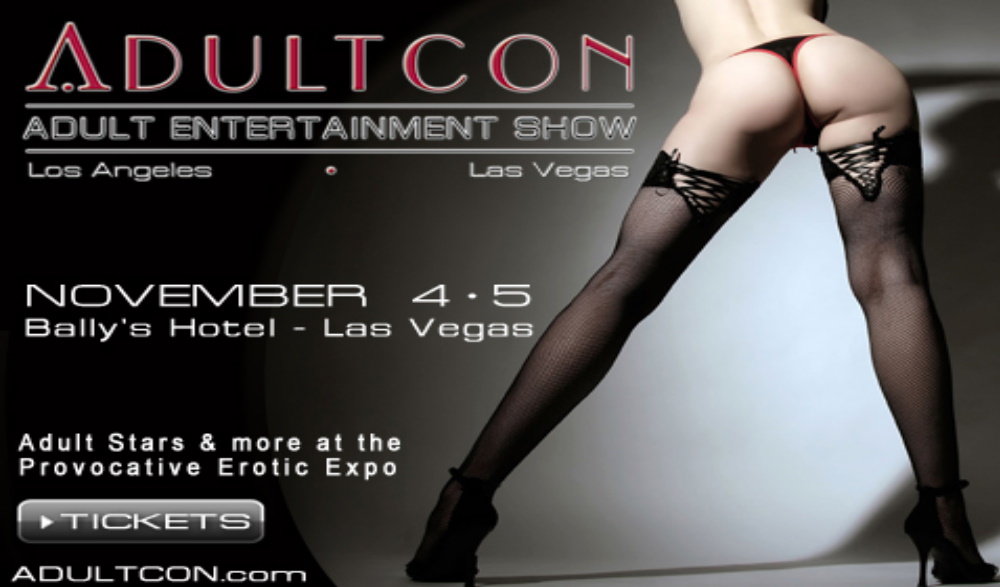 When: TBD 2020
Where: Los Angeles Convention Centre, Downtown L.A., CA.
Everyone has probably heard of AdultCon, the most popular adult entertainment convention with a reported attendance of 10,000 in 2016. Supported by MyFreeCams, AdultCon takes place three times a year in the Los Angeles Convention Centre in the vibrant Downtown L.A.
The convention was established back in 2001 and up until 2007 it used to hold the AdultCon award ceremony. Although they don't organize the award ceremony anymore, fans can still come to enjoy exhibits, seminars, adult film performers, exotic dancers, photo ops, etc.
Tickets are available on their official site as well as on the actual event site. It's important to note that these tickets don't have discounts and that you can't find them on any deal sites. The prices vary according to the type of the ticket:
1-Day Ticket – $40
VIP Ticket – $50
Gold VIP Ticket – $60
Industry Pass – $150
Each ticket will get you a free $5 AdultCon casino chip that you can spend as cash inside the show. The more expensive tickets include additional benefits, such as free samples, free re-entry, a seat, etc.
AdultCon 31 has been postponed due to the pandemic and will be re-scheduled in 2020.
AVN Adult Entertainment Expo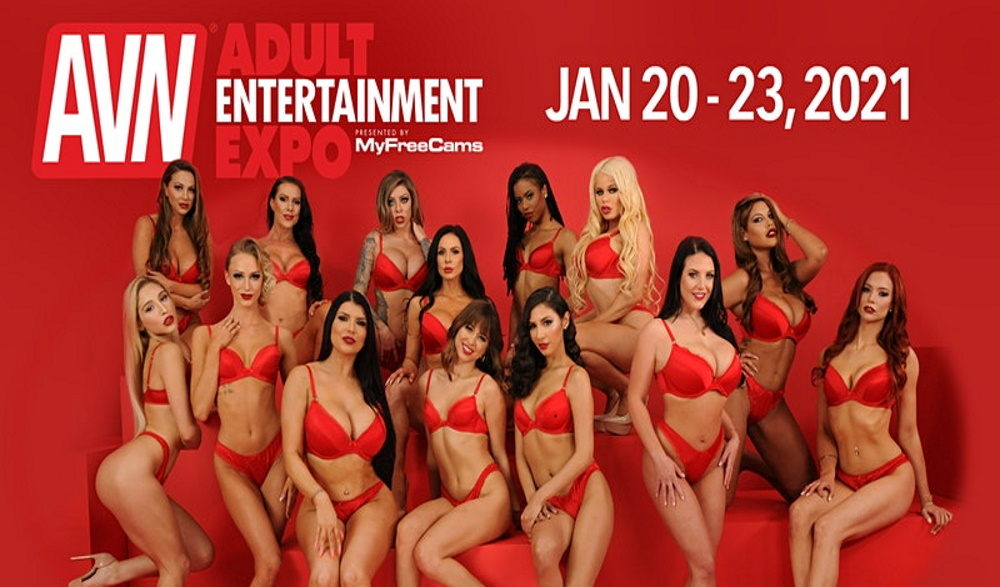 When: January 2021
Where: Hard Rock Café, Las Vegas, NV.
AVN Adult Entertainment Expo is another event that's brought to you by MyFreeCams and held every January in the Hard Rock Café in Las Vegas, Nevada.
This increasingly popular porn convention lasts for 4 days and it mixes industry-only events with open hours, when fans can come to ask for autographs, pictures and memorabilia from the most popular porn stars. Unlike AdultCon awards, AVN Awards are still the cherry on top after the expo.
Besides the award show, this expo consists of 3 more events: AVN Novelty Expo, Adult Entertainment Expo Business, and Adult Entertainment Expo Fan.
This year, the convention will take place on January 23-26, and you can purchase tickets on their official website. You can check all the ticket options here. Ticket prices vary from $90 to $1,500, depending on your preferences.
Exxxotica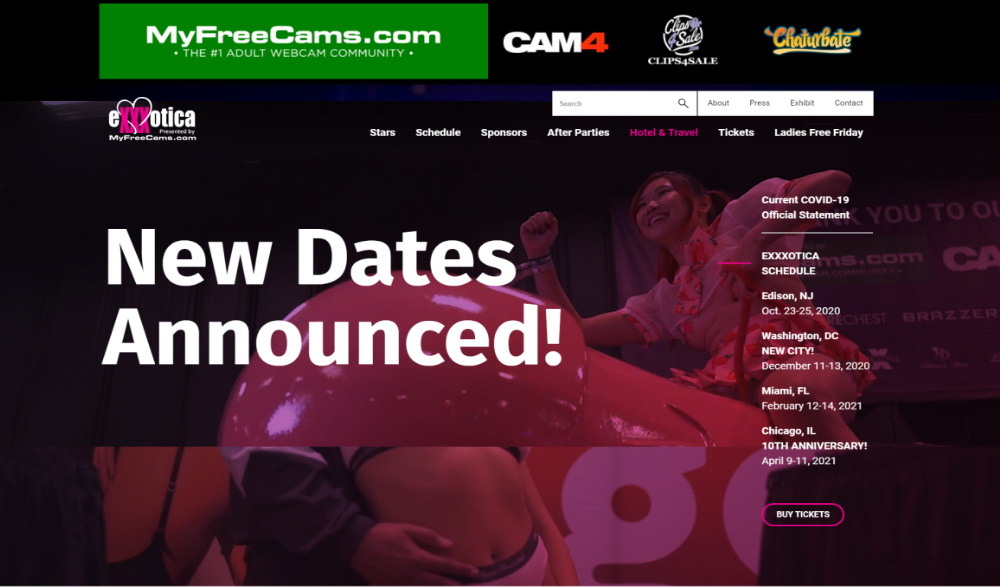 When: October and December 2020, February and April 2021
Where: Edison NJ, Washington DC, Chicago IL, Miami FL
Exxxotica is the largest adult event that celebrates love and sex in the USA. It takes place over the course of three days in four different cities:
Edison, NJ – October 2020, 23-25
Washington DC – December 2020, 11-13
Miami, FL – February 2021, 12-14
Chicago, IL – April 2021, 8-10
This event is sponsored by MyFreeCams, Chaturbate, Bad Dragon, and Clips4Sale. This means Exxxotica has something for everyone, whether it's a date-night or a bachelorette party. It also hosts entertainment stages where fans can meet their favorite stars and take pictures with them.
For those who are a bit more kinky, there's the Exxxotica Dungeon, where you can watch BDSM demonstrations and learn all about the fetish lifestyle. And if you're feeling adventurous, you can even participate in the event.
As far as the tickets are concerned, there are 3 different types of tickets available:
1-day General Admission – $49.99
1-day VIP Admission – $69.99
3-day VIP Admission – $139.99
Ladies can always get a free ticket on the Ladies Free Friday.
Sexpo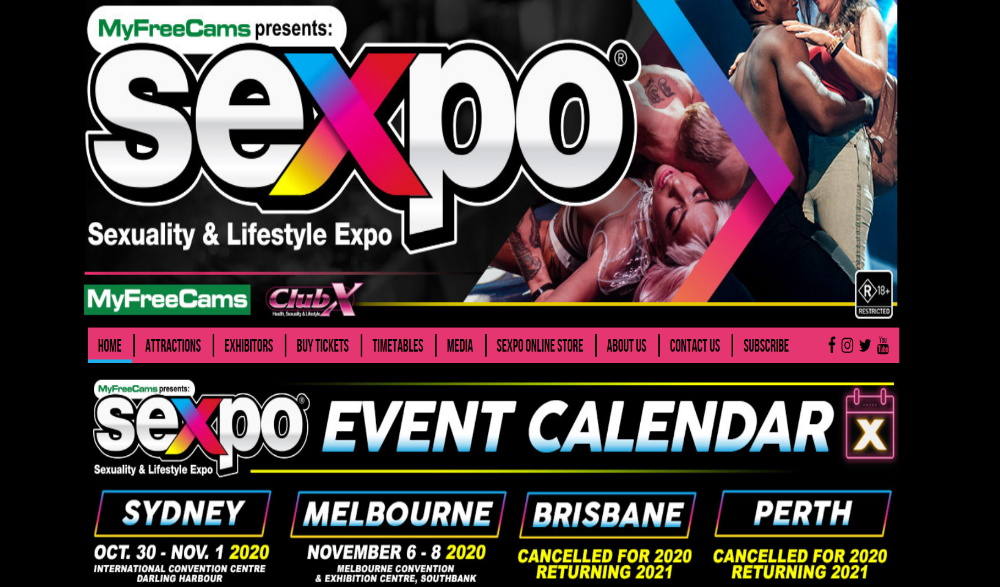 When: October and November 2020
Where: Brisbane, Melbourne, Sidney, Perth
Despite its name, this convention isn't about sex only. Here, you can talk about everything that concerns health and lifestyle, and celebrates different sexualities.
Sexpo was first organized in Australia more than 20 years ago. However, after they grew in popularity, the show went worldwide, visiting South Africa and London.
At Sexpo, there is everything from international performers, female and male stage acts, comedy hypnotists, fetish demonstrations and audience competitions. Visitors can even play porn games inspired by ordinary carnival events.
XBIZ Show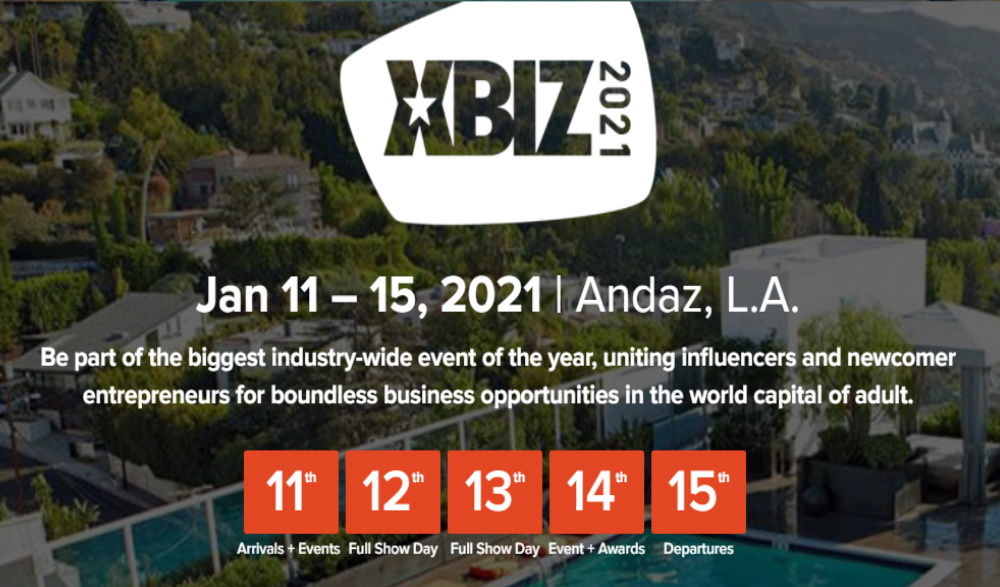 When: January 2021
Where: Los Angeles
XBIZ Show is another popular event taking place in North America, sponsored by ManyVids.
This convention mixes business with fun. Every year, there are powerful industry players that share their tips and tricks on how to succeed in the adult industry. This is done through various seminars and workshops held by some of the most well-known adult brands. They cover all aspects of the adult industry, from content to interactive lessons, from marketing to technology etc.
Perhaps the most interesting thing at this convention is the Happy Hour gathering, where attendees can meet and form connections that they need. There is also the Mix & Meet market, where you can see the educational part at play. This is where you can check other products and processes that you need in order to boost your business.
As we already said, XBIZ Show is not all about being serious, and it puts a special emphasis on fun. Visitors can relax at the sexy Lingerie Party, as well as the XBIZ Exec Awards, where the individual achievements in the adult industry are celebrated.
At the end of this outstanding event, you can attend the glamorous XBIZ Awards. This awards show picks the best of the best in movie production, digital media, pleasure products and retail.
If you are ready for this roller coaster ride of a convention, it will take place from January 11th till January 15th, 2021. However, you will have to contact them for more information regarding tickets.
Everything to do with sex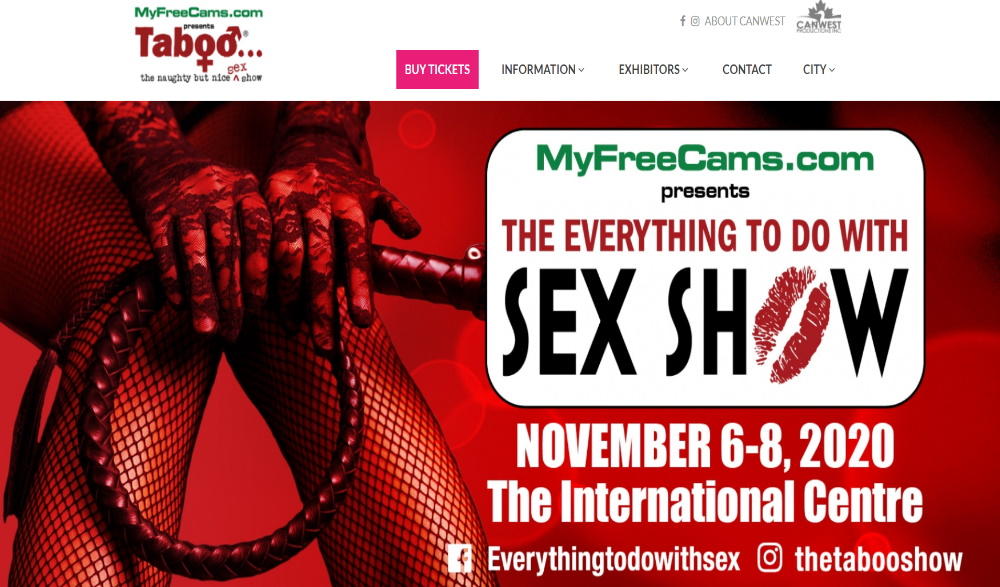 When: November 2020
Where: International Centre, Mississauga, ON
Here's another adult entertainment convention sponsored by Clips4Sale that you simply can't miss. It takes place every November from 6nd till 8th at the International Centre in Mississauga, ON.
At Everything to do with sex, you can witness various entertainment acts, provocative and educational seminars, unique adult shopping experiences, fashion shows and above all, live demonstrations.
This event is open to the media and tickets can be bought at the site for just $20.
Webcam conventions
Bcams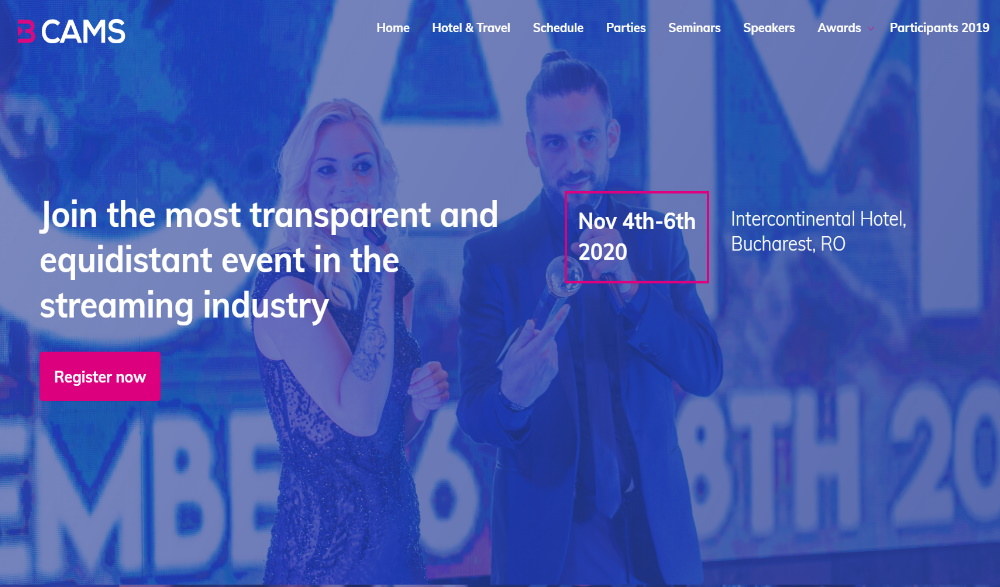 When: November 2020
Where: Hotel Intercontinent, Bucharest, Romania
Webcam events bring us to Europe, more precisely Bucharest, Romania, where Bcams takes place in the luxurious 5-star Hotel Intercontinental, which is situated on the University Square.
Bcams brings together webcam sites, independent cam models, webcam studios, and anyone  involved or interested in this industry.
There are no promotions or speeches here, this is an event that allows people in the adult industry to meet each other and connect in a more meaningful way. It's also a good opportunity to learn for rookie models and performers.
Bcams organizes two award shows each year. The first one is the Cam Site Awards, where they honor the best cam studios and models. The second one is the Studios Awards, whose purpose is to bring into the spotlight the best model from each studio. This way, every webcam studio gets a chance to shine, regardless of its size or financial power.
LalExpo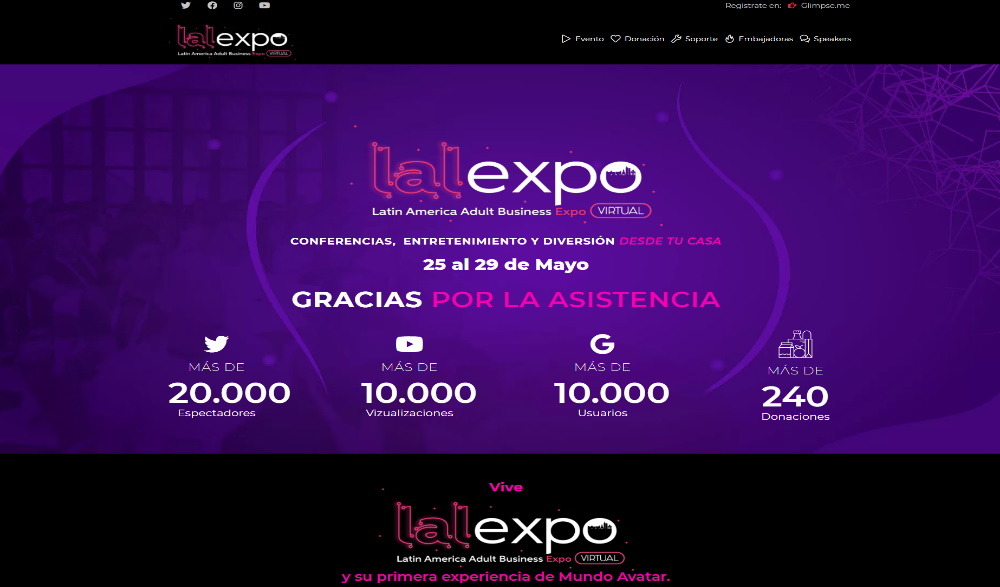 When: May 2021
Where: Colombia
Sponsored by LiveJasmin and a host of other webcam platforms, LalExpo is the biggest adult expo happening in Latin America.
This event unites over 600 webcam models and studios from every country in the world, giving them an exclusive opportunity to meet up and talk about the current events and news in the webcam industry.
This convention mixes business with fun, as it combines business seminars and panels with friendly meetings and parties. This means you can present your brand and company as well as learn about the webcam tips and practices from all over the world.
For more information on tickets and the event in general, you can contact them via email, Skype, or call them on the phone. You can find all of this information on their official website.
Fetish conventions
Fetish Con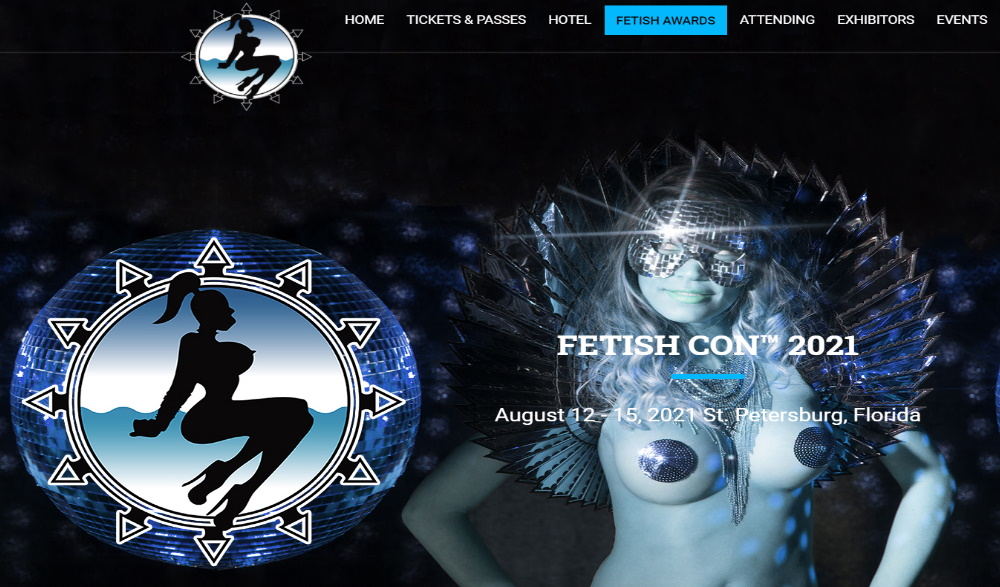 When: August 2021
Where: St. Petersburg, Florida
We kick off the next category on our list with Fetish Con, the leading porn convention dedicated to fetishes, including everything from BDSM to scatplay.
This is an annual adult event that consists of classes and lectures about different fetishes and a healthy lifestyle that incorporates such practices. In addition to that, it provides retailers with an opportunity to sell their adult products and sex toys.
FetishCon was first held in 2001 in New York, briefly moved to Tampa, Florida in 2004, and then went on to St. Petersburg, Florida where it's been held each year since 2015.
In 2019, Fetish Con will take place on August 12th – 15th. After the convention, the audience can enjoy the annual Fetish Awards which celebrates the best individuals in the fetish porn niche.
Westcoast Bound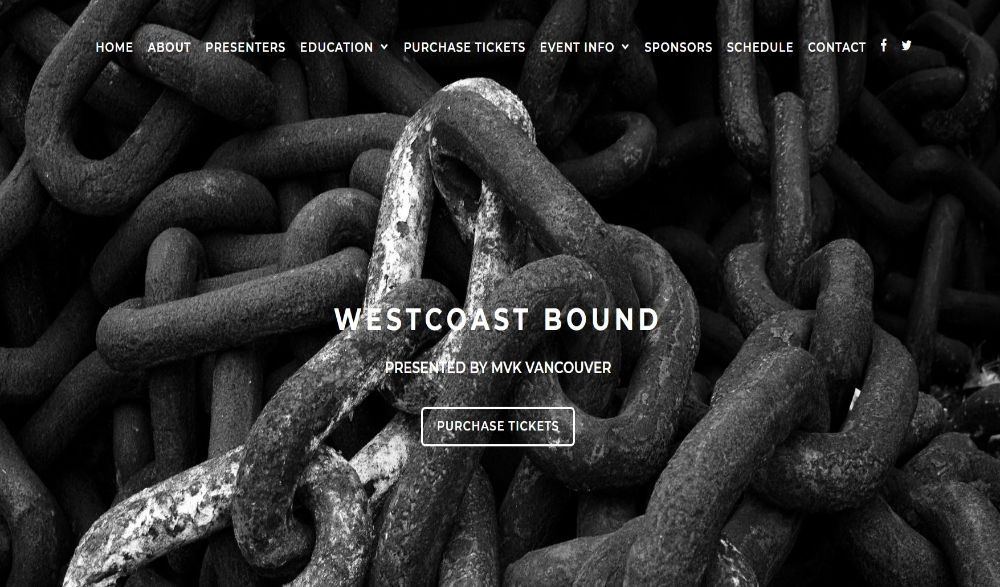 When: January 2021
Where: Vancouver, Canada
Westcoast Bound takes place in Vancouver, Canada and it is probably the wildest fetish convention out there.
There's something for everyone, including educational classes as well as roleplay parties and suspensions. In addition to that, the organizers promise star presenters at the event.
Westcoast Bound tickets can be purchased online or at any Vancouver Dungeon Party. There are 3 types of tickets available, and their prices range from $125 to $200. At the time of registration, visitors can also buy goods, such as t-shirts and hoodies.
BoundCon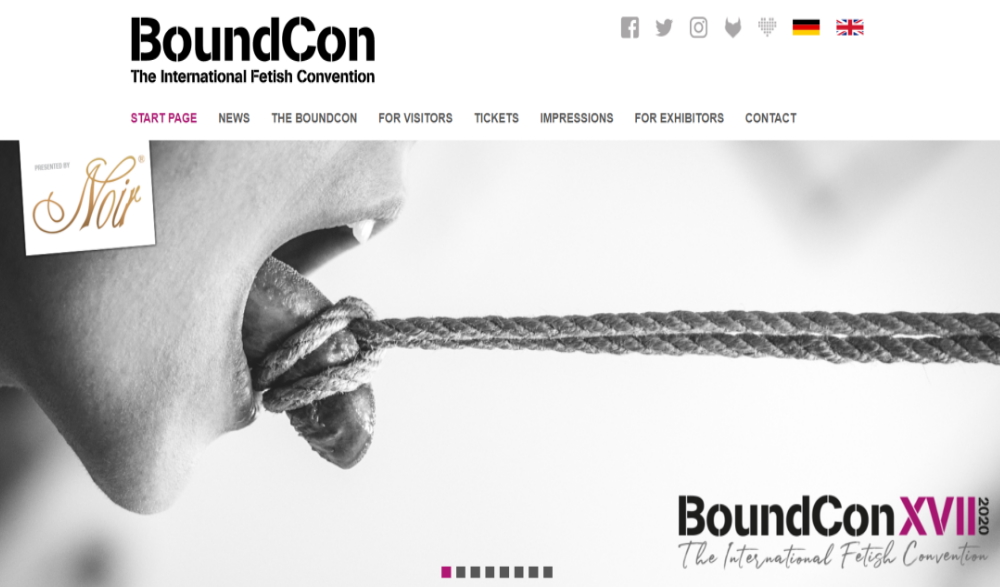 When: May 2021
Where: Munich, Germany
BoundCon is arguably the biggest European fetish porn convention.
What you can expect on BoundCon are fetish workshops and a lot of shopping. However, that's far from all. There are more than 100 exhibitors from the international fetish scene, close ups of international star guests and top models, as well as custom photo shoots in the new studio.
This year, a number of popular stars and performers will make an appearance and a special, never-before-seen act will be performed by the professional wrestler VeVe Lane, who implements bondage wrestling in her fighting style.
People who want to attend this show can buy tickets on the BoundCon official website. It's important to note that VIP tickets are only available in advance and that they ship all tickets once a week. Further, there are only three ways to get the tickets: through pre-sale, via PayPal or at the box office.
Hentai conventions
Frolicon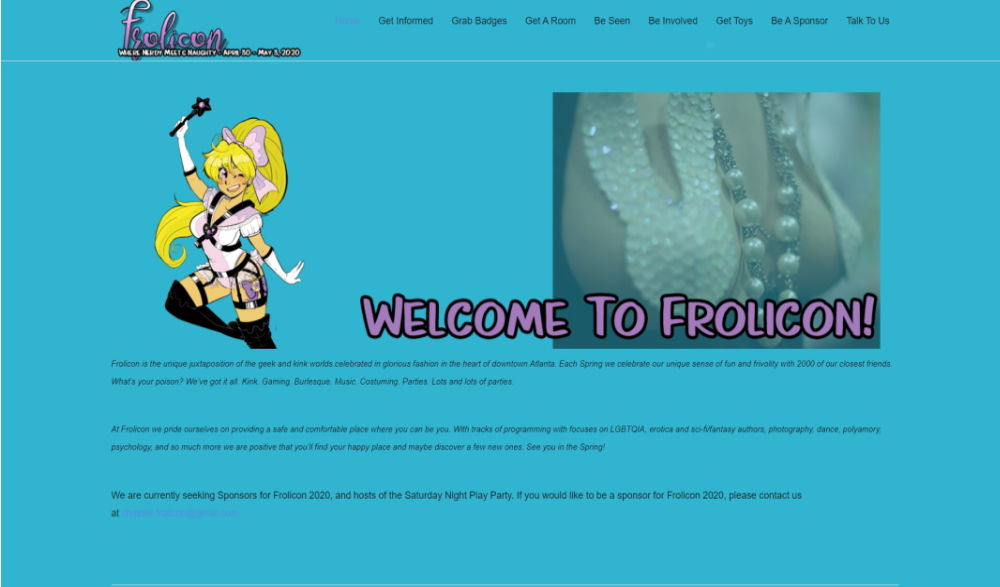 When: December 2020
Where: Atlanta, Georgia
Frolicon is a mix of kinks and geeks, so it's open to the LGBTQIA community, erotica and sci-fi/fantasy authors, photography, dance, polyamory, psychology and many more fun options.
The event is organized every spring in the downtown Atlanta and brings together porn enthusiasts from all over the country. Yes, that means there there will be parties – a lot of them. And a surprising amount of nudity as well.
Now, although the event is a free for all, strict rules apply outside the convention outside of the convention. Make sure to read the full list of do's and don'ts by clicking here, if you decide to visit Frolicon.
The ticket prices range from $20 to $130, depending on their duration.
Trade shows
ETO Show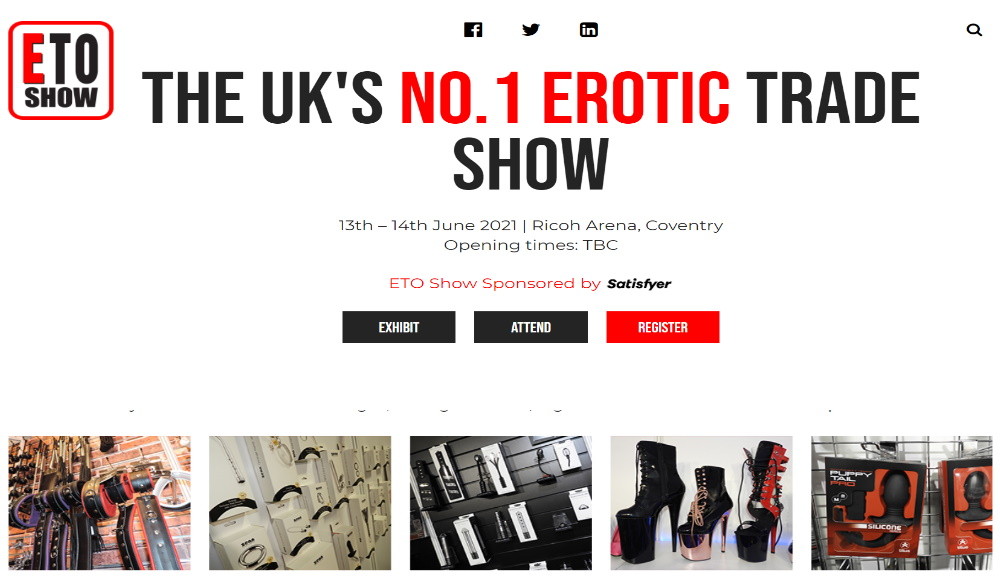 When: June 2021
Where: Ricoh Arena, Coventry, London
ETO is the number 1 erotic trade show in London. It takes place in summer, more precisely in June, in the Ricoh Arena in Coventry.
There's no better place for you to showcase your newest products, as over 1,300 visitors attend the even regularly. It's also fairly easy to participate, you just need to get in touch with the organizers and provide a brief description on what you plan to do.
Moreover, ETO show is a great opportunity for you to stock up on sex toys and adult products at accessible prices, because the event hosts hundreds of the largest porn distributors and manufacturers each year.
Of course, they have an award show as well, allowing you to build up your brand and portfolio with valuable certificates.
If you want to receive regular updates on the upcoming event, click here to register on their official website.
ANME Founders Show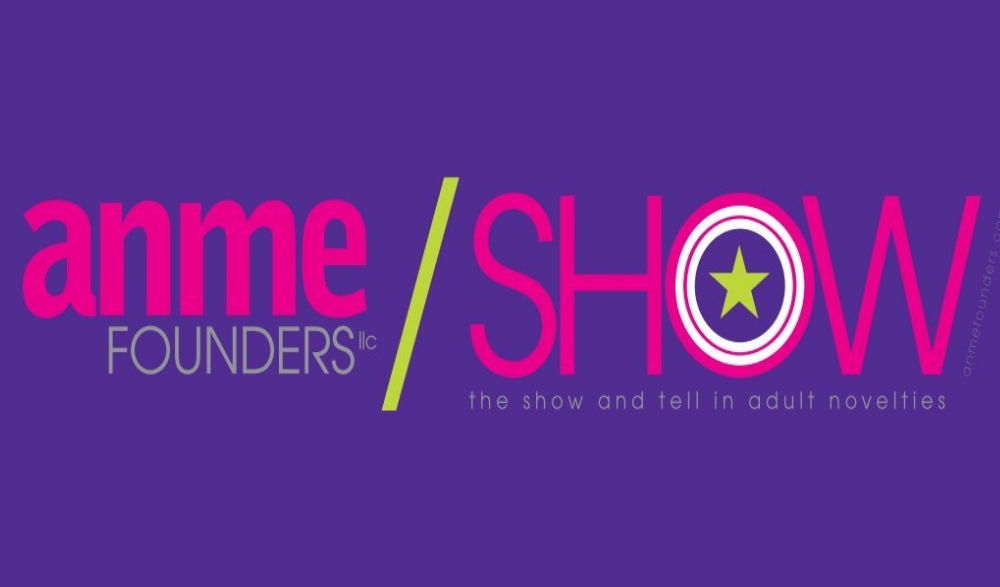 When: January 2021
Where: Los Angeles Marriott Burbank Airport, Los Angeles, CA
ANME stands from Adult Novelty Manufacturers Expo. This show will take place on January 10th – 11th, 2021 at the Los Angeles Marriott Burbank Airport in Southern California.
This tradeshow is for the US and Canadian based manufacturers who want to showcase their newest products. They can present sex toys, lingerie, lubricants and novelties. The good thing is that visitors can take samples home.
In order to attend this event, you can buy badges.
Altitude show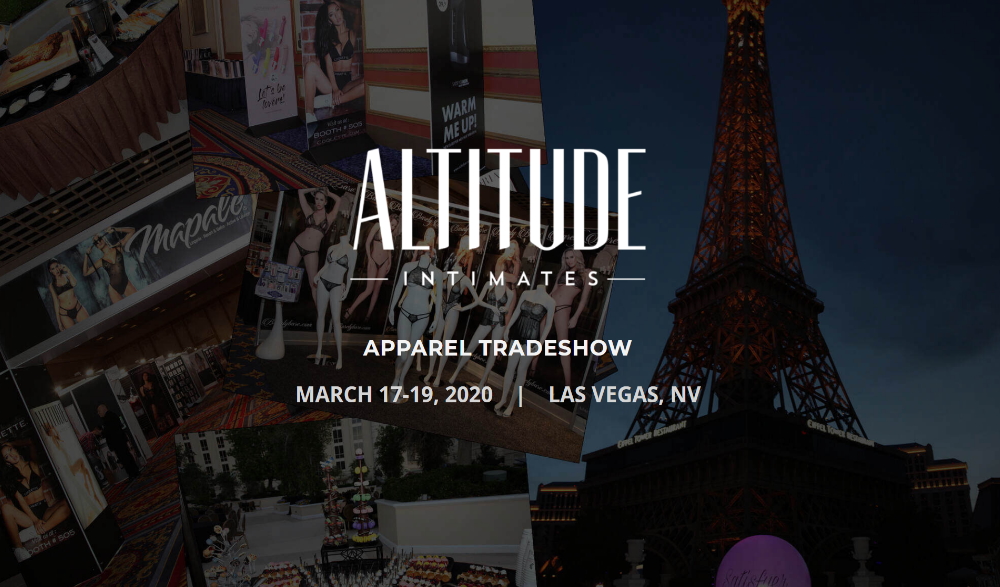 When: TBD 2020
Where: Paris Hotel, Las Vegas, NV
Most conventions take place annually, but Altitude show is organized semi-annually. This lets  manufacturers promote lingerie, intimate apparel, men's, novelties and related merchandise.
For now, we only know that the event will be spread from March, 17th to March, 19th in the Paris Hotel in Las Vegas. Visit their website for information about this year's event. In case you need additional information, you will have to contact Valerie at info@altitudeshow.com or (661) 264-638.
Altitude show has been postponed due to the pandemic.
XBIZ Retreat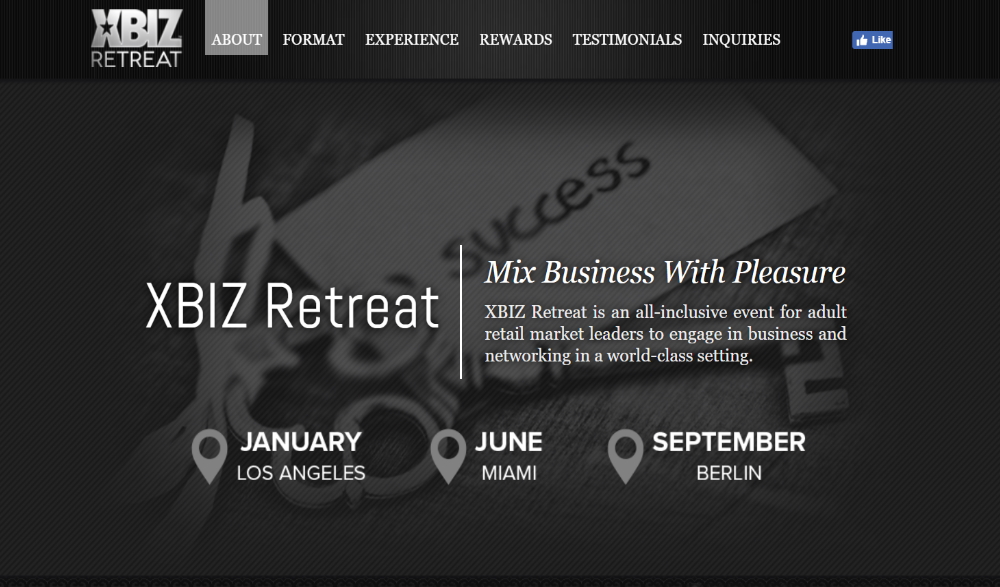 When: January, June, and September 2021
Where: Los Angeles, CA
XBIZ Retreat is an invite-only event where adult retailers from all around the world can meet and discuss business.
What is more, it allows visitors to discuss business in an intimate, luxurious setting with breakfast, lunch, evening receptions and dinner. Additionally, retailers can attend exclusive seminars and panels, as well as the award show.
Tickets for this event are all-inclusive, which means you will face no additional costs at the actual events. However, XBIZ only allows select companies and their representatives to participate in the event. This means you will have to reach out to them and request a spot at the event. Feel free to visit their website for more information.
Asia Adult Expo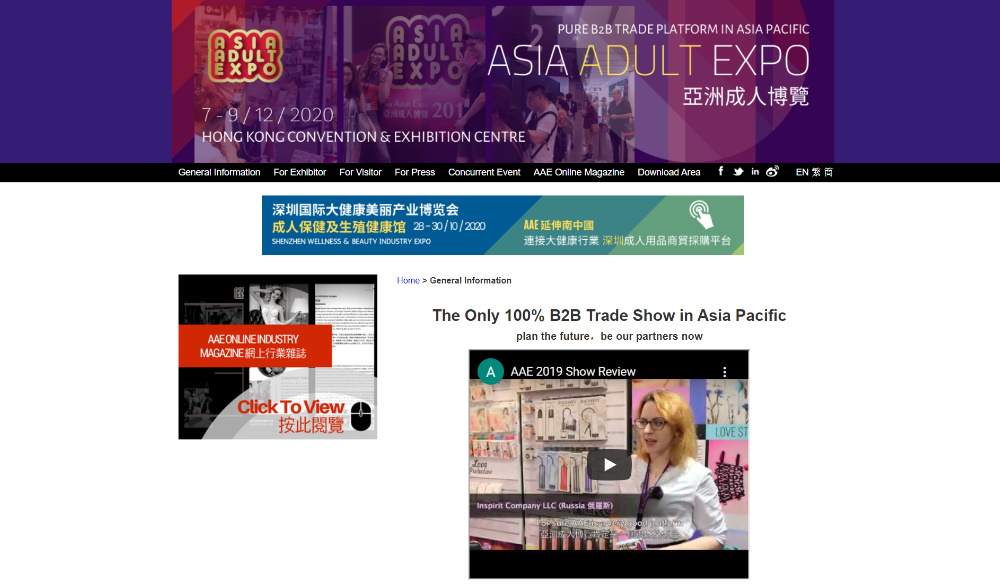 When: December 2020
Where: Hong Kong, China
Asia Adult Expo or AEE is a professional trade fair and conference organizer which takes place in Hong Kong.
They focus on a wide variety of adult industries that want to improve their operations and promote their brand in Asia. One of the main industries at this expo deals with lingerie and clothing in general.
There will be media present on site, which means you will have a great chance to promote your adult business or website. Moreover, you can meet business owners from all around the world by visiting useful panels and seminars.
In a sentence, AAE is a place where professionals from adult industry from all over the world gather to exchange experiences and ideas.
InterNext Expo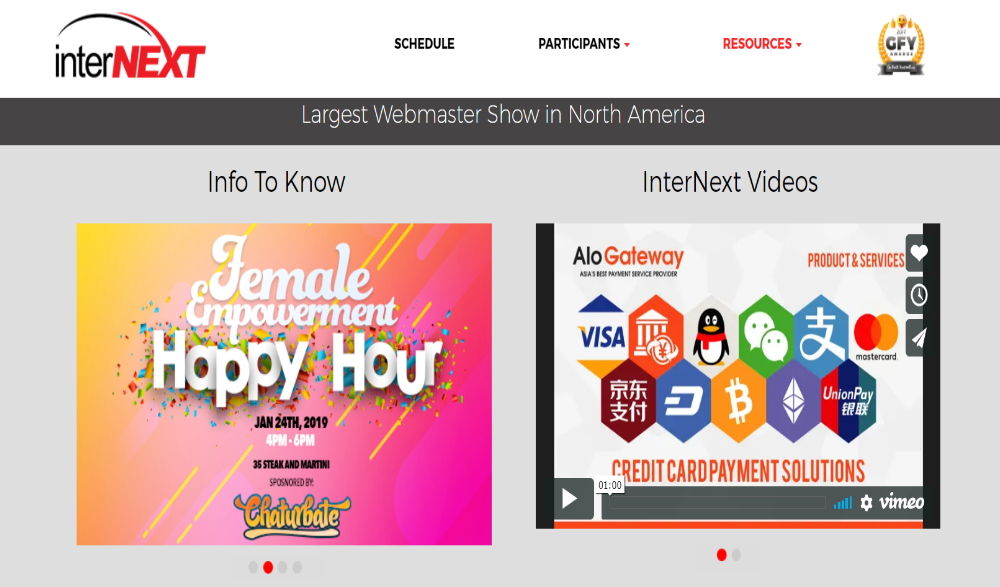 When: January 2021
Where: Hard Rock Hotel & Casino, Las Vegas, NV
InterNext Expo is actually a part of the AVN Adult Entertainment Expo, which gathers every business and individual that supports it.
This event consists of educational seminars, workshops and labs that discuss trending topics. These topics are important to the communities that deal with marketing, sales, business opportunities and more. It also offers networking events, executive level gatherings, business dinners and parties.
It will take place from January 26nd till January 28th in the Hard Rock Hotel and Casino in Las Vegas. The ticket costs $199.
The Annual Gentlemen's Club Expo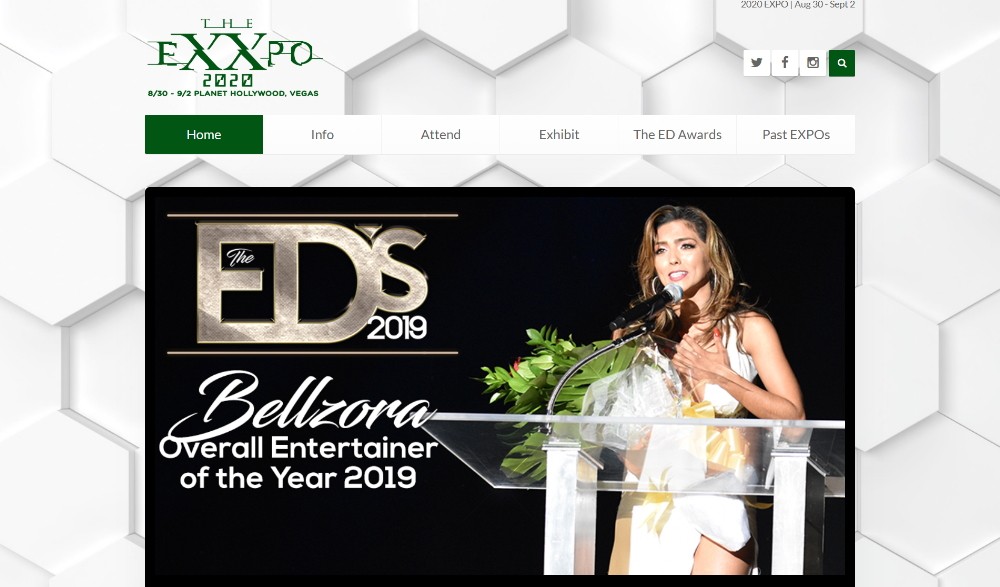 When: October 2020
Where: Hard Rock Hotel, Las Vegas, NV
This is the only convention and trade show dedicated to the adult nightclub industry and it is produced by ED Publications.
Visitors of this expo can look forward to three days of must-attend seminars and panel sessions. They are open for club owners, general managers, DJs, security staff and other key club personnel.
In addition to seminars and panels, there is also a two-day tradeshow where exhibitors can present their new products and services. Like on every other convention, people here can meet during the day to get to know each other better and form new business relationships. After the hard working days, the visitors can relax at the two evening parties that promise unforgettable fun.
Finally, we come to the Annual ED Awards Show, which is the only national awards show that gives credits to industry's top adult nightclubs and entertainers.
To purchase tickets, you will have to register as a member on their website. You can also buy tickets on site, but that will cost you more and you can be refused entry if you arrive too late. It's best to reserve your place online before you travel down to Las Vegas.
Adult film conventions and festivals
Barcelona International Erotic Film Festival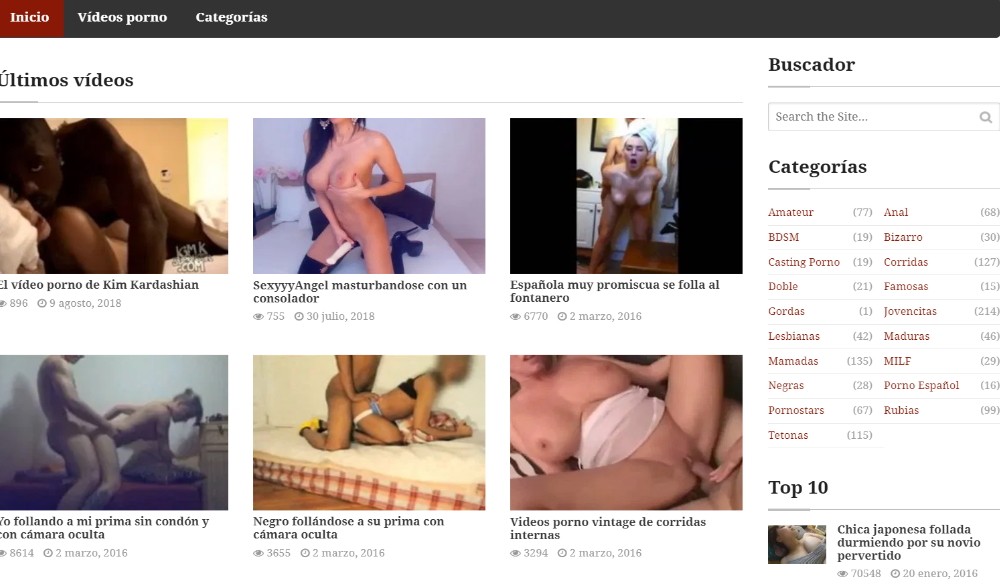 When: October 2021
Where: Barcelona, Spain
Barcelona International Erotic Film Festival is one of the most provocative and liberal events in Europe. This is the place where you can watch erotic and porno movies live.
This's why it's extremely popular because almost 33,000 people and 950 journalists attend it each year. It's open for 12 hours from 10AM till 10PM.
It ends with the Cinema and Ninfa Awards show where the best movies get awards. Besides movie screenings, visitors can also attend an exhibition of pornographic photography.
The entry tickets cost 3,300 pesetas, which is just $23.
The Cinerotic Erotic Film Festival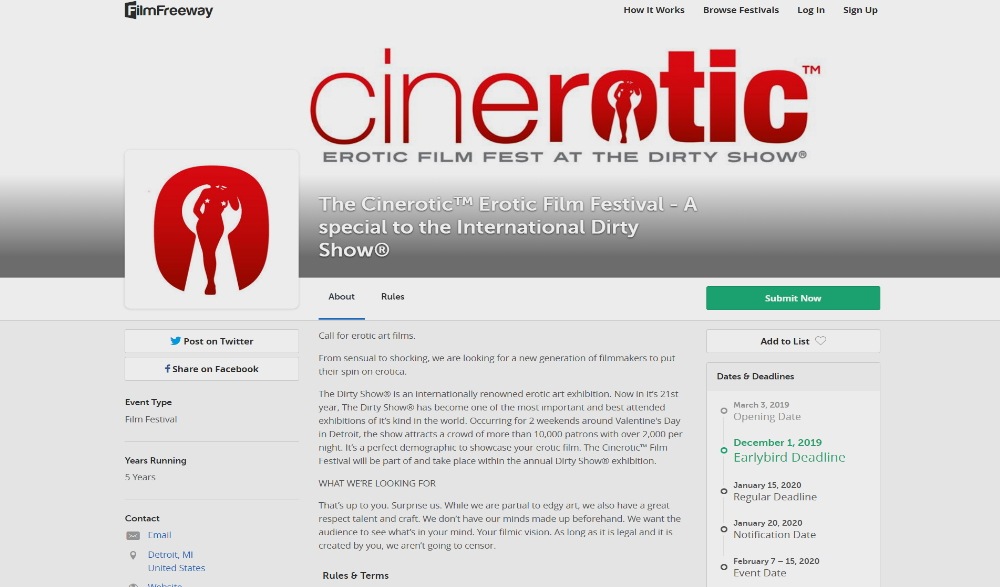 When: February 2021
Where: Detroit, MI
The Cinerotic Erotic Film Festival is the world famous erotic art exhibition and the best adult film convention, which attracts a crowd of more than 10,000 visitors. They are always open for  filmmakers who are ready to introduce something new to the world of porn.
It's organized around Valentine's Day in Detroit, as a part of the annual Dirty Show exhibition and lasts for 2 weekends.
As far as the movies they accept are concerned, they accept anything as long as it's creative and legal. They want to see your creative vision and they aren't going to censor any of it. It only has to be suitable for the theme of the festival, that is, it has to deal with eroticism, sexuality, fetish, lifestyle, pornography, and sex activism.
Of course, the event organizes live screenings each year.
For the purpose of this article, we have set out to present you with the most interesting adult  conventions, so that you can choose the best porn convention. However, if you've got some free time on your hands, we advise that you visit as many conventions as you can. Seriously, you don't want to miss out on all the fun.