In this article, we have compiled a list of the best porn themes (that are not WordPress). This text covers the entire adult niche, with all of its different themes and templates. So, in order to make your navigation through this in-depth article easier, we've decided to break it down to specific categories.
With that in mind, you'll find the following categories below: Adult Membership Themes, Adult Escort Agency Themes, Online Dating Themes, Adult Store Themes and Adult Tube Themes. Bear in mind that the entries are listed from worst to best within each specific category.
In any case, continue reading to find the best adult non-WordPress themes, together with their demos, prices and screenshots. Feel free to browse the list and select the one that you like the most.
Or don't pick any theme and go with an agency that specializes in developing unique website solutions for adult sites, but keep in mind that it might set you back a bit more in terms of costs.
Adult Membership Themes
Going Solo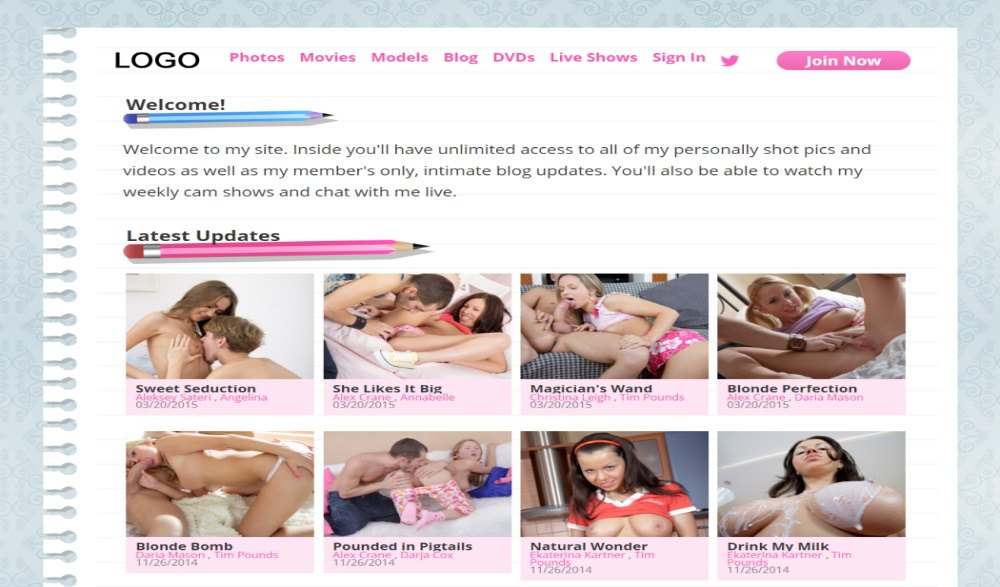 This is a solo model theme that is undoubtedly unique, but in all the wrong ways.
Its design relies on a more traditional layout, but the entire theme almost looks like a children's diary. Needless to say, most adult websites will not find this useful, without heavy customization.
Elite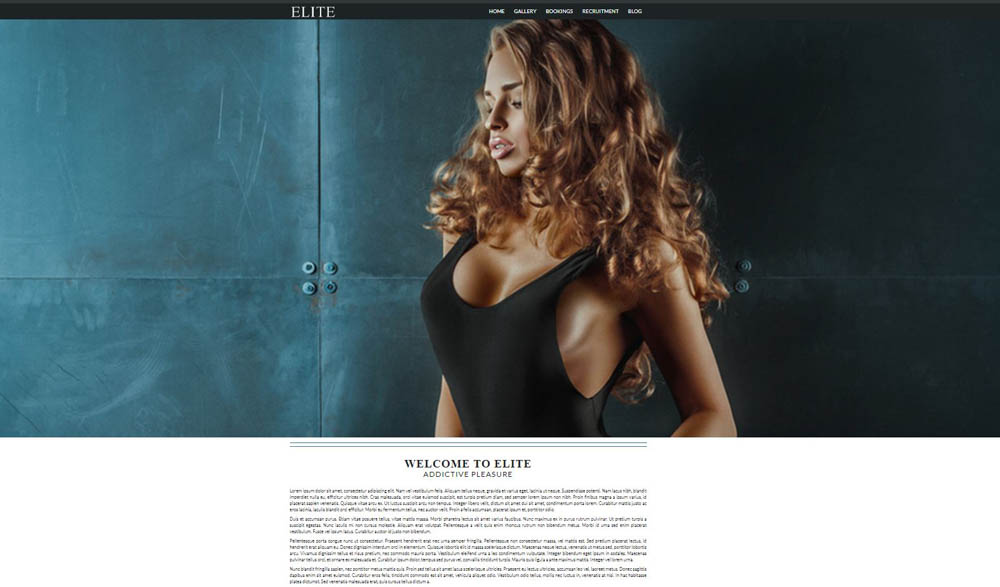 The Elite escort theme truly lives up to its name.
Its design is neat and simple, which allows your content to take central stage and grasp the attention of the visitor.
This is the first theme on our list that we would be happy to recommend.
Smoulder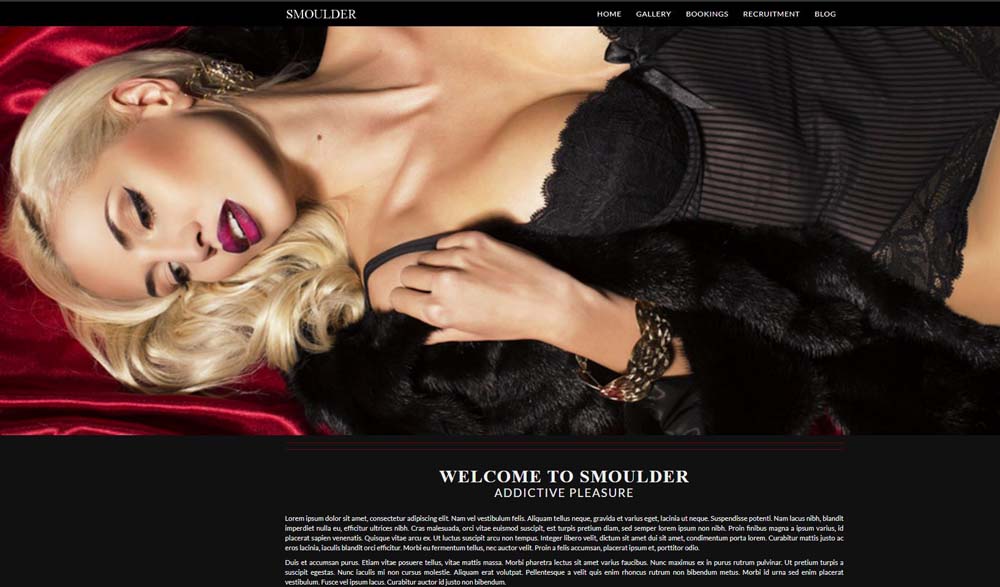 We've thoroughly researched the solo escort/adult membership themes that are not WordPress and concluded that Solo is the best option currently on the market.
Its design is modern and slick, and it's just seductive enough to keep your potential customers on the page long enough for your content to take over their thoughts.
The Smoulder theme concludes our first category.
The following themes are primarily designed for adult escort agencies. But if you're looking to start a solo escort model website, you might also find some of the themes in the next category useful.
Adult Escort Agency Themes
Sexy Escort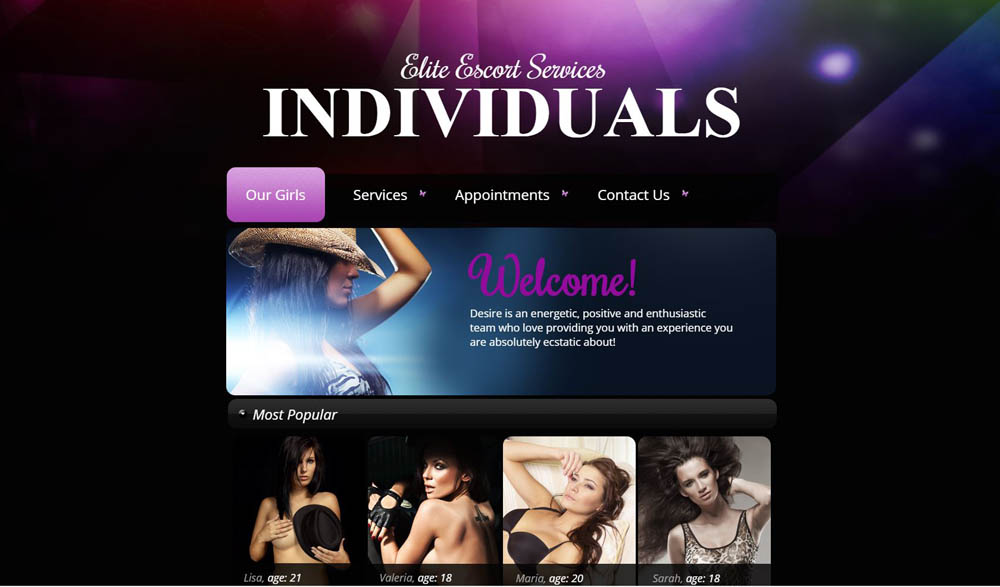 The Moto CMS Sexy Escort theme comes in at number 41.
This theme features a more modern layout, but its menus are equally problematic compared to the two previous escort agency themes. In this case, they're incredibly oversized, which means that you will need to invest quite a lot of time to convert this theme into a good-looking escort agency website.
Escort Beauty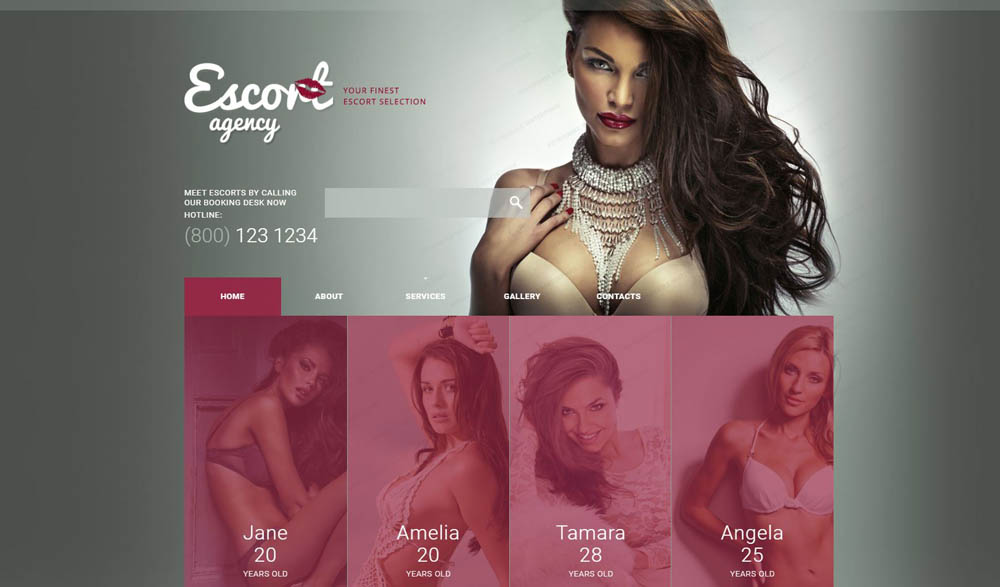 The Escort Beauty is a modern agency theme, but its layout feels unintuitive and the models' images are often overshadowed by the theme colors.
We think that this can significantly impact your website's conversion rate and that's why this theme isn't any higher on our list.
Best in Escorts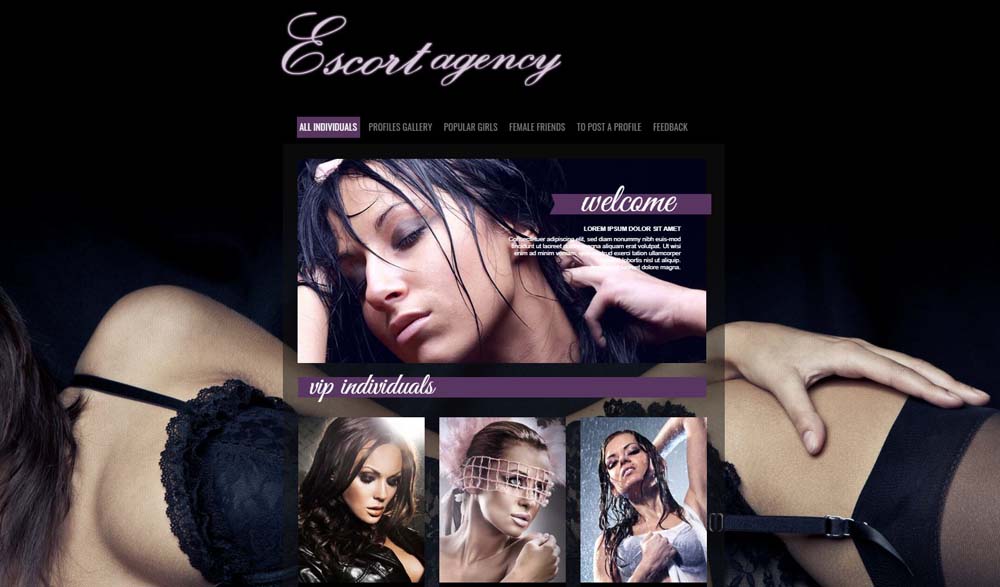 We're sorry to say it (not really), but the Best in Escorts theme is far from the best escort theme on the market.
This Moto CMS template uses the default black background, mixed with purple to create a vivid layout, but the overall design feels somewhat rough on the edges.
Escort Agency Website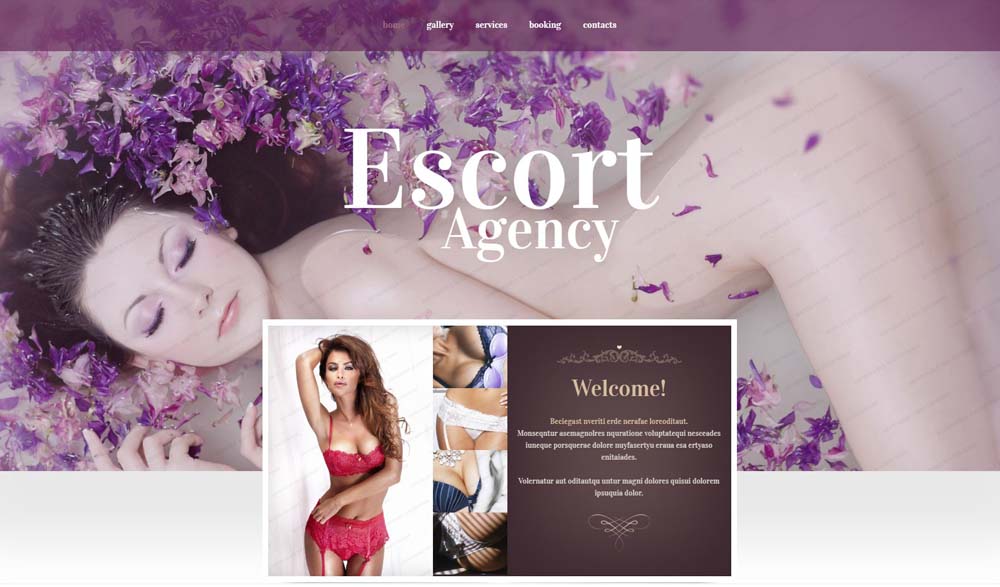 The Escort Agency Website template uses different shades of purple to create an interesting background that neatly incorporates model photos and biographies.
We really liked this theme, but some people might find it a bit too bland. And that's why this theme rightly takes its place in the middle of escort agency template rankings.
Escort Passion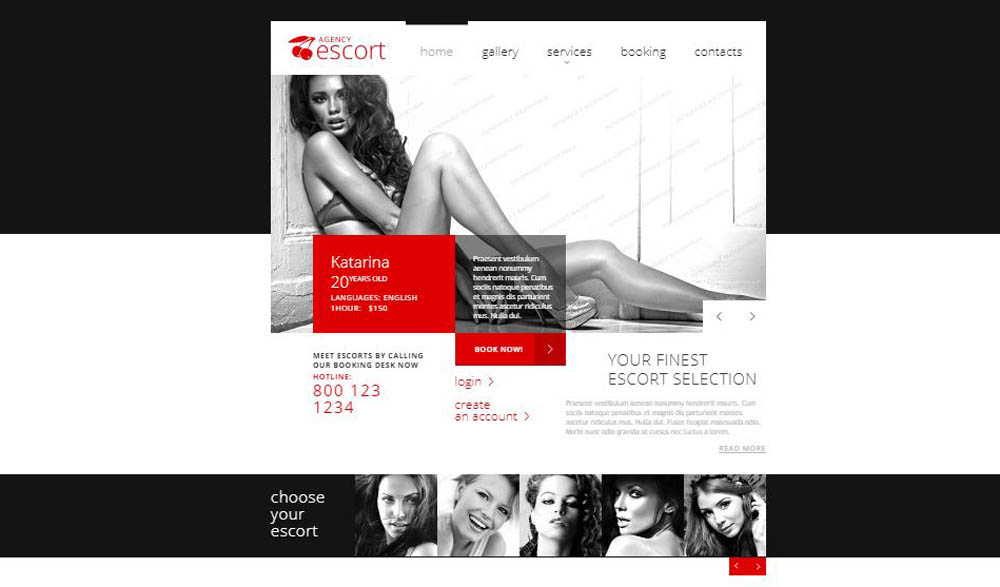 You know the next theme will be great when its name is Escort Passion.
Staying true to its name, this Moto CMS theme uses bright red coloring to liven up the silvery white background and leave the visitor enticed.
However, the black-and-white images ruin what would otherwise be one of the best escort agency themes.
Naughty Dreams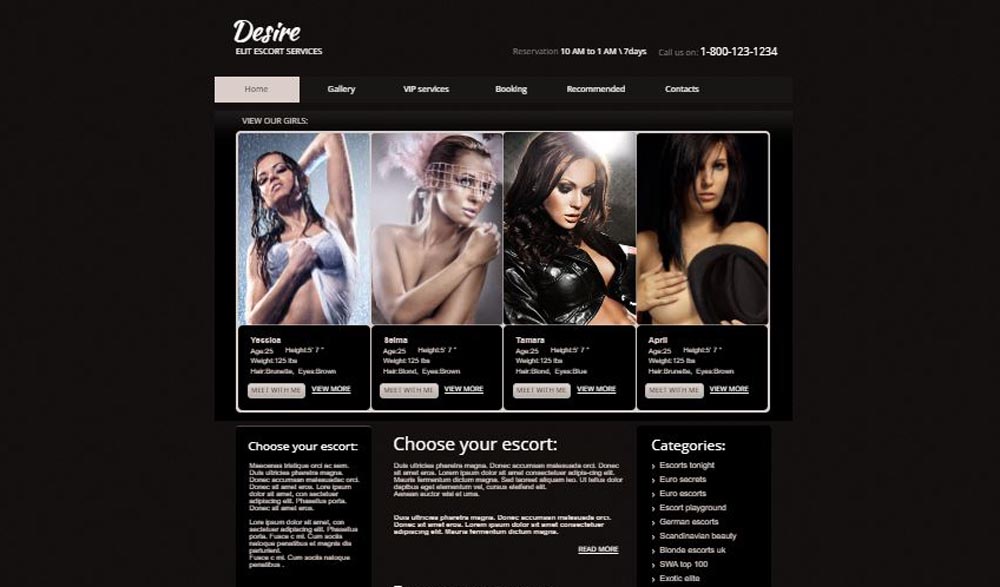 Naughty Dreams keeps things simple. It combines a black background with silver letters to create a feel of premium, exclusive content. More importantly, it centers the model pictures, which look even better in contrast with the background.
Expose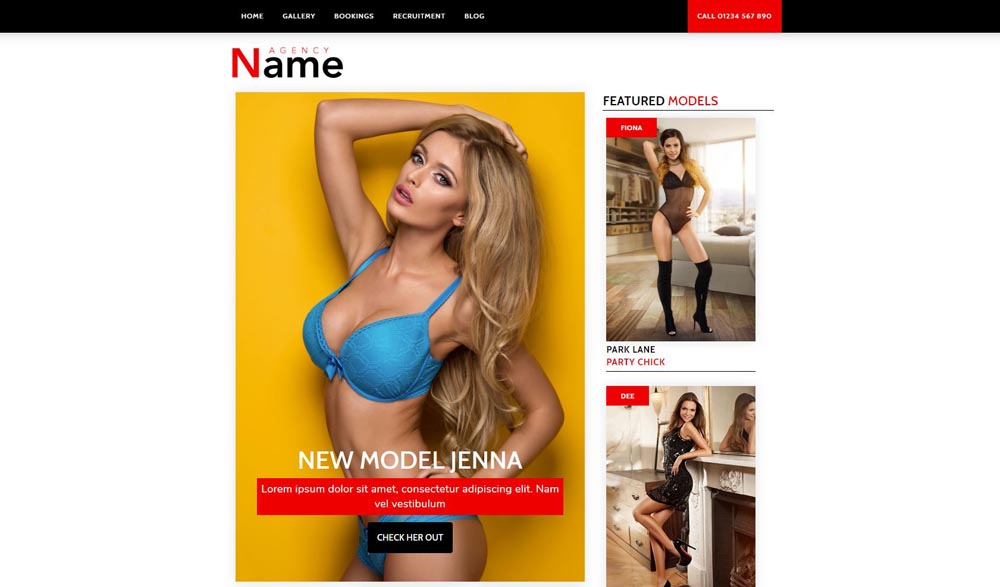 Pimp Design's Expose theme is the next entry on our list.
This is another modern theme that uses a neutral background to allow the model photos to shine, but its red-black-white menus and lettering feel unoriginal and remind us of some popular porn websites.
Lush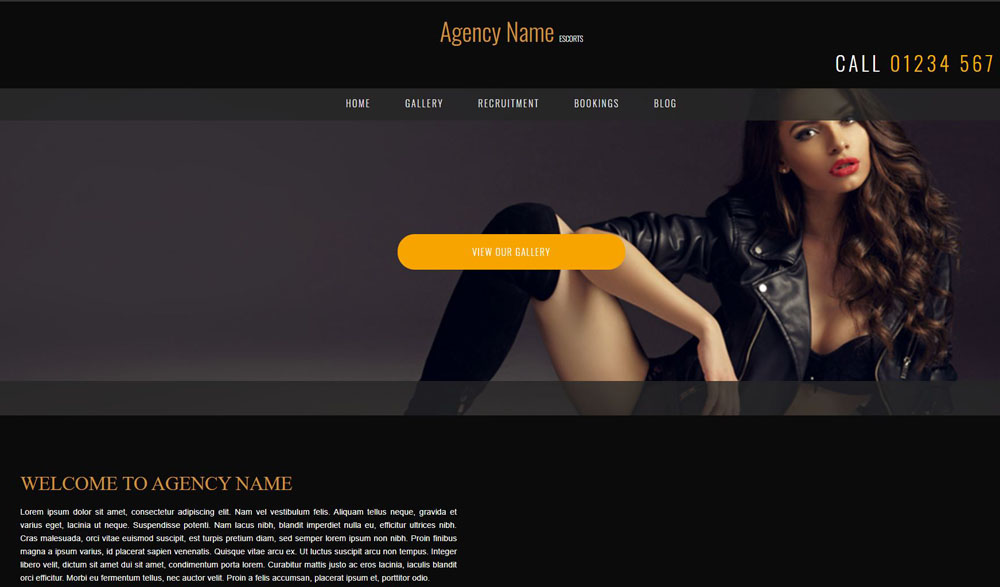 Similar to the previous entry, Lush features a modern layout, but the coloring pattern of bright yellow and dark black looks uncreative and ruins an otherwise decent theme.
Masquerade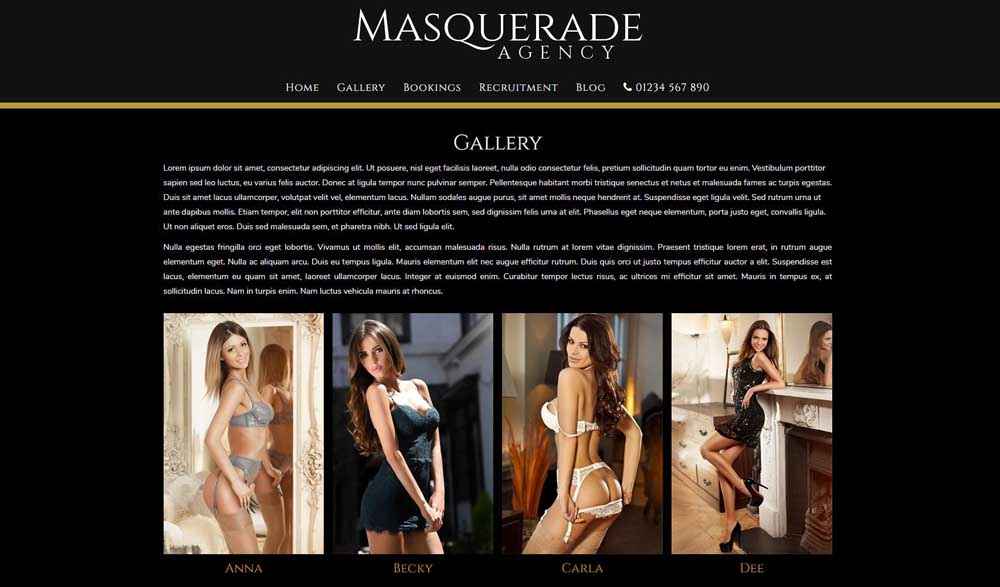 Masquerade is another lucrative option from Pimp Design.
As its name suggests, this template was built around the theme of a costume ball. This is not only original, but it also looks amazing.
The entire design becomes even more inviting if you can work the masquerade theme into your escort agency brand.
A very good-looking theme, but not versatile enough..
Entice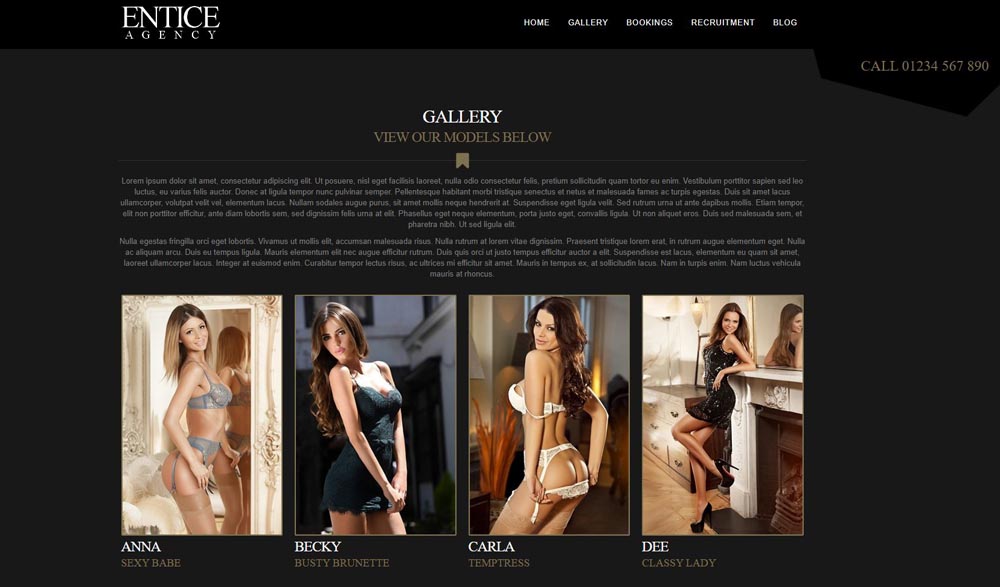 Entice represents an amazing combination of traditional and modern design.
Although its coloring pattern could be considered too dark, we think it works well, because it creates a contrast that allows the models to remain at the heart of your homepage.
If you're not ready to experiment with your design and would rather take a tried and tested solution, this might be the best option for you.
Supreme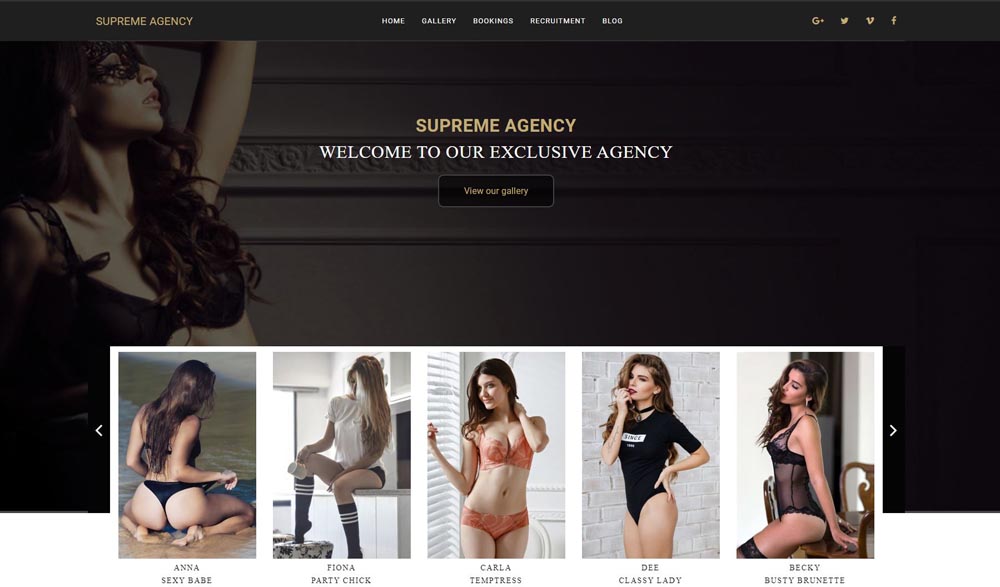 Pimp Design's Supreme escort agency theme is another compelling theme.
This theme incorporates both light and dark backgrounds to create a unique layout that nicely transitions between text and imagery. However, it's not hard to see how the constant light-dark contrast could become tiresome for some visitors.
Vintage
Vintage is made for the more traditional customers.
Although most of the theme is built around the black-white contrast, including the featured image, the template truly comes to life only when you reach the model images, which are always displayed in full color.
Timeless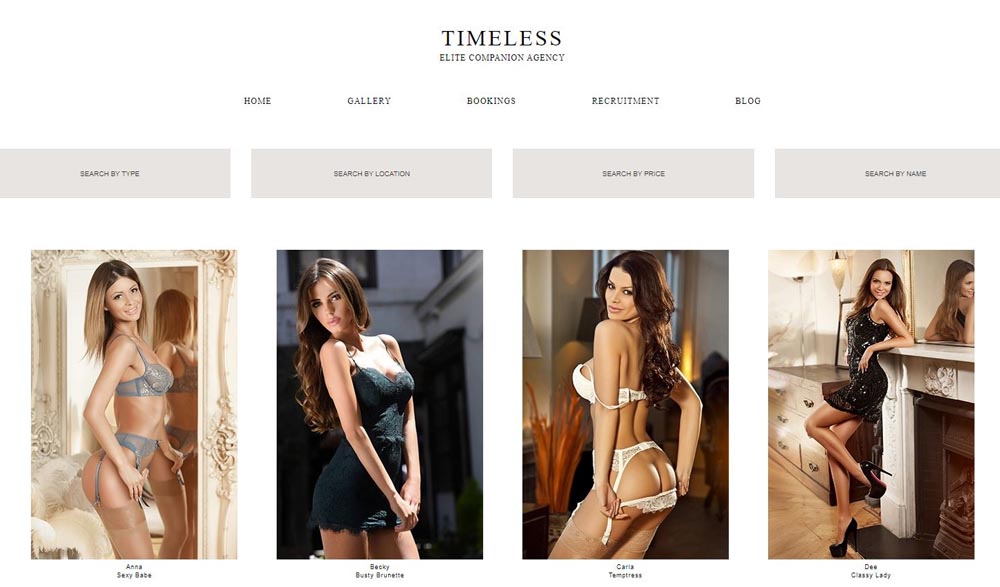 The next theme on our list is called Timeless. And it's clear why.
The design feels simple and unobtrusive, and it uses a gentle font that pales and disappears in comparison with the model photos. The carefully selected font simply takes the theme to a completely new level.
Opulence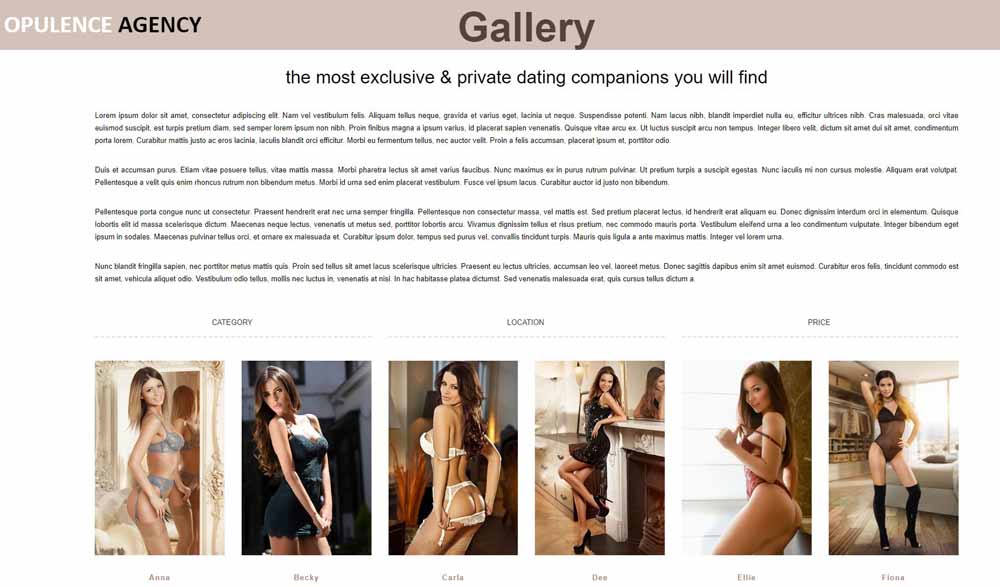 Opulence is the third best adult escort agency theme currently available on the market.
This theme uses lightly colored menus that fit well with the white background, which features photos of models in various sizes. It's precisely these varying image dimensions that set this theme apart from others, as they create an interesting and individualistic design.
This theme seems optimized to provide the best conversion rates.
Erotic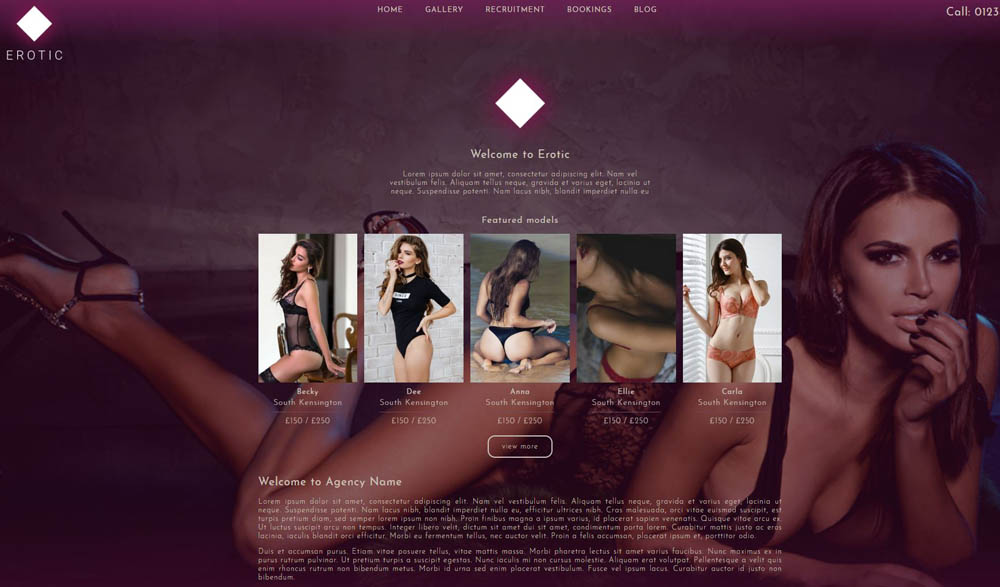 The second best escort agency theme is Erotic from Pimp Design.
This template uses a dark purple background with model photos and shiny white logos to create a strip club atmosphere that is sure to keep your visitors on the page.It's not hard to see why this design should perform well for your adult escort website.
Seduction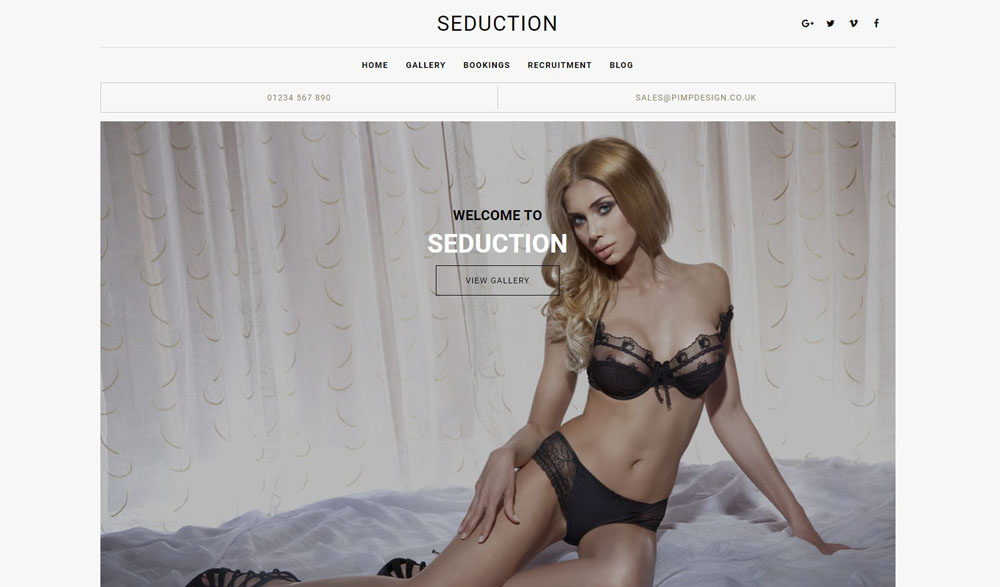 Finally, we've reached the best adult escort agency theme – Seduction.
The theme features a simplistic design that is simultaneously both interesting and unassuming, which allows the model pictures to do their job and charm the visitors.
In other words, this is a theme that is unmatched in terms of style. When it comes to adult escort agency websites, Seduction is probably your best bet.
That was the last adult escort theme on our list, but we've got plenty more adult themes for you. Feel free to continue reading and find more non-WordPress adult themes below.
Our list continues with Online Dating themes, after which we will move on to adult stores and adult tube themes.
Online Dating Themes
Sweet Love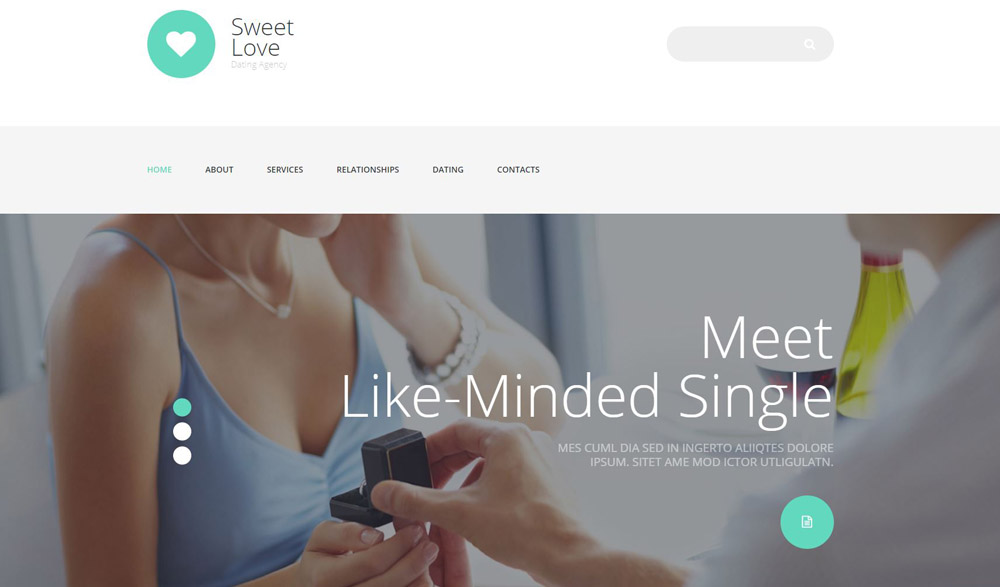 The Sweet Love theme from WT is the first online dating theme on our list.
Similar to the first entry on our list, it features a modern design, but its layout is not optimized for conversion and that's a deal-breaker for us.
Dating Agency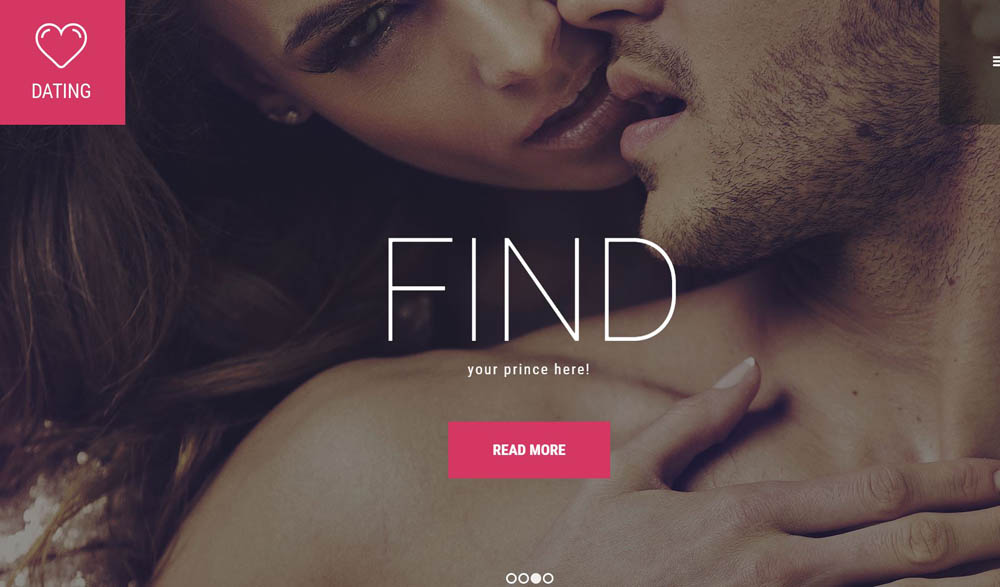 We continue with dating themes with a Moto CMS design that makes use of some intriguing fonts. However, aside from the fonts, the design looks a bit uninteresting and boring.
It's hard to find anything particularly appealing on this theme.
Dating Muse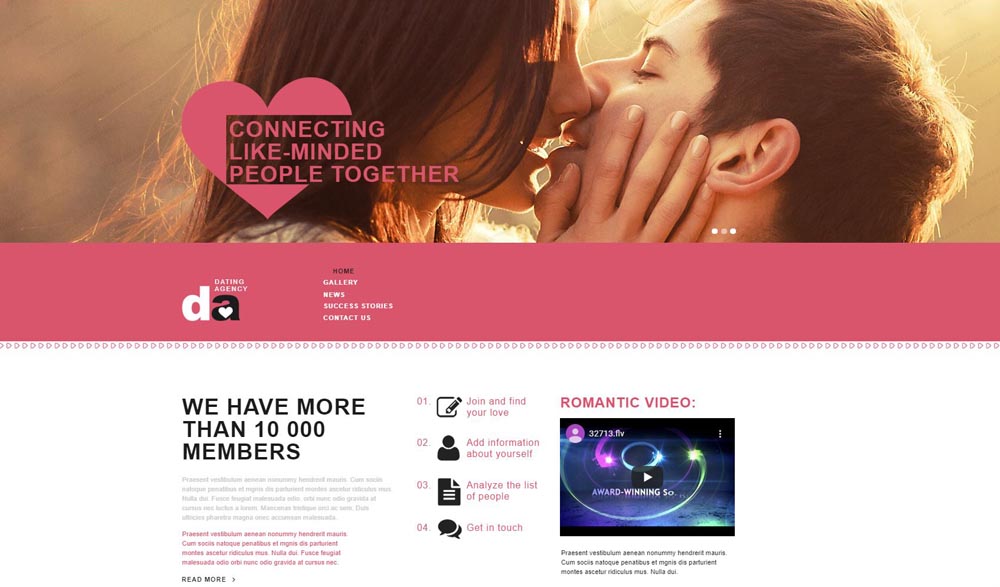 The Dating Muse theme feels like a safe option.
It uses the well-rehearsed combination of pink and white background to create a neutral background that looks decent enough, but far from original or unique.
Dating Responsive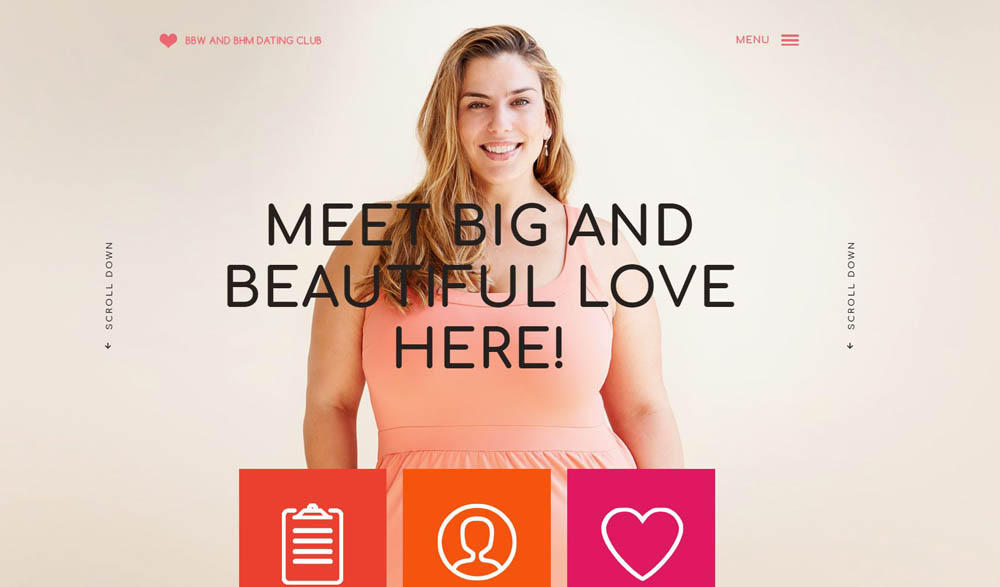 The Dating Responsive website template is a colorful dating design, but its layout seems clunky and overfilled with elements. This means that it will probably require a lot of time to customize and remove all the unnecessary elements.
If you're ready to invest some time and effort into personalizing this design, the theme might be worth it. Otherwise, there are better options out there.
Love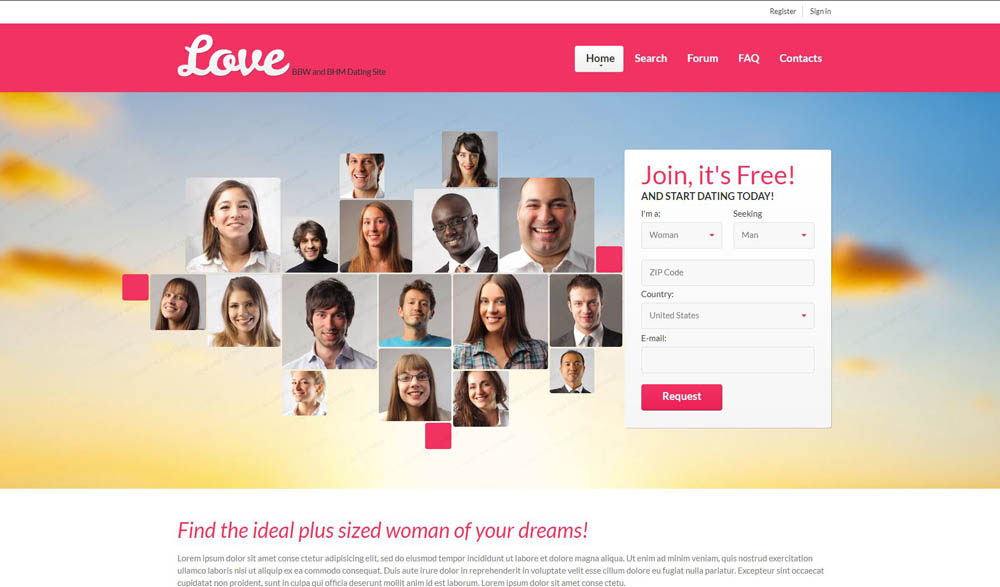 This is another interesting dating theme from WT, but it ultimately faces the same issues as the previous WT entry on our list.
A decent solution, but it requires far too much customization.
Sweet Date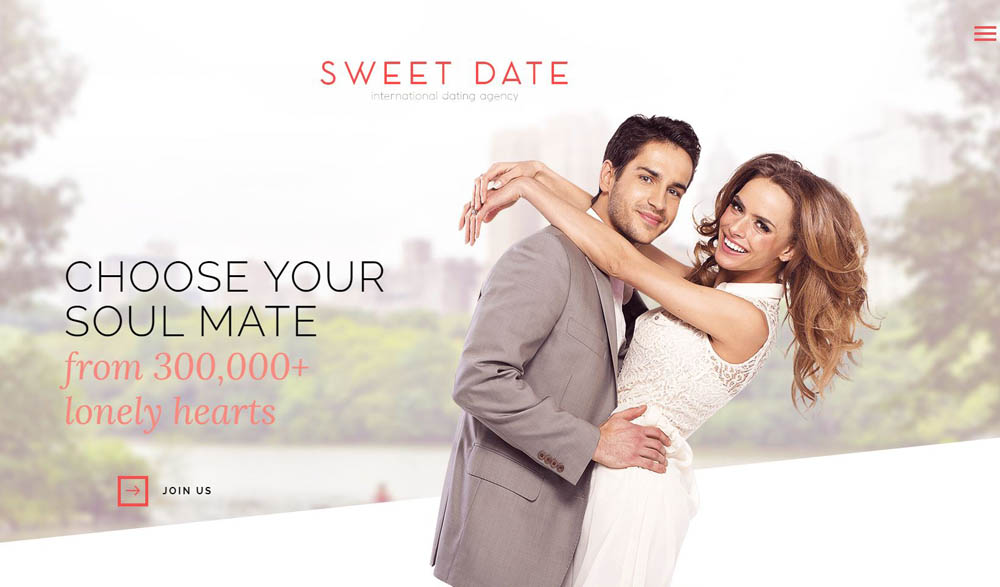 The Sweet Date theme from Moto CMS takes up the second place on our shortlist of the best dating themes that are not WordPress.
This templates uses the cyclamen shade of pink to spice up the default white background. The responsive images also provide this design with a sense of eccentricity that is hard to find in premade themes.
This is a great option, but it narrowly misses out on the top place in the dating niche.
Dating Agency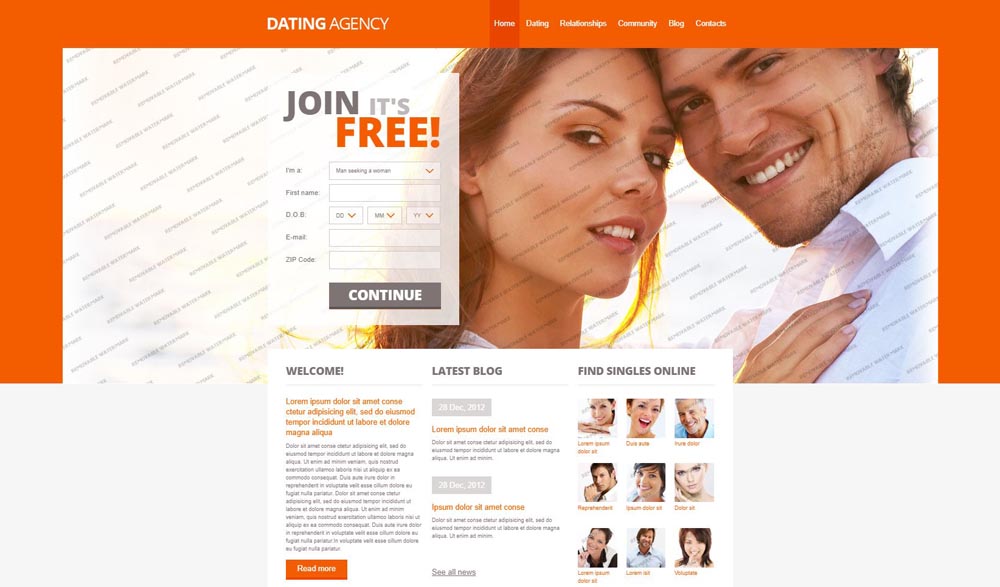 Dating Agency is the best online dating theme, in our opinion.
Compared to other dating themes, this template represents a much more robust design that combines a bright orange color with the traditional white background.
This adds a touch of warmth and originality that the dating themes often lack, either because they're too colorful or because they're not colorful enough.
In any case, we would gladly recommend this theme.
That would be all for the dating themes, but we're far from done with this article. What follows are the adult store themes.
Continue reading, if you're ready to consider getting into the online adult shop industry.
Adult Store Themes
La Festa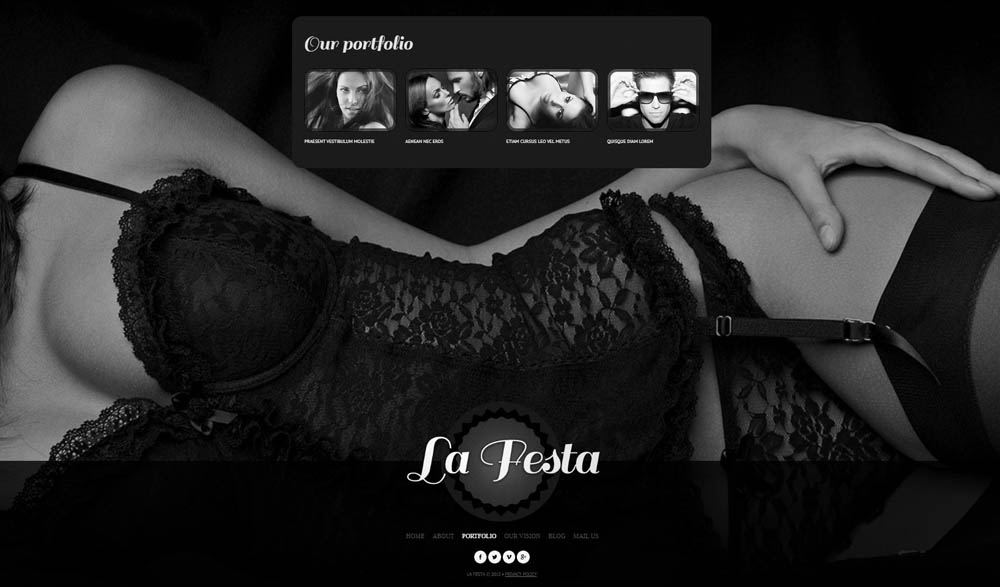 The first adult store theme on our list is called La Festa and it's designed by Moto CMS.
The design uses the traditional dark coloring and layout associated with porn websites, but combines it black-and-white imagery.
However, although the theme looks good at first glance, we think this solution wouldn't really work well for an adult store.
Easiness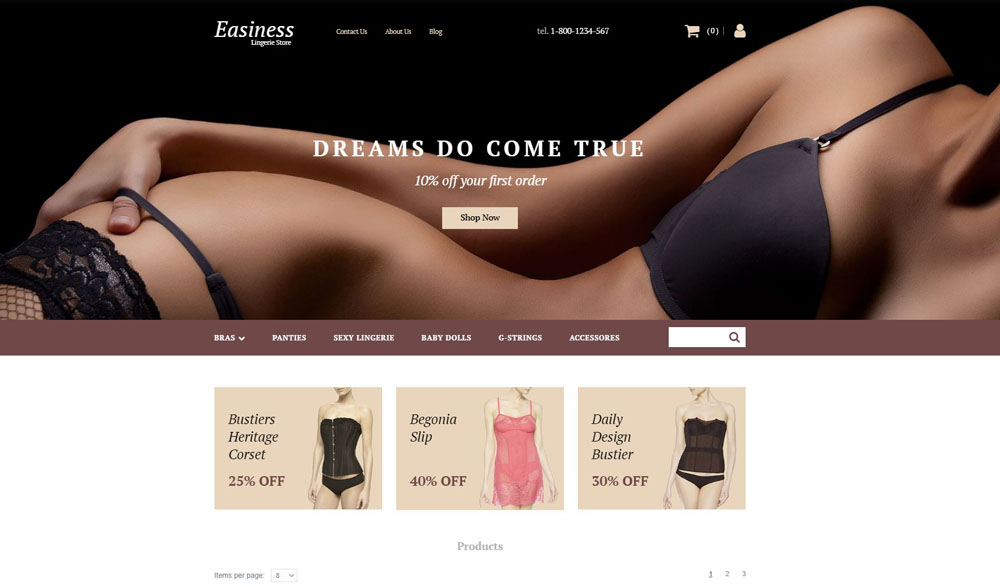 Easiness is another adult shop theme that makes use of the traditional porn coloring pattern, but it mixes everything up with brownish pink menus.
This is a bit more original than the previous entry, but not particularly pleasing for the eye. There are more appealing options out there.
Bellatoi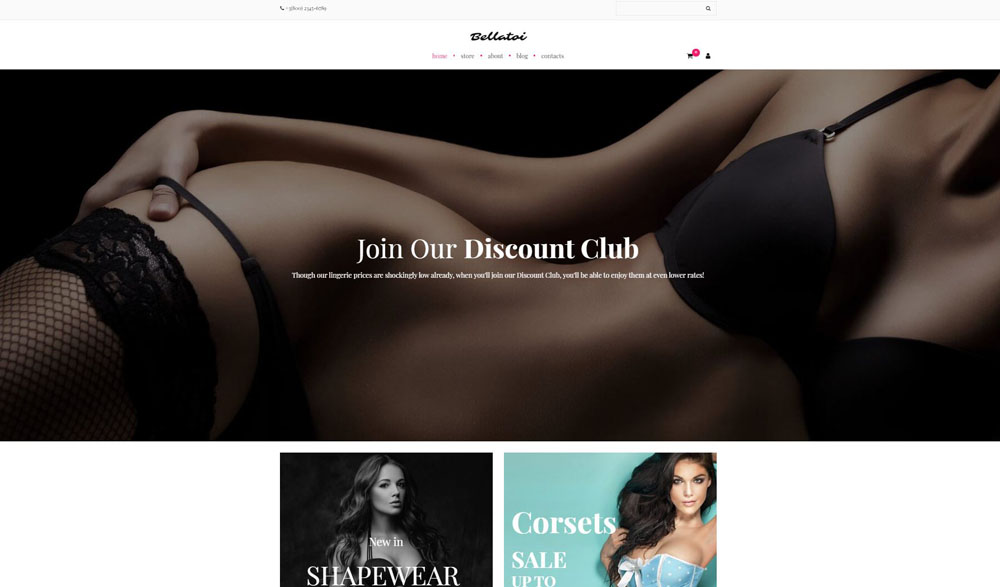 The next entry on our list starts off similar to the previous themes, but it quickly switches to bright colors that capture the visitor's attention. This is a captivating design, but we get the feeling that the top part somewhat ruins this great theme.
In the end, Bellatoi leaves a lot to be desired.
Luxebra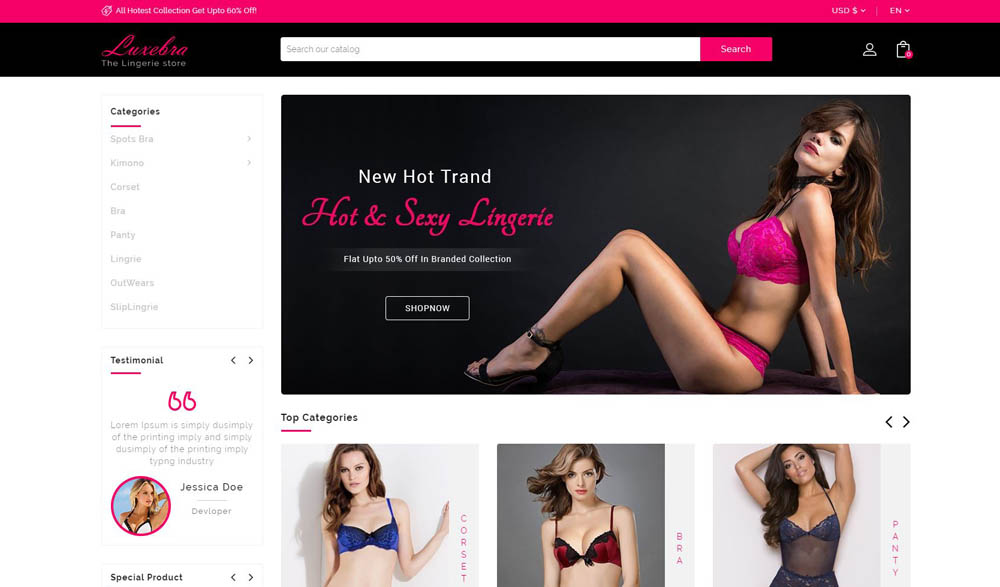 Luxebra relies on the tried and tested pink font color on the black and white background. As such, it's far from original, but a decent option, nonetheless.
Incare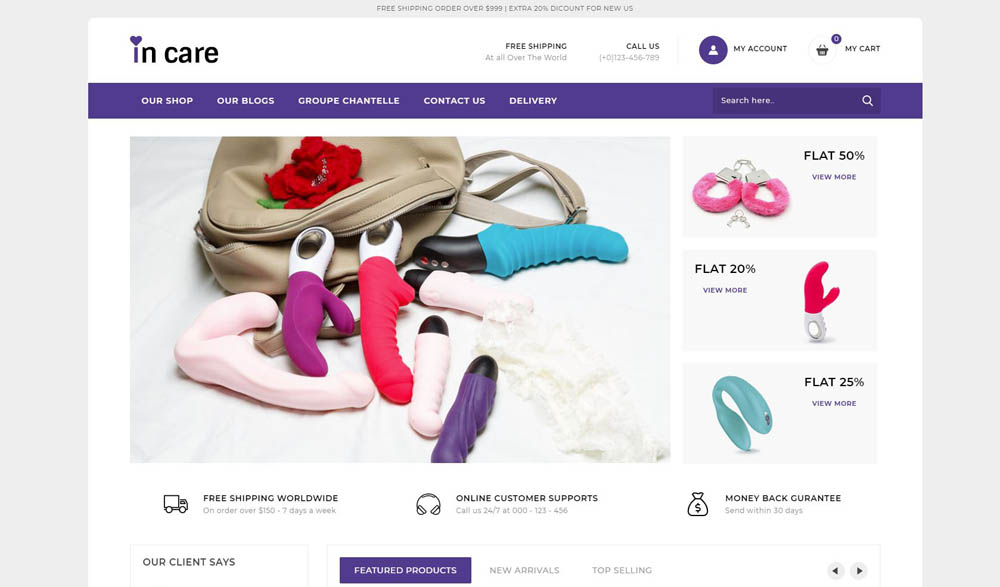 Incare is another interesting sex shop design from PrestaShop.
This theme uses dark purple and gray characters on a white background to create an enticing design that undoubtedly converts well.
Combine this layout with some interesting pictures of adult toys that you plan to sell and you'll bank account will quickly tell you that this is one of the best adult store themes on the market.
Love & Love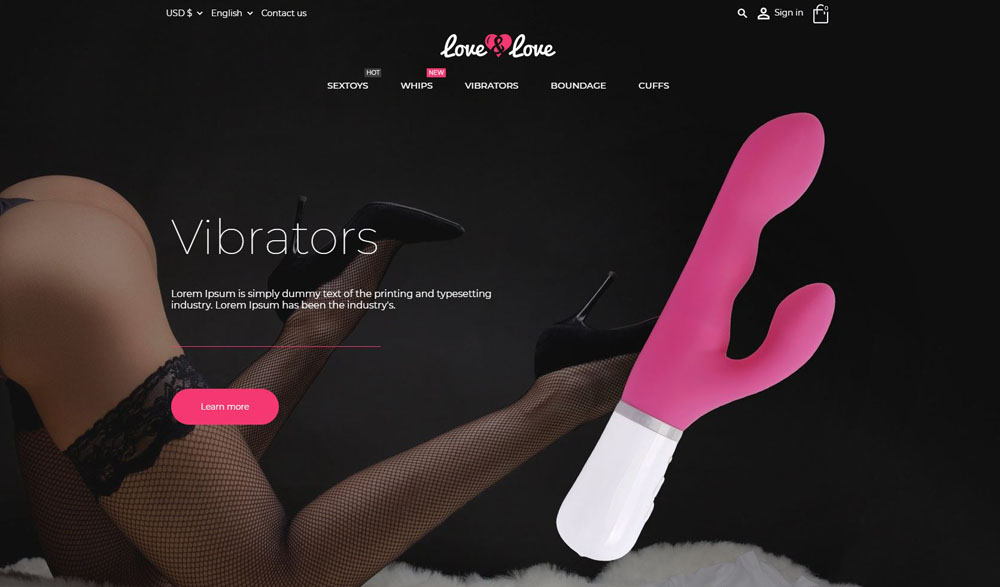 Love & Love is the next sex shop theme and the second best on our adult store shortlist.
This template utilizes the white-black contrast to create an attractive design that allows the colorful sex toys to take central stage.
However, this theme truly comes to life when opened on a mobile screen. That's where it outshines almost all other adult store themes on the market. Since most people use their smartphones to browse the Internet, we think it's only natural to rank this theme near the top of the list.
Piixy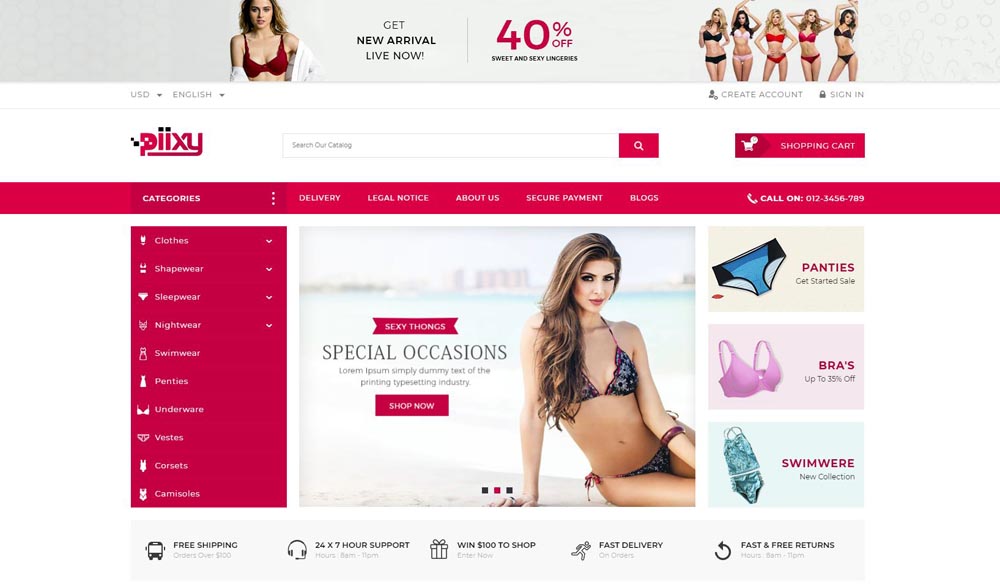 The best adult shop theme on the market is another entry from PrestaShop. More specifically, it's the Piixy lingerie and adult shop theme.
This design combines vivid shades of purple with a neutral background to create a non-judgemental atmosphere in which your visitors can freely browse your goods.
Piixy is a theme that will not disappoint you.
Finally, we reach the last category on our list – the adult tube themes.
Nowadays, this type of porn sites is so popular that it almost doesn't matter which theme you use to create them. But, to save you the time, we've decided to compile a list of the best adult tube themes to get your adult project started.
Adult Tube Themes
Classic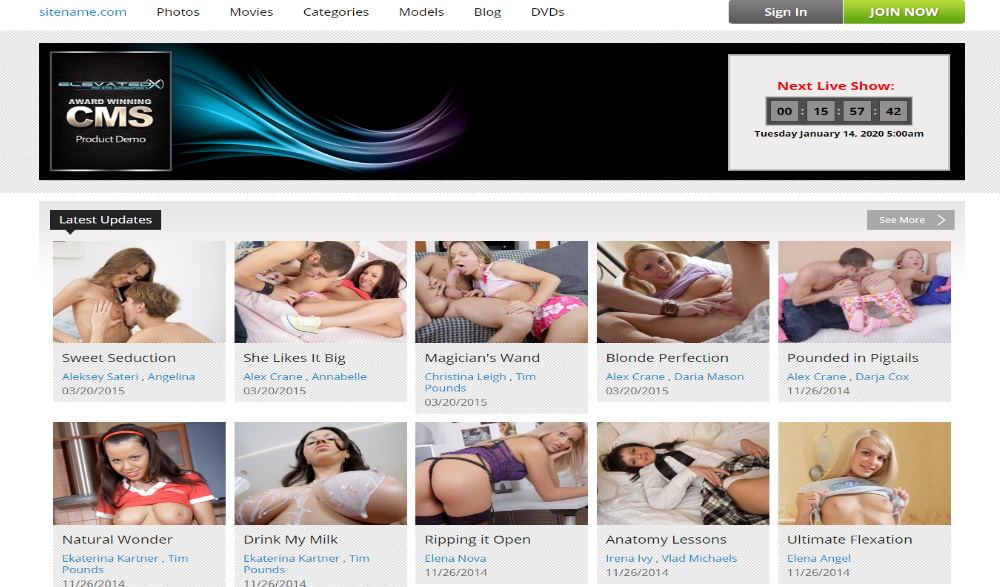 The first theme in this category is the Classic theme from Elevated X.
This is a versatile theme that is perhaps better described as an Adult CMS, but its design is far from the greatest. The combination of gray and light green seems ill-fitted for a porn site.
Sleek Modern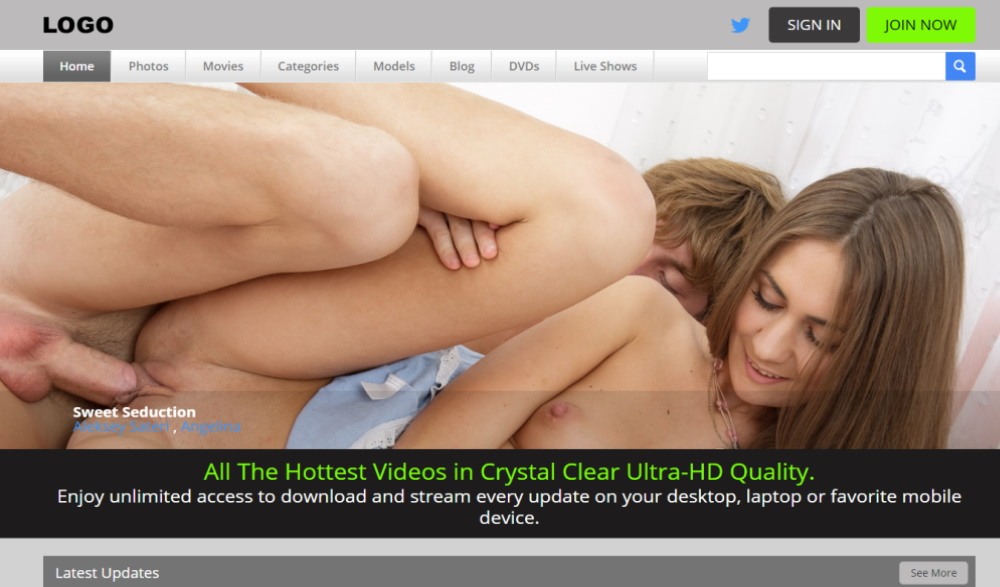 Sleek Modern is the second entry on our list.
Similar to the Classic theme, this template utilizes varying shades of gray together with bright green lettering to create a unique layout. But this combination doesn't really work well for a porn site and it's why this theme isn't any higher on our list.
Another decent option, but far from great.
Contemporary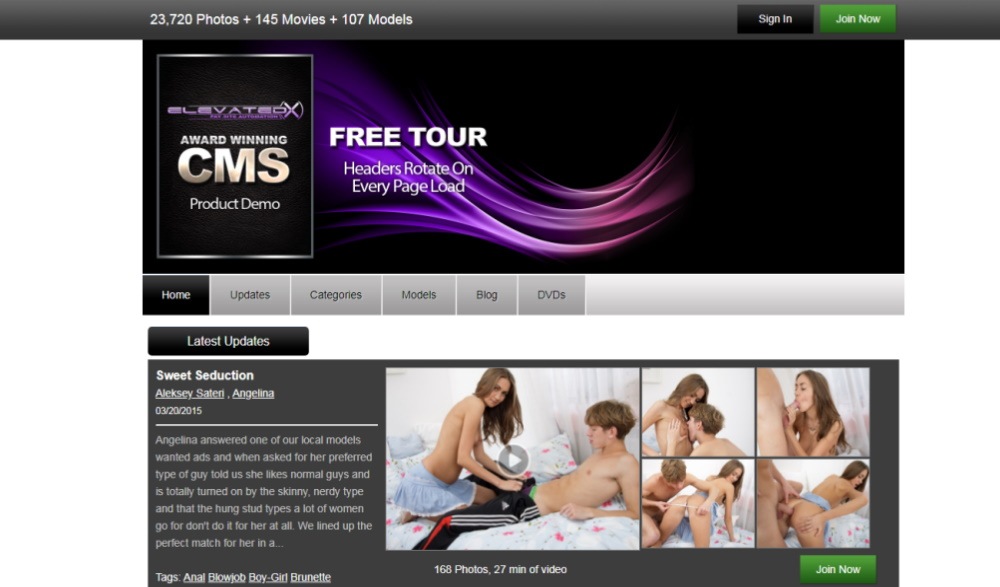 Slightly better than the previous two themes is Contemporary. And as the name suggests, this is a more modern design.
This template relies on gray and black colors to create a neutral background that completely focuses your videos. However, this means that it might be overly reliant on your content.
Unless you plan to only use outstanding video content, this might not be the best theme for you.
Elegant Modern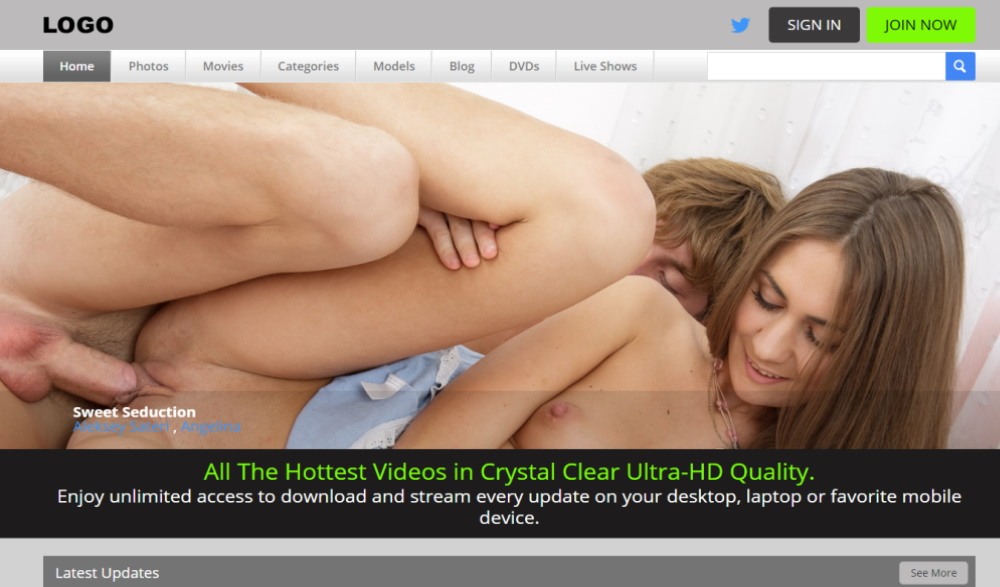 Elegant Modern is a tube site theme that combines a pitch black background with purple and white text to create a recognizable tube design.
However, the featured image takes the focus away from the videos which contain previews that allow your users to get a glimpse of your content on the homepage.
This is a great theme, but it relies too much on the featured image and the overall design falls apart almost entirely, if you don't have a good featured image.
Totally Tubular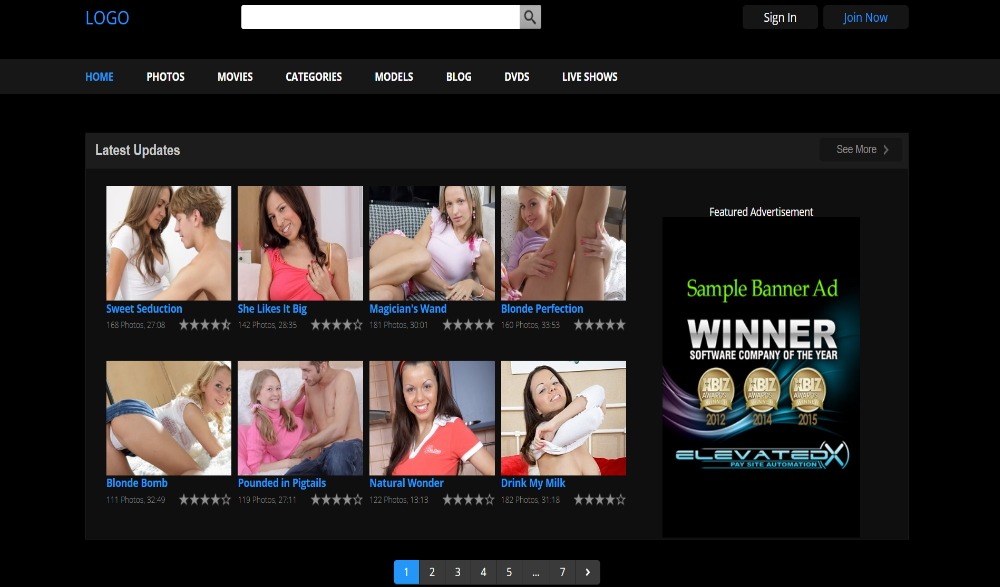 This theme is actually a makeshift clone of PornHub. Of course, we're talking about the Totally Tubular theme from Elevated X.
While this design uses the tried and tested layout of PornHub, it combines unique blue and white fonts to create a sense of originality.
In addition to that, the theme manages to look equally good across all devices and screen sizes, despite the complexity of its design. This theme simply exudes professionalism and reliability.
VideoX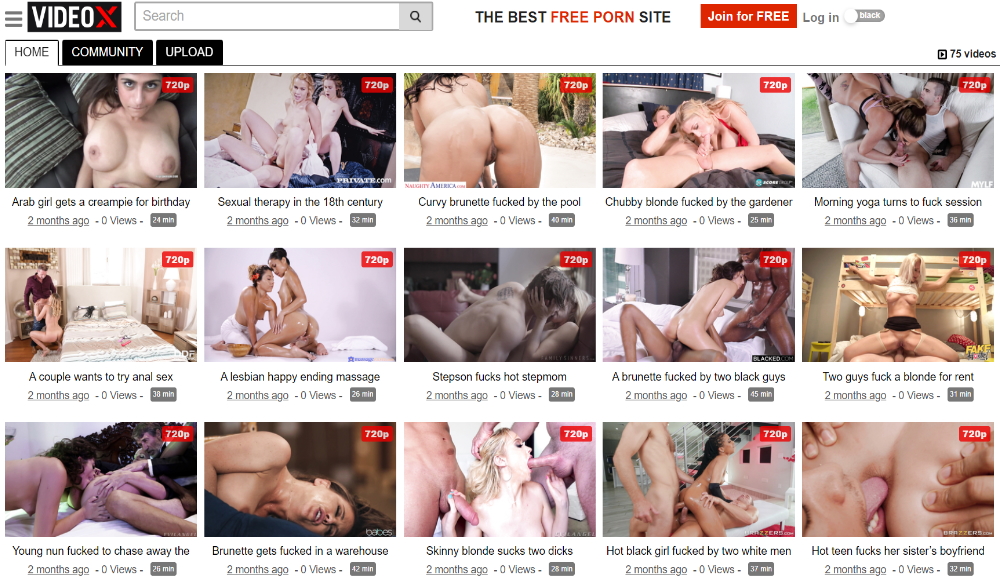 Vicetemple brings us another classic in the form of VideoX, which replicates the design of Xvideos. This script is the ideal choice for people who don't want to spend any time customizing the website layout. In other words, it's designed for people who want to focus on providing their viewers with the best content.
HubX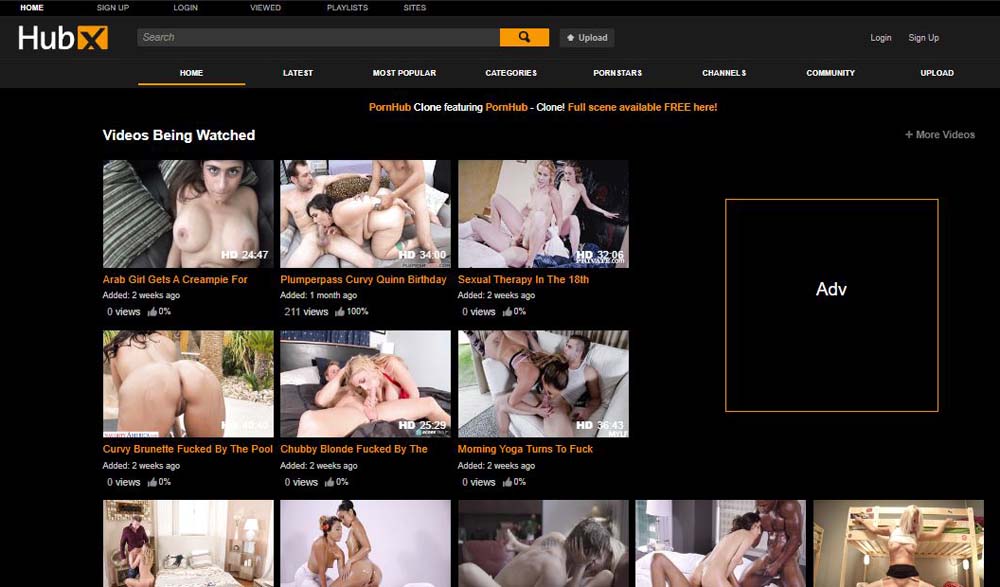 Developed by Vicetemple, HubX is the best porn theme on the market and it's a direct clone of PornHub.
While you may not like the fact that its design isn't original, you can't argue much against HubX's feature. The theme allows you to upload, import or embed videos from popular porn sites, it lets you categorize them into groups and provides you with an option to build a community around your website.
On top of that, HubX uses an advanced HTML5 player that is fully mobile responsive and provides instant video previews. The theme also comes fully optimized and translation ready.
All of this makes it the best adult tube theme, despite its traditional PornHub layout. So, if you're looking to create a PornHub clone website or a porn site that requires little maintenance, HubX is the perfect choice for you.
The adult tube category concludes our list of the 45 best porn themes that are not WordPress.
We're confident this article at least helped you determine what type of adult website to launch. But if you're still unsure about it, we have one final piece of advice for you: don't think too much about it.
In the ultra-competitive, globalized market, there's no time to waste. So, carefully go over everything, and then plunge into the lucrative world of adult websites.
Besides, it doesn't really matter which specific adult niche you choose in the end. At the moment, you simply can't go wrong in the adult industry.