Many people seems to be considering a career as a phone sex operator. If that sounds like you, keep reading to find out how to become a phone sex operator.
Maybe you're a cam girl and you want to make some more money. Maybe you want to get into the adult industry but you're too shy to do webcam shows. Or maybe you're just looking for an additional income and think this might be a fun way to earn some cash.
Whatever your reason is, you've come to the right place. Continue reading.
How much can you earn as a phone sex operator
The first thing you're probably wondering is how much money will you be able to make as a phone sex operator.
Well, it's hard to estimate your potential pay, because it depends on various factors. However, on average, you can expect to make $1/minute, or $60/hour as a newcomer. Of course, this number varies, depending on the company you're working for, your experience and how many callers you get.
If you work from 10 PM and 4 AM, you'll probably be able to earn a bit more, because these are the peak hours in the adult industry.
In the beginning, you can expect to make around $3,000 to $4,000 a month.
Companies generally pay models by bank wire transfer, direct deposit, check or Paxum. Never accept payments through PayPal. It is against PayPal's terms of service to accept any adult-related payments. If you violate these terms, PayPal will ban your account and you will use your money.
How to become a phone sex operator
Now that you know how much you'll be able to earn, it's time to get started.
There are very few requirements for being a phone sex operator. First and foremost, you absolutely must be 18 or older. When you apply for a job at a phone sex company, you'll need to provide a copy of your government-issued ID in order to verify your age.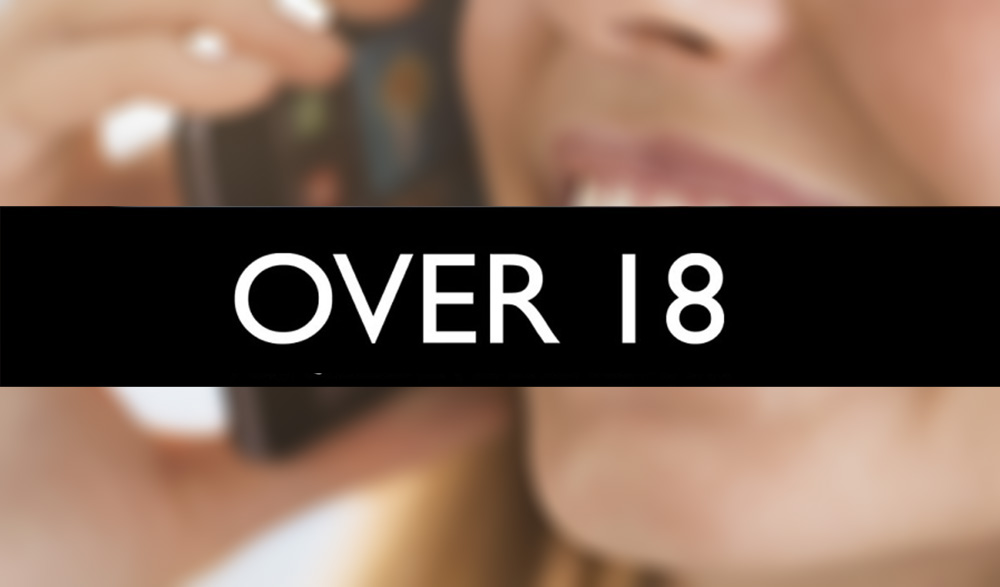 The next thing you will need is a smartphone. In the past, customers would call a 1-900 number and be connected to a random sex call operator. Sex call operators worked in an office, in little cubicles. Imagine 10-20 women sitting in a large office and talking dirty. Not very pleasant or sexy, is it?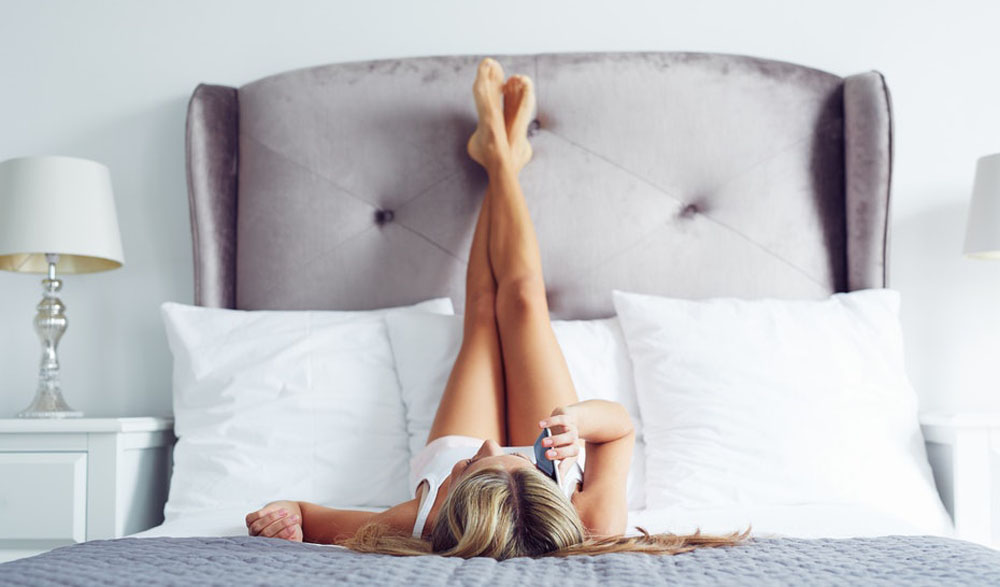 Fortunately, the business has evolved over the years. Now, phone sex operators can use a smartphone for their job. The best part is they can do it from the comfort of their own home.
This progress also affected the callers. They can now visit a company's website and choose which operator they want to talk to.
Register with a phone sex company
Now, it's time to sign up with a phone sex company. There are many phone sex companies out there. While some specialize in phone sex, others offer other services as well. We'll explain this in more detail a bit later. Let's take a short look at the application process first.
After you sign up, some companies may ask to do a voice test to check whether you fit their standards for a phone sex operator. Mainly, they want to check if your voice is sexy enough to make people want to pay to talk to you. However, this is not the case with all companies. In fact, nowadays, most of them don't require a voice test.
After you've passed the voice test, some companies may offer you a brief training period. In training, you'll learn some tips and tricks about how to behave with customers, what to say and so on. When you've finished training, you'll need to set up your profile by writing a short bio and posting a profile picture.
In the bio section, write a little bit about your personality, your turn-ons and so on. Be witty, sexy and dirty – after all, that's what your callers are looking for!
When it comes to the profile photo, you don't necessarily have to use a picture that shows your face. It is preferable, but this is completely up to you. Alternatively, you can post a sexy photo of your body that doesn't show your face.
When your profile is set up, you'll be ready to start working as a phone sex operator.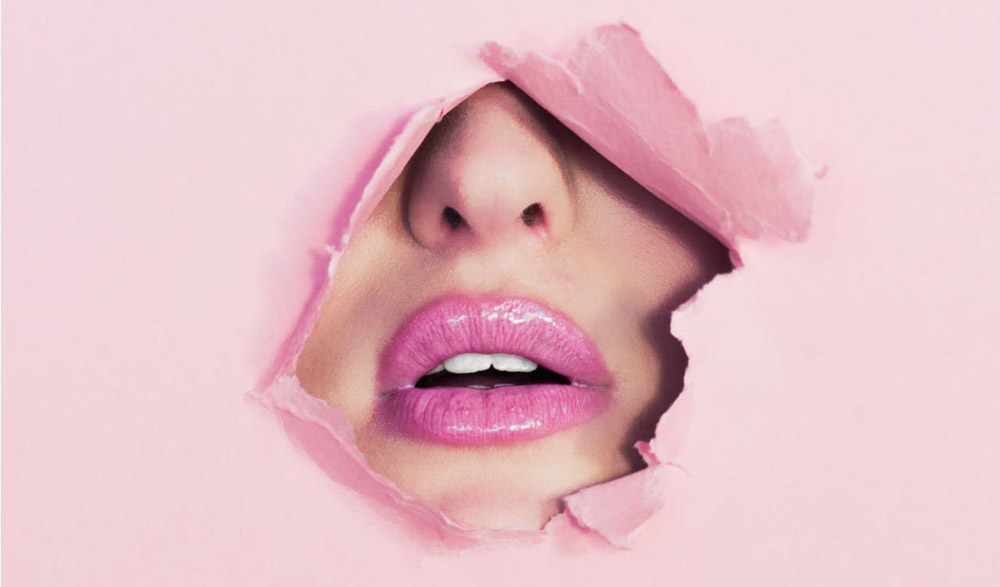 Practical tips and tricks
Although you will probably go through training when a company hires you, our practical tips and tricks will help you learn faster. If you plan on working as an independent phone sex operator, our tips are the only training you'll need.
The sexier your voice is, the more customers you'll have and the more you'll earn. Since they can't see you, your customers need to be excited by your voice. The sexy, enticing voice is something that you can practice and work on, so don't worry if you find it a bit difficult at the beginning. You can work on this by practicing when you're alone. Try by saying different naughty things in different tones and see which one sounds the sexiest.
When working as a sex call operator, remember that you're performing, or acting. Practice making up exciting stories, acting aroused and even faking orgasms. This brings us back to what we said in tip number 1 – practice! Practice telling stories when   you're alone. You can also practice with you partner or even with a friend.
Even though it's you who's going to be doing most of the talking, it's also important to listen. Engage your customers in the conversation, use their name often, and ask them questions. You can ask them anything from what they do, what they like to  read/watch/listen to, to things like what they'd like to talk about, what their turn-ons are and so on.
Be creative when it comes to the stories you will be telling your callers. It will really help you if you read adult novels and erotic stories. They'll surely give you some great  story ideas. You don't have to spend any money on this. There are tons of free erotic  stories available online.
You don't have to talk about topics you're uncomfortable with. In your profile section on  the company's website you can list the areas that you don't want to talk about. If a caller doesn't respect this, you have every right to hang up. You also want to make sure not to talk about something that will make your caller uncomfortable. To avoid this, ask  them beforehand, but not directly. For example, ask them what their biggest turn-offs are.
The best phone sex companies
There are a lot of phone sex companies, and there are also a lot of scammers in this industry. However, IWantPhone and TalkToMe are two of the very best phone sex companies out there. If you're a newbie, it's best if you stick with them.
NiteFlirt is possibly one of the best-known phone sex companies. Becoming a sex call operator or a "Flirt" as they call it, is as simple as registering on their website. No further verification is needed – you fill out the registration form and that's it!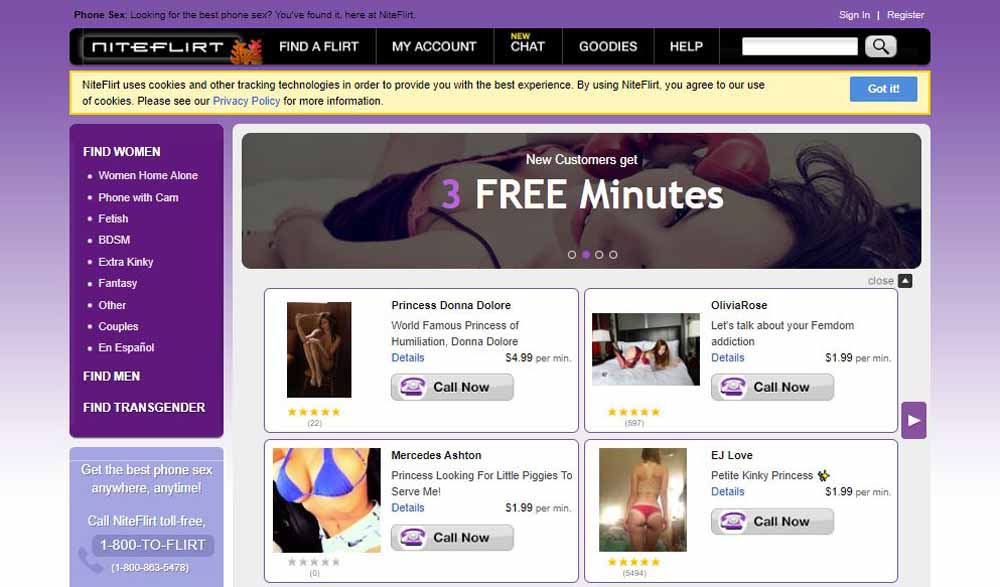 After you set up and personalize your profile, you'll be ready to begin taking calls. Additionally, you can also sell your photos, videos or audio files on NiteFlirt.
As with other phone sex platforms, you set your own rate, which can be anywhere between $1 and $5 per minute. NiteFlirt takes a 30% commission from live calls and the sales of your photos videos and audio calls, and they take a 50% commission for recorded calls.
IWantPhone is part of a platform called IWantClips. On IWantClips you can sell your amateur content (photos and videos). IWantPhone is their website that specializes in phone sex.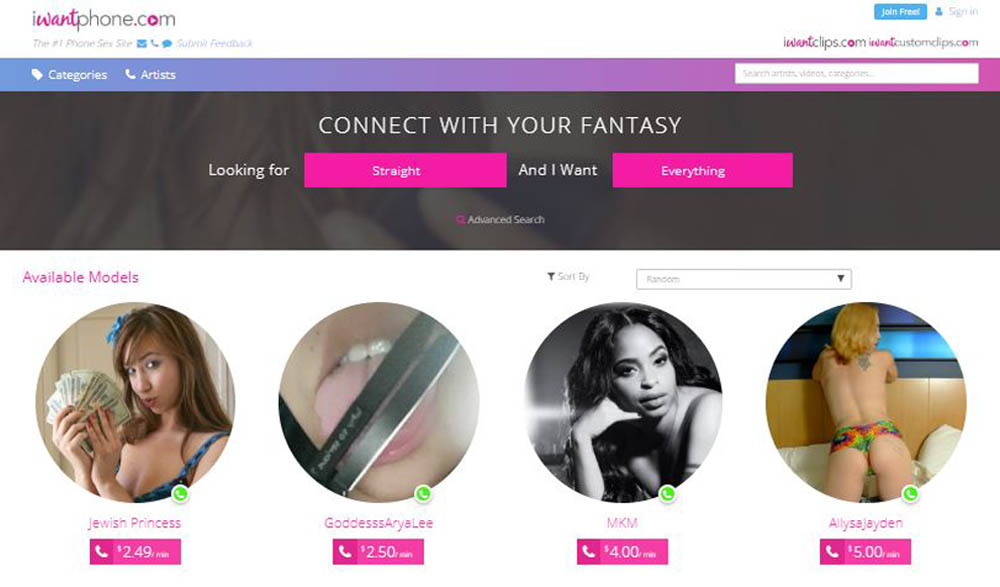 The best thing about this website is that you can set your own pay rate. Models typically charge between $1 and $5 per minute.
Payments are made via check, bank wire transfer or direct ACH deposit. You can choose to be paid out daily, bi-monthly and monthly, and even per request if you're an international sex call operator.
TalkToMe is one of the most popular platforms for phone sex operators. It gets quite a lot of traffic so you'll start making money quickly.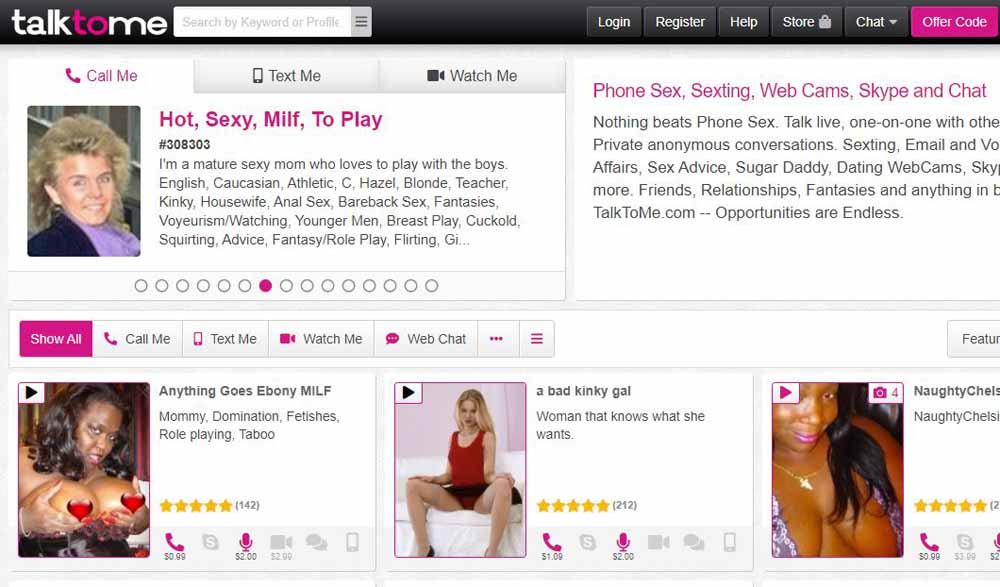 The registration process is simple – you just fill out a registration form on their website. After that, you'll need to verify your age. To do this, they require you to send a photograph of yourself holding your government issued ID. After that, you'll also need to verify your phone number, either via phone call or SMS.
You set your own rate, but it can't be more than $2.99 per minute. TalkToMe processes payouts every Wednesday. US operators can be paid via check or direct deposit. International operators are paid either via Paxum or check.
In addition to these three companies, there are two platforms – AdultStaffing and SexyJobs where you can look for adult jobs, phone sex jobs included. They often have a lot of great job opportunities, so be sure to check them out as well.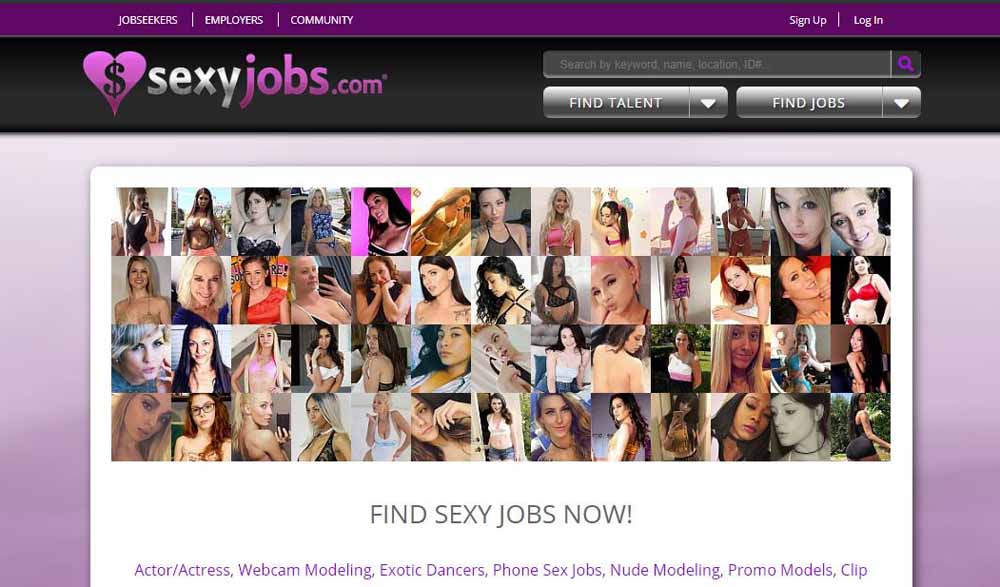 How to start your own phone sex business
If you want to become a phone sex operator but you'd prefer to be your own boss, we have a solution for you. In the days before Internet was easily accessible to everyone, starting a phone sex company was much harder than it is now.
First, you'll need a website. Unless you knew how to design one and set it up, you'd have to pay someone a lot of money to do it for you. You'd also need to obtain a toll free number. And we're not even going to talk about getting things like an adult merchant account to process credit card payments.
All of this made starting your own phone sex business pretty complicated. Luckily, those times have passed. Now, there are a few websites that offer to help you set up your own phone sex business. Here's a shortlist of the best platforms that will help you start your phone sex business:
PayPerCall is a nationally accredited and authorized service bureau. They'll help you start your own business and website at a low startup cost ($599). They provide real-time call reports, per-minute or per-call charging options, and merchant accounts. You will be able to charge your customers via credit, debit card or their phone bill.
BillPerCall is another trusted and established service that can help you start your own phone sex business. They offer a selection of mobile-ready website themes, appealing profile pages for phone sex operators and many other features.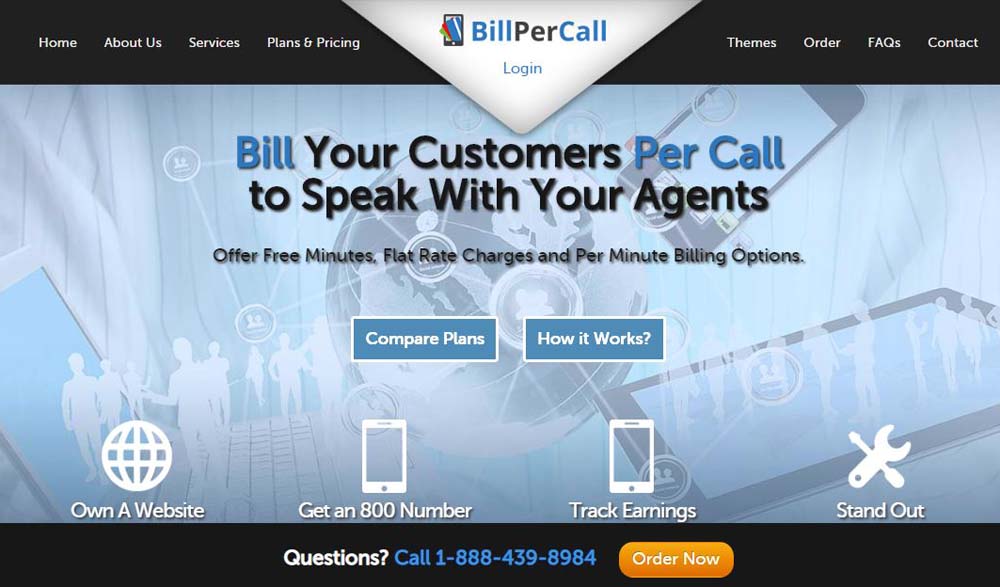 Protecting your privacy
One of the most common privacy-related questions when it comes to phone sex operators is whether the company gives out your phone number to callers, and the answer is no.
These companies have a system that protects your privacy. They connect the caller to you through a secure channel by a third party, so you don't have to worry.
Some networks (like ManyVids) let you sell access to your phone number. If this is something you want to do, remember to set up a special number just for this. Don't use that phone number for anything else, especially anything related to your personal life.
Of course, in order to protect your privacy even more, don't use your real name – pick a stage name instead.
As you can see, it's not hard to get started as a phone sex operator. If your goal is to make this your primary source of income, keep our advice in mind and you should be able to get along well.