More and more people are turning to amateur porn to make a living. In fact, selling and producing homemade porn has become so profitable that many prominent porn stars are turning to amateur porn. And it's not hard to see why – you're earning your own money instead of making money for a studio.
There's no interview or hiring process; you, and only you decide what you want and what you don't want to do. The best part is that it gives you a residual income stream for as long as your content is available.
Continue reading to find out how to sell homemade porn and earn money from your amateur performances.
Where to sell homemade porn
One of the most important things we need to address before you get started is – where to sell homemade porn? Here, you have a few options.
The simplest way to sell your content is to use the networks that were designed specifically for selling amateur porn. In essence, these networks offer you a platform where you can sell your videos and they take a cut of your earnings in return.
The upside of this is that you are in direct contact with you buyers and that will help you gain loyal customers more quickly. They will probably start following you on social media, and then you'll quickly have a large fan base. When you gain a large following, you can even start selling your content directly to customers, without the help of a third-party network.
Typically, you need to register as a producer and a model on the network. Then, you can start  uploading your videos. This way, you can make anywhere between $5 and $200 depending on the website and the video (its length, quality and type).
Now, to help you start selling your homemade videos, we've compiled a list of the best platforms where you can sell amateur porn:
MyGirlVids – This is a recently launched network, but it's growing at an incredible pace. MyGirlVids is special because it allows you to find and retrieve your stolen content relatively easily. Most other networks don't have any similar feature. In addition to that, their pay rates tend to be high compared to their competitors. However, they don't get as much traffic as the other websites on our list.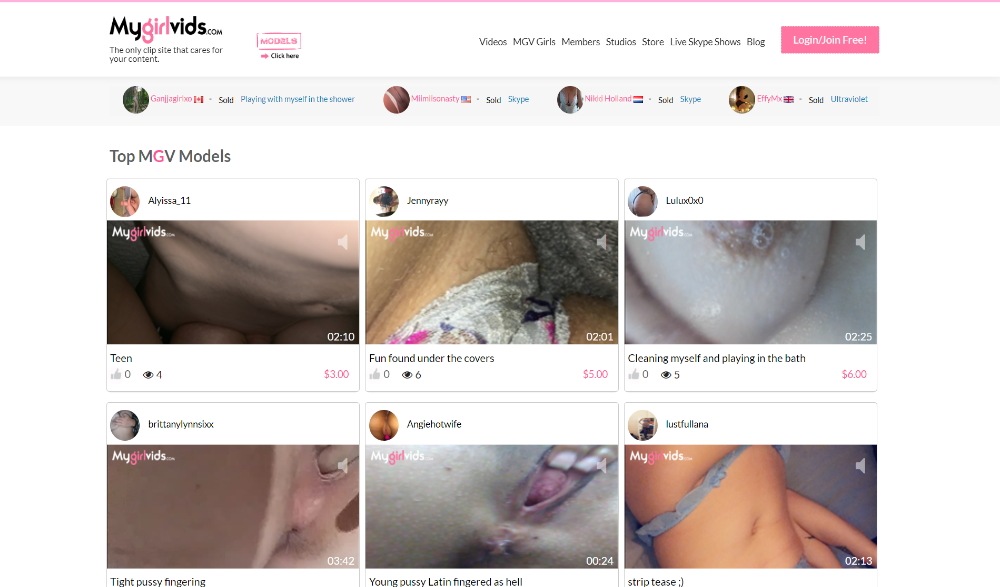 Payments: bi-monthly, via Payoneer ($50 minimum), check or bank wire transfer ($100 minimum)
iWantClips – iWantClips is one of the most well-known amateur porn websites, alongside ManyVids. In fact, many models who sell their content on ManyVids also sell on iWantClips.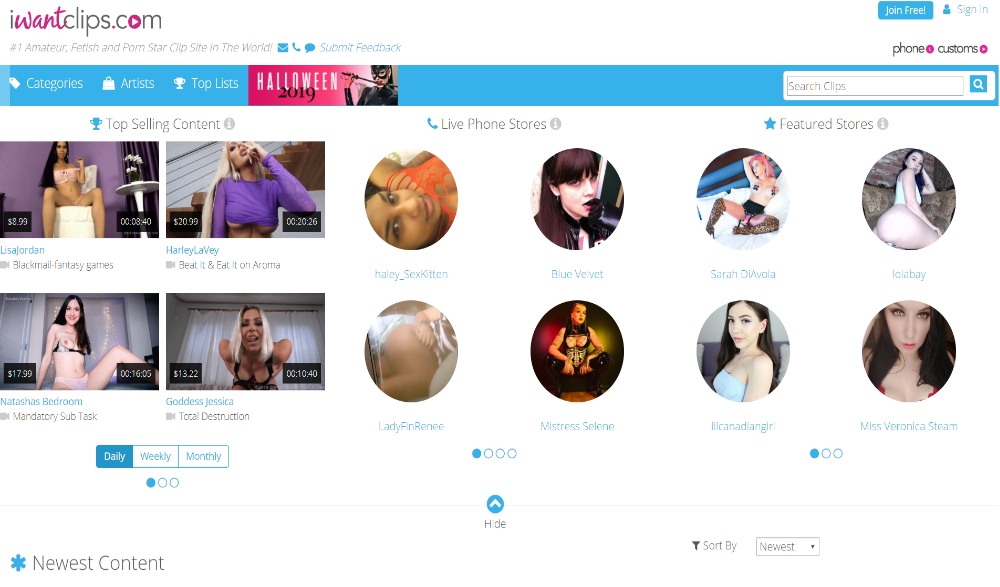 Payments:
US: daily ($25 minimum), bi-monthly or monthly ($50 minimum) via check, bank wire transfer or direct ACH deposit;
International: per request ($100 minimum) via Express Pay or bank wire transfer, bi-monthly or monthly ($100 minimum) via check
ManyVids – This is one of the biggest platforms that allow you to sell homemade porn. It receives a ton of traffic and attracts a lot of newbies. However, a lot of well-established cam girls and porn stars can be found here as well. Therefore, it might not the best choice for total rookies.
Payments: bi-monthly on the 1st and 16th, via free direct deposit ($100 minimum), US check ($100 minimum) or Payoneer ($50 minimum)
ExtraLunchMoney – ExtraLunchMoney is another prominent adult marketplace. It offers pretty much everything – live sex shows, selling homemade content, used panties, Snapchat accounts and much more. It's also a great choice for new performers. Even though it has a high amount of traffic, it still gives you a chance to set a fair price for your content.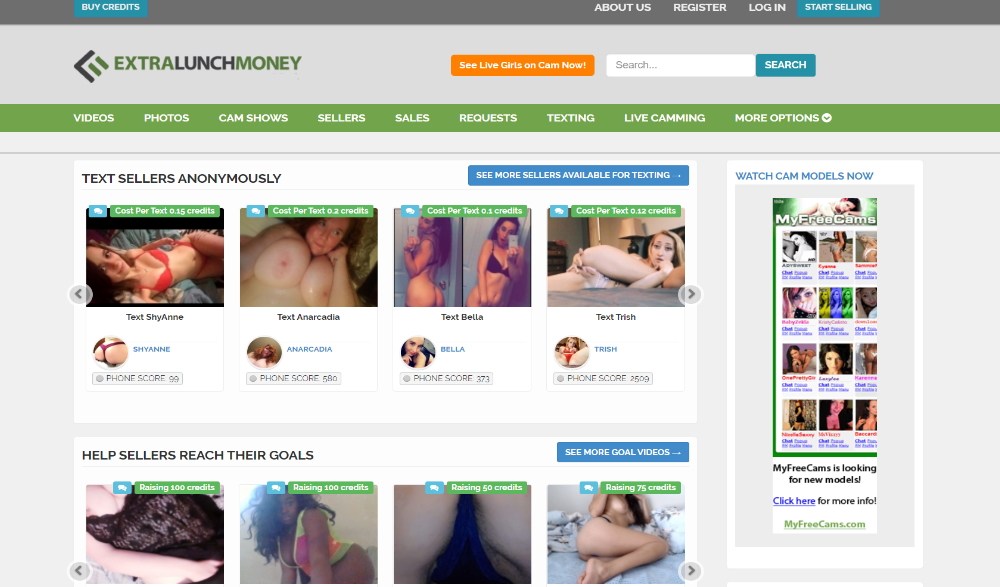 Payments: per request ($20 minimum) via Paxum or Dwolla
Once your popularity grows, you should consider starting your own website. On this website, you will allow your viewers to access your content on a pay-per-view basis. This way, you'll start earning even more money, since you won't have to give a cut of your earnings to a third-party network. Here, you can even start selling your used toys, lingerie and outfits you wore in scenes.
When you're making your own website, you can choose between an eCommerce website and a membership website. With an eCommerce website, you can post and sell individual store items – videos, photos, audio, worn underwear, even costumes you wore in some of your scenes.
Your other option is to make a membership website. This is when you post content to your website that only members who subscribe to your website can see. Everyone can see some previews, but the really good stuff is saved for your paying customers.
You can make your website on your own, using WordPress, which is probably the easiest platform for making websites. After you choose a theme for your website, you will need to get a domain name and a hosting provider. Then, after installing the theme, you'll just need to get the WooCommerce or WooCommerce Memberships plug-in to convert your website into an eCommerce or membership website.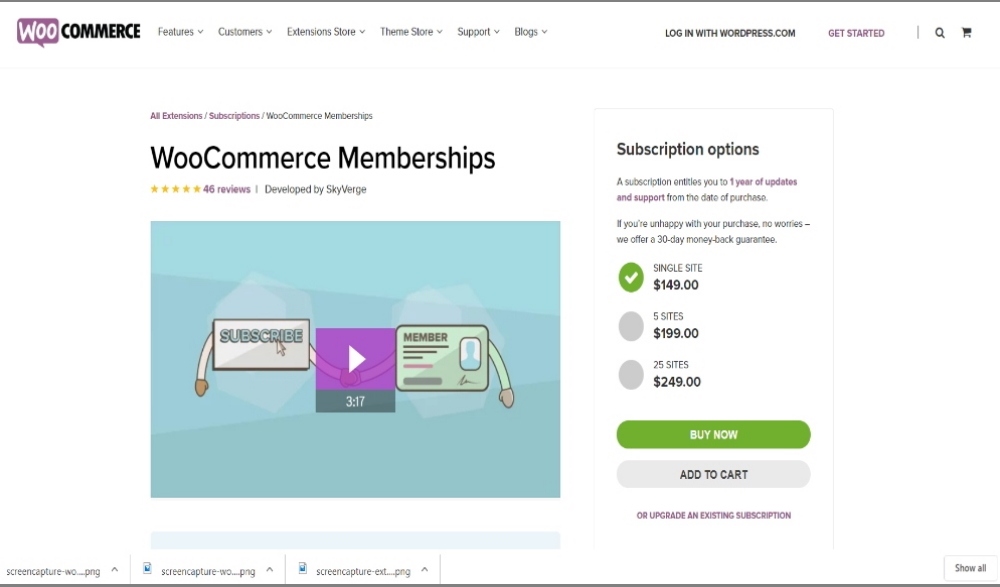 If you're already a webcam model, it might be best to begin by selling your clips on webcam sites. This will help you gain fans that will start following you on social media. When you develop a fan base, you can cut out the middleman (i.e. the platform you were selling on) and sell homemade porn directly to your customers.
Starting a Membership Site
You can always start your own membership site and monetize your homemade porn that way. The two most practical ways of doing so include getting a turnkey adult website, a semi custom adult site, or using a WordPress theme such as ModelX.
Adult Turnkey Site – With a turnkey solution, you can forget all about programming, designing, and even hosting a website. You can have your own adult turnkey site with as little trouble as possible. Turnkey companies will do all the heavy lifting for you!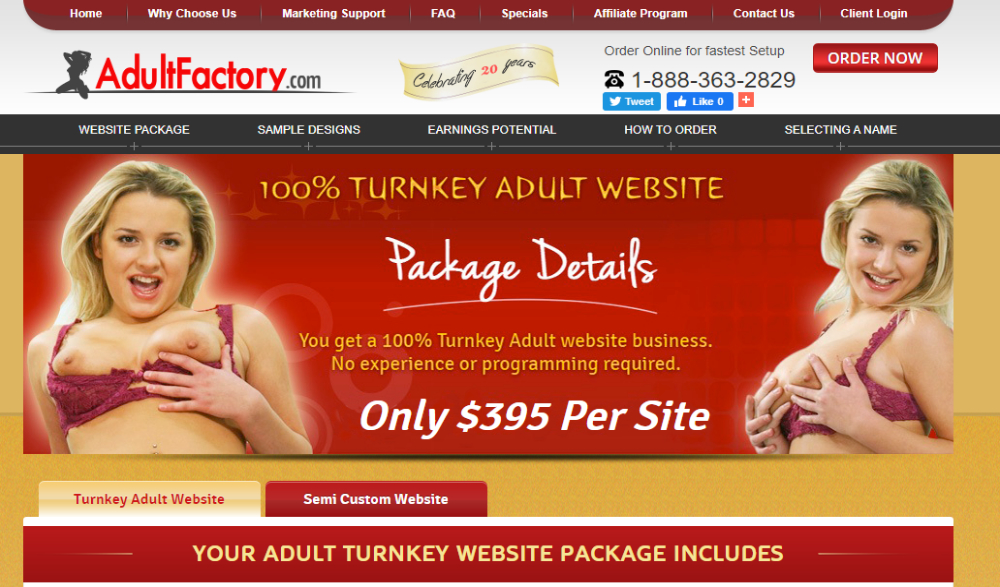 Semi Custom Adult Site – If you want to have all the benefits of turnkey websites, but with greater flexibility and more control over the layout, go for a semi custom adult site. You'll get to have more say in what features your adult website will utilize and make more decisions pertaining to its design.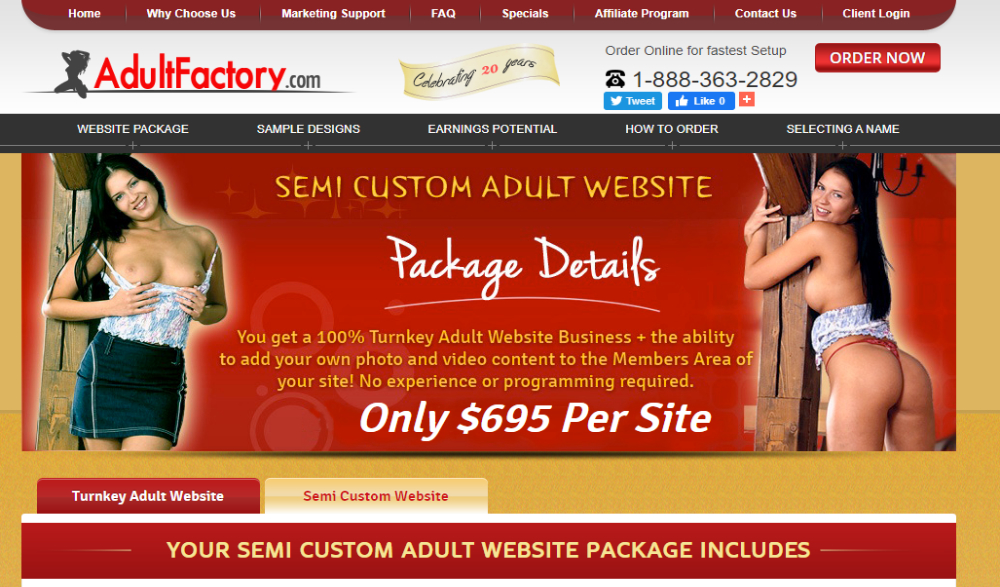 How to increase your income
Custom content requests are a fantastic option if you want to make an additional income. Most of the websites that we've listed earlier give you the option to accept custom content requests, and you can add such an option to your own website as well.
Custom content always sells at a higher price. Models generally charge between $300 and $500 dollars for it. You can later decide to resell the custom content or leave it exclusive to the customer that ordered it. If it remains exclusive, you can charge even more for it.
Content Partner programs
Many adult tube websites such as Xhamster and PornHub have a content partner program. Basically, you register on their website, apply for a content partner program and upload your videos to their website.
Of course, you shouldn't upload full videos to tube sites. The trick is to upload only a teaser clip, preferably with a watermark. If you upload the entire video, then nobody will feel the need to purchase it!
All of your uploaded videos are displayed with an ad that links back to your website. This is a great method for boosting traffic on your website (or account on a platform you use to sell your content).
Both Xhamster and Pornhub are popular adult tube sites, and you can choose either of them if you want to join a content partner program. However, Pornhub is probably a slightly better solution here.
First of all, the Pornhub network contains a number of tube sites – RedTube, YouPorn, Xtube and many, many more. This means that if you register for Pornhub's content partner program, you can get exposure across the entire Pornhub network.
You can also sign up for the Pornhub Premium Viewshare as a content partner. This means that Pornhub will pay you every time someone watches one of your HD videos. If you become a Viewshare partner, you will also get a "Join" button under your videos that redirects viewers to your website or the network where you sell your content. Needless to say, this will help you drive more traffic to your site.
Payments for Viewshare partners are made monthly. Payouts are made through wire, Paxum, PayPal, and check.
Viewshare partners are paid a percentage of revenue from Pornhub Premium. This means that the amount you earn depends on both your number of views and how much Pornhub Premium earns in general. Pornhub states that the average Viewshare rate was $45 for 1,000 views in 2017.
If you visit profiles of famous porn stars as well as amateur performers and even studios, you'll see that most of them are content partners.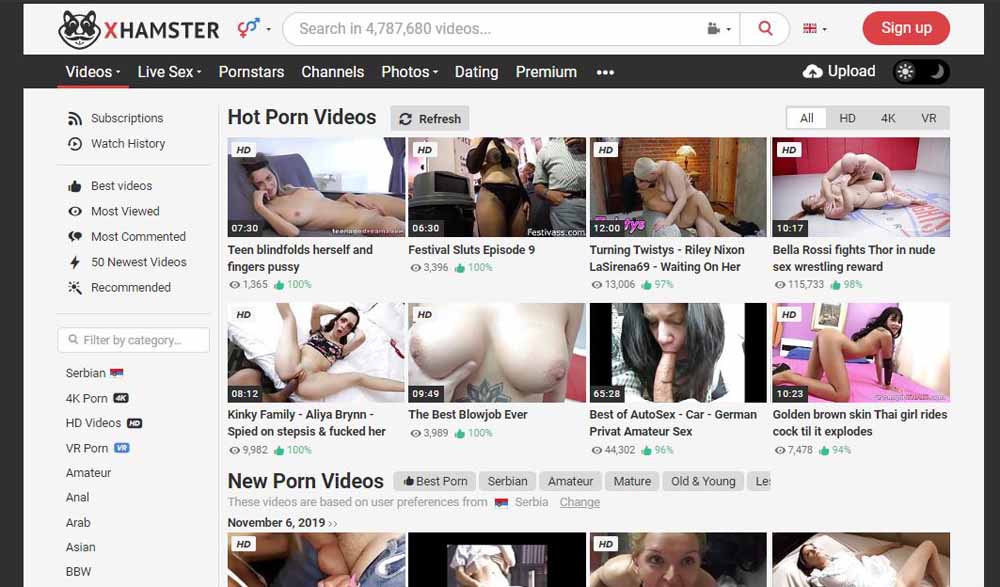 As far as xHamster's content program goes, it's a bit different than Pornhub. To be part of xHamster's program, the first thing you'll need to have is either your own website where you sell your content, or a clipstore (ManyVids, for example). The second requirement is to have an affiliate program, but this is not required, if you have a clipstore.
If you pass these requirements, the next step is to register for a free account on xHamster. When you provide them with the username and link to your affiliate program or clipstore, they will upgrade your account. You will then be able to add your websites and their banners to your Xhamster account.
Now, when you start posting your videos to xHamster, you will have your banner below them. Naturally, the banner will take the viewers to your website or clipstore.
However, you won't really make any money from xHamster, you'll just be using it to promote your content. You will only be earning from your affiliate program. But there's another way to earn money on xHamster and that is through xHamster Premium.
Basically, you sign up as a producer and open your studio on xHamster Premium. You'll get your own store page where you can post and sell your amateur or professional content.
Privacy concerns
As with any other branch of the adult industry, people who steal content are a big problem. Luckily, there are a few ways you can protect yourself and your identity.
Aside from using a stage name, you can protect your privacy by blocking certain geo-locations on the platform you're selling on, camming website or your own website. Just to make sure you don't get exposed, we advise you to block your entire state.
Furthermore, you should get a proxy server that will hide your IP address. This way, you will conceal your location, preventing people from finding out which city you live in.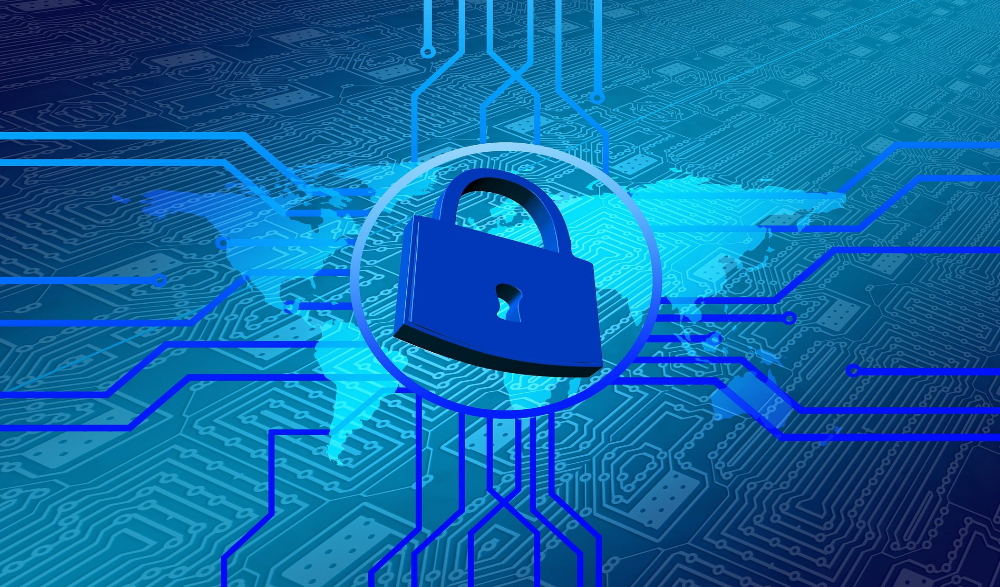 And last but not least, consider getting a DMCA service. Your content might be downloaded and then posted to tube sites for free. A DMCA service monitors the Internet for your content and takes proper action to have it removed from free tube websites.
How to start filming amateur porn
Before you start filming, you should know that all of the perfomers that appear in your videos, need to be verified on the sites that you plan to sell your content on. Aside from that, it goes without saying that everyone that participates in the scenes needs to be at least 18 years of age.
Then, you should find your audience, because it will help you sell your content more quickly and gain more popularity. It's best to target specific porn niches in the beginning, like gay, lesbian couples, BBW, BDSM etc.
Now, in order to start making and selling homemade porn, you should consider investing in the following things:
Camera – If you want to start shooting videos, you'll first need a high-quality camera. Although you can start with a basic HD webcam or even a high-quality smartphone, it would be best to upgrade your equipment as soon as possible. The better the equipment, the better your end product. In addition to that, you should probably get a tripod and a microphone as well, but you likely won't need them when you first start filming.
PC – You probably own a PC, but if you don't, you should buy it as soon as possible. You need a computer to edit and upload all your videos. When you start getting some money, you should also invest in a professional video editing software, but you shouldn't worry about that if you're only starting out.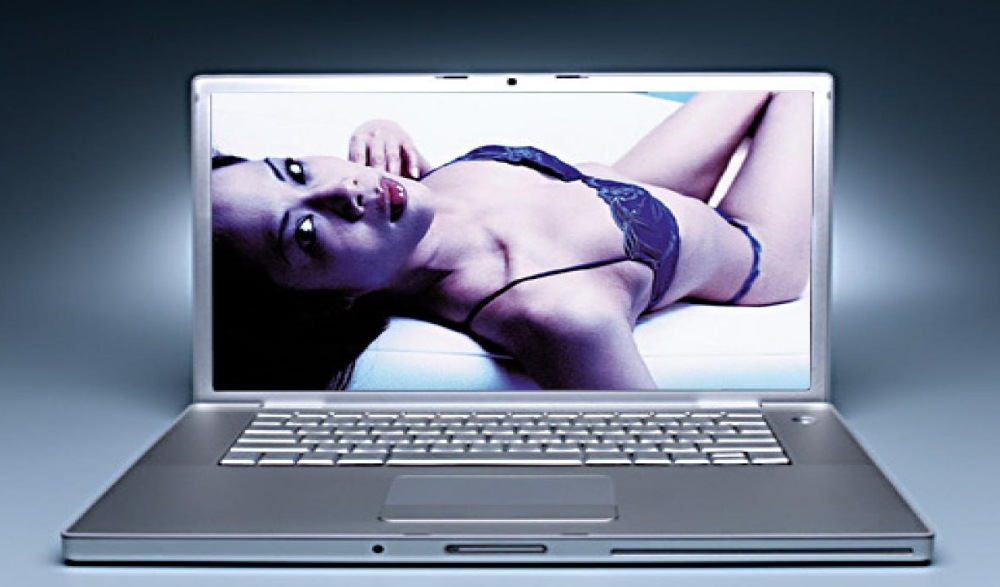 Lighting equipment – You should definitely invest in a lighting system if you plan to be filming in a place that doesn't have great natural lighting. Luckily, the lighting systems are pretty cheap nowadays and you can get one for as little as $50.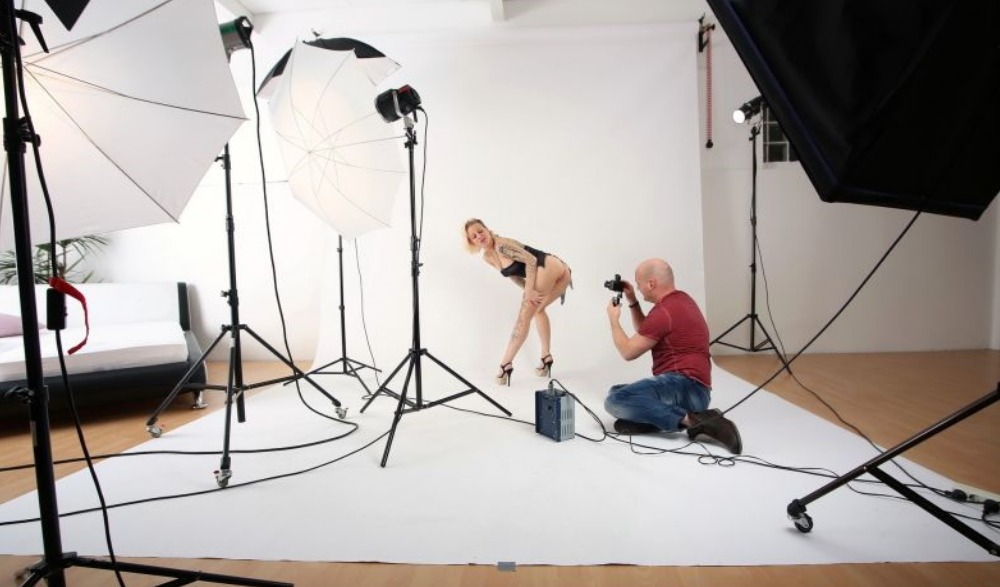 Private bedroom – You'll need a private place to film your movies. Don't forget to remove anything that could reveal your identity or location.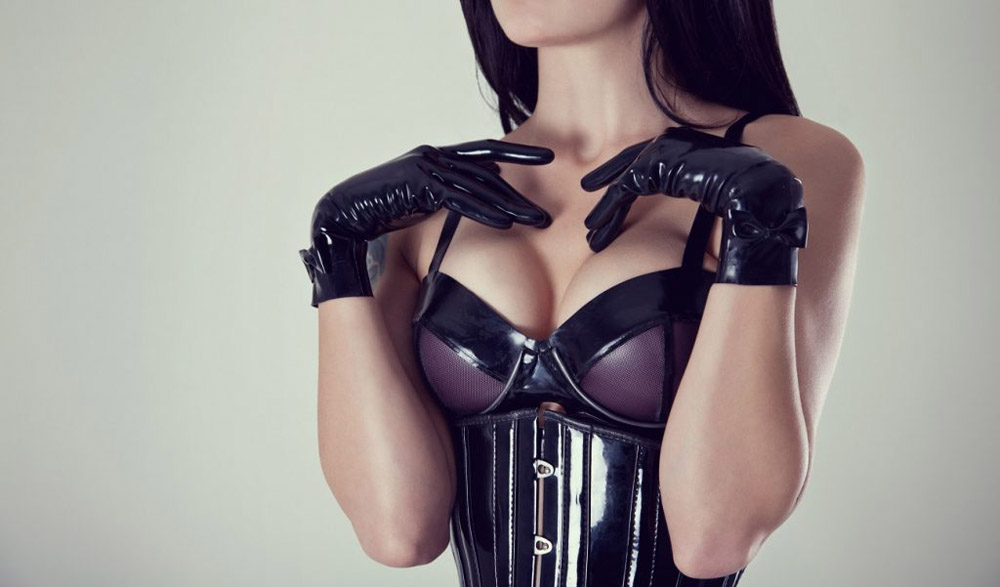 Practical tips for producing amateur content
Before we end our article, we'll share a few practical tips that will help you produce great amateur porn content.
Aside from the technical qualities of the video, you should consider the quality of the content itself. For example, you should aim to shoot longer videos. Generally speaking, longer videos are always better than shorter ones, because they allow your viewers to see the complete sex scene from start to finish. This means that they usually attract more viewers (and bring you more money). Try to record videos that are at least 10 minutes long.
Similarly, your viewers want an authentic porn experience. They don't want to hear fake moaning or screaming. They know whether or not you're enjoying yourself while filming. Don't disrespect them by offering them fake content.
In the end, you should understand that it's not easy to sell homemade porn. There's practically a limitless supply of free porn on the Internet and a very limited market for paid amateur content.
There you go! Now you know how you can start shooting and selling your homemade porn videos. If you're looking for other ways to earn money from porn, feel free to check out our comprehensive guide on how to make money from porn.