Whether you're a webmaster who wants to start a camming website or a model who wants her own personal camming platform, you're going to need a few essentials to start your website. One of the most important things that you need is a good website script.
An adult webcam script will allow you to quickly set up your website and save the time typically associated with creating a brand new site.
If you choose a well-designed, reliable script, you will have all the features of a webcam platform at your fingertips, installed and ready to use within minutes. All of this means it's crucial that you find and choose the best webcam script.
To help you find the right script for your website, we've created the following list of the best adult webcam scripts, ranked worst to best. Browse through the list and check out each script carefully before you make a decision. It might take a bit longer than you would like, but it will surely require less time than switching to another script once your website is already up and running.
Keep reading to find the list of the best adult cam scripts.
The Cam Site Builder by RoboScripts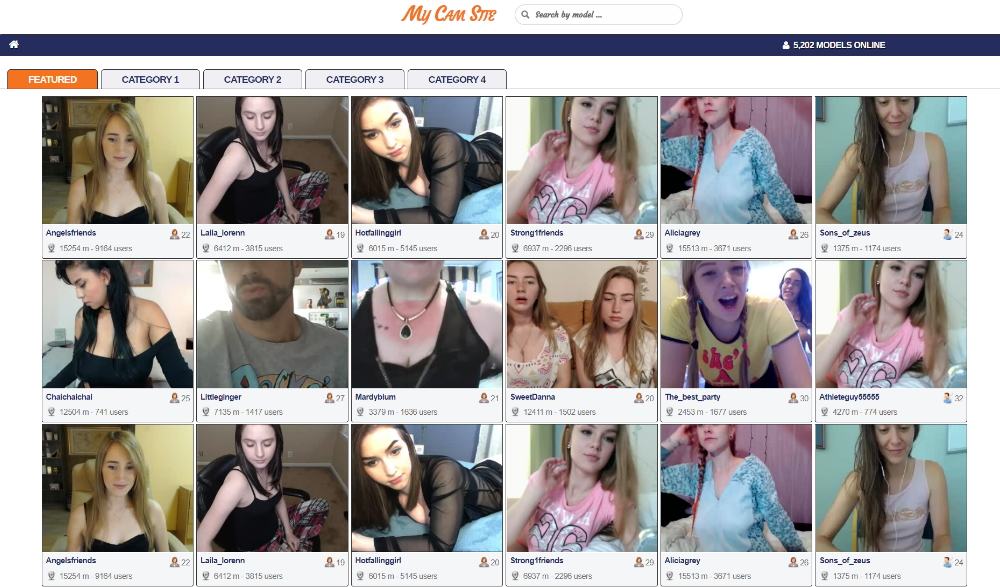 The RoboScripts webcam script is primarily designed for people who want to embed and display video content from other camming platforms. This means it's not really suitable for performers who want to stream their own shows online.
The script comes fully integrated with the most popular cam sites, including Chaturbate, BongaCams, LiveJasmin, CamSoda, etc.
It's relatively simple to add cam shows on RoboScripts. Simply use the script's aggregator to add models and their information to your database. This tool also allows you to check which models are live at any given moment, thanks to its API-based checker.
In addition to adding cam shows from other sites, you can also add your own photo galleries, if you use RoboScripts.
Moreover, this script comes with a default template and two custom responsive themes. However, if you don't like any of these, that's no problem either. RoboScripts will work with almost any template that you choose.
The PHP cam script comes with an additional feature called Online Twitter Poster. This feature allows you to tweet directly from the site. This means, you can schedule tweets to be posted whenever a model comes online, for example.
Notable features:
Integrated with multiple cam sites
Models aggregator
API based checker for model availability
Two custom responsive themes
Online Twitter Poster
Red5Cam Software by Red5Cam LLP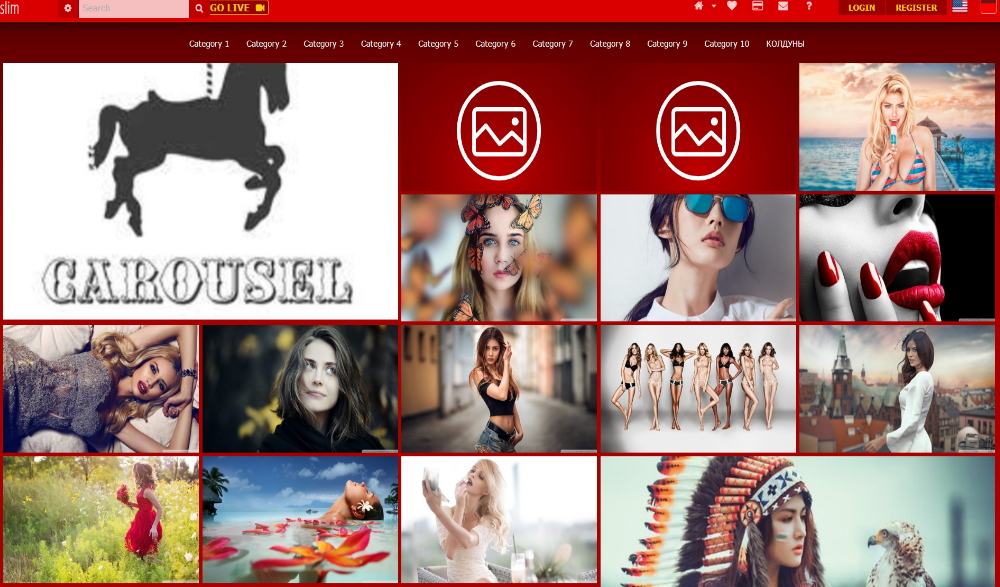 Red5Cam offers an adult webcam script with all the features that you need to start a webcam site.
One of the best features of this script is its multilingual system. This means your the webcam platform will be available in multiple languages at all times. Additionally, you can use their automatic text translator to even translate chats between models and customers.
Customers can give models both tips and presents. Furthermore, models and customers can communicate via private messages and arrange custom shows. These can be either free or paid.
In addition to that, the script integrates a payment processor, which allows you to set automatic payments for all models and studios.
Speaking of studios, this script allows them to create their own websites, with their own domain and display shows from the main website on them. In return, the script's billing system automatically transfers a share of the studio's earnings to the main site.
Notable features:
Multilingual system
Chat translation
Paid private messaging
Automated payments
Studio websites
Webvideo by AcademTech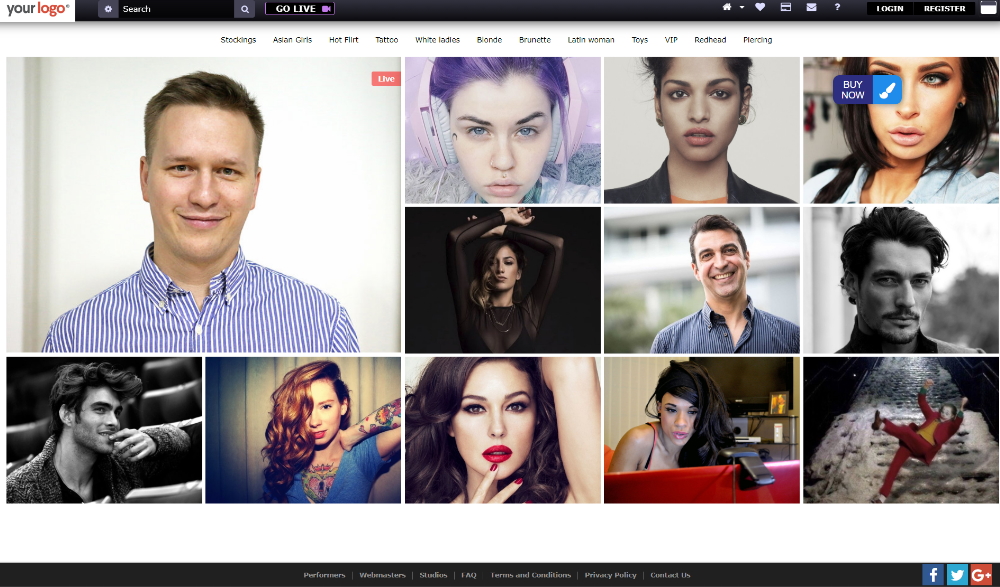 Webvideo is a company that's been developing video conferencing software since 2003. Their main product is a video chat script that can b e customized into a webcam site.
With Webvideo, neither the customer nor the model need to download any programs for chatting. The script is entirely web-based. Everything is billed automatically on a pay-per-minute basis, and of course, the customers can leave tips as well.
Every private show is saved in the form of a video and it can later be downloaded by the model. Then, it can even be uploaded for sale. The models can also upload their own, custom videos, photos and photo galleries and sell them on Webvideo.
Both the model and webmaster can use geo-location blocking. Models also set their own prices for private chats.
Furthermore, the Webvideo adult cam script comes with an integrated affiliate program for models, customers, and webmasters.
Notable features:
Completely web-based
Premium chats saved as videos
Models can sell videos and photos
Geo-location blocking
Built-in affiliate program
OdysseyCam Video Software by OdysseyCam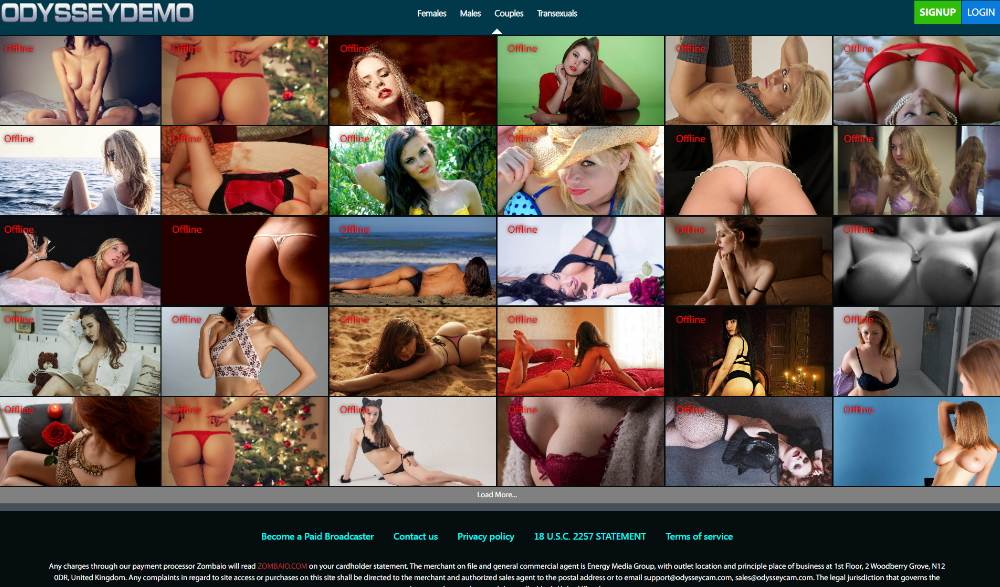 OdysseyCam is an adult webcam script that's been around for 15 years already! While their initial offering was not the greatest, they have greatly improved their services over the years. Now, they offer one of the best webcam scripts.
The OdysseyCam script can be configured in two different ways. It can either have separate registration processes for models and members, or it can have member accounts that can become model accounts.
This means that all members can easily become models (or broadcasters) just by clicking on the Broadcast Now button. There's no need for any special registration process.
Thanks to the OdysseyCam's Broadcaster Tipping feature, the viewers can buy and tip credits from the popup form on the side. They can even send anonymous tips with just a simple click of the mouse.
OdysseyCam's advanced geo-location blocking feature makes the broadcasters virtually invisible to blocked locations and users. This means that no one from a blocked country can see the model's name, gallery, bio, or anything that may be associated with the model..
Notable features:
Two different configurations
Members can become broadcasters
Broadcaster Tipping feature
Anonymous tips
Advanced geo-location blocking
Fluffvision Video Script by Fluffvision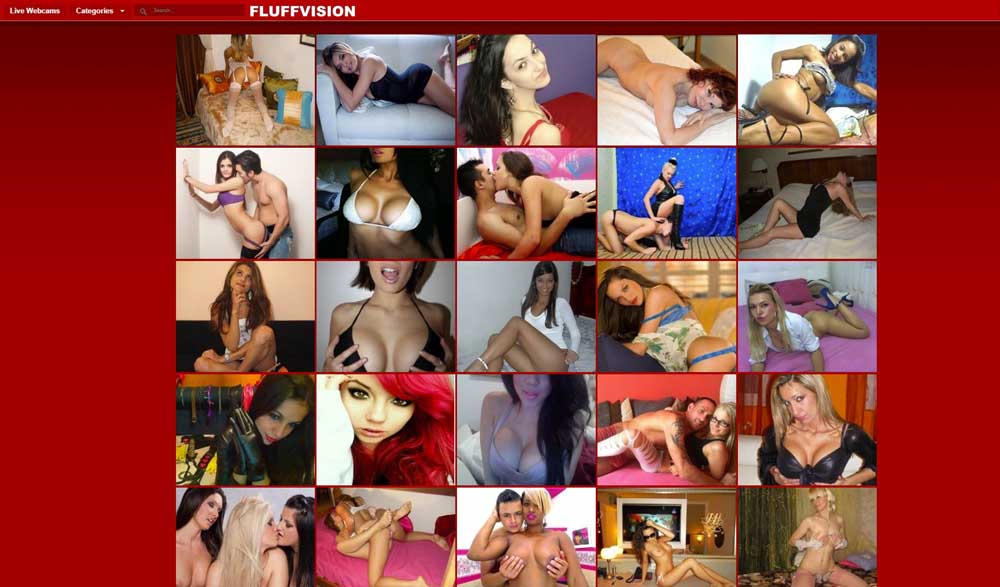 Fluffvision is a fully customizable pay-per-view adult webcam script. It offers HD two-way webcam chats, a pay-per-minute billing system, and a complex tipping system. This streaming video solution is completely web-based, which means you won't need to install any additional software.
As a webmaster, you'll be able to review, approve or deny any new performers. You can also monitor all live chat sessions and suspend and delete accounts. In addition, you can also set per-minute fees and commission percentages for each individual performer.
When it comes to model payouts, you don't have to worry about that with Fluffvision. This script uses an automated, integrated payment system that pays the models on a regular basis.
The script is based on open-source code, which means you can customize it any way you want. In fact, you don't even have to do it on your own. Simply contact Fluffvision and their team can do this for you – for a custom price, of course.
Last but not least, Fluffvision comes with a geo-location blocking features that has become the industry standard for webcam sites in recent years.
Notable features:
Completely web-based streaming solution
Review performers
Set fees and commissions
Automated payment system
Customizable, open-source code
ModenaCam by AvenoCam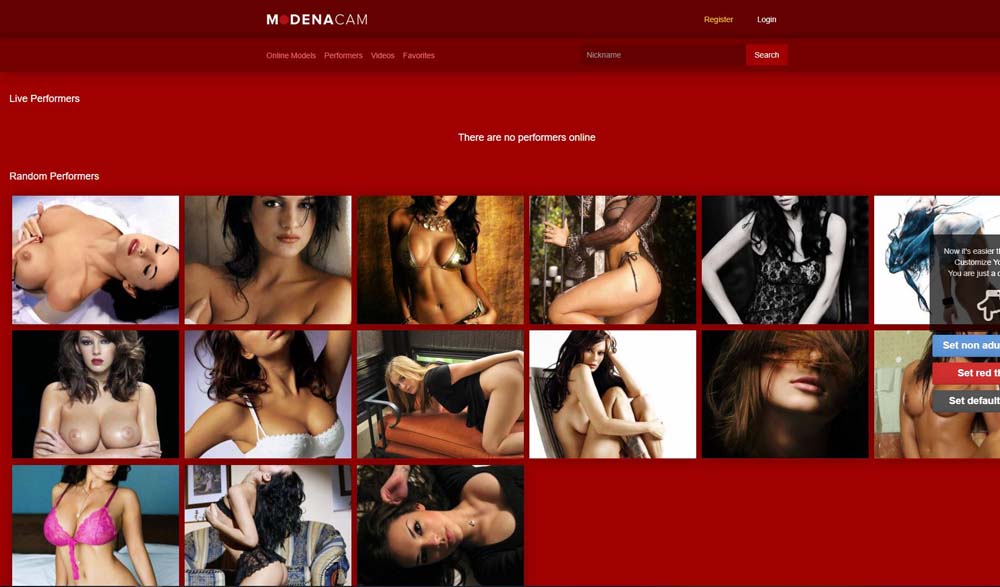 ModenaCam is a veteran when it comes to high-quality adult webcam scripts. With more than 10 years in the business, they'll install and set up your website within a few days.
Perhaps the best feature of this script is its multilingual system that allows customers from all over the world to enjoy your website. Furthermore, the script also comes with an advanced, real time chat translation. This way, customers will be able to talk to performers even if they don't speak English.
When it comes to chat types, ModenaCam offers all of them – free, private, multi chats, and peek shows (private chats with voyeurs). Multi chats can be either free or paid.
The script also has a Goal System integrated. This system allows users to set an action that's going to be performed once the model gathers a certain amount of tips. The model can set a timeframe in which the viewers can contribute tips for the goal. Once the time runs out, goal tips will no longer be available. If the tip goal is not reached within the designated timeframe, the performer won't do the goal action.
Models can also upload photos and videos to their profiles and sell them as premium content to maximize their income. Performers determine their own prices and their rates for live cam shows. However, webmasters have the option to set minimum and maximum prices for all types of content on the website.
These are just some of the many features that this adult cam script offers. If you'd like to see all the features, you can try out ModenaCam with a free 10-day trial.
Notable features:
Multiple languages and real time chat translation
Free or paid multi chats
Goal system
Premium content sales
Free 10-day trial
Modelnet by AcademTech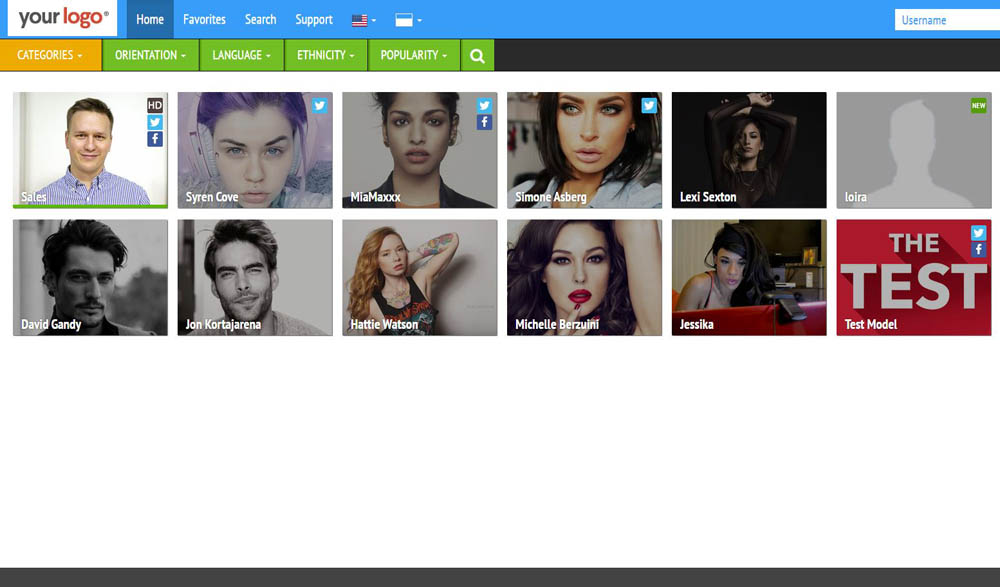 Modelnet is a webcam script that helps webmasters make a cam site with pay-per-minute, pay-per-view, and tips options for payment. Aside from this, they also offer web hosting solutions based on their data centers in the USA and Europe.
Aside from the free chat, one-on-one, and group chats, this script also offers a private chat option with voyeurs. That means that certain people can pay to view a private chat without participating in it. This typically costs less than the private chat.
Besides tipping the models, customers can also give cash gifts and get paid subscriptions to models. In addition, they can even get a commission for referring new customers to the site.
Models can upload videos and photos to their profiles. This content can either be free or premium. Aside from broadcasting from their computers, models can even broadcast from their phones or tablets.
On top of all that, Modelnet has a private messaging feature that models can use to charge their customers for conversations. Of course, models can always earn commissions by referring new customers or models to a Modelnet based camming platform.
Needless to say, this script comes with the geo-location blocking feature that allow you to block locations by zip code, city, state, country, or IP address.
Notable features:
Web hosting offers
Private chats with voyeurs
Commission for referring new customers (customers and models)
Broadcast from any device
Private messaging can be charged
xCams by Adent.io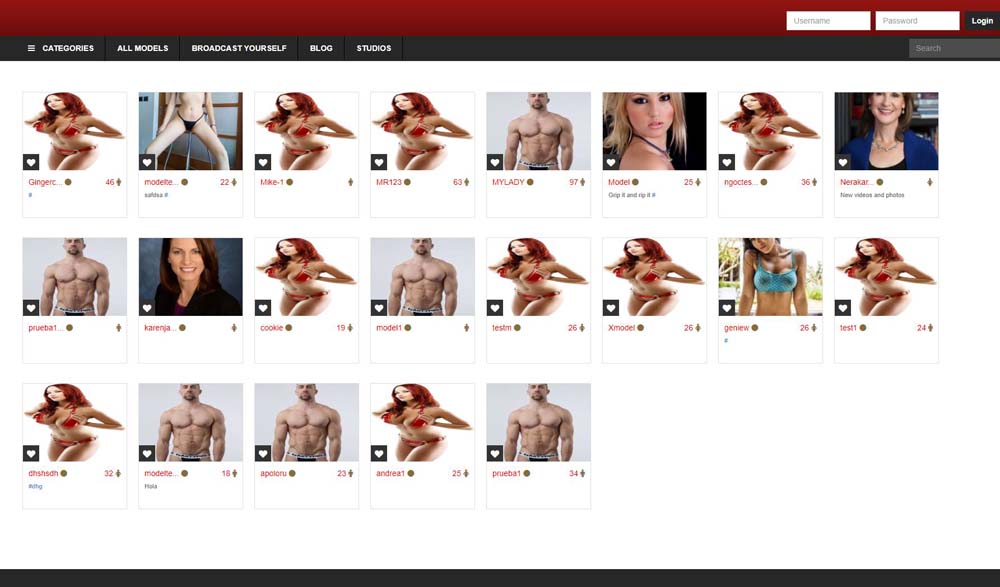 Simply the best webcam script.
xCams will help you create a webcam site just like LiveJasmin or Chaturbate in less than 24 hours. Since it was designed on open-source code, you can customize this script as much as you want. Provided that you have sufficient technical knowledge, of course.
xCams has four different dashboards for different types of users – end users, models, studios, and the website owner. Customers can purchase tokens, watch free, public broadcasts as well as participate in private sessions. They can also buy premium content and follow their favorite models.
Aside from performing live cam shows, models can also sell videos and photos, and chat with their customers. They can also choose whether their content is public or private, as well as set individual prices for their content and shows. Additionally, they can block unwanted users and users based in certain locations.
Furthermore, xCams comes with four chat types – one-on-one paid chat, group chat, peek show, and free chat. In addition to that, models and customers can communicate through private messages to discuss payments for premium content.
Notable features:
Get started in less than 24 hours
Four different dashboard types
User and geo-location blocking
Four chat types
Private messages
We hope you liked our list of the best adult webcam scripts. As you can see, they all have many interesting features. But the main question is – what do you need from a cam script? Think about that, go over our article one more time if necessary, and see which one suits you best.