People have always had the urge to meet others, but more often than not, they feel too shy to do it in person. This simple fact has led to the creation and rapid growth of the online dating industry.
In fact, recent years have given us a drastic rise in the number of online dating sites, where people can talk and meet others. Now, everybody wants a piece of that cake.
If you're reading this article, it means you're one of the many people interested in creating their own dating platform and profiting from the dating craze. However, it's hard to compete with the giants of Badoo and Tinder. Unless you have a good, multi-functional dating website script, of course.
The value of a good dating script can't be overestimated. It can make or break your dating platform. So, to help you find the ideal dating script for you, we've decided to collect the best PHP dating scripts and present them to you in this article.
Our piece will list out the scripts from worst to best. Feel free to jump to the bottom of the page if you only want to find the best dating script. Or enjoy the ride and go through our detailed analysis of each dating script.
Let's get started.
Datemill by Etano Community Builder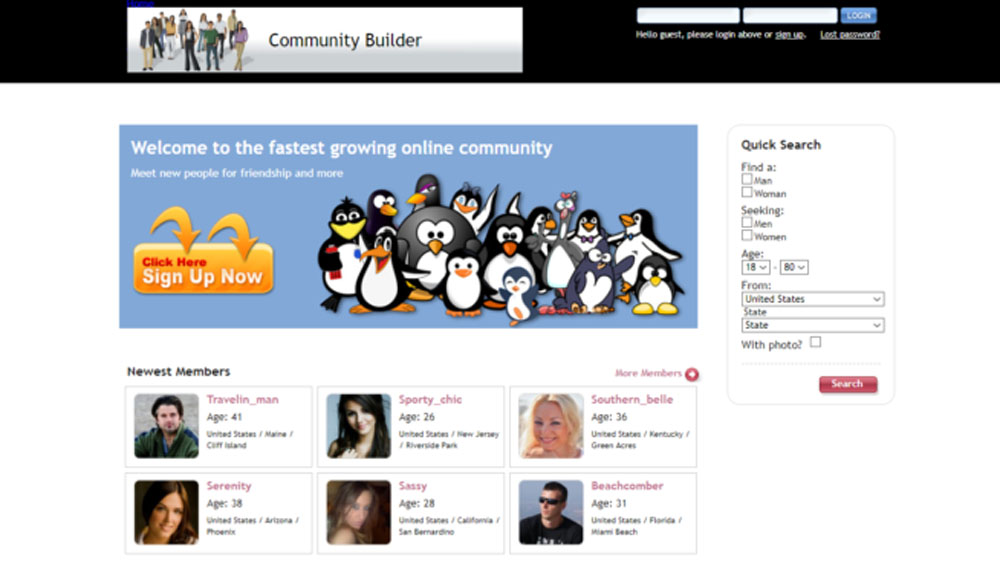 Datemill is a multi-purpose script that can be used to create a dating site, a social networking site, or even a social forum.
The layout of the script is simple and it doesn't really capture your attention. However, if you're only starting out and you want to begin small, this might be the best option for you. New webmasters with no prior experience in the Internet industry simply love this script – mainly due to its simplicity.
Notable features:
Modular design
Image watermark
Banned words
Favorite searches
Online Dating by SoftbizScripts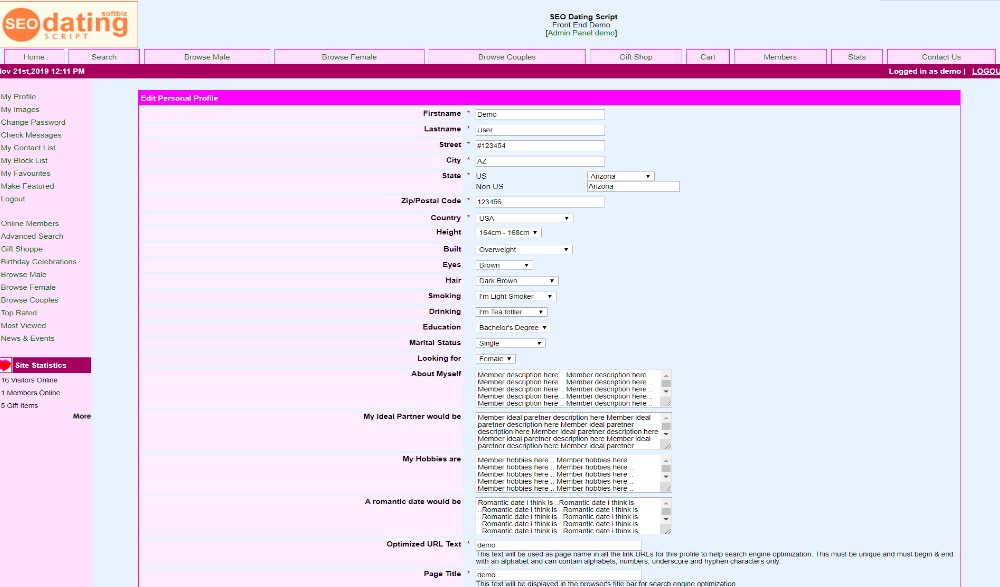 Online Dating script is an SEO friendly script that comes with more than 185 online dating features. Combine the various features and options with low maintenance costs and you have yourself a great script at an affordable price of just $67.
This PHP dating script has been built with a special emphasis on the interface, which is designed to be very user-friendly and easy to use.
What's special about this script is the fact that it comes with a built-in gift shop that will keep your members entertained and incentivize them to spend more money on your website.
Notable features:
Gift shop
Shopping cart system
Extensive profiles
Encrypted passwords
SoftDate Pro by Softechproducts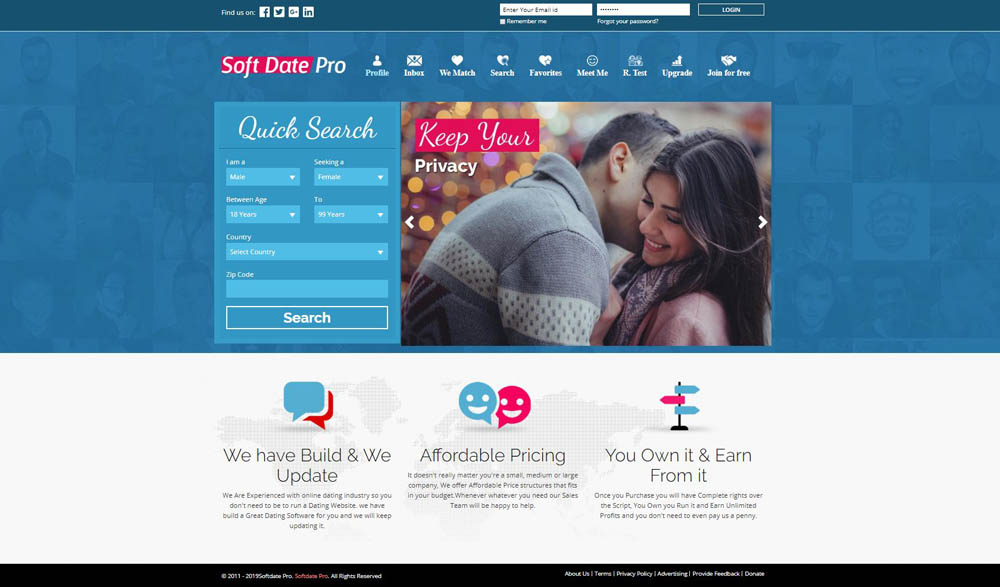 Next up on our list is SoftDate Pro. This multi-functional script that can be fully modified according to your requirements. With it, you can create a personal dating site, a group dating site, a conjugal site, or even an adult site.
No matter which site you go for, you can rest assured you will be able to monetize it with SoftDate Pro. The script and all its variations come with the paid subscription module that will make sure you always have a steady stream of passive income from your website.
To incentivize your users to spend money on your site, SoftDate Pro offers a match-making system that is restricted to paid users.
Notable features:
Internal messaging system
Email messaging system
Advanced search
My Matches option
IsVipi OSSN by Swift Intellect Group
IsVipi is a versatile social networking script that can be used to build a dating site. It's one of the simplest, but most reliable scripts, and it's 100% free.
The script may have been developed 5 years ago, but the developers are constantly working on improving its functions. This has allowed  IsVipi OSSN to build a large community of users and members.
Notable features:
Frequent updates
Create groups
Multiple admins
Feed statistics
PHP Dating Script by PHP Scripts Mall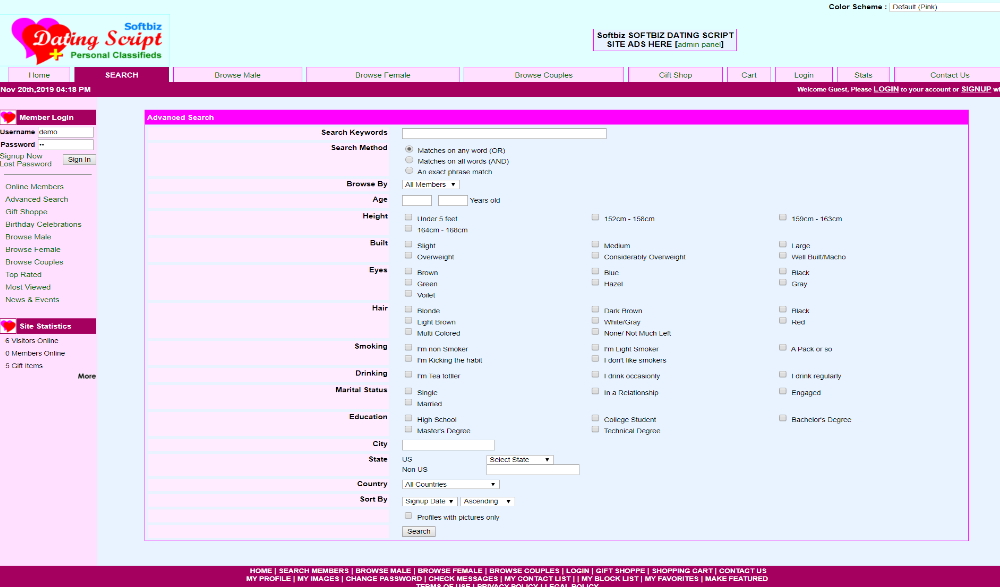 At first glance, this is a good, if unspectacular script. However, its users are raving about its simplicity, functionality and great customer support.
This PHP dating script is available in as many as 176 languages. Whatever dating market you're targeting, this script is there to help. What's more, you can fully customize its design, if you don't like its pre-designed layout. Simply log into your admin panel and start personalizing your website.
Notable features:
Membership accounts
Quick and advanced search
One year of free technical support
176 languages are available
Vadoo by Branko83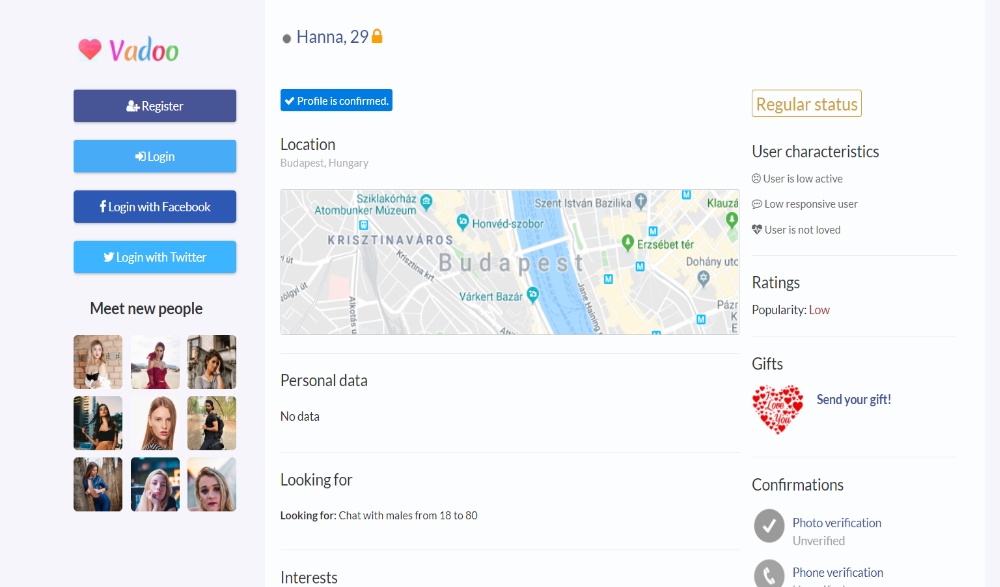 Vadoo is another social network script that is easy to install and customize into a dating website. As if the entire process wasn't simple enough, you even have video tutorials for practically each step on their site.
However, its simplicity doesn't intrude on the design of the script, which is almost surprisingly clean  and responsive. Arguably the best feature of this PHP dating script is its chat system which comes  with 54 free emoticons and stickers to play around with.
In addition to that, Vadoo goes all in on the gaming concept and allows its members to play dating games, such as Like/Don't Like.
Notable features:
Online updates
Automatic user locations
Private photos
VIP status
OkDate by Brightstatus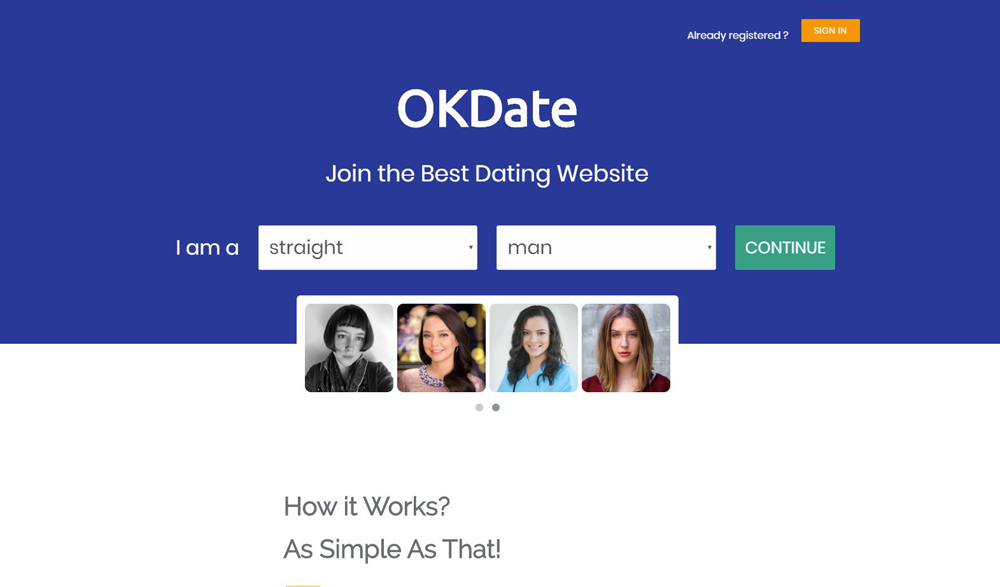 OkDate is a dating script and application powered by ProDatingScript.com, which allows you to set up your site in less than 30 minutes.
The script is fully oriented towards increasing your profit, as it includes an integrated payment system as well as pre-designed ads that will help you monetize your site.
On top of that, the script design uses a mixture of pink and blue to create a visually appealing layout that quickly captures and holds the attention of your visitors. Overall, OkDate is one of the nicest looking dating scripts on the market.
Notable features:
Integrated payments
Dating website and application
Forums
Fake users
DatingFramework Software by Dating Framework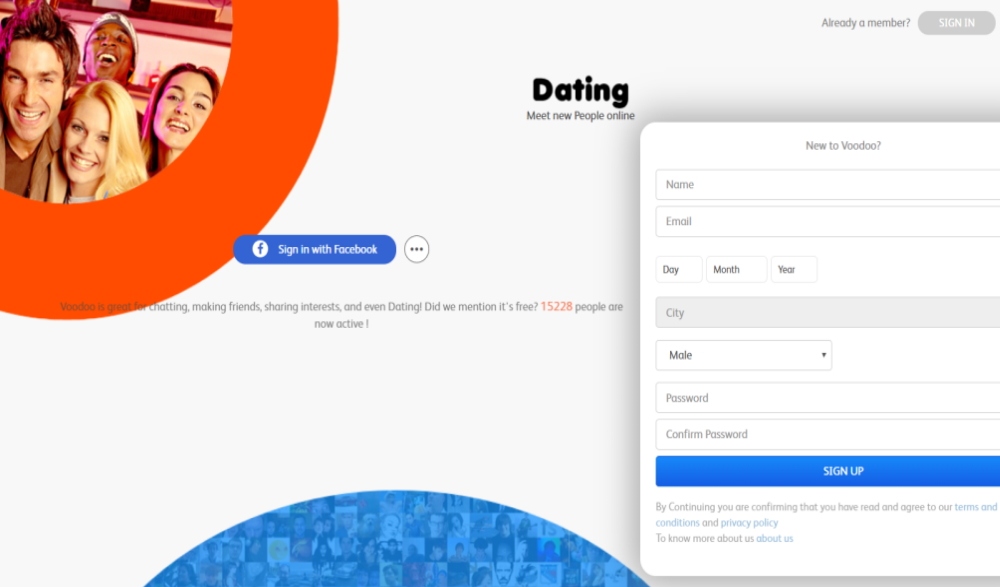 This script comes in two versions: free and paid. As with any free script, the free version of DatingFramework excludes premium features that include professional support, plugins and mobile apps.
Of course, we advise you to try out their free version, especially if your starting your first website. If you find that you need more features, you can always switch to the premium versions.
This script comes with all the basic dating functionalities, but it also integrated Instagram, allowing users to quickly upload their photos and videos to the site.
Notable features:
Content moderation
Instagram integration
Spotlight option
Websocket Chat Server
PG Dating Pro by DatingPro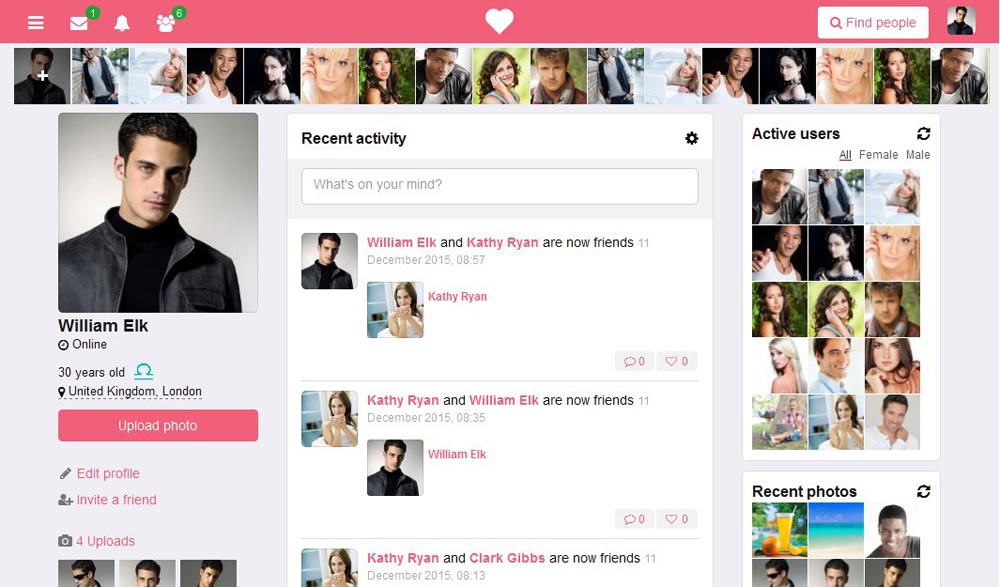 DatingPro script is one of the rare scripts that doesn't require you to do anything. You only need to select the script package and the team behind the script will do everything else.
Of course, the team accepts custom requests and they can customize your script in whatever way you want. However, this all comes at a price. The script costs as much as $490.
Not really affordable or suitable for most dating webmasters.
Notable features:
100,000 premade members
Free support
Stealth mode
Adult content protection
Peepmatches by Peepdevco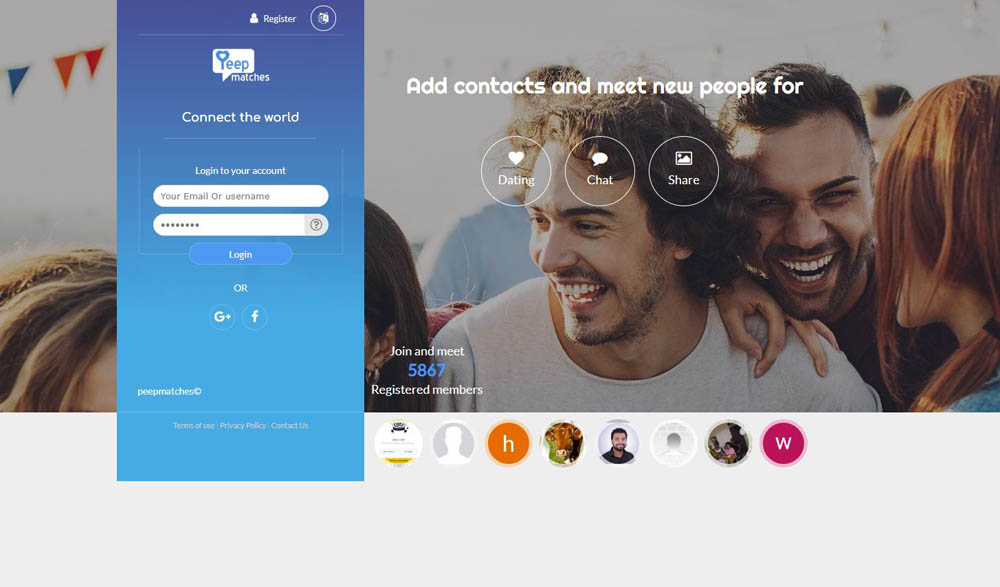 Peepmatches is a dating and a social network script in one.
It comes with a neat and clean design that is 100% responsive. This means you won't have to spend much time customizing it. You can simply install it, personalize it a little and it will be ready to launch in no time.
Peepmatches also supports Bitcoin payments, video addons, stories, dating games and many other custom dating features.
However, the main downside of this script is that its social network layout might not be suitable for all dating websites.
Notable features:
Bitcoin payments
Dating games
To Do lists
Stories
Dating Script by VLD Interactive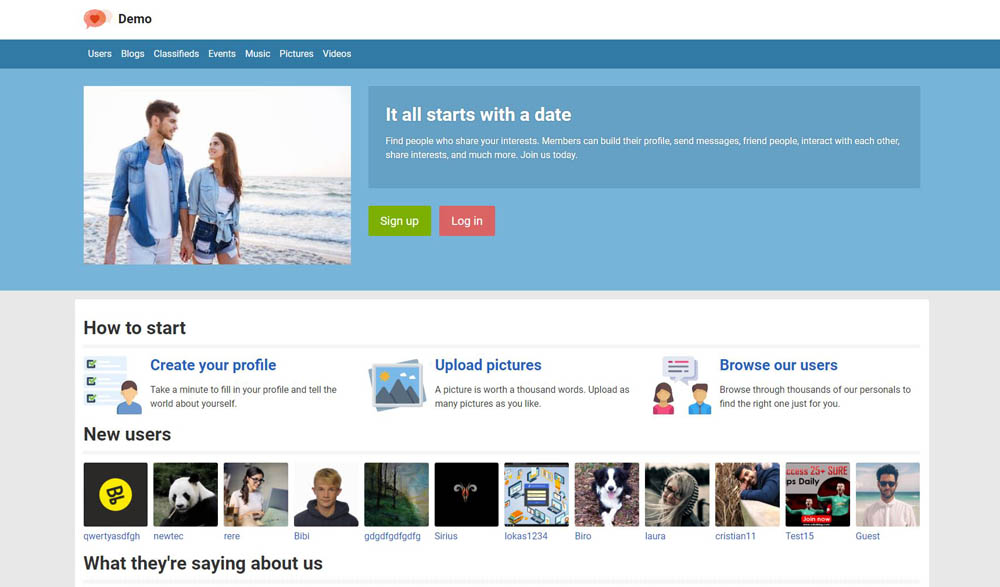 Dating Script is an upgraded version of the vldPersonals script, which recently closed down and disabled their product. This means it is still suitable for personal and business sites, but it also comes equipped with better features.
Besides being SEO friendly and great at protecting your site from spam, Dating Script offers a wide range of settings which you can use to customize your site. You can also disable or remove all the business features that you don't need.
Although you will have to turn off quite a few features, the effort really pays off. After you customize the features, you will be left with a slick, modern website design that is perfect for dating websites. The dominant shade of red makes this script and its sites particularly pleasing.
Notable features:
Message templates
Profile visitors
User approval system
No duplicate registrations
Chameleon Urban by Chameleon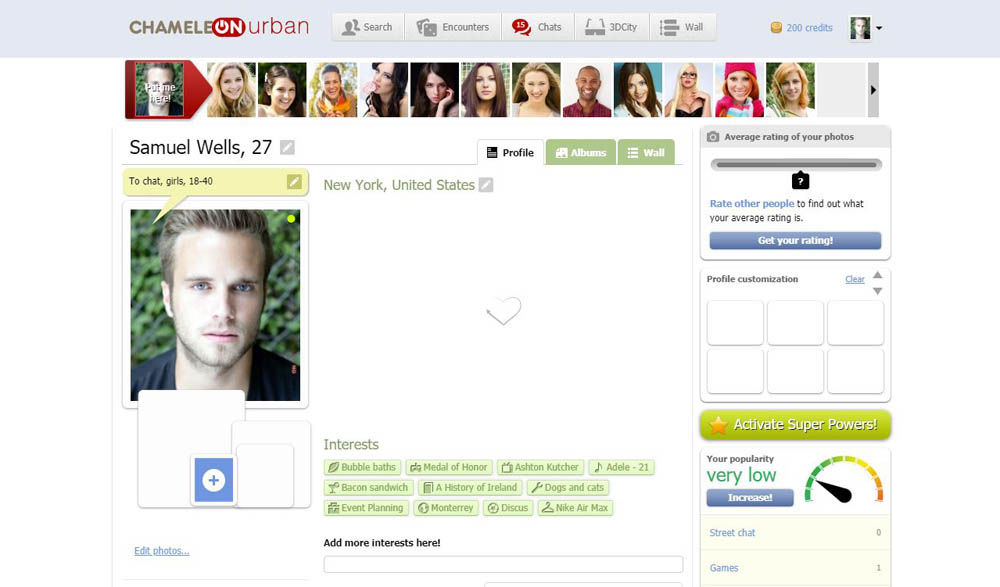 Chameleon is a professional PHP dating script that comes with free iOS and Android apps.
Their team is extremely professional and their script truly speaks for itself. The design might be a little bit too crowded, but if you're a fan of complex designs, Chameleon is the way to go. However, this script is theme based, which means you can easily change its entire layout, by simply uploading a new theme.
Needless to say, Chameleon has all the basic dating site features, as well as more advanced options, including paid spotlights, credits system and photo rating games.
Notable features:
Member interests
3DCity module
Popularity system
Paid spotlight
WPDating Software by WPDating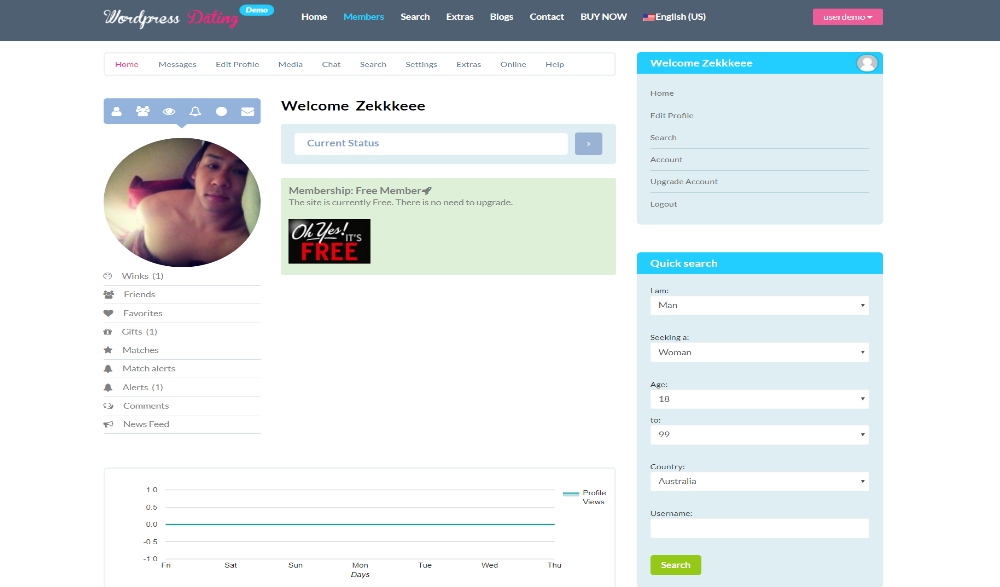 WPDating is the only script on our list that integrates with WordPress. Simply upload it into your WordPress panel and let the magic happen.
The WPDating team offers 3 different packages, each with its advantages and disadvantages.
DIY package
The DIY package is for people who want to handle everything on their own. However, in case you need help, you can always use their video tutorials to solve your problems.
Customized package
You can create your dating site by picking between the features they offer. With this package, you get 180 hours of custom development hours, in which their developers will work with you to create the dating site you imagined.
Mobile dating app
This package is similar to the customized one, but it also includes custom-made mobile apps. This way, your website will be completely optimized for use across all platforms.
Notable features:
Advanced search
Date tracker
Couple profiles
Trending members
Online Dating Script by Codeareena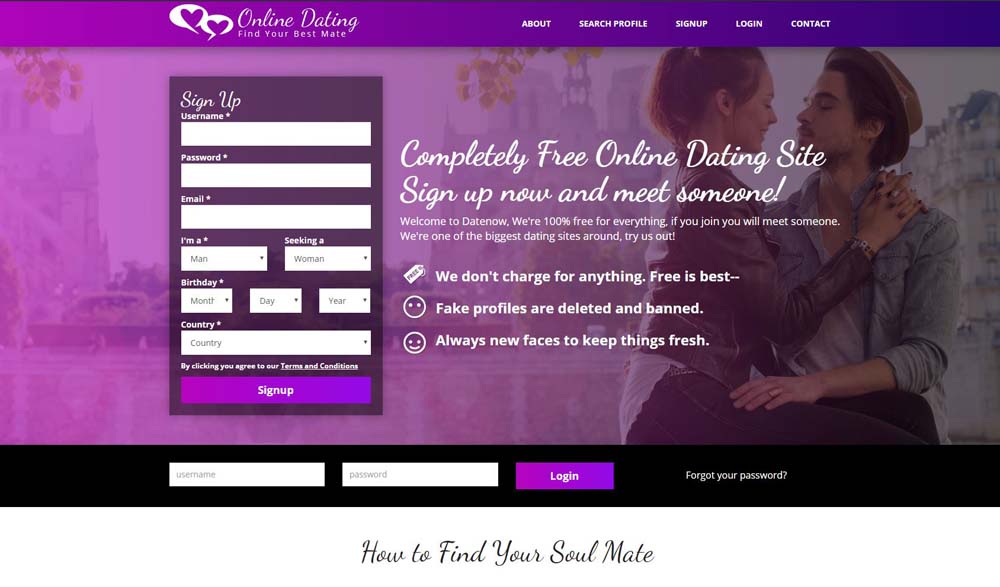 Online Dating Script is an elegant dating script that is built with the PHP framework Codelgniter 3.0.0. The script comes with all the basic dating site features, but also integrates more advanced options, as it allows the users to add their CMS pages, for example.
Similarly, the script comes with advanced privacy settings, search functions, as well as support for photo galleries and videos.
Moreover, Online Dating Script is often updated with new features that are available for free, after you purchase the script.
Notable features:
Users can add CMS pages
Photo galleries
Frequent updates
Advanced privacy settings
SkaDate by Skalfa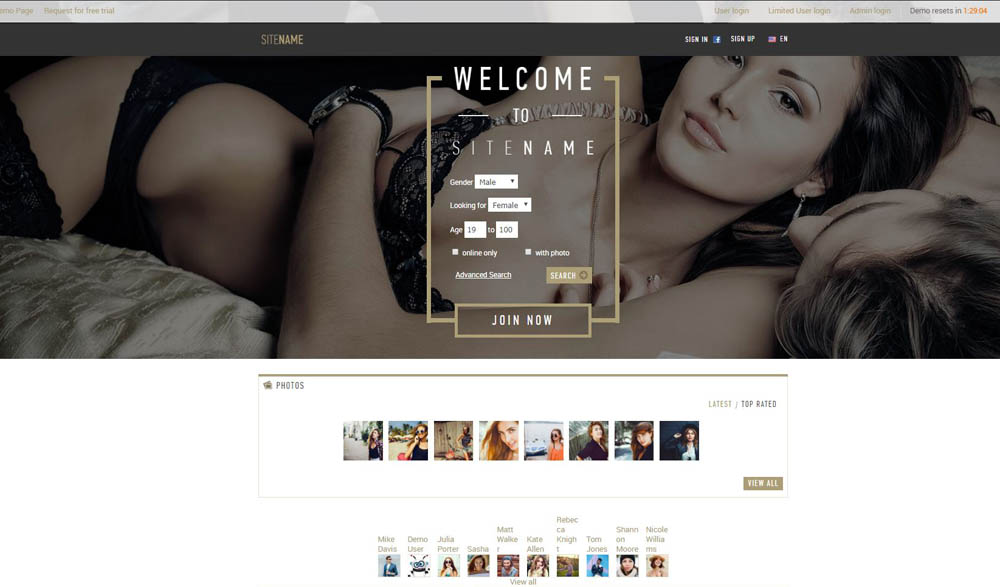 Closing in at the number 2 spot is SkaDate, a fast and reliable script that is fully customizable.
The SkaDate design is extremely elegant and classy, with a touch of black, white, gold and baby pink creating an amazing layout.
Needless to say, the script comes packed with useful features and options, such as the drag-and-drop profile builder, built-in SEO and automatic spam detection. Moreover, their support is available 24/7 in case you need any help.
Of course, all of this means that SkaDate is a bit on the pricier side. In fact, it will cost you $999 to get this amazing script.
Notable features:
Drag-and-drop profile builder
Built-in SEO
Automatic spam filtering
Cover photos
AdvanDate by Advanced Dating Solutions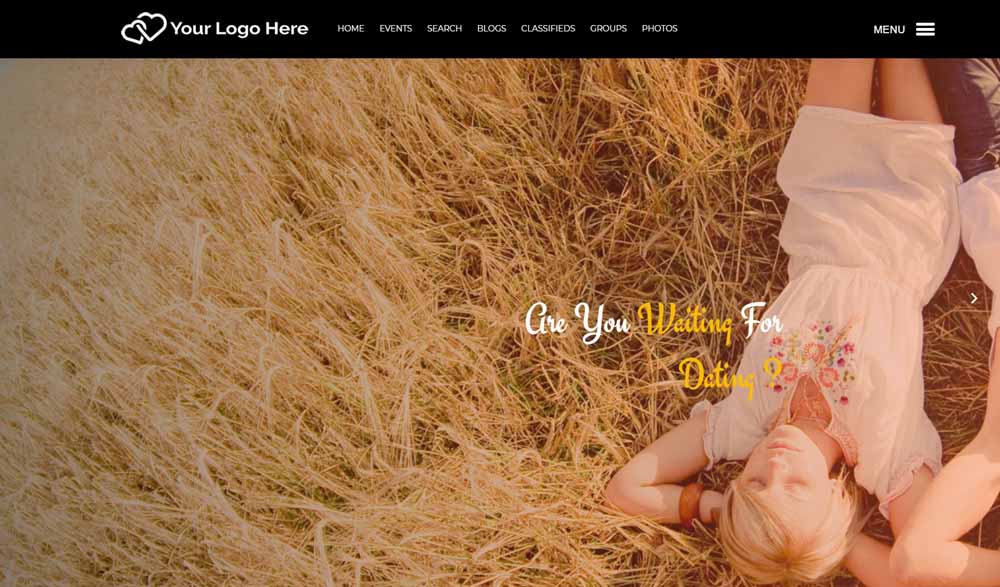 It's no coincidence that the AdvanDate team was nominated for the best dating software three years in a row. After more than 16 years of experience in the dating software business, they're bound to know a thing or two about the dating industry and its needs.
The design of this script is impeccable: everything from colors to the positioning of the main script features is as close to perfection as it gets.
Of course, with AdvanDate, you will get all the dating functions and options that a dating script needs. However, that's not all, as their script even supports niche dating categories and offers a variety of advanced features, including profile comparisons, music, conferences etc.
Don't trust us. Check out their demo below and see it all for yourself.
Notable features:
Profile comparisons
Niche dating conferences
Free upgrades
Upload music