Do you want to know how to make money sexting? Look no further, because we will explain how you can quickly get paid to sext.
It's no secret that mobile technology evolves at an incredible pace. But so do the services such as phone sex.
Twenty years ago, phone sex operators had to work using landline phones. Now, they can use their smartphones to work as phone sex operators and even earn money by sexting. They're not even house-bound anymore – they can do it on the go.
Can you make money sexting?
Although you can earn money by sexting, bear in mind that it's not something that can get you a full-time income. It's best if you use sexting as a way to make some extra cash on the side.
The amount you'll be able to earn greatly depends on the website you register on. The more subscribers a website has, the bigger your monthly income will be. Generally, you'll get around 15-20 cents per message. This means it's going to take a lot of texting to make some serious money.
It's going to be especially difficult at the beginning. But if you're dedicated to it, you'll quickly gain fans and loyal customers and start earning more. In fact, you'll be able to earn a 4-figure monthly income, even a 5-figure income, if you're really ambitious.
What are the requirements?
As with any adult-oriented job, you MUST be 18 or older. When registering on networks that offer money for sexting, you'll need to provide a scan of your government issued ID to verify your age. This is non-negotiable and it's something that the federal law requires all sites to do.
The second requirement is, of course, to have a phone. Preferably a smartphone.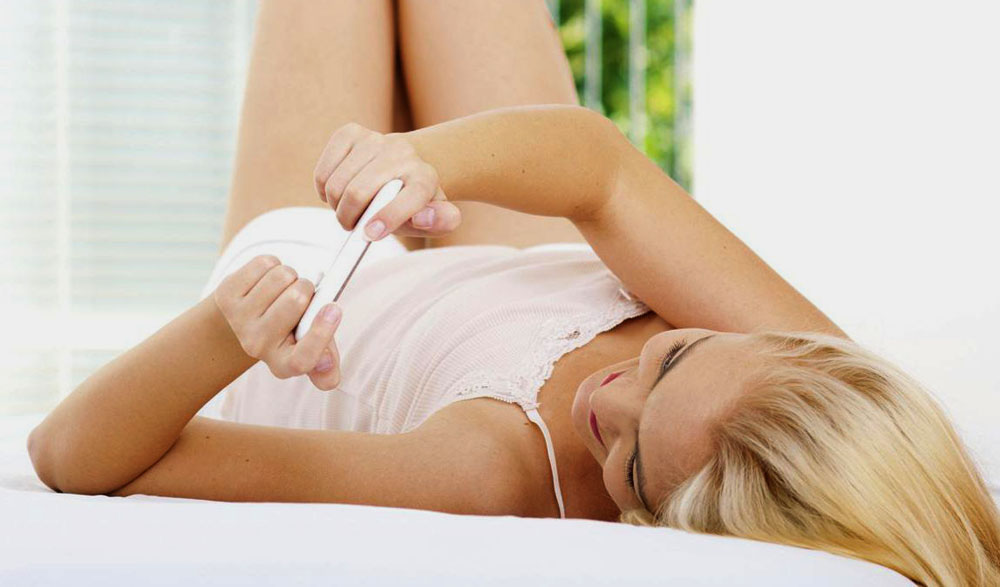 Avoiding scams
Unfortunately, the sexting and phone sex industry is rifled with scammers, and you'll need to be careful.
One of the easiest ways to make sure a website is legitimate is to check if it has a secure tag. To do this, look at the address bar where the URL is. At the left of the URL, there should be a little lock symbol. If the lock is closed, that means the website is secure; if the lock is open, the website is not secure.
Another way to determine if a website is secure is to check if it's a https or a http website – https websites are always secure, while http sites aren't.
What does it mean when a website is secure? It means that a particular website uses special security procedures that keep your data encrypted. In other words, no one can see the data you enter on the site.
How to get paid for sexting online
The best way to make money sexting is to register on a website that offers money for sexting. To help you choose one, we've made a list of verified websites that pay for sexting.
The sites work in different ways. With some websites, there will be a number that will act as a proxy between you and the customer. When people text that number, the message will be redirected to you. With others, there's even an option to chat from your desktop computer.
Take a look at our list to see how each of these websites work and figure out which one is best suited for you.
Premium.Chat
Premium.Chat is a top-notch service for consultants, influencers, phone sex operators, and anyone in between. It allows users to monetize their valuable time and get paid for chatting and consulting more easily.
Getting started with Premium.Chat is simple — all you have to do is sign up for a free Premium.Chat account, create a profile and then promote it on social media. Set your per-minute or flat rate, make a schedule, and you're good to go. There's even the option to add a widget to your website (if you have one) that tells your clients what chat topics are on offer.
Whether you'll do text-based chats, video consultations, or both, is entirely up to you. Premium.Chat supports both, without requiring you to install any apps whatsoever. Connect securely with clients all over the world with Premium.Chat today!
Lip Service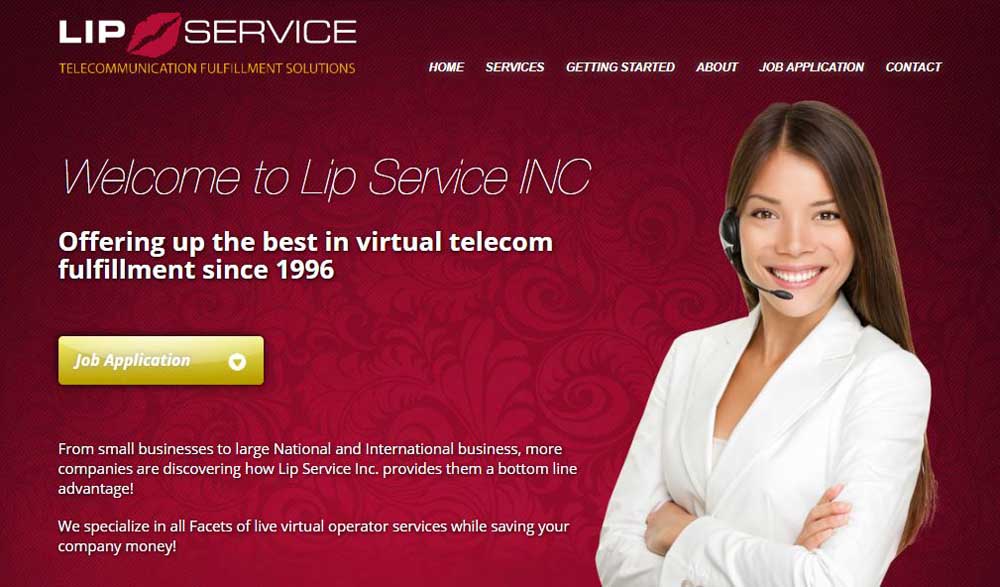 Lip Service is something like a marketplace that connects chat agencies with qualified chatters. In order to apply, you need to be at least 18 years old, or at least 21 years for some positions.
Your rate will depend on the project and the clients you're working with. When you're matched with a client, you'll receive specific payment information from them. The good thing about this website is that it's flexible and you have a chance to start your own online chat business. This allows you to get clients that will potentially become your regulars.
Unfortunately, Lip Service currently accepts only women from the US and Canada. If you are a citizen of these two countries, you can apply to be a phone actress or a text chat operator.
Chat Recruit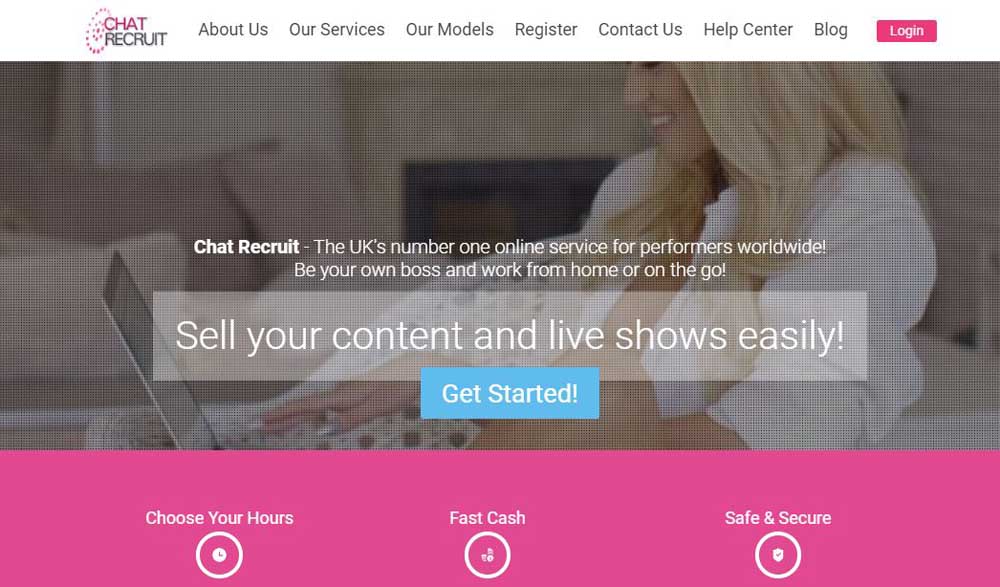 Chat Recruit is a network that allows you to chat via webcam, phone call or text message. When you apply, you're applying to become a "host."
What's great about Chat Recruit is that you will be paid $2 per minute, which is more than most other networks pay. You can choose either monthly or biweekly payments. If you live in the UK, you can even choose weekly cashouts. However, Chat Recruit has limited payment options and they only pay their models using bank transfers.
Currently, you cannot provide only text message services. You can do sexting in addition to either camming or phone chatting. Because of this, Chat Recruit is not really an option for people who only wish to get paid to sext.
OnlyFans
OnlyFans is something like an adult social network. It works pretty much like a regular social media site, but users need to pay a monthly subscription fee to access your profile and content. There's also an OnlyFans mobile app that allows you to easily update your profile. The app also has a camming feature that lets you live stream from your phone.
The amount of money you'll be able to earn depends on how many followers you have on social media and your monthly subscription price. For example, if you have 10,000 followers on social media and you set your monthly subscription fee to $14.99 you can earn between $1,500 and $7,000 a month. There's an income calculator on their website which you can use to see how much you'll earn based on the number of followers you have. Check it out here.
You'll get paid 80% commission on all your subscriptions, but the payment method depends on your country of residence. When you register, your account will be assigned a payout system depending on your location.
If you're already a webcam model or amateur porn performer, OnlyFans is a great way to make an additional income. However, if you're just looking to get paid for sexting without showing your face, this may not be the best website for you. Most of the customers will want to see some pictures of the girls they're chatting with.
FlirtBucks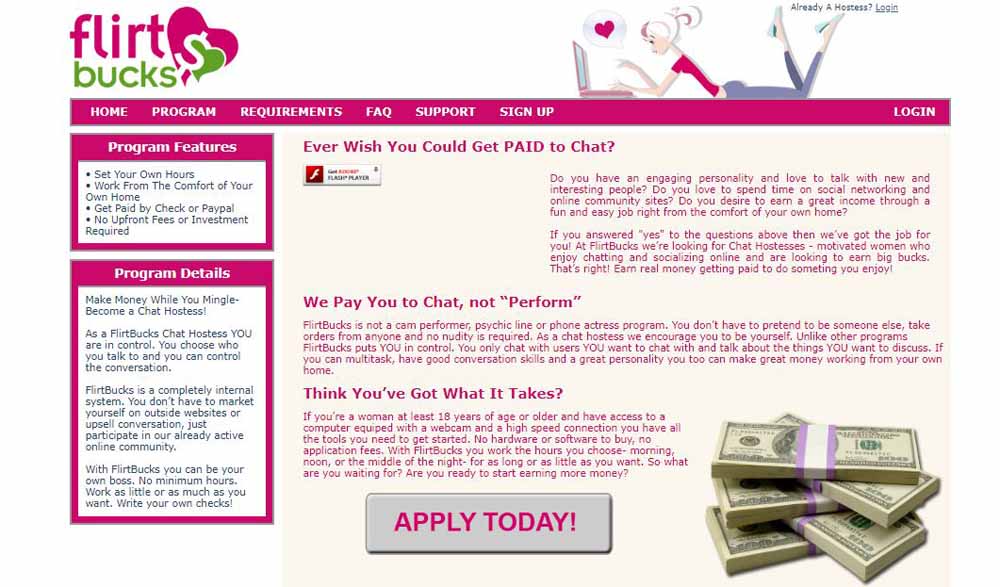 This is one of the best websites for people who just want to chat for money, without showing their pictures, doing webcam shows or phone calls. They also have the option for video chatting if you want to show customers your face.
After they accept your application, you will become a chat hostess and you will be able to chat with men through the website's chat console. And you don't have to chat with just anyone – you can choose who you chat with.
They have a few requirements, besides your age (at least 18 years old):
fluent in English
good conversation skills
moderate typing speed (at least 40 WPM)
an upbeat personality
The amount of money you'll earn depends on how long you've been working for FlirtBucks and whether you decide to do text chatting or video chatting.
For text chatting, you earn 10 cents per minute for the first three months. After three months, you'll start earning 12 cents per minute, and the rate rises to 15 cents per minute after six months.
Video chatters can earn even more than this – 40 cents per minute for the first three months, 45 cents per minute for 3-6 months, and 50 cents per minute after six months.
FlirtBucks pays twice a month, roughly every two weeks. You can receive payment either via PayPal or a check.
This website is extremely convenient for all of you who want to stay completely anonymous. On the other hand, they pay a lot less than the other websites on our list, so you should keep that in mind.
In the end, your choice of a platform that will pay for sexting depends on what you're looking for from this job. If you just want to earn some side money while remaining anonymous, you should look at either Lip Service or FlirtBucks.
My Girl Fund
This is another prominent network that allows women to chat and flirt with men for cash. The basic idea behind this website is that men sign up and look for a "virtual girlfriend." Women create a profile and they usually set a goal for raising money on their profile.
While you do not need to upload a profile picture, it will definitely get you more "virtual boyfriends." Some men may even ask for content in exchange for cash. Of course, you can always say no to this.
What's great about My Girl Fund is that it's forbidden for women to share any personal information about themselves. Therefore, your identity will be safe. However, most customers will expect to see some photos of you, just like on OnlyFans. If you don't mind showing your face, My Girl Fund may not be the best choice for you.
Payments are made through Skrill or with a check. However, there is a $500 minimum for check cashouts and a $10 processing fee. You can also sign up for a branded My Girl Fund MasterCard and receive your payments on it.
If you want to earn more money from sexting, you should consider one of the websites that offer a higher pay rate, but may require you to post pictures of yourself or chat via phone or webcam.
So there you have it – sexting online for money is extremely convenient and anyone can do it. If you're 18 and you have a smartphone, you can get started right away!