If you plan on starting a porn website, you better find yourself an adult website script, theme or template. You can choose either of the three options, but we recommend going for a porn script, since they generally offer more features than other solutions.
Themes and templates can be unresponsive and you can never be sure that they're fully secure and updated. Scripts, on the other hand, represent a turnkey solution for your site. Once you install it, you'll have little to no work on its maintenance.
It couldn't be easier.
Of course, it goes without saying that you don't need to know any programming or coding to set up a website. Now, you just need to browse through our list of the 21 best adult website scripts and pick the one you like the most. Your site will be set up in no time.
To make your navigation through this extensive list easier, we've divided our scripts into categories, depending on which type of adult website they're designed for. Adult tube websites, embedded porn, membership sites, webcam models, escort directories, porn forums – we've got them all. Whatever type of website you want to create, this list will help you.
The definitive list of the 21 best adult website scripts
We kick off our list of the best adult website scripts with the most popular porn sites – adult tube websites. Now, there's a variety of different options if you're considering starting an adult tube site, but we've narrowed down our list and selected the 6 best adult tube scripts. Continue reading to find out which scripts made the cut.
Adult Tube Video Scripts
Adult Script Pro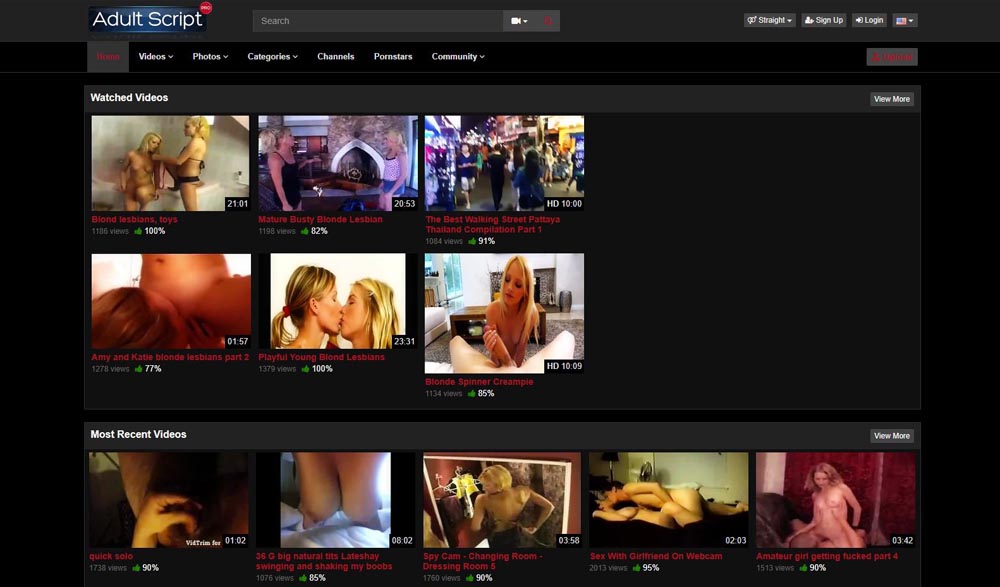 The first entry on our list is Adult Script Pro.
Adult Script Pro features a basic tube site layout with a white-blue pattern and black menus. Although this script undoubtedly performs well for tube sites, it doesn't seem to specialize in porn sites. This is a great option if you want to start a regular tube site, but not that great for a porn tube site. It requires too much customization in that case.
Notable features:
Mass video grabber
Membership module
31 advertising positions
Adult forum page
Smart Tube Pro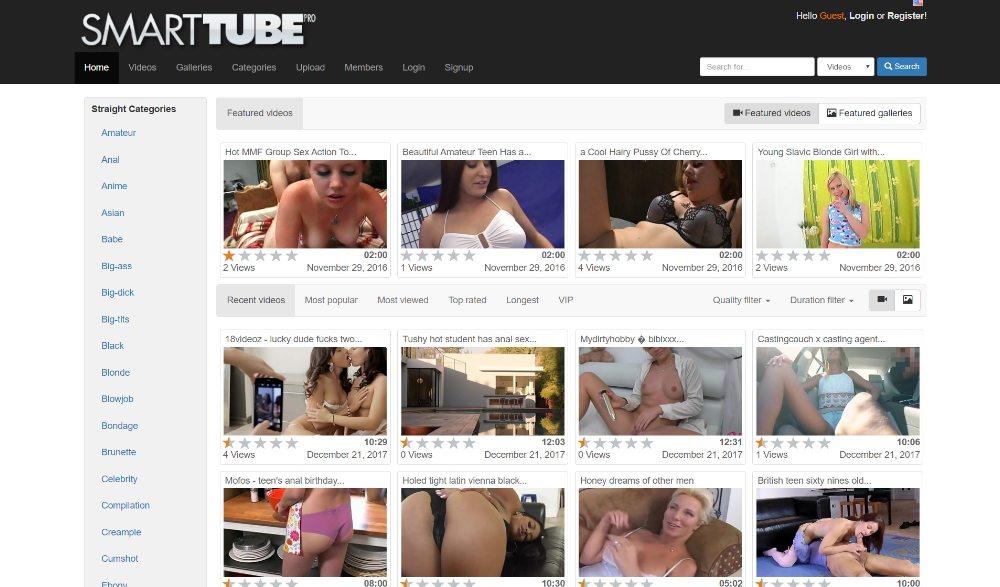 The second entry on our list is Smart Tube Pro.
This script features a somewhat better designed compared to Adult Script Pro. However, it also uses the basic color scheme of black and gray, which is at best a decent fit for a porn tube site.
The steep price of $499 doesn't help its ranking either.
All in all, this is another decent script, but hardly worth its price. There are many better scripts for adult tube websites.
Notable features:
Integrated payment systems
Membership option
Interest groups
Internal messaging system
MechBunny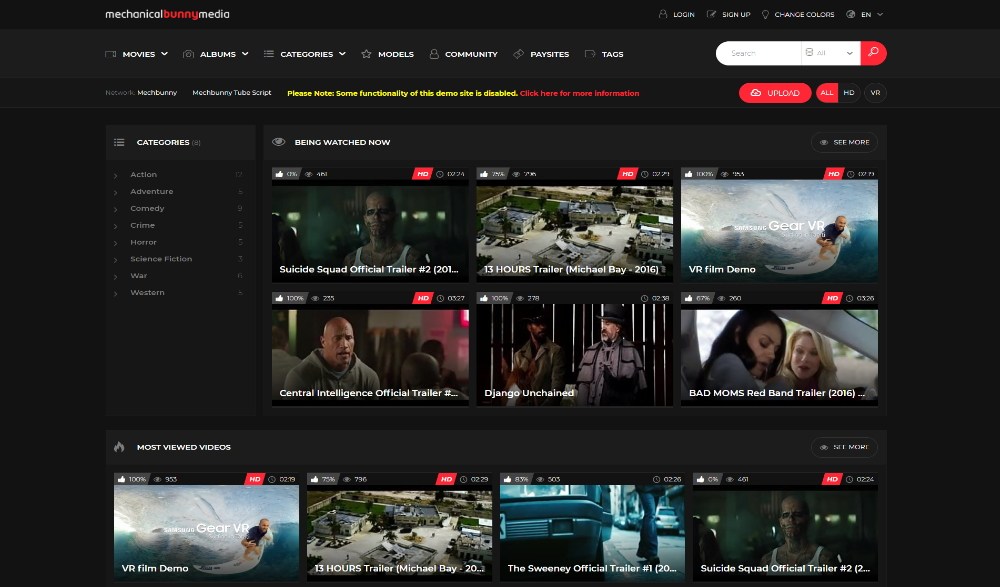 MechBunny is a much more imaginative script compared to earlier entries in our list. However, it still plays it safe with the standard red-black coloring scheme.
This is one of the best adult website scripts on the market when it comes to porn video sites, but it comes at a hefty price of $399.
Notable features:
Multi-language translation
Site automation
Virtual reality, 360 degree content
Paysite integration
Livetemplate switching
Adult Video Script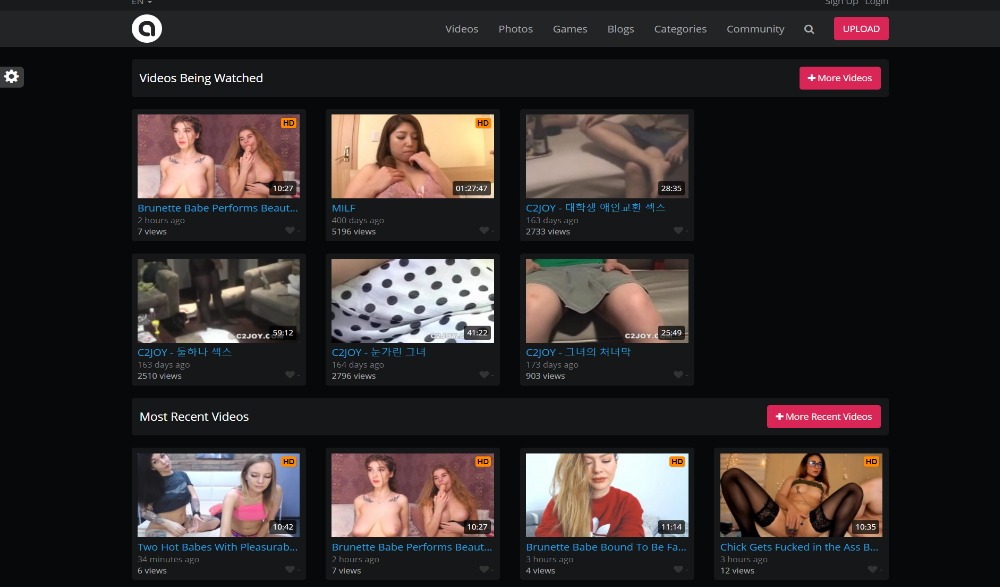 Adult Video Script is the second best tube script currently available on the market. Its color scheme is nothing out of the ordinary (pink and black), but the script comes packed with useful features. This includes everything from optimized pages, tags, spam protection and a wide variety of video formats and ad spaces. All of this comes at a relatively modest price of $178.
When it comes to adult tube site scripts, you'll be hard pressed to find a script that provides better value for money.
Notable features:
Spam protection
Unlimited ad types
User blogs
More than 20 video formats
Video grabber and mass embedder
Automation tools
VideoX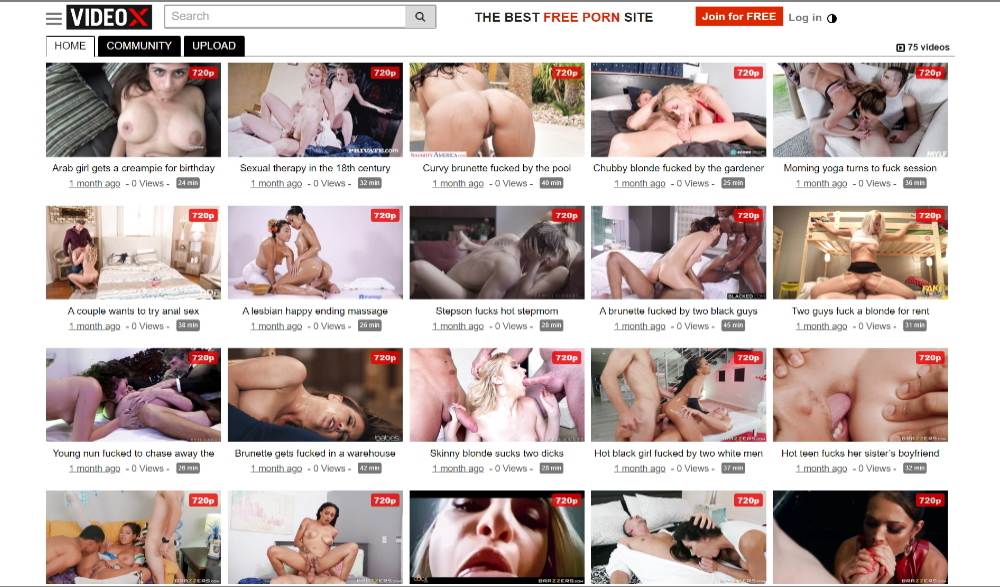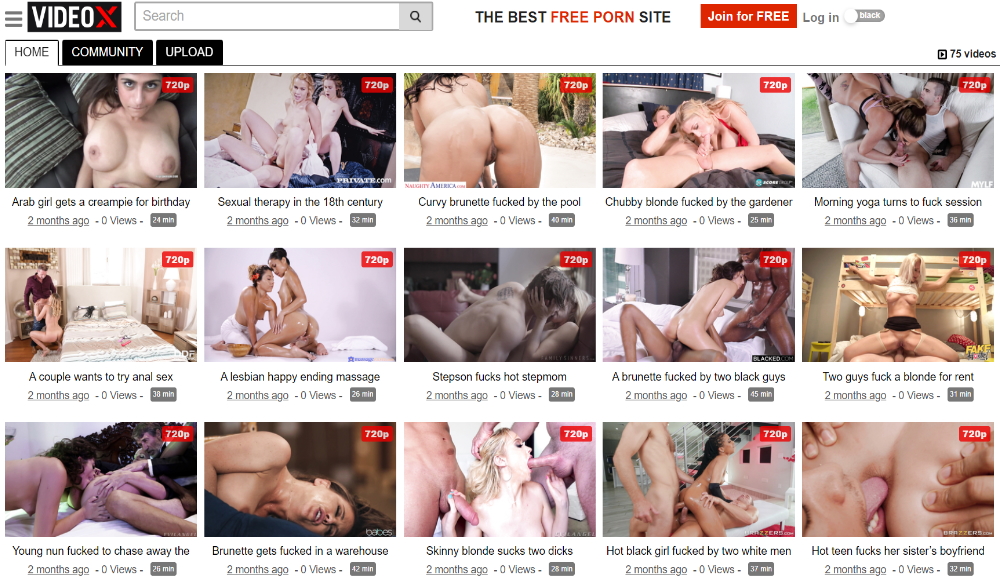 The second spot on our list of the best adult video scripts goes to VideoX, an Xvideos clone developed by Vicetemple.
What makes this script a great choice is its ease of use and aesthetic appeal – there's no doubt the Xvideos layout will provide your viewers with a pleasurable viewing experience. On top of that, this clone script offers a number of options for adult webmasters, ranging from mass video uploads and user generated content to restricted membership pages.
You'll find this script useful, regardless of what you plan to do with your adult tube site.
Notable features:
Mass video uploads
Restricted content
User generated content
Community pages
HubX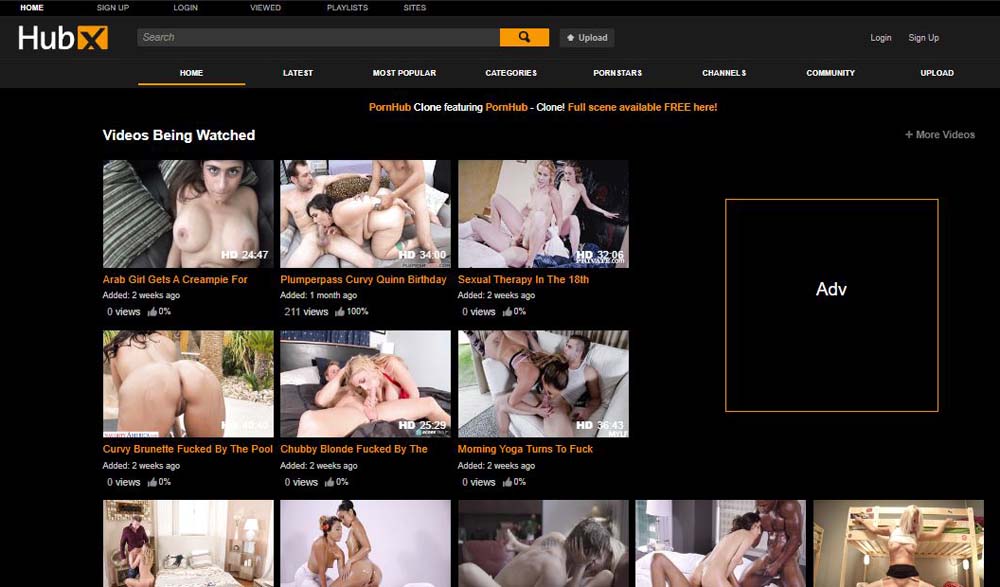 By far the best option on the market, HubX comes from Vicetemple, a specialized adult hosting company that also offers porn web themes and scripts. The theme is a direct clone of PornHub, which means it requires practically no customization.
You can simply install it and start uploading content.
HubX offers a variety of incredible options, which include multi-server environments, a translation-ready platform and variety of video formats and ad spaces.
Notable features:
Fully SEO Optimized
Unlimited ad types and monetization methods
Mobile responsive platform
Video previews and highlights
Open source code
This concludes our adult tube category. If you're considering starting other types of porn websites, continue reading. Our article continues with the best webcam model site scripts.
Webcam Model Scripts
This category is dedicated to all the webcam model scripts. If you're a webcam model or if you want to start a camming business, any of the webcam scripts listed below will help you get started.
Modelnet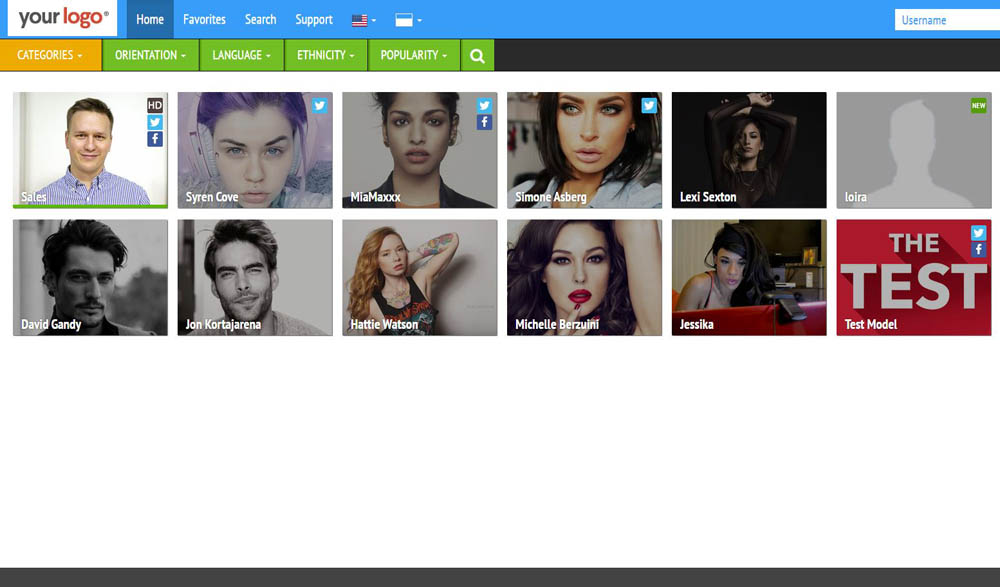 The second entry on our list is Modelnet – a somewhat better and somewhat more expansive camming script compared to Paid Video Chat. This is a functional script with a creative coloring scheme. However, the designers may have overdone it and the layout needs further customization.
A decent option if you're looking to start a camming business at a tight budget.
Notable features:
5 user types
Unlimited models
Different chat sessions
Fully customizable
Model Provider program
ModenaCam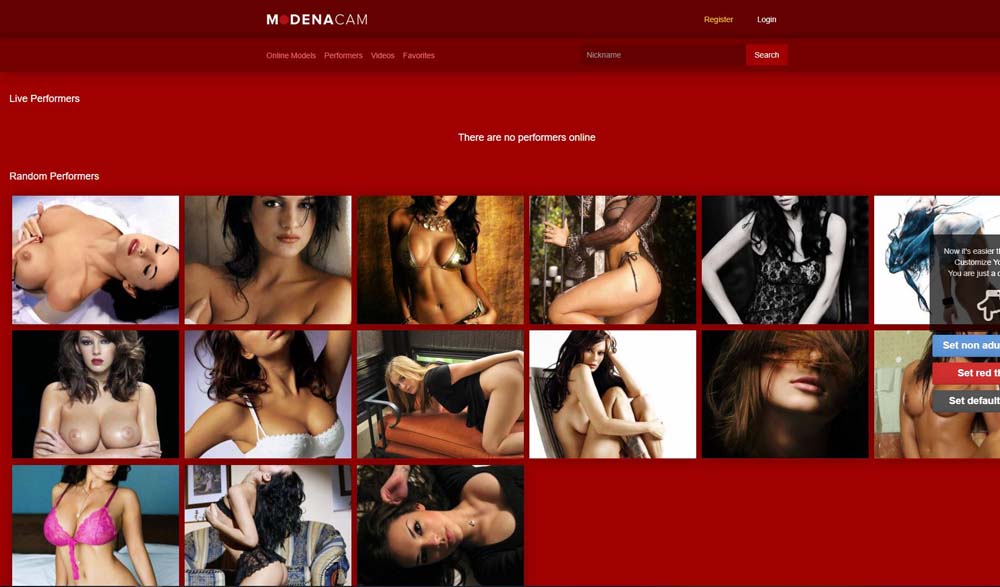 We continue our list with ModenaCam. This script utilizes the industry standard red background that mimics the design of LiveJasmin. Consequently, it lacks any sort of originality or creativity.
This is a good script overall, but it's grossly overpriced. Unless you have very deep pockets, you should skip this one and opt for one of the scripts listed below.
Notable features:
More than 30 payment gateways
Translation ready
Real time chat translation
Variety of chat types
Private messaging
Fluffvision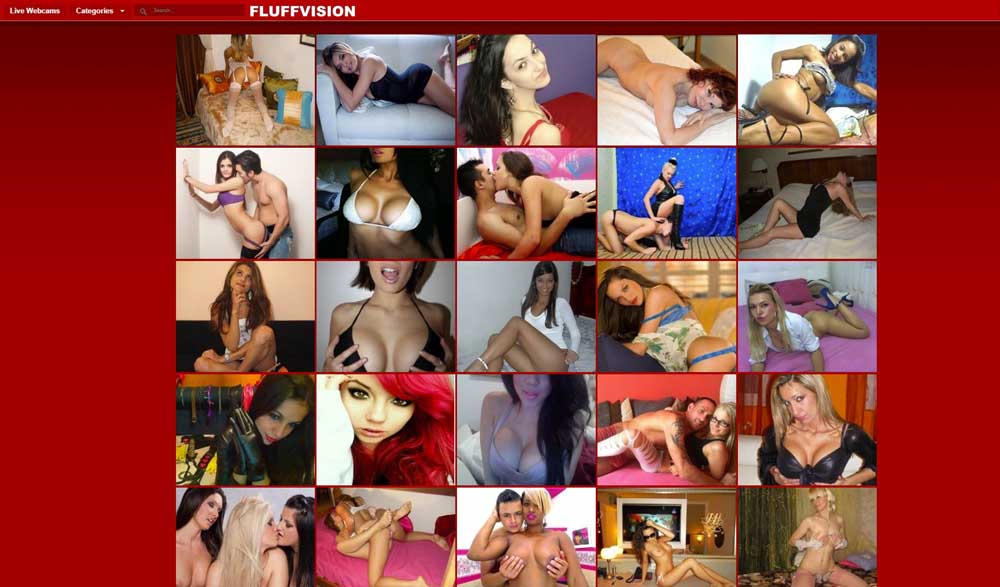 Fluffvision is another LiveJasmin clone on our list. It suffers from the same problems as the previous entry on our list, but it comes at a slightly more affordable price of $399.
Hardly worth its price.
Notable features:
Money-back guarantee
Geo IP blocking
Full Feature Performer Control Panel
Full source code
xCams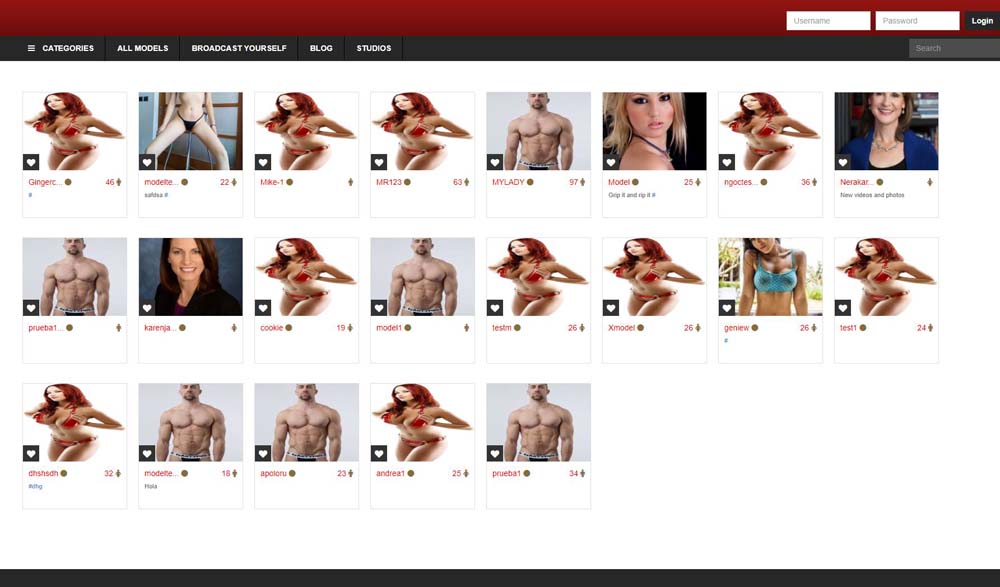 Next up on our list is xCams, produced by Adent.io.
Sadly, this script hardly lives up to the good name of Adent.io that produces some of the best adult website scripts. xCams is a decently designed script with numerous features, but far too expensive. The price alone makes this script a debatable option for many.
Notable features:
Four chat options
Multiple payment gateways
Private messaging
Unlimited models and studios
Geo-blocking
ClickCastX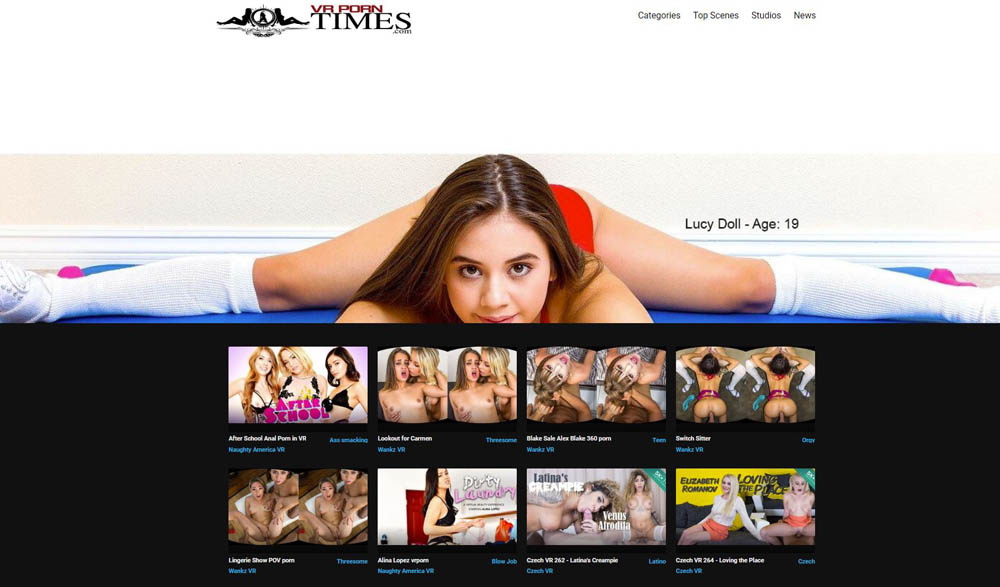 ClickCastX is by far the best camming script on the market.
It comes with numerous colorful themes to choose from, as well as with countless options on each theme. It's extremely easy to set up and customize, and it offers added protection for everyone on the website.
However, its main downside is that you probably need to rent it for $99 per month, which is far from affordable. Alternatively, you can buy it off for a one-off payment of $8995, but neither of the two options are particularly useful for people who are just starting out in the porn industry.
In other words, ClickCastX is only for people who are truly ready to invest in the adult niche. It's definitely worth the cost, but it's by no means a script you can use to play around. ClickCastX means business.
Notable features:
Numerous payment methods
Compatible with all major software solutions
Membership levels
Automatic encoding
Fraud control
Social networks
Translation ready
Storefront plugin
ClickCastX ends our list of the best adult webcam scripts. However, this article is far from over. The next category on our list covers the best adult escort agency scripts. Keep reading.
Adult Escort Agency Scripts
We've got something for everyone. If you're looking to start an adult escort agency, you've come to the right place. Here, we will present you with the list of the best adult escort scripts, ranked from worst to best.
Escort Directory Software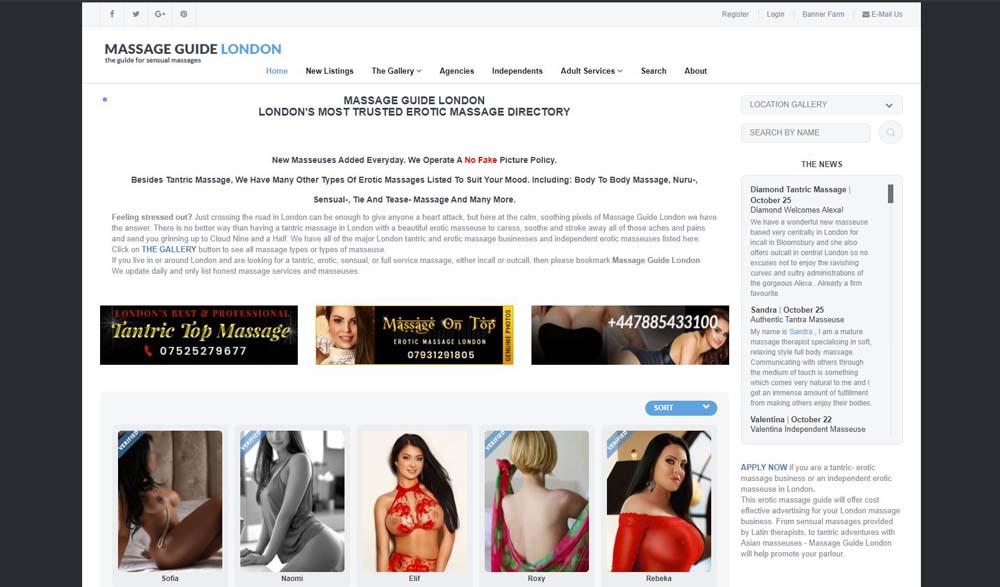 We start our list with Escort Directory Software, an escort agency script that costs a mammoth fee of £950. But is it worth the price?
Sadly, no.
The script features a somewhat outdated design with the most basic functions. There's no doubt this was once a fantastic agency script, but it looks like the developers gave up on it. This makes it one of the worst escort agency scripts on the market in terms of quality-to-price ratio.
Notable features:
Price control
Banner management
Paid escort listings
Escort Scripts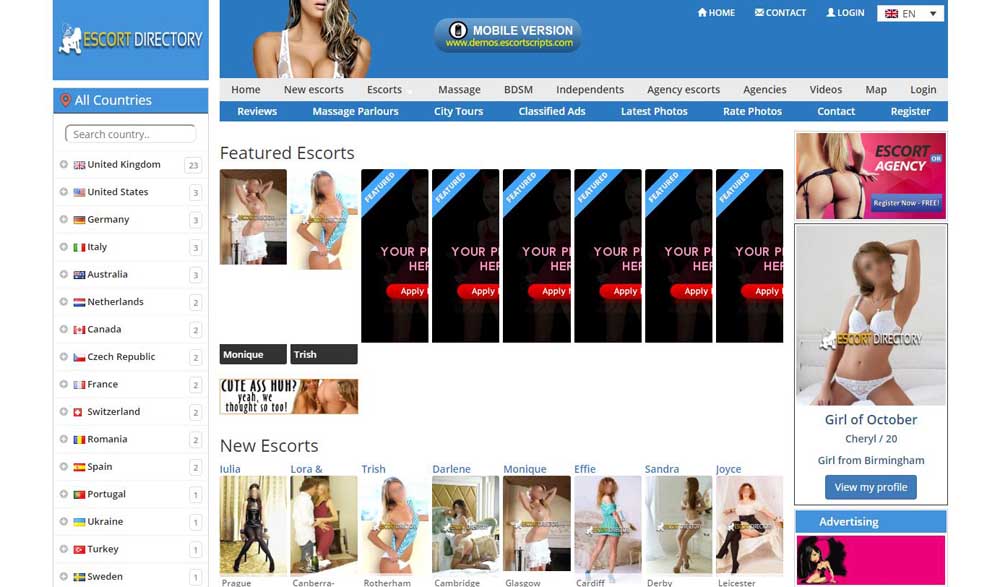 The second entry on our list comes in the form of Escort Scripts that comes with a hefty price tag of $748.
This escort agency script uses an unusually colorful layout divided into content boxes. Their type of content organization should be easy to navigate, but the coloring scheme ruins the viewer experience. It contains far too many colors and confuses the visitors.
In other words, although functional, this script hardly justifies its price.
Notable features:
Colorful layouts
Multilingual
Price control
Escort listings
EscortBook

We continue our list with an escort agency script that comes with a number of attractive themes and templates. With EscortBook, you can pretty much choose whichever color scheme you want. However, this wide variety of options probably comes with a price. Besides, it's rarely a good sign when the company refuses to share its pricing with the public.
Still, you can contact them here. If they set a reasonable price for you, EscortBook might be your best option. Otherwise, you should check out the other adult website scripts on our list.
Notable features:
100 premium themes
10 unique layouts
Support for 13 languages
Marketing tools
Data encryption
Flynax
The second best entry on our list of best adult escort agency scripts comes in the shape of Flynax.
Now, the design of this script is hardly memorable and it probably requires some customization. The predesigned layout might even seem a bit outdated and unattractive. However, Flynax more than makes up for this with its numerous features and price.
Flynax offers every option that you could ever need on your escort agency site. Everything from membership plans, filters, ads, classified listings, testimonials to social media integration can be found on this script.
Apart from that, Flynax is one of the most affordable adult scripts on the market, as it starts from just $195. This script is definitely worth checking out if you're operating on a tight budget or don't want to invest a lot in your porn adventure.
Notable features:
Listings
Premade ads
Multilingual
Payment gateways
FAQs
HotEscort Pro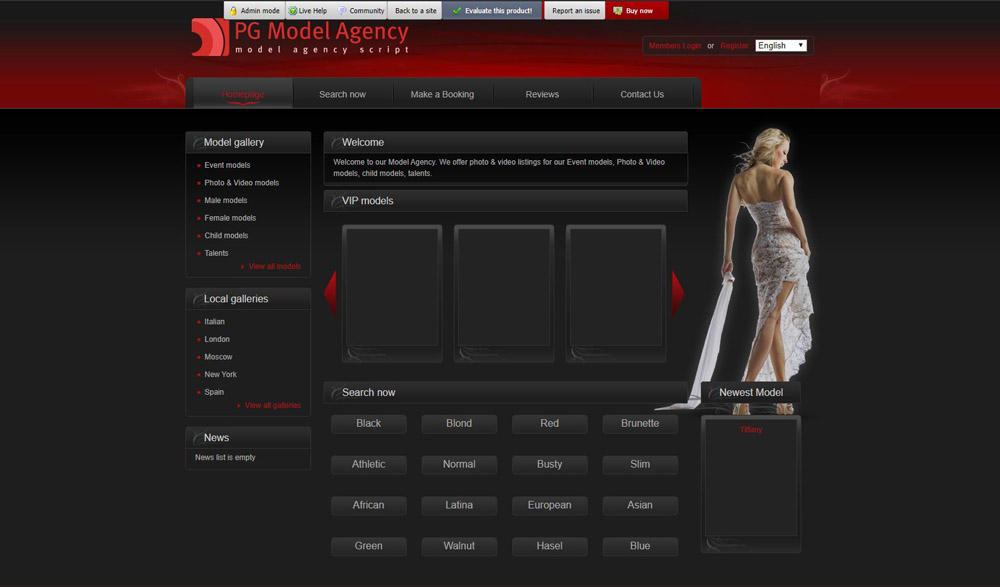 HotEscort Pro is by far the best adult escort agency script on the market. With HotEscort Pro, you get the full package – at a reasonable price of $299.
The script comes with an interesting red-black color scheme that entices the viewer to spend more time on your website. The layout features an impeccable organization of elements, allowing the visitors to easily navigate themselves on the website and find what they're looking for.
What's more, the script is packed with useful features, including standard and premium listings, and pre-designed pages ready for translation. Integrated billing systems and automatic payment processing also come for free with this script.
On top of all that, you get a free 7-day trial and year-long updates from the developers.
Notable features:
Regular updates
Standard and premium listings
Integrated billing systems
Pre-designed pages ready for translations
Free trial
And that ends our list of the best adult escort agency scripts on the market. All of the scripts that you find here are great on its own. But not all of them represent great deals or offer good value for money. This is especially true for the scripts that cost upwards of $500.
Now that we've covered escort agency scripts, we can focus on the next category on our list – adult membership sites. So, continue reading if you're willing to consider starting an adult membership website.
Adult Membership Scripts
This entire category is dedicated to adult membership scripts that you can use to build a subscription-based porn website. Now, before we continue, we would like to emphasize that there aren't many great adult membership scripts on the market.
However, that's not because membership sites are not popular. Quite the contrary! Membership sites are one of the most popular types of porn websites on the Internet. But most adult webmasters opt for an adult tube script, since they offer more options in the long-term future, and install a membership plugin to convert their tube site into a money-making machine.
So, if you're considering starting an adult membership site, go over the following list carefully. Then, check back our article for the best adult tube website scripts and browse through the entries. After that, think about what you want to achieve with your website and decide what script you like the best for the website that you have in mind.
Once you make the decision, you can hop on to the script website, buy your script and install it. Within minutes, you'll have a ready-made website and with a little customization, you'll have your porn website up and running in no time.
Without further ado, here are the best adult membership website scripts.
Adult Member Sites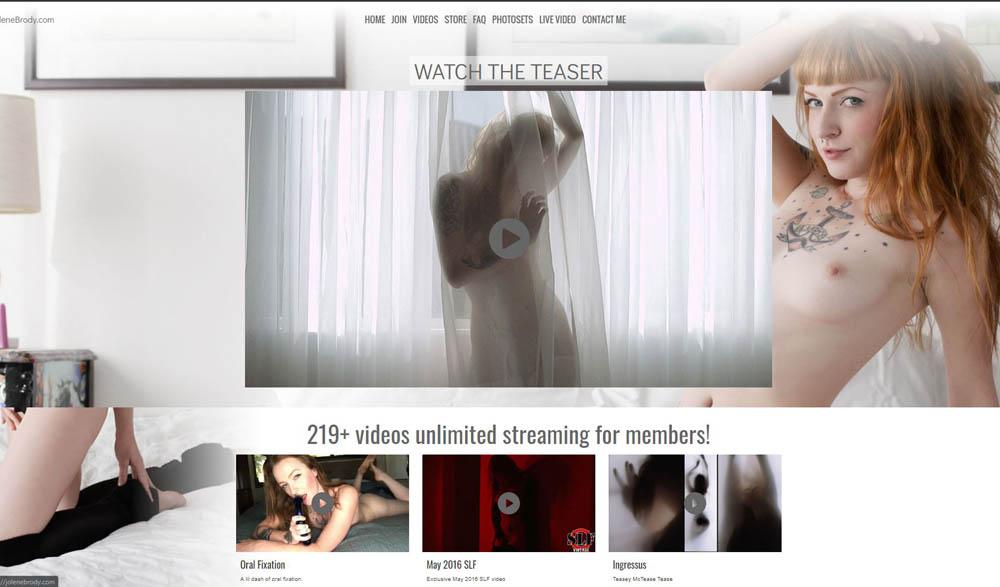 We kick off our list of the best membership scripts with Adult Member Sites, the only free porn script in this category. However, although this script requires no upfront payments, it uses another method to earn money – it takes a revshare from its adult webmasters.
Now, the precise share that they take varies on a number of things, including the site's earnings and age. Stil, if you're just starting out, you can expect to lose around 25% of your earnings to Adult Member Sites.
While this option is great for absolute beginners, you will quickly see that they actually charge a lot more than most other scripts, if you start earning money from your porn site. However, the script finds a way to compensate for this by offering you a $250 chargeback every month. This means that you will earn your money even if your customers request their money back after using your services.
Aside from that, the script comes with all the basic membership script functions and nothing more.
Notable features:
Gated content
Referral program
Monthly chargeback
Integrated billing systems
Live streaming rooms
xMember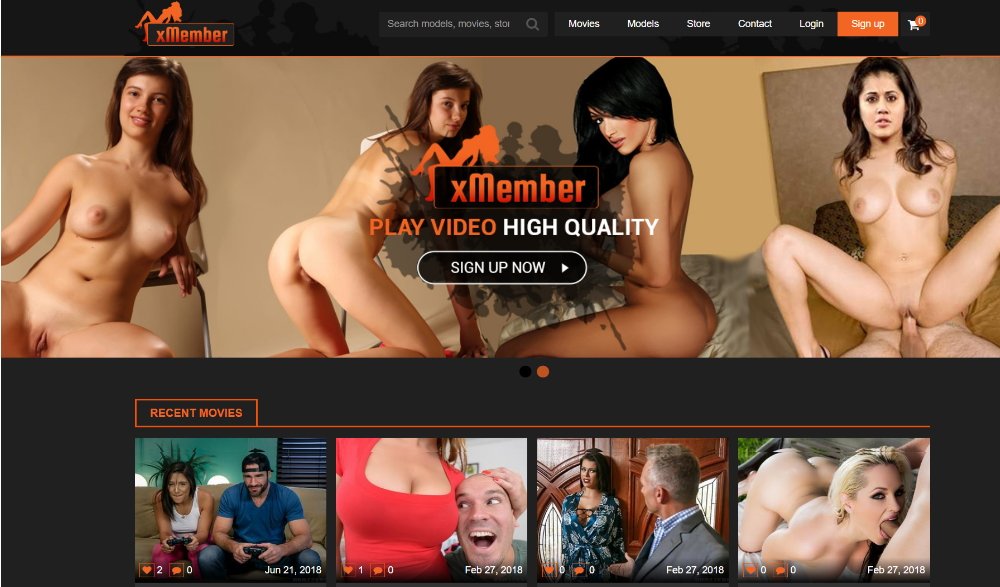 The best adult membership script on the market comes in the form of xMember, developed by Adent.io.
This script possess every imaginable feature under its hood, including integrated payment systems, live streaming, video on demand, built-in eCommerce store, video conversion, trial and full memberships.
There's virtually no feature that could ever be needed on an adult website that xMember doesn't already possess. Plus, all of that comes at a relatively affordable price of $299. All of this makes it the best script on the market in the adult membership niche.
Notable features:
Integrated eCommerce store
Live streaming and VOD
Automatic video conversion
Amazon S3 integration
Payment gateways
xMember concludes our list of adult membership scripts. If you don't like any of the scripts mentioned here, you can check out the adult tube category as well. As we explained earlier, most adult tube scripts can be customized into membership websites with a bit of an effort.
If you're willing to consider starting an adult forum, continue reading to find out what the best adult forum scripts are.
Adult Forums
Now, it's true that adult forums are becoming less and less popular with each passing day, but that doesn't mean there isn't any money to be made there. In fact, it's even easier now, with everyone moving on to adult tube and webcam sites. All you need is a good forum script that will entice the users to spend time on your website and some marketing to get the initial bit of organic traffic to the forum.
After that, when the discussions start, you can sit back and relax. You just need to make sure that your script is functioning properly and providing an enjoyable viewing experience.
However, before you start your adult forum, you will need to find a suitable adult forum script and that can be harder than you think. Luckily for you, we've created the following list with the best forum scripts currently available on the market.
Continue reading to find out what scripts you should consider if you're starting an adult forum.
Flarum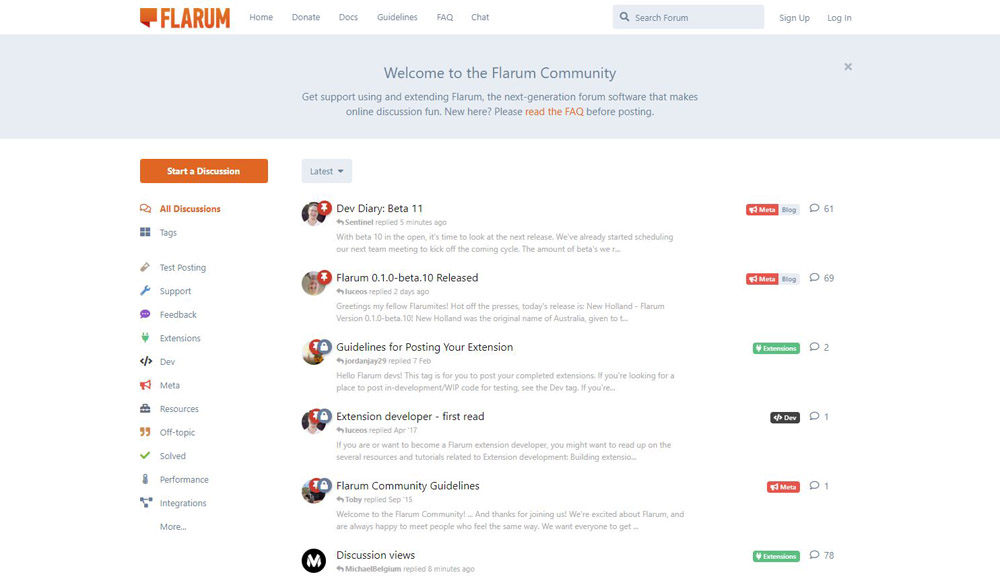 The first forum script on our list is courtesy of Flarum.
This free software solution comes with all the basic forum features, including discussions, categories, layered layout and others. Its design is slick and modern, but you might want to customize it to change the coloring scheme. The orange-white color pattern is hardly suitable for a porn forum.
So, if you can afford to spend some time personalizing the script, Flarum is a great option for you.
Notable features:
Discussions
Forum layers
Categories
Modern theme design
JitBit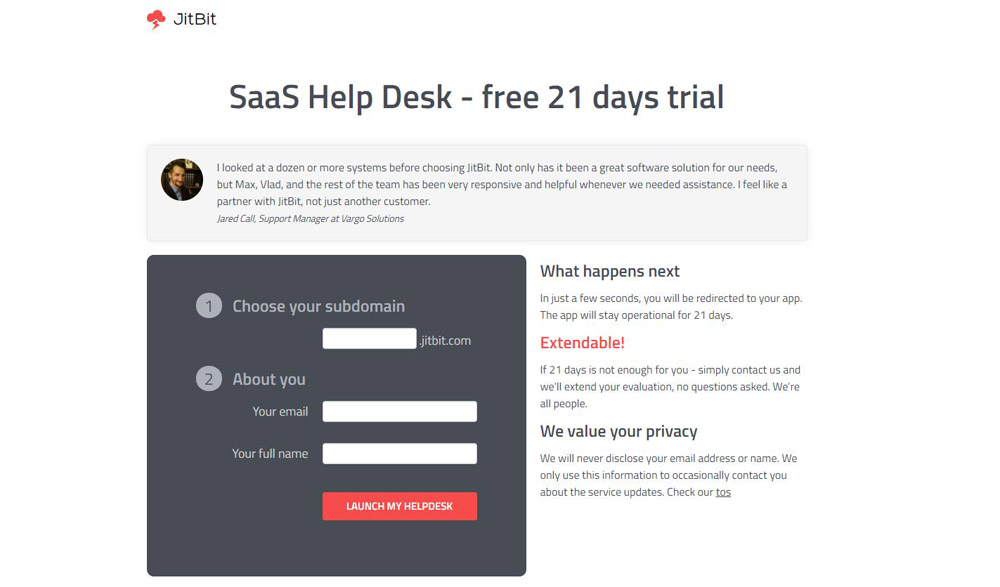 The second entry on our list and the second best script that you can use for an adult forum is JitBit.
This is another great forum script with a high-quality, professional theme design and layout. However, it's not design exclusively for adult forums, which means it will require some further customization. The entire blue coloring scheme likely needs to be redone for this script to be used for a porn forum.
If you can spend time customizing it and pay $24 per month, this is a decent option. Otherwise, stick to the free forum scripts.
Notable features:
Great design
Membership levels
Discussions and categories
Layered layout
Free upgrades
Money-back guarantee
Forumotion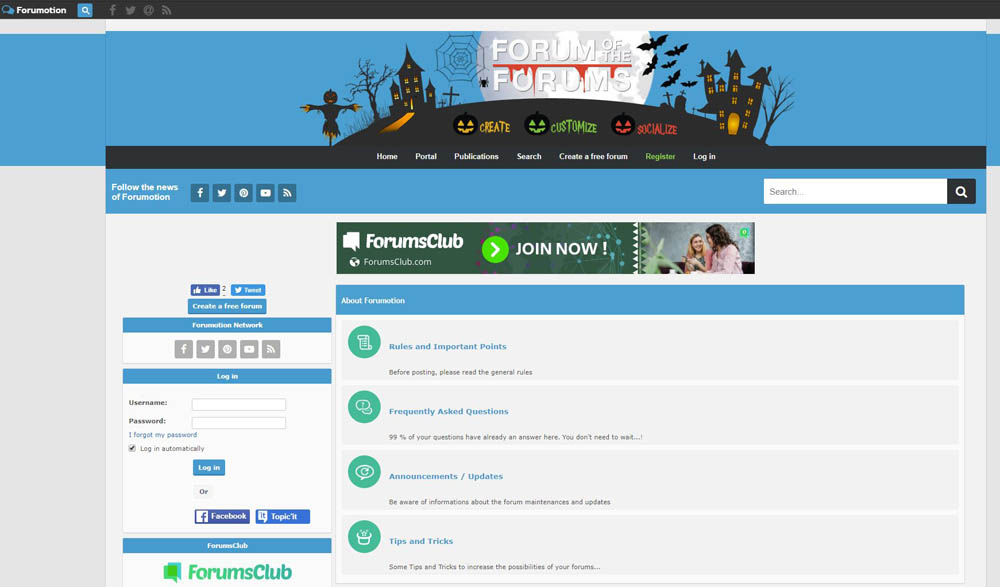 Forumotion is the best forum script on our list. This free software solution is similar to Flarum in the sense that they both feature modern designs that provide a great viewing experience.
However, similar to Flarum, the coloring scheme of this script is not really meant for adult forums, which means it requires some customization. If you can invest some time to adjust the colors and fix the layout to make it suitable for a porn forum, this is the perfect option for you.
Notable features:
Discussions
Forum layers
Modern theme design and layout
Easy to customize
Membership levels
Our list of the best adult forum scripts ends here. You might be wondering why there aren't more scripts here, but that's easily explained. Most forum scripts, including the ones on our list, are not designed with adult forums in mind. Rather, they're meant to cover as many online niches as possible. This means that they usually stick to basic layouts, colors and themes.
If you want to create a porn forum, you will have to use one of the regular forums scripts and customize it to be more adult-friendly.
Adult forums were the last category on our list of the best adult website scripts. If you're not sure how to launch your first adult website and you want to learn more about how you can make money from porn, check out our extensive guide here.