You've heard that porn industry brings a lot of money and you've decided to give it a try. You're full of enthusiasm and you're ready to make some dough. But before you start earning, you need to set up your own porn website.
If you don't want to spend any money, you can start your website with a free script, theme or template. Now, whichever option you choose, you'll be able to configure your site within hours  and get it up and running. However, scripts usually have more features than themes and if you're looking to start a decent-looking site, your best option is to find a free porn script.
So, if you want to start an adult website for free, browse through the list of the best free porn scripts and simply pick the one you like the most. If you want a premium solution, you can check out our list of the best porn video scripts.
While you may want to save up on the website script, hosting is something you should definitely pay for. A free hosting service will never be able to support a website in a fast growing niche like porn. That's why we recommend Vicetemple, a specialized adult hosting provider, that caters specifically to new porn webmasters.
We've divided our list into categories depending on the type of porn site. However, be aware that there aren't many free solutions available on the market. Although doable, starting a porn site for free is not that easy.
Still, our complete list of the best free porn scripts will definitely help you get started.
Adult tube scripts
xStreamer Lite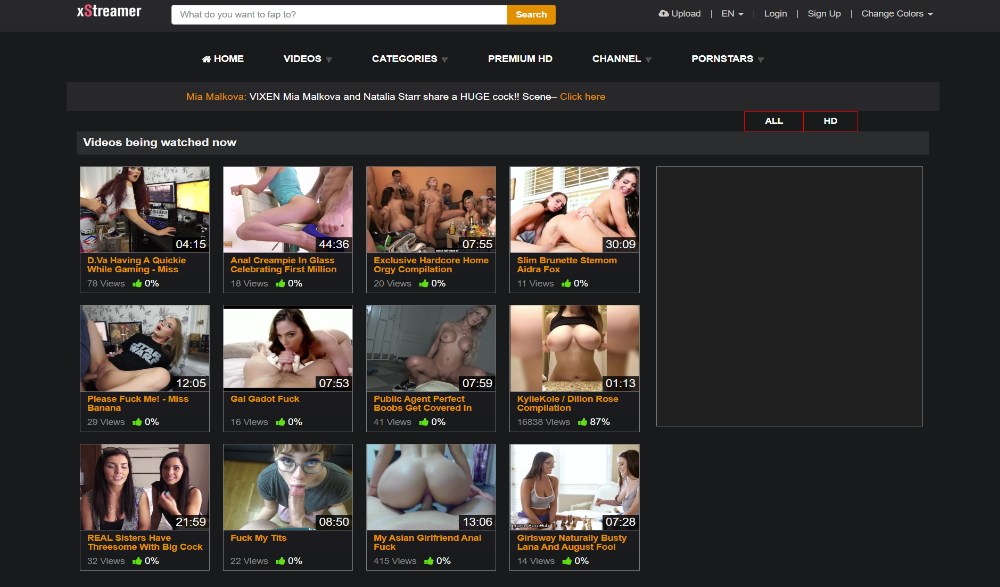 xStreamer Lite is the free version of the premium adult tube script xStreamer from Adent.io.
Naturally, the free version comes with limited features and options, but it's still a very attractive and useful piece of software. If you want to play around with a new website and see if there's any earning potential in porn, you can get xStreamer Lite to test out your ideas.
In case you want to access more features and expand your website, you can always upgrade to the premium version for $199.
Notable features:
Multiple video formats (AVI, WMV, DIVX, MPEG, etc.)
Video management
User profiles
Responsive design
Smart Tube Pro (Free edition)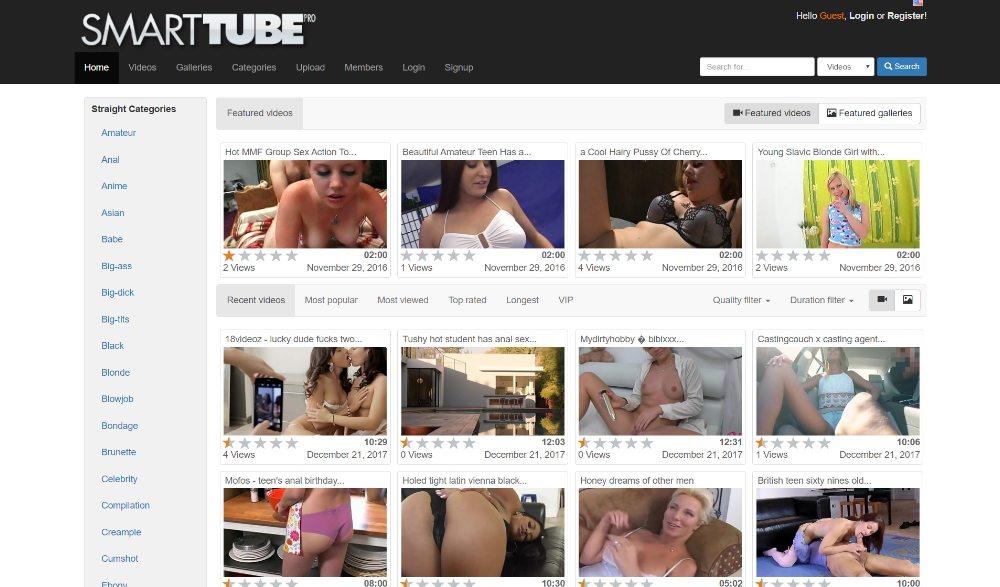 Smart Tube Pro has recently released a free version that offers their prospective clients the opportunity to test their script. However, they redirect 1.5% of your traffic if you use the free version.
The best thing about this free script is that it barely differs from the paid version. It contains all the features of the premium script, including its caching techniques, responsive layouts and themes and much more.
Notable features:
Advanced caching
Multiple video formats
Video downloads
Automatic updates
User and webmaster accounts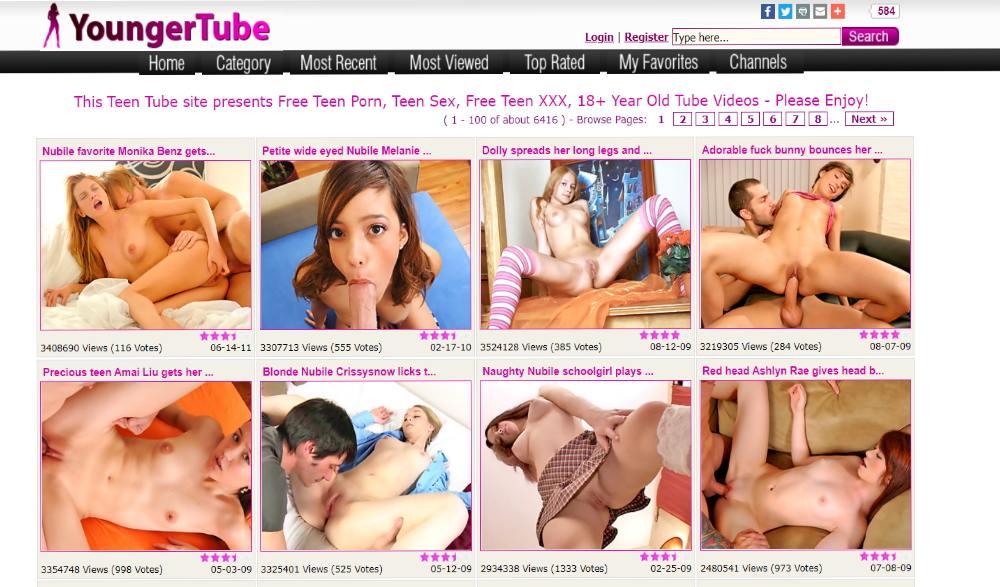 The Nubiles script is made for porn tube sites with exclusive webmaster control over content. This means that users have limited features at their disposal. For example, no user can contribute videos, create their list of favorite videos or save videos for later viewing.
The mass scheduling option on Nubiles allows its webmasters to upload hundreds and even thousands of videos, by automating the publishing process. This nifty features comes with the mass editing option, which allows you to edit multiple videos at once. All of this allows you to automate most of the content generation process.
All in all, this is a great script for people who don't want to invest much time in their porn business venture.
Notable features:
Mass video uploading and editing
Link exchanges
RSS Feeds
Custom ads
Escort agency scripts
EscortBook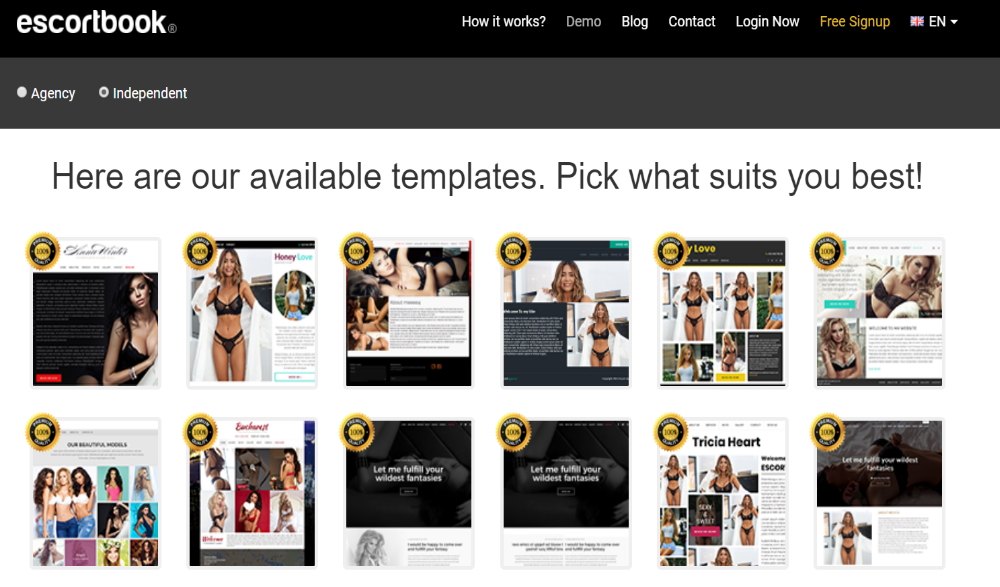 Whether you are an owner of an escort agency or an independent escort, EscortBook is the perfect solution for you. This is one of the best adult escort agency scripts on the market and it comes packed with many themes and layouts that you can freely edit and customize.
What's best is that it all comes for free. No initial payments are required. However, they will take a share of your earning, which is only reasonable, considering the quality and the accessibility of this escort script.
Notable features:
100+ themes
10 layouts
Multilingual
Marketing tools
Membership site scripts
Adult Member Sites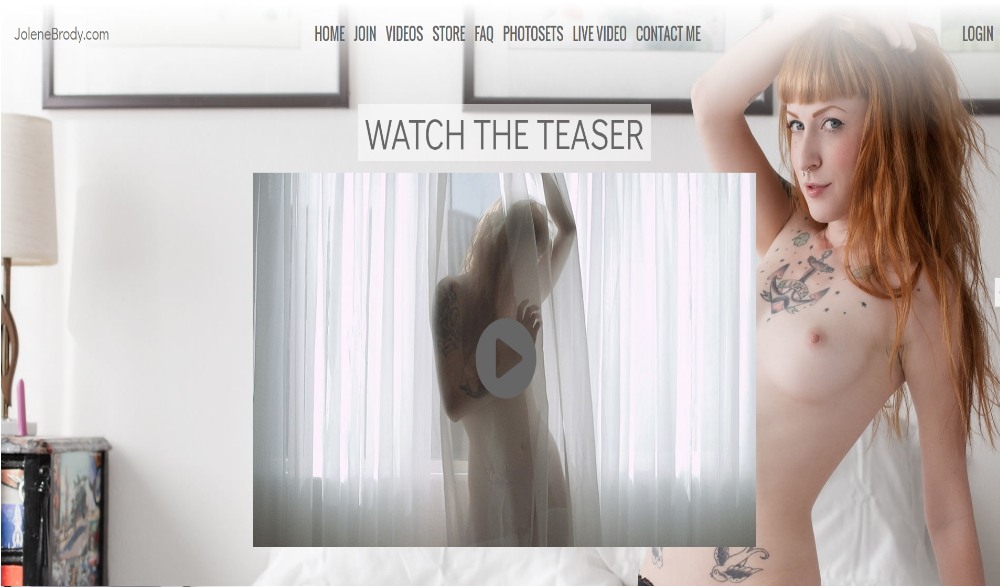 As its name suggests, this script is designed for people who want to start their own adult membership site.
With it, you can stream HD videos, send mass emails to promote your content, manage your users' activities and much more. In addition to that, this scrip features a clean and modern design. The white layout provides a nice overview of available photos, images and pricing plans.
Notable features:
Referral bonuses
Chargeback
Responsive
Payment gateways
We already mentioned that it's hard to find a good free porn script. If you don`t like any of the scripts listed above and you're reluctant to pay for a premium porn script, you can check out the following list that contains the best free scripts that can be customized to create a porn website.
Best free scripts that allow porn
MediaDrop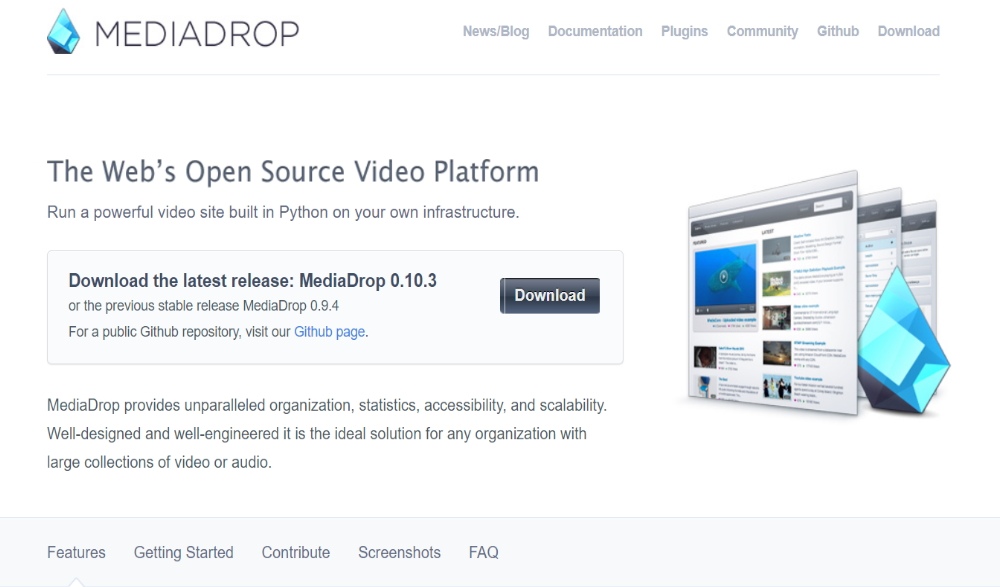 This responsive script is designed for regular tube sites, but it can be personalized and turned into a porn tube site just as well. Its clear layout and design allows the videos to take the center stage, which is perfect for porn sites.
Aside from that, MediaDrop automatically encodes videos and allows you to upload multiple videos at once. Furthermore, if you create your site with MediaDrop, you can allow your visitors to contribute content and share it on social media.
Notable features:
User content
Multiple storage options
Detailed statistics
Integrated social media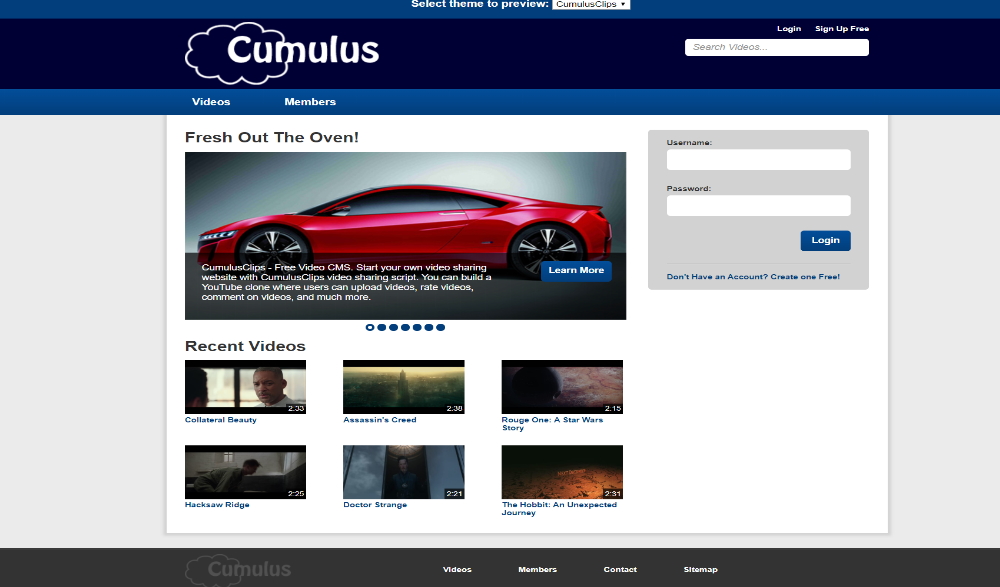 Another free tube script comes in the form of CumulusClips, a YouTube clone.
This script comes with 5 pre-made themes, each featuring a simple, but classy design. The script combines red, white and blue colors to create a visually appealing design that is sure to capture the attention of your visitors.
What's more, CumulusClips is easy to install, it updates automatically, and it works well with every device.
Notable features:
Automatic updates
Video embedding
5 pre-made themes
Responsive
Translation ready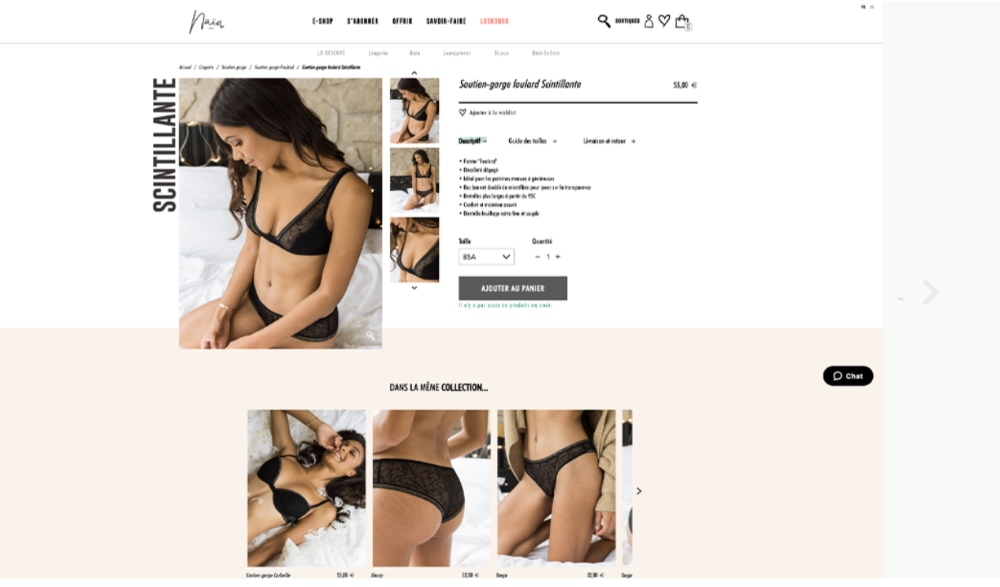 If you want to start an online sex shop, the PrestaShop software solution should be your go-to option. This incredible online store script offers you a number of different themes and designs that you can choose to incorporate into your store to optimize conversions. However, bear in mind that most themes are paid. They have to be bought separately.
In addition to that, PrestaShop integrates payment methods and translation tools, allowing you to focus on marketing and growing your store.
Simply put, this is one of the best shop scripts on the market.
Notable features:
Social media integration
Payment gateways
Translation ready
Paid themes and designs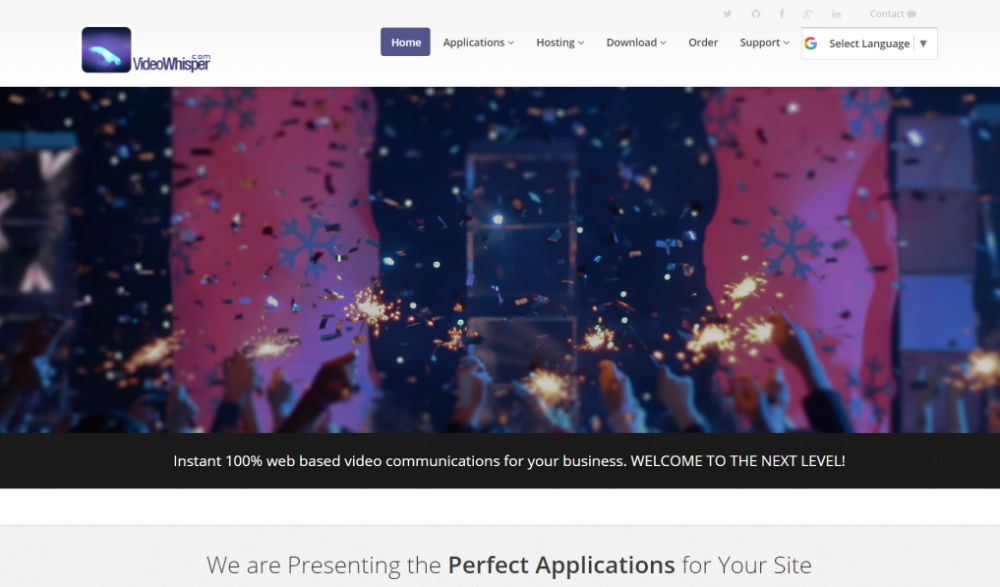 VideoWhisper is the last script on our list and it's perfect for a webcam site.
This script offers live streaming, video recorders, video messengers, 2-way video chat and many other useful options. However, if you want to enjoy all the features that VideoWhisper offers, you will have to purchase the premium version for $450. Still, their support staff will help you set up everything, even if you opt for the free solution.
Notable features:
Free support and testing
Unlimited updates
Custom distribution
Full CMS solution (paid)
Before we leave you, we would like to emphasize once more that you can't really experience the full webmaster experience without a premium script. However, if you're only starting out, these free porn scripts will be perfect for you.
So, what are you waiting for? Take a free script, install it and start your porn adventure today.