Today, it's easy to start a dating website. All you need to do is pick a dating theme, template, script or software solution. However, choosing the basis of your website can be tricky.
Should you choose a script, a software solution or a theme? Or maybe consider a dating website template?
Well, the decision is up to you, but online dating software solutions represent the complete package that allows you to create a fully functional dating website. Themes and templates, on the other hand, will likely require you to purchase additional plug-ins to implement the more advanced features.
With that in mind, to help you set up a dating site, we have decided to write this article and present you with the best dating software currently available on the market. However, if you're willing to consider dating templates or themes, that's perfectly fine. In fact, we have something to help you as well. Check out our dating section for more information.
Now, the entries on our list of the best dating software solutions are divided into two categories. In both categories, the entries are ranked based on their functionality, features and design.
In the first category, you'll find a selection of the best dating software that you can use to start an old-school, community dating website. These website typically have no automatic matching feature and they rely on the users to find and talk to others on their platform. This means they are more similar to social networks than modern dating websites like Tinder.
In the second category, you'll see the best dating software that is designed for modern dating websites, such as Tinder or Badoo, for example. These websites primarily work as dating platforms with integrated matching systems. Although they still possess some social features, the community isn't their main focus.
Community dating software solutions
DateMill by Etano Community Builder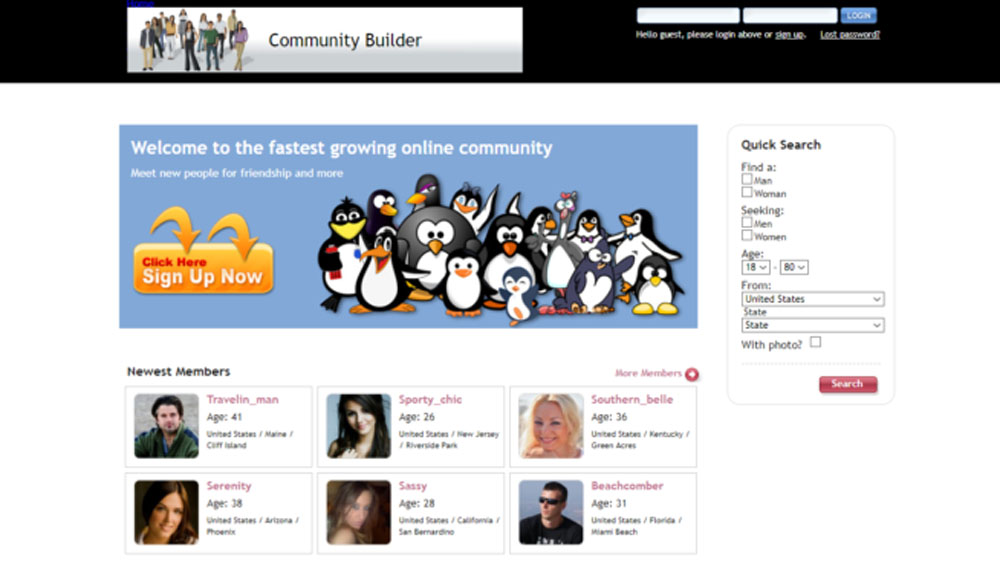 DateMill is a software solution that you can use to start a community dating website. It's design is outdated, but it's still very functional.
On DateMill, webmasters can choose to have automatic or manual profile approvals by moderators. This option is particularly useful if you want to avoid spammers. DateMill also allows you to create an unlimited number of custom profile fields, such as basic info, physical characteristics, education, work, and so on.
When people register as members, they can add other members to their friends or favorites. Of course, all members can use the basic and the advanced search option to look for people on the website.
Members can contact each other using the software's advanced mailing system. They can send messages and flirts, which are basically quick messages that contain text or images. In addition to that, each member can create their own blog on the site.
Users can also comment on each other's profiles, photos, and blog posts. Moreover, they can even block unwanted users.
Overall, this is a fully functional dating software, but its poor design means it ranks as the worst software solution on our list.
Notable features:
Automated or manual user approvals
Unlimited number of custom profile questions
Social media features – likes, comments, adding friends
Quick messages – flirts
Asp.net Dating Software by Asp.Net Dating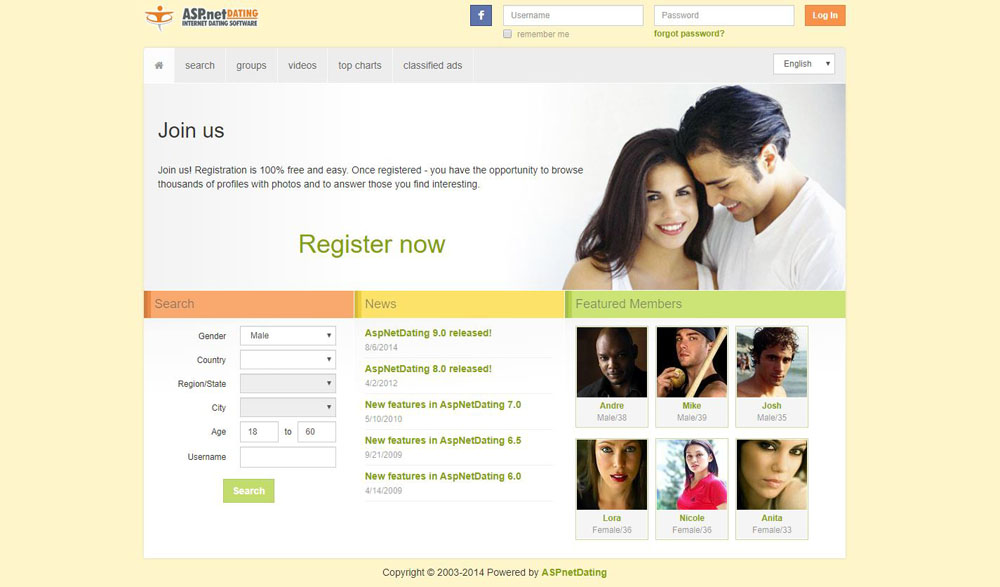 The Asp.net Dating software team offer you free installation with each purchase and they provide free technical support as well as free updates. Similar to the first entry on our list, this  is a combination of dating and community software.
As with most other platforms on this list, Asp.net Dating integrates with Facebook, Twitter and Skype. This platform supports private, moderated and public groups. For each group, the administrator can set an age restriction.
Aside from that, users can rate others by playing the Hot or Not game. Members of the community can communicate through public chats, group chats or private messages.
To conclude, this software contains many interesting features, but the design seems a somewhat outdated. Luckily, you can customize it to fit your needs.
Notable features:
Facebook, Twitter and Skype integration
Private, moderated and public groups
Hot or Not game
Age restrictions
PHP Dating Script by SoftbizScripts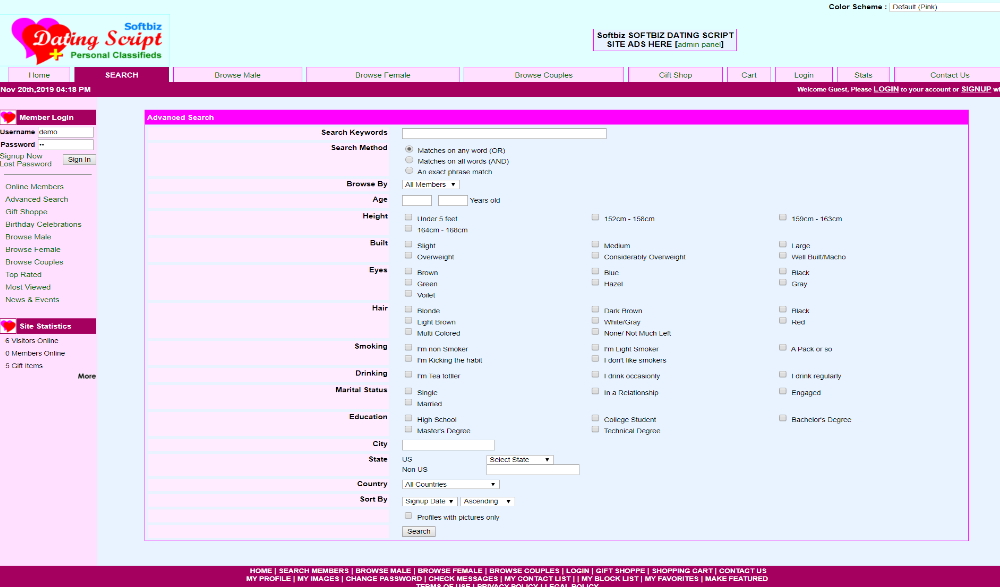 The PHP Dating Script by SoftbizScripts is an online dating software that offers many useful features. This is yet another old-school community dating script.
Once registered, users can use the advanced search option to look for members of certain gender, profiles that contain certain keywords etc. Similarly, they can select the desired body type, height, hair, eye color, location etc. Aside from looking for other singles, people can also look for couples.
As for the features that the webmasters can use to make money, this software has an integrated gift shop that you can use to sell pretty much anything. The pre-designed categories include: Arts, Crafts & Gifts, Health & Beauty, Apparel & Fashion, Home Supplies, etc. Naturally, you can always create custom categories, if necessary.
To make communication easier, Softbiz has a built-in messaging system that everyone can use to talk and keep in touch, without leaving the platform.
Notable features:
Search for matches – female, male, or couples
Advanced search option
Gift shop
Free localization and customization
DatingScript by VLD Interactive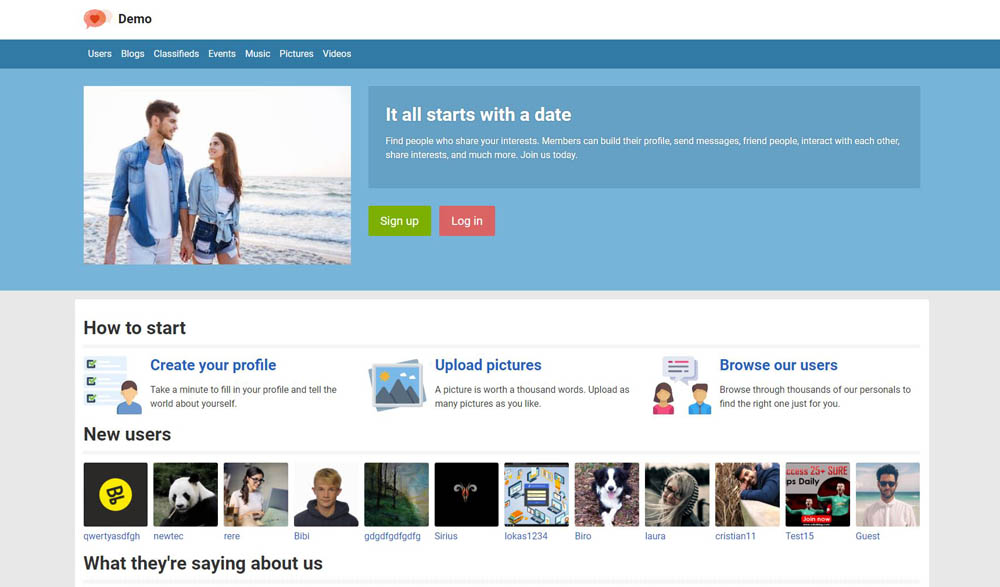 Packed with many great features, DatingScript is another software that mixes the features of a dating website and a social network.
With it, you can set up several membership profile types and separate them into member groups. For example, you can have a free members group, premium members, etc. For each group, you can set up different restrictions or perks. This way, you can make certain features accessible only to paying members.
With this software, you'll also get a customizable email template to send to your users. For example, you can use an email template to remind people to visit the site if they haven't been active for a certain amount of time.
Your users can sign up using Facebook and Twitter. Additionally, you can add any other network to automate the registration process. To stop spammers from joining your website, you can request that users verify their email addresses.
When they register, users get a profile with a public timeline. Here, they can post videos, music, links, and photos. They can also add other users as friends and favorites. Furthermore, they can allow only their friends and/or favorites to see certain aspects of their profiles.
Notable features:
Different membership profiles
Customizable email templates
Facebook and Twitter logins
Public timelines
Peepmatches by Peepdevco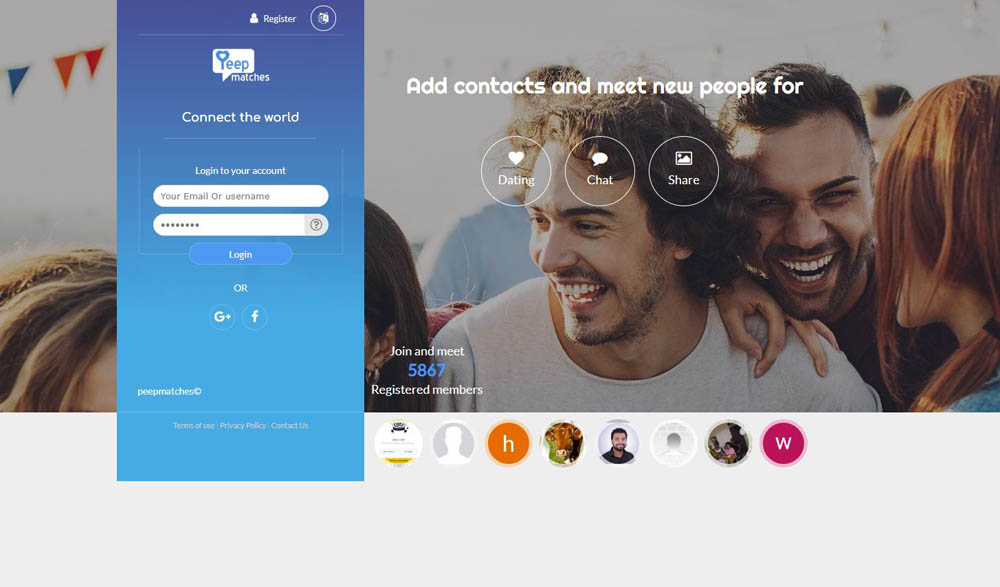 Peepmatches is a modern PHP script that combines the features of a dating website and a social network.
On their dashboard, users can see news from their friends, see who visited their profile, or manage their credits. The contact news section looks identical to the Facebook's news feed, which means that members can like or comment on their friends' posts.
Like many other dating software solutions, Peepmatches allows users to rate other people's photos, or even entire profiles. The members with the the most likes are added to the Most Liked list featured on the homepage. Additionally, users can buy a place for themselves in the Spotlight section of the website.
As we mentioned earlier, Peepmatches often borrows features from Facebook. Aside from th news feed, the Peepmatches script clearly borrows the birthdays feature and the photo view style of Facebook.
In the end, it's important to emphasize that members can set photos to be public or private. Private photos are locked and only users with the right password can access them.
Notable features:
News feed
Most Liked and Spotlight members
Birthday greetings
Private photos
Chameleon Urban by Chameleon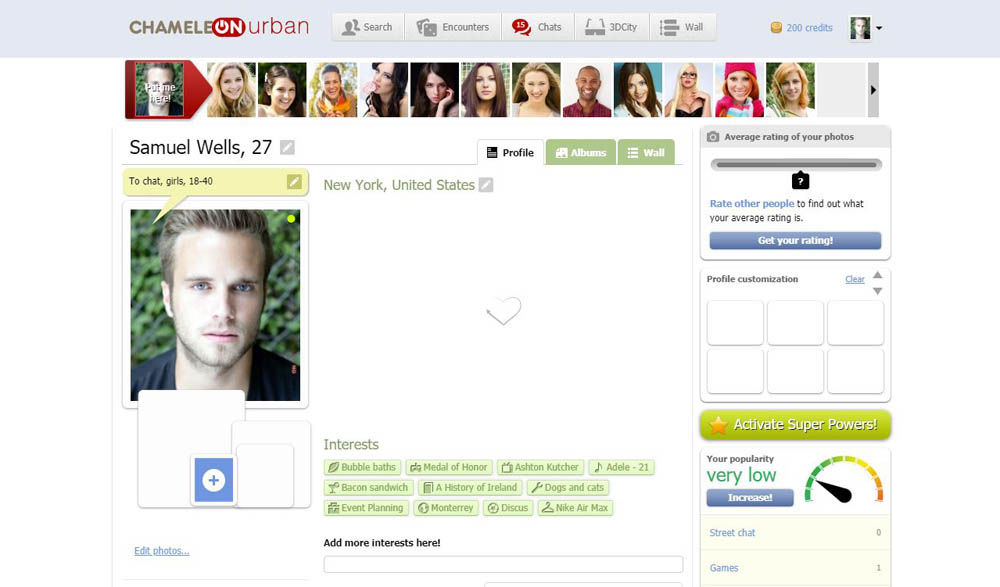 Chameleon is an online dating software that you can use to set up your dating website in under 24 hours. The software comes with default templates for a website, a mobile version, as well as Android and iOS apps.
When each user registers, they get their own Smart Profile on the platform. On this profile, they can share videos and music, change background colors, draw, and so on. Thanks to the GEO social networking feature, users can also show their location to others.
With this software, your website will have a general chat where everyone can talk to each other. However, it will also allow your members to talk with on-site email and private messages.
Perhaps the most interesting feature of Chameleon is the 3D chat feature called 3DCity Module. This advanced features allows users to interact before they meet in person, without necessarily showing their faces.
Chameleon also allows its users to create and join groups, write blogs, add events and calendars, or post photo albums. They can also use the Love Calculator to check their compatibility with other website members.
This online dating software comes in 11 languages, but even if your language is not supported by default, you can easily add it to the script. However, you will have to translate the website on your own, in that case.
Notable features:
11 language packages
Smart Profiles
3DCity Module
Love Calculator
Modern dating software solutions
BestDatingScripts by OriginateSoft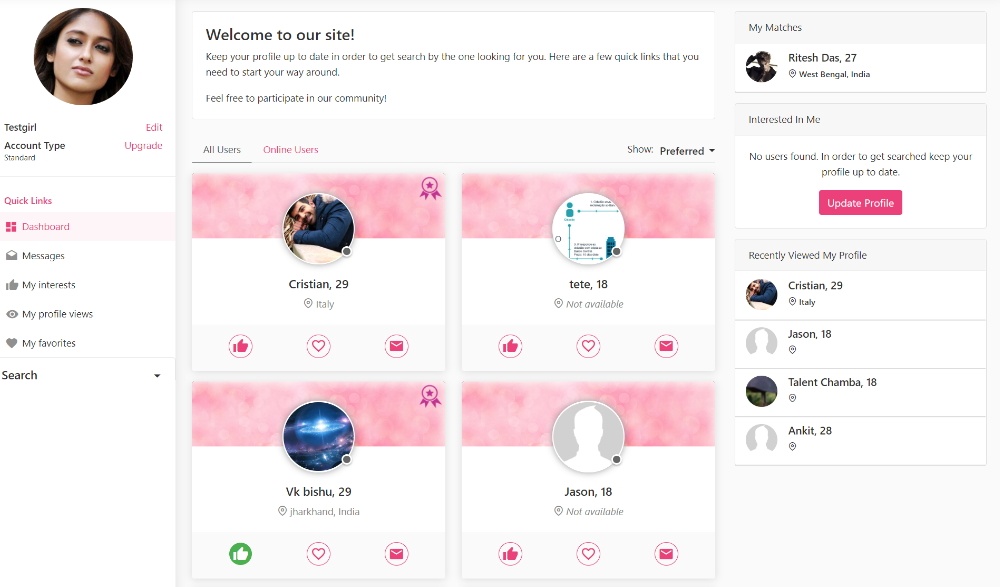 BestDatingScripts is a pretty straightforward dating software. It has all the basic features of a dating website, and it offers very little extras.
This software has an advanced search feature, which means that people can search for users based on various parameters, including: physical features (hair color, eye color, body type, ethnicity, etc.), lifestyle (smoker/drinker, children or no children, occupation, annual income, etc.), and cultural values (nationality, languages spoken, religion, star sign, etc.).
When a user finds someone they like, they can use the Like option to add them to their interests or the Heart option to add them to favorites. Each user can see who viewed their profile, who is interested in them and who placed them on the list of favorites.
Notable features:
Advanced search option
Interests or favorites
Membership plans
Spam protection
Vadoo by Branko83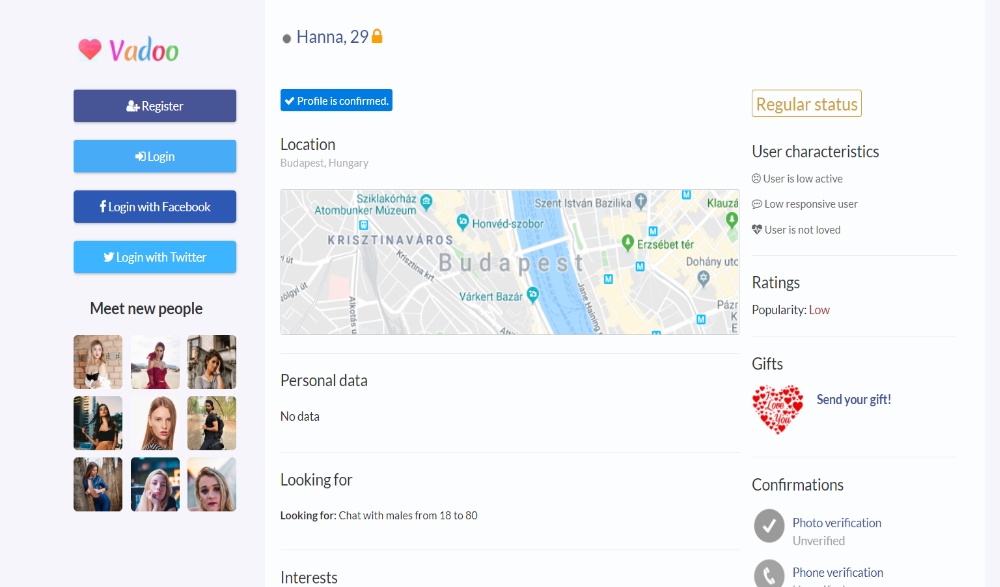 Vadoo is a relatively new online dating software that functions as a Badoo clone. The script is incredibly easy to install and the entire process is similar to the WordPress setup.
This script is entirely based on Badoo and offers little else besides. The software automatically finds every user's location and sorts the users by distance. Users can view people that are near them, check their matches and see who viewed their profile.
Vadoo offers a chat system that is a perfect replica of the Badoo chat. The chat contains free and premium stickers, allowing you to further monetize your website, by adding new stickers.
However, the main way webmasters earn money from Vadoo is through profile status upgrades. Vadoo offers its members to upgrade to Premium, Gold or VIP status for a set amount of credits.
Notable features:
Badoo's chat system
Free and premium stickers
Premium, Gold, or VIP status for members
OkDate by Brightstatus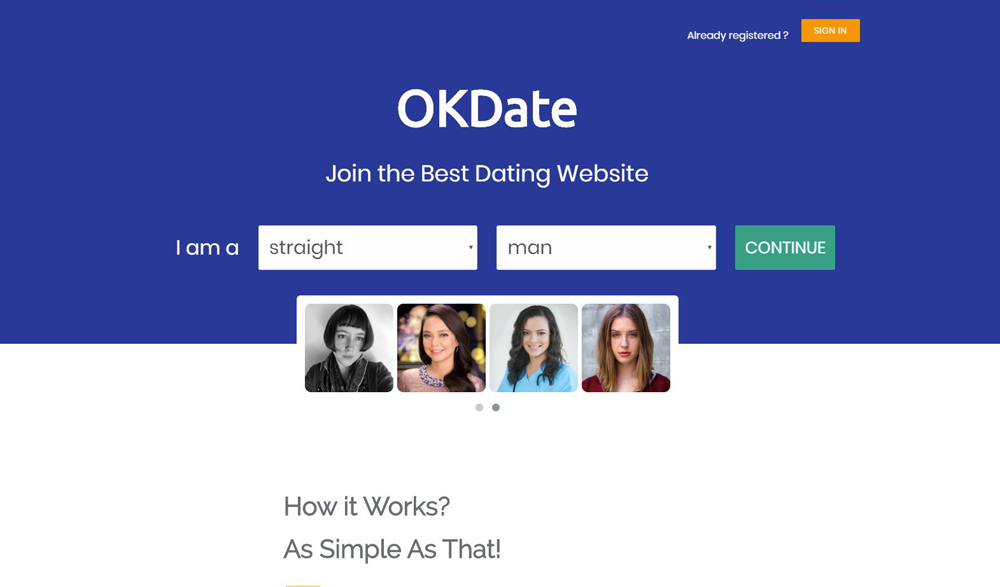 OkDate is an excellent, modern choice for an online dating software. With this software, you'll get a website, a mobile website, and a mobile phone app for Android and iOS.
This dating software, like many others on our list, features a friends system and a Hot or Not rating game.
Users can search for matches, and when they find someone they like, they can add them as friends. Once the other person accepts, they can then start a private chat.
Furthermore, you can monetize your dating website by setting up membership plans or additional features that your members can buy.
Notable features:
Mobile app included
Friends and rating systems
Chatrooms
Membership plans
Datingo by ZoPlay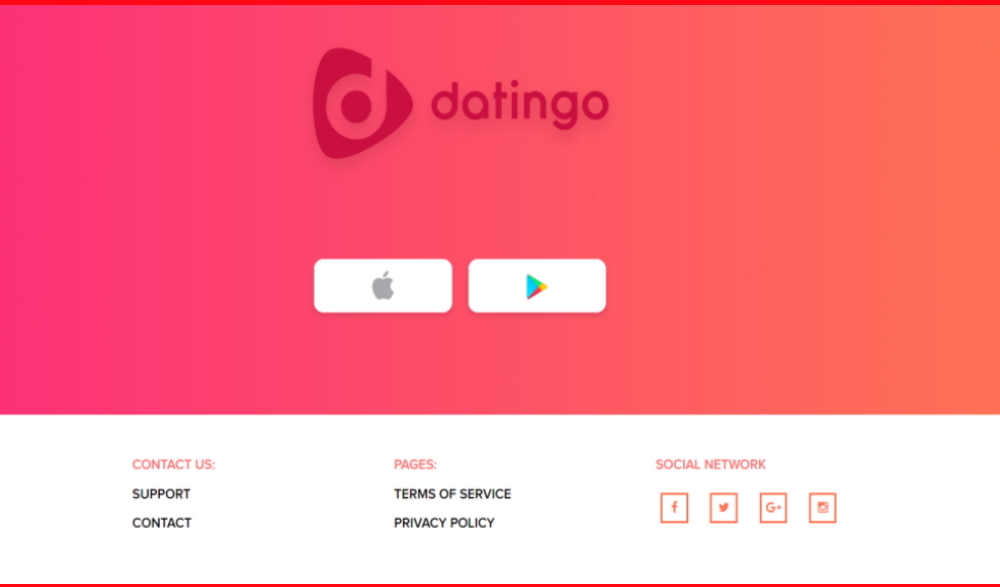 Datingo is ZoPlay's online dating software that functions as a Tinder clone and features all Tinder options.
With it, users can like, super like or dislike others, as well as rewind their selection to undo accidental matches.
The users are matched with each other based on proximity, gender, and age. Of course, users can specify requirements for each of the parameters.
The Datingo Boost feature allows you to quickly monetize your website and increase your income. This premium option puts someone's profile at the top of the swipe list for a certain amount of time.
Datingo is a great option for everyone who wants to create a dating app that looks and works just like Tinder. Since their code is completely unencrypted, you can also customize the solution and make it more original.
Notable features:
Tinder clone
Integrated payment systems
Rewind option
Datingo Boost feature
WP Dating Software by WPDating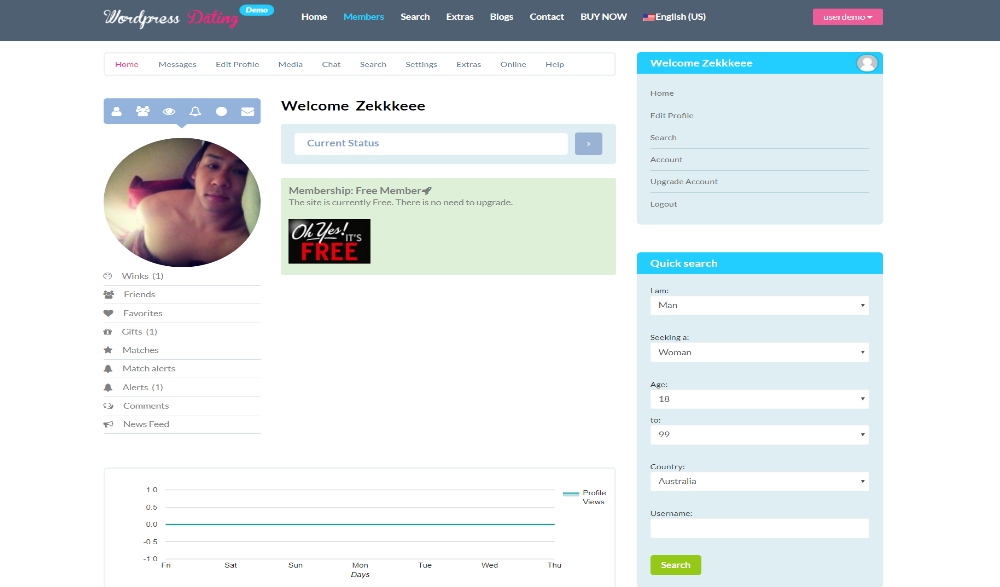 WP Dating offers three different packages for their dating software – DIY package, Customized Package, and Mobile Dating App. This software is based on WordPress, which means it is relatively easy to use even for absolute beginners.
The DIY Package is perfect for people who want to create their own websites. With this package, the WP Dating team will install the software and leave the rest to you. You can play around with the script and design your website in whatever way you want. However, bear in mind that this package requires at least a decent understanding of websites and some technical knowledge.
With their Customized Package, you can choose which features you want to include in your software package. This will allow you to create a unique website without having to build it yourself. This package comes with 180 hours of custom development from the WP Dating team.
WP Dating's Mobile Dating App Package is perfect for people who want a mobile-based dating service. In essence, this is a Tinder clone script.
All three packages are based on open source, so you can customize your website, no matter which package you choose. They all have pretty great features like the Near Me indicator that will show your users all the people in their vicinity.
Additionally, your members will be able to send winks or other gifts to let others now they're interested.
Notable features:
Three different packages
Near Me indicator
Users can send winks and virtual gifts
Fully customizable
Dating Framework Software by Dating Framework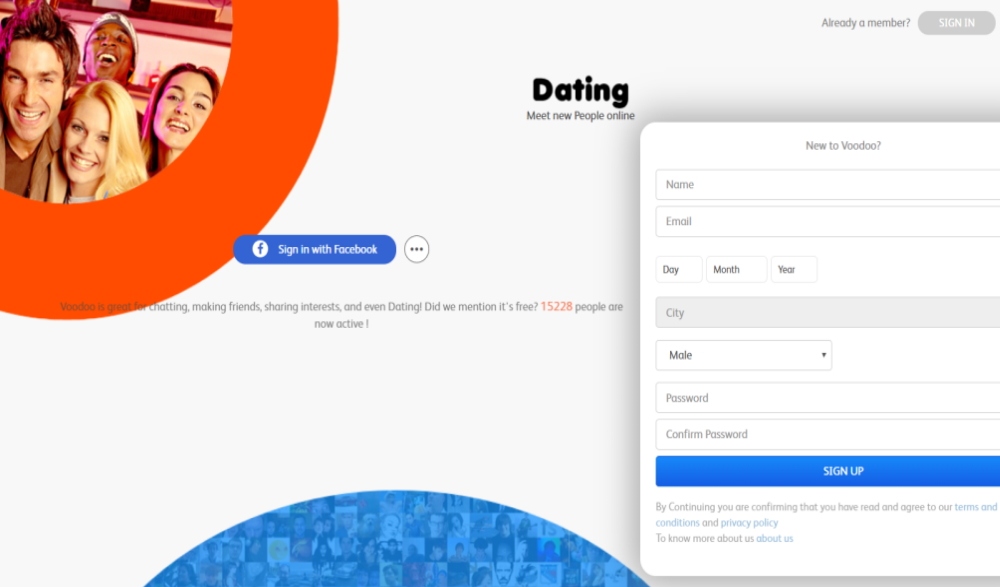 Having featured on TechCrunch and Forbes, it's fair to say that Dating Framework is one of the most popular online dating software solutions.
Their software is entirely based on open source, which means that you can freely customize and personalize their solution. Similarly, you can introduce various plugins and themes to their software to create a more advanced solution
As for the features, the script offers nothing out of the ordinary. Users look for matches by searching for other people. Of course, users can pay to rise up to the top of the search results, similar to Google ads. However, this is a premium feature and it requires users to buy credits.
Dating Framework claims to have the fastest chat engine of all dating software. Their chat system comes with free and premium gifts that provide you with an additional source of income from your dating website.
Aside from posting public photos, users can also choose to make photos private and only allow a select group of people to view them.
Notable features:
Search for matches
Profile boost
Free and premium ifts
Private photos
YouDate by Hauntd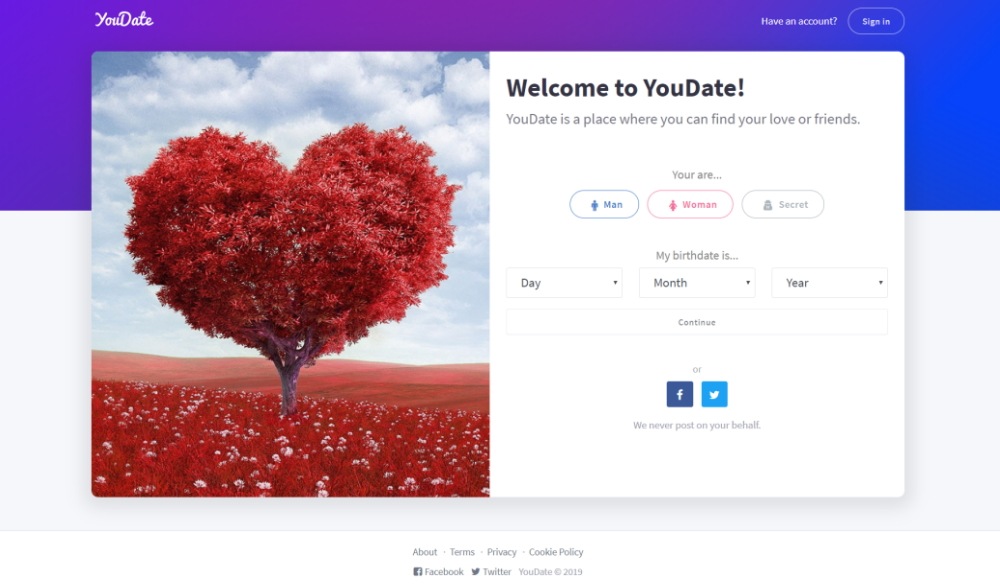 YouDate is a high-quality, affordable dating software that resembles the web version of Tinder.
On it, users can search others based on their location, set up age parameters or browse them by gender. When they find someone they like, they can heart them or message them immediately.
When a user opens another person's profile, they can see their basic info (gender, relationship status, age, looking for, etc.), their short bio and physical characteristics such as height and weight. A special feature is the popularity indicator that shows how popular a certain member is on the website.
All users have an Encounters section with match suggestions as well as the Your Matches category which lists out all the people they've matched so far.
There's also a section of the website called Connections where members can see all the people they've connected with. Here, they can see all the people they've liked, the people that have liked them, mutual likes, and guests.
Notable features:
Search by location
Popularity indicators
Encounters
Connections
PG Dating Pro by DatingPro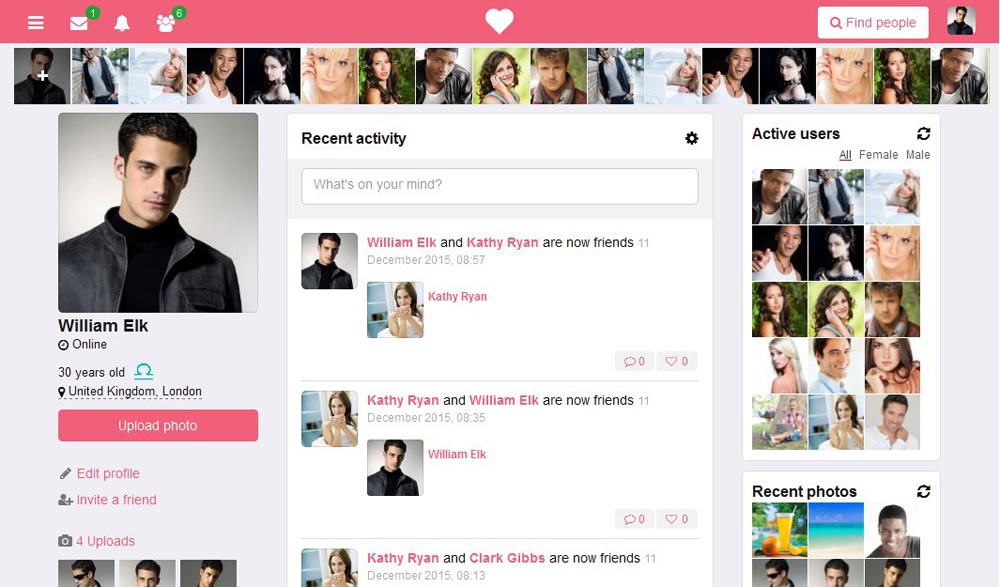 DatingPro is a well-established, award-winning dating software. They have a few different products available, but we will focus on the PG Dating Pro software in this article.
This software has tons of wonderful features. Their Search option allows people to search for other users by gender, age and location. In addition, members can choose to view only people who are currently online.
The software also includes an interactive map that shows users the people who are the nearest to them.
Furthermore, PG Dating Pro allows users to rate each other's profiles and view a list of the top rated members.
PG Dating Pro's social features are especially plentiful. The script contains options such as social media sign up, photo and video albums, photo editor, and chat feature, to name a few. Aside from this, users can send kisses, winks, like each other's pictures or entire profiles.
Essentially, PG Dating Pro combines a Tinder-like dating website with certain Facebook features. For example, each user profiles has their own wall where they can post links, YouTube videos, and similar. Other users can then like these posts and comment on them.
These are just some of PG Dating Pro's features, and we advise you to check out their website for the full list.
Notable features:
Currently online users
Interactive map
Social media sign up
User walls
Datum by Appscrip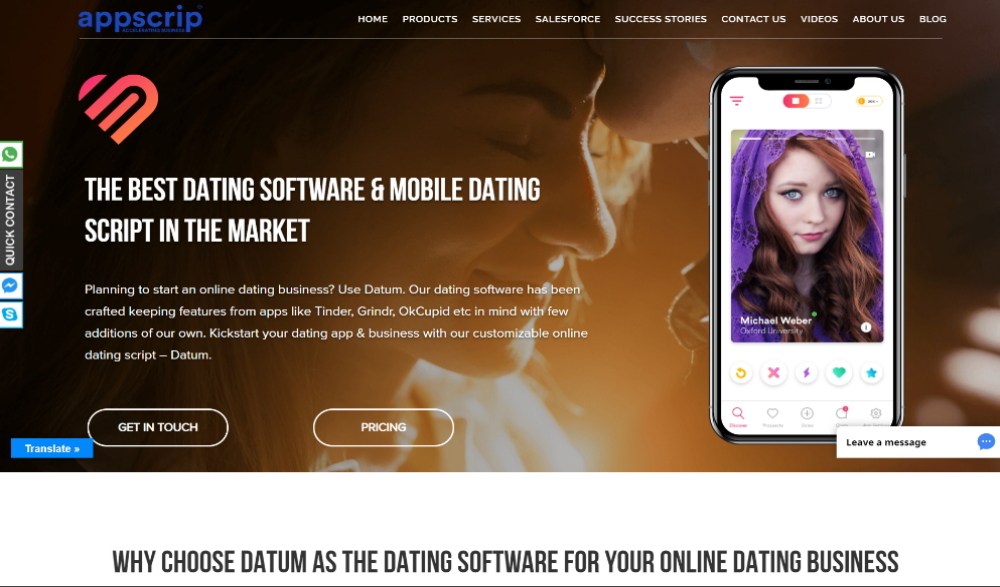 Datum is another great dating software that borrows its features from dating platforms like Tinder, Grindr, and OkCupid. However, they complement the borrowed features with their own, custom options.
Datum allows users to register with phone numbers or social media.
Upon registration, all users choose what information they want to add to their profile. They can choose specific information that the want to add as well as the info that they don't want to be displayed.
When it comes to profile info, there are three sections to edit – Vitals, Virtues, and Vices. Under Vitals, users can add their height and ethnicity. For Virtues, they can add information such as education and their job. For Vices, they can state whether they drink, smoke cigarettes or marijuana, or if they do drugs in general.
Just like with Tinder, on Datum, your users will be able to link Instagram profiles to their dating app accounts. Similarly, this script uses the Swipe & Match functionality made popular by Tinder.
The advanced search function lets users browse through potential dates based on height, age or location.
One of the special Datum features comes in the form of plan scheduling. With it, users can schedule dates with specific times and locations. Aside from real world dates, users can even schedule virtual dates in the form of audio or video calls. This useful option also allows users to view their pending dates as well as to rate past dating experience.
Notable features:
Social media and phone number registration
Vitals, Virtues, and Values
Advanced search
Swipe & Match
Plan schedules
AdvanDate by Advanced Dating Solutions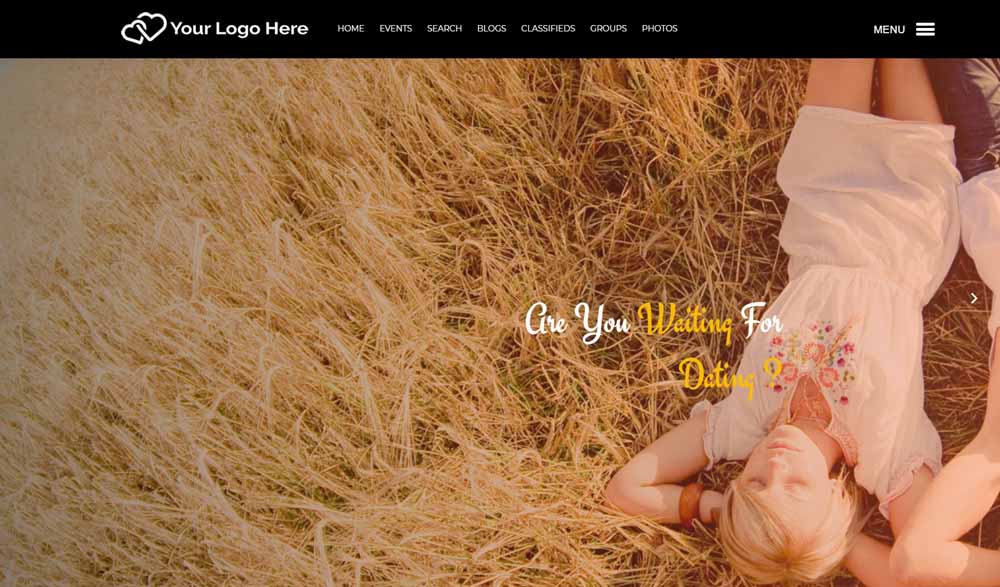 AdvanDate claims to be the most advanced online dating software on the market right now and we have to admit they're not far from it. They offer two different website versions  and over 60 templates that you get for free when you purchase their software.
iCupid, the AdvanDate's dating software, is packed with amazing features. For example, it allows users to scroll through member photos and choose who they like. This way, they can add users that they like to their Hot List and later check out their profiles. Similarly, they can add them to friends right away.
Furthermore, when searching for people they like, members can see other people that are near them at the moment.
In addition to that, iCupid allows users to rate other people's profile. Each profile has its own rating shown publicly. To get in contact with another person, users can either send private messages, eCards, or Photo Greetings.
On iCupid, users can even create their own compatibility quiz that others can take to check if they are compatible.
Notable features:
Hot List
Near Me indicator
eCards and Photo Greetings
Compatibility quiz
Profile ratings
60+ templates
SkaDate by Skalfa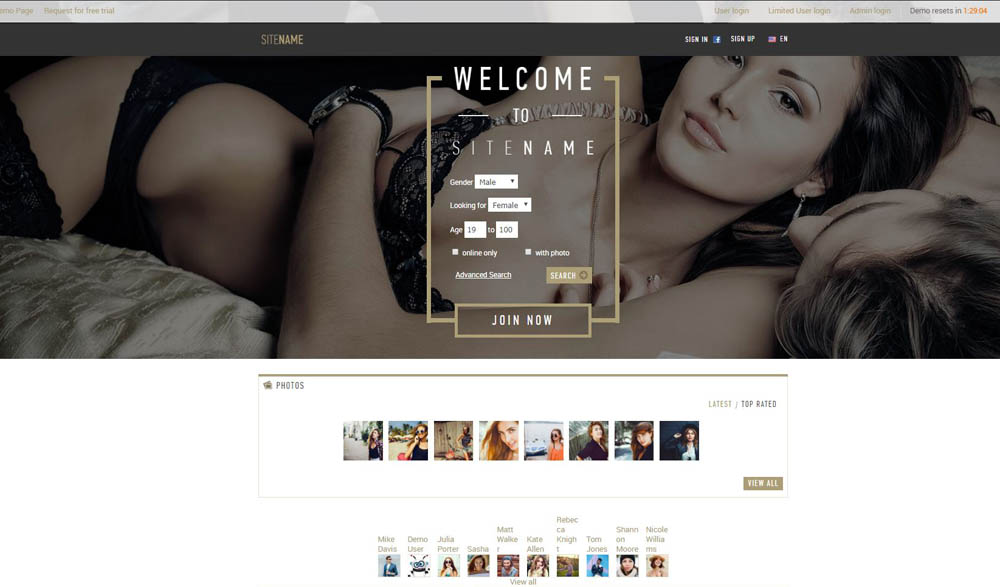 If you did any independent research before reading our article, you're probably already familiar with SkaDate. This is because SkaDate is one of the most widespread dating software solutions, as well as the oldest one, having been around since 2004.
SkaDate offers four different packages: Basic Package, Complete Package, Premium Package, and Bespoke Solution.
With the Basic Package, you will get a website and a mobile version of the site. If you choose SkaDate's Complete Package, you get a website and a mobile app. With the Premium Package, you get a website, a mobile app, app store submission, and custom development with 15 developer hours.
SkaDate's Bespoke Solution will help you set up a completely custom website from scratch. However, this is one of their priciest options.
Your users can join the website using their email or Facebook. The website works by matching users and sending them new matches via email. Matched users can communicate in one-on-one chat sessions or using audio and video calls.
Furthermore, SkaDate allows users to search for matches by proximity, age and gender. All members can send winks and virtual gifts to people that they like.
To help you monetize your dating website, SkaDate lets you create membership levels, with custom lengths and prices.
Notable features:
4 different packages
Advanced search
Automatic matching
Winks and virtual gifts
SkaDate concludes our list of the best dating software solutions.
If you want a website that functions as a community, we advise that you go with one of the options from the first category. If you want a full-fledged dating platform, you should consider the solutions listed in the second category.
Remember to check each solution carefully before you make any decision. Even though you can't really go wrong with any of the online dating software options that we mentioned here.