There's no need for you to hire an expensive designer or developer to create a website. Nowadays, you don't even have to know any programming either. All you need to start a website nowadays is to select a website theme or template.
However, before you start your porn website, you'll need to find an adult-friendly hosting provider. We recommend Vicetemple, a specialized hosting company that is set up to exclusively service the adult industry.
Continue reading to find out what themes you should choose if you want to start a porn website.
Why you should choose a WordPress theme
WordPress themes are the basis of almost a third of all websites on the Internet.
This is hardly a surprise considering how functional and responsive they are. Today, you can select a WordPress theme and have your website set up within minutes. It's that easy. You don't have to have any coding or design knowledge.
And did we mention that they're very affordable? Most WordPress themes cost under $60. They're practically free.
On top of all that, your WordPress theme will be regularly updated with new features and functionalities.
This makes WordPress the go-to choice for almost a third of webmasters and it should make you seriously consider using a WordPress theme for your adult website.
To help you get started in the adult industry, we've made a list of the best WordPress porn themes currently available on the market.
Free WordPress porn themes
First of all, we wanted to show you a few of the free WordPress porn themes available. While you might think it's a good idea to get a free theme and avoid wasting money on it, you might want to think twice.
Although these free themes are decent on their own, the difference between free and paid themes is obvious. The free themes generally have a worse layout and design than the premium options. And not just that, they also have considerably less features.
But if you're still not ready to invest in a theme for your website, these free themes will do for now. You can always switch to a paid theme once your website grows, although that will require a bit more effort than starting with a paid theme.
Continue reading to find out what are the best free WordPress porn themes currently on the market.
Sexy Chick by WordPress Templates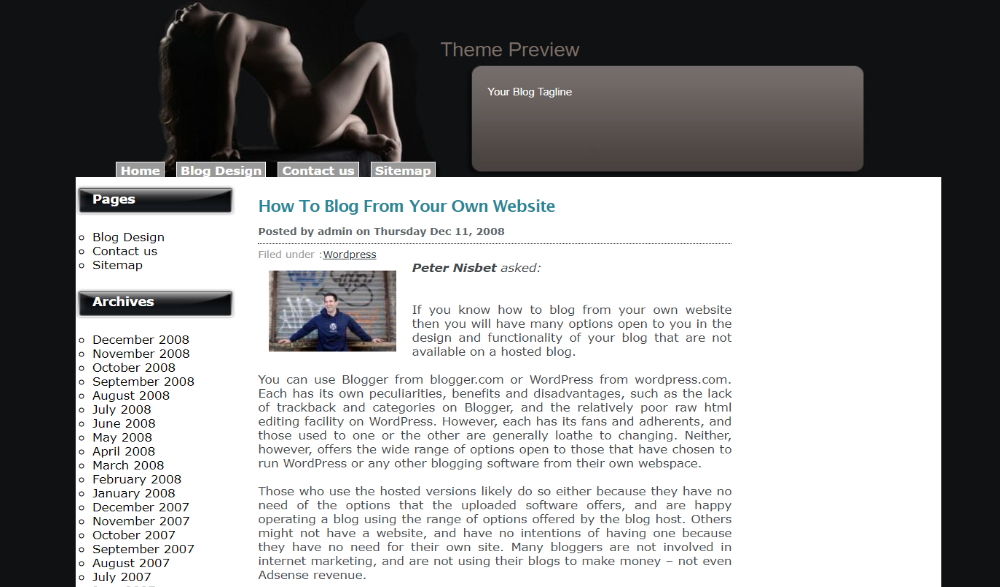 Sexy Chick is a simple and somewhat monotonous WP porn theme, designed for adult blogs. It comes with a two column layout and a black and white color scheme.
Although this theme is functional, its design is pretty basic and unimaginative.
Calm Breeze by WordPress Templates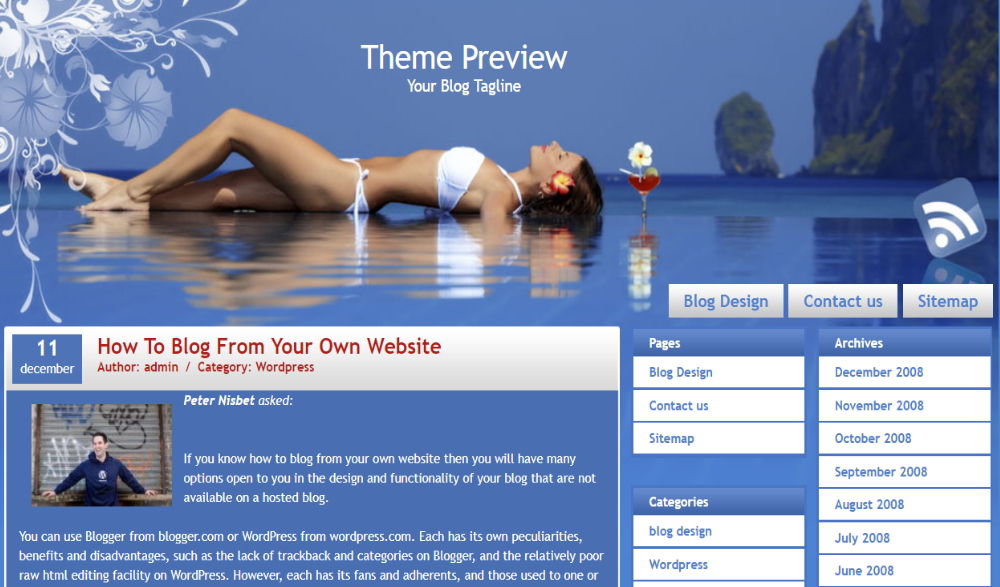 Calm Breeze is an erotic WP theme designed for a porn blog. It comes in a blue color scheme, which is somewhat odd for an erotic theme.
It's a three column layout, but its design is very outdated.
Red Sexy by WordPress Templates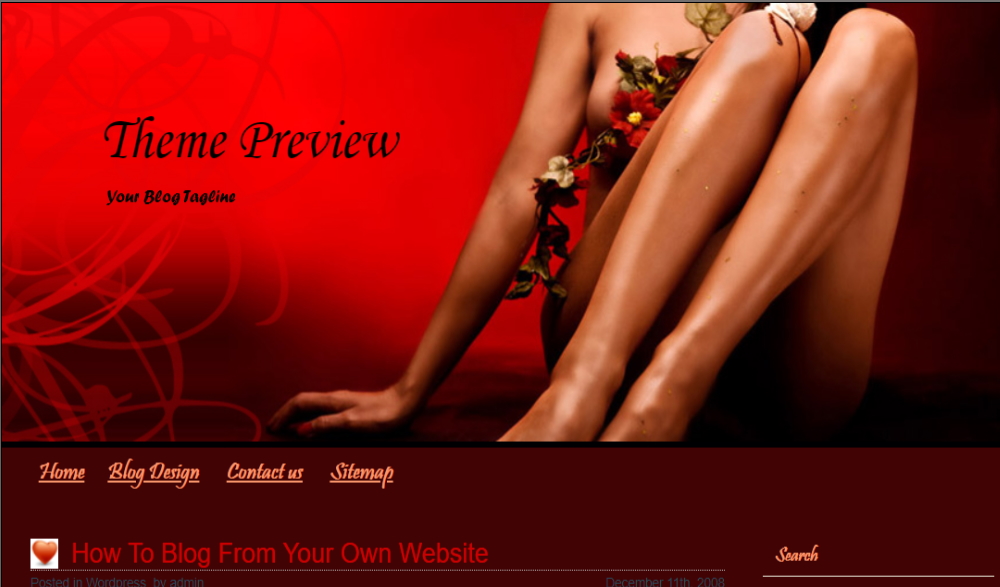 Red Sexy is a simple, old-school WP porn theme best suited for a blog.
It's a plain, not a feature-rich theme, similar to the previous entries on our list. However, this theme comes in a slightly better color scheme – red and black.
Paid WordPress porn themes
What follows is a list of premium porn themes for WordPress. These themes require an initial investment, but they're definitely worth it. Not only do they have better designs and features than the free themes, but they also come with a few more perks as well.
Generally speaking, premium themes have better customer support and they're regularly updated. This means that your website will always be updated in accordance with the latest trends and innovations in web design and development.
Without further ado, here's our list of the best premium WP porn themes.
Sexalicious by Bangthemes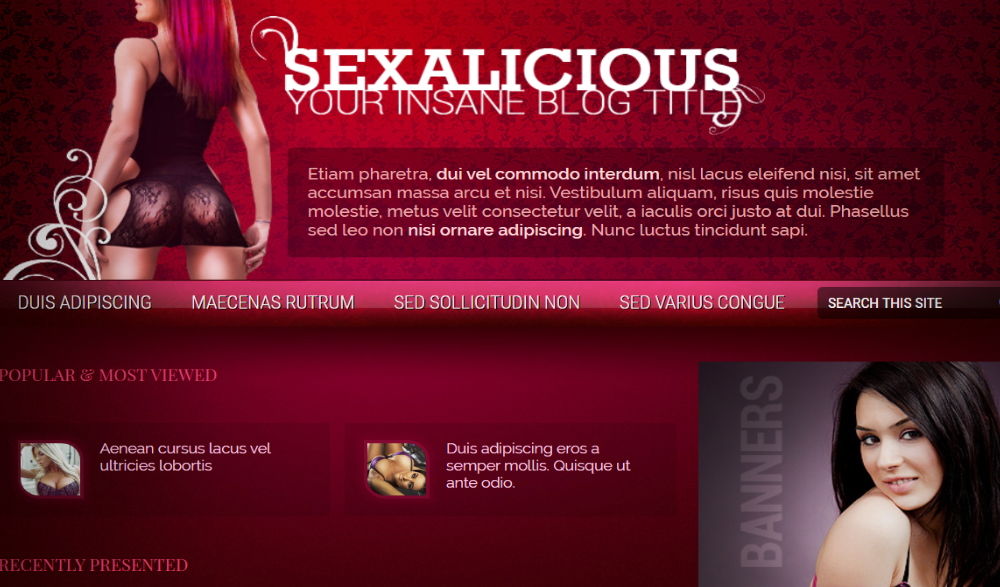 Sexalicious is a plain and simple WordPress erotic theme. It features an old-school design, but it has all the features a blog could ever need. It comes with a two column layout. There are a few useful sections there – Recent posts, Archives, and Categories. Above them, there's a space for an ad banner.
The websites color scheme is somewhat interesting – a great-looking pink, with a lovely header image.
Faces by 7themes
Faces is a clean and practical WordPress theme designed primarily for model agencies, but it can be used for porn websites as well. Especially escort agency websites.
Additionally, it comes with a neat built-in translation tool that will help you translate your website to other languages.
Gonzo by OllieMcCarthy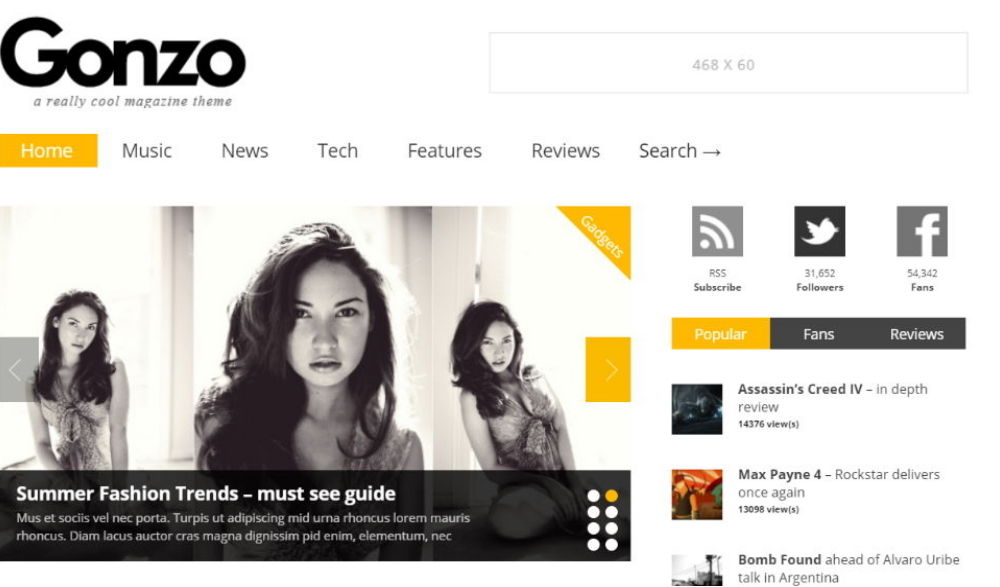 If you're starting your own adult blog and looking for the perfect theme for it, Gonzo is one of the best there is. While it wasn't exactly designed as a WP porn theme, it can be easily customized for adult websites.
By simply changing the images and colors, you can quickly transform it into an attractive adult blog theme.
Elite Agency by Bangthemes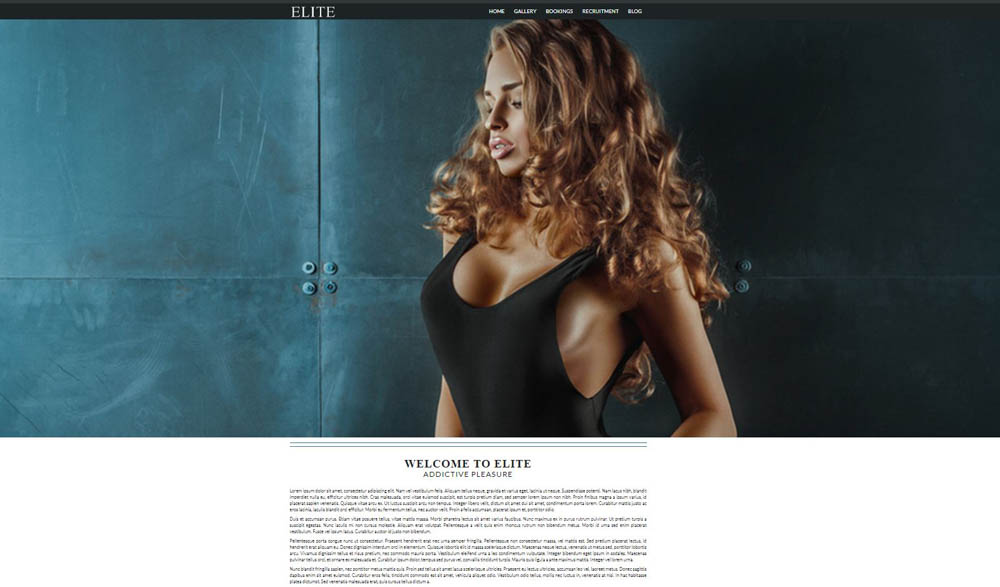 Elite Agency is an escort agency WordPress theme that is easy to personalize. However, it might take a bit more effort to transform it into a decent and modern website for adult models and performers.
Overall, the theme is a fair choice for an escort agency. Nothing more or less.
Desire Sexy Shop by YITHemes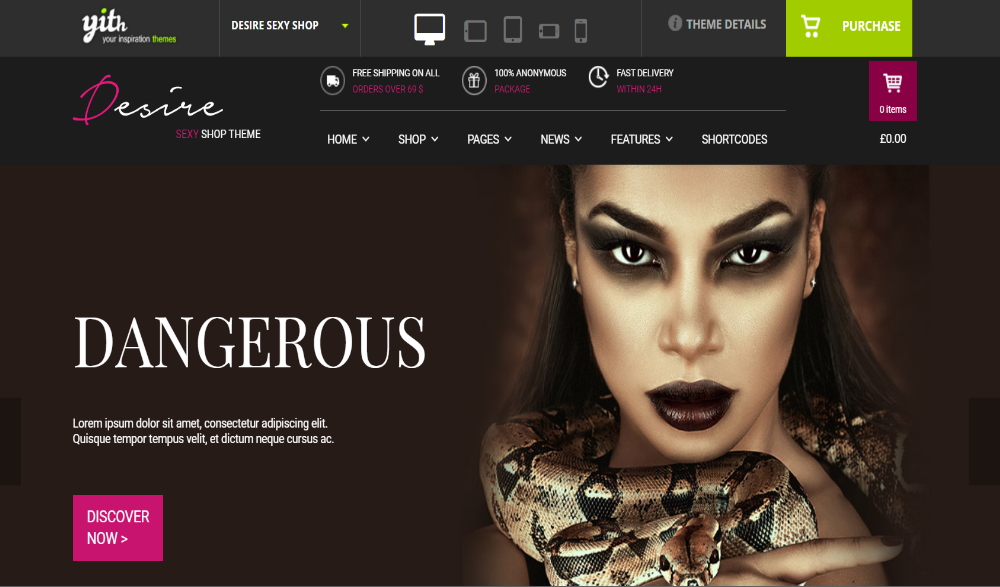 If you want to create a modern and creative adult store website, the Desire Sexy Shop theme is one of the best choices for you.
It was designed specifically for adult stores, which makes it a fantastic choice for a sex toy store. However, you can easily adapt it into any kind of porn shop as well.
Alessia by 7theme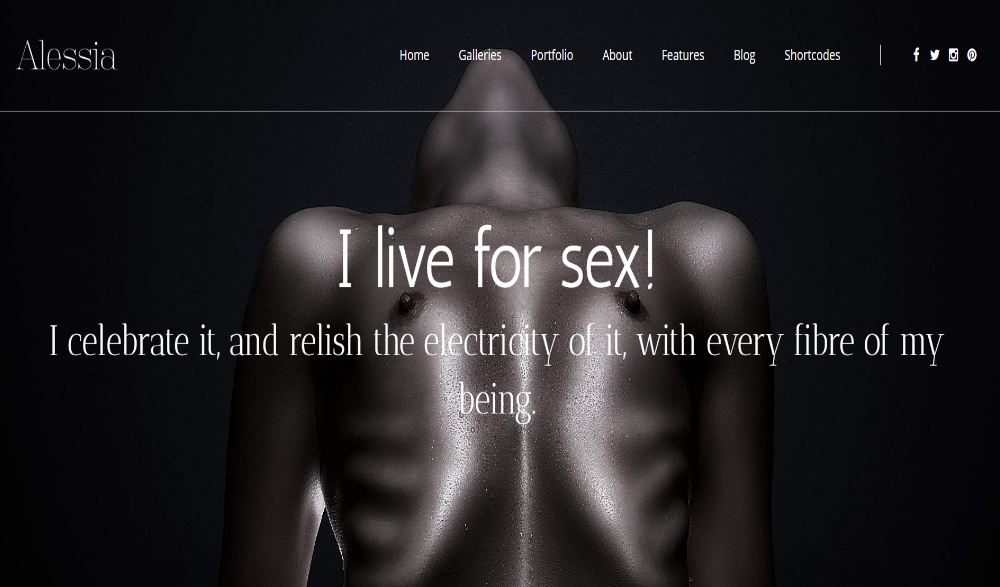 Alessia is a functional and simple WordPress porn theme. It's primarily made for sex workers, such as webcam models, escort ladies, adult performers. The theme's layout is pretty easy to navigate, but it might be a bit outdated for some.
If you don't mind the design, or if you're willing to invest your time to customize it, the theme has all the features a webcam model website needs to have.
Ladies by 7theme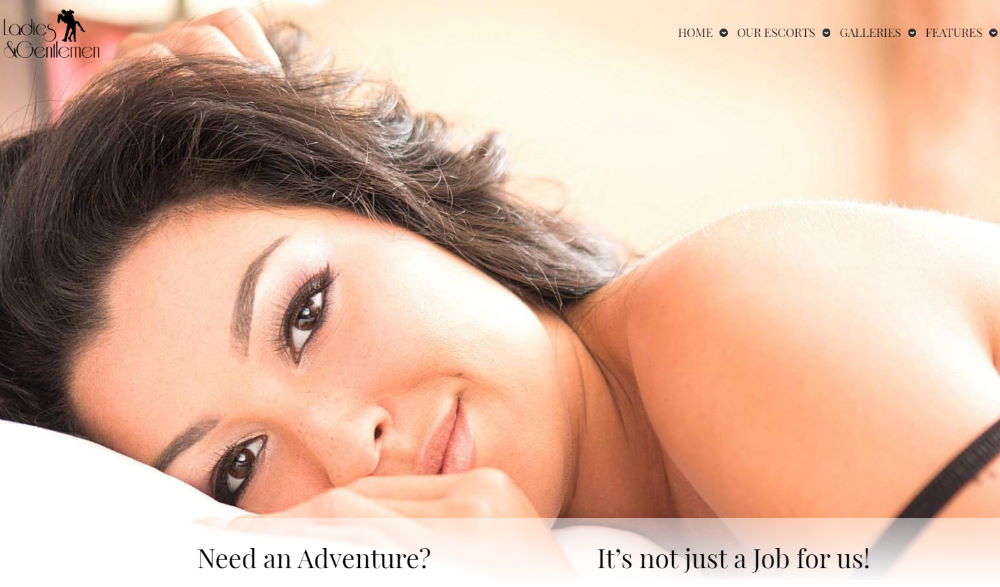 Ladies is a fantastic WordPress theme made for escort websites. However, it can also be used for an independent escort website or any type of adult model agency.
While the theme is clean and it has its features nicely displayed, it may seem a bit overly simplistic. This is especially true if you're looking for a multifunctional theme.
eModel by 7theme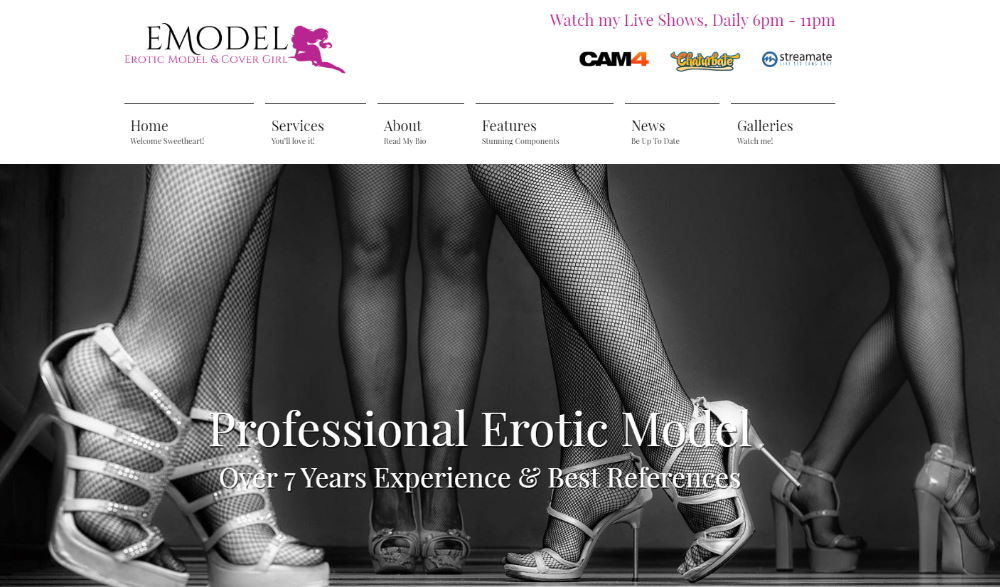 eModel is an interesting WordPress porn theme for all sorts of adult models. It's especially good for webcam models.
Although eModel's default design is pretty plain, it can easily be personalized. It offers more than 600 theme pre-made options and 800 Google Web fonts to choose from. So if you don't like the black and hot pink color scheme, you can change it whenever you want.
This theme has many different page types. But what's special about it is that you can password-protect certain pages and sell the password in your store. This basically allows you to transform this theme into a membership website.
Adult Experiences by Adult Templates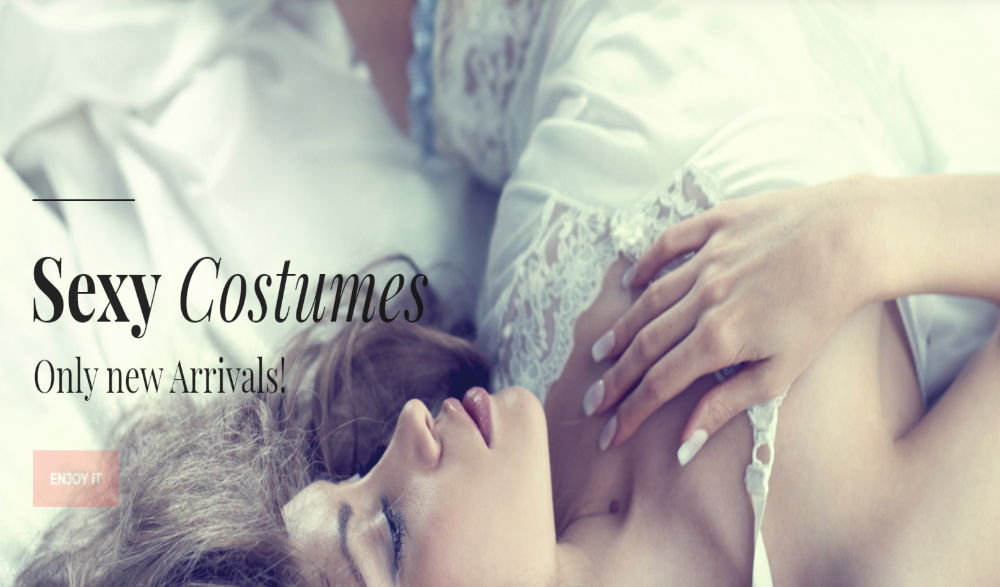 This theme was designed for an online adult store. It's a clean, simple, easy-to-navigate theme, which is everything an online store should be. All of your products are displayed on the home page. The theme also has very well designed product pages with the "Reviews" section, which is fundamental for every online store.
All in all, the Adult Experiences theme is extremely professional-looking and it's one of the best theme choices for your adult store website.
Kitty by 7theme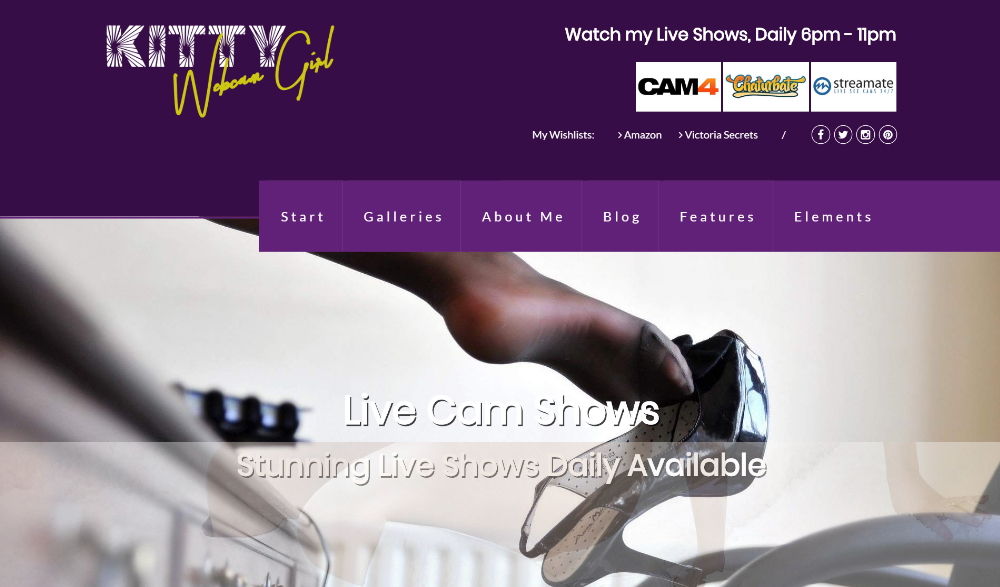 Kitty is another excellent porn WordPress theme for cam girls and amateur porn performers. It allows you to present your services (live shows, pre-recorded, custom shows, custom photos and videos, etc.) in a way that will certainly appeal to your customers.
In addition to that, the theme has a "Fan Club" feature where you can charge a membership fee for access to some special content or certain parts of the websites.
Kitty was designed in a purple color scheme, but you can change this to any color you want. You can completely customize all colors, background, and images, and even add your own logo.
And just like with any good theme for a cam girl's website, your camming networks will be displayed at the top of the home page.
Violet by 7theme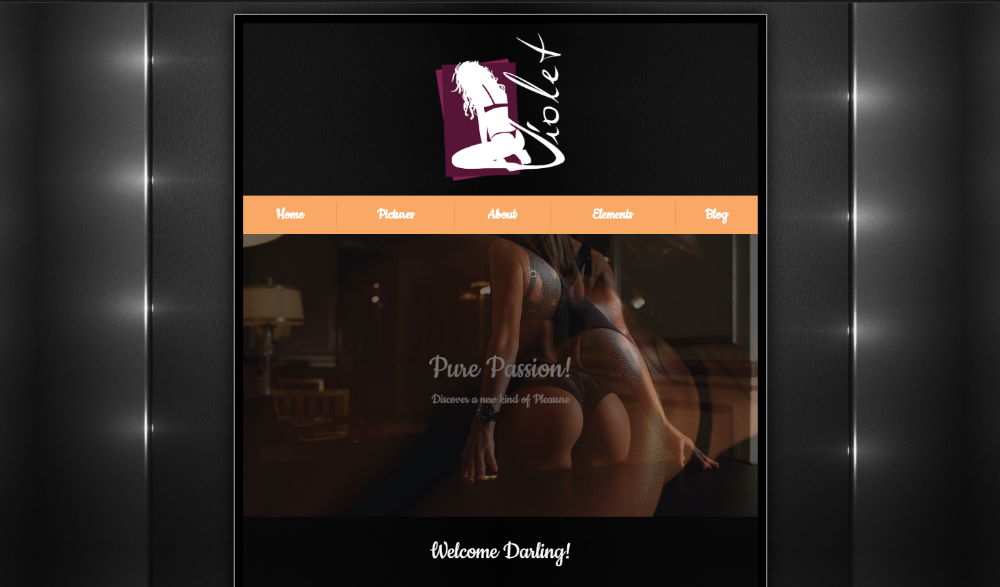 Violet is a unique WordPress porn theme, made especially for porn stars, webcam and amateur models. It has an elegant yet modern design that will certainly appeal to your fans.
Violet's design is quite remarkable on its own – simple and easy to use, but still very stylish. The one thing we don't really like is the orange navigation bar, but this can easily be changed. The layout, fonts and menus are all, of course, completely customizable as well.
Purple by 7theme
Purple is a stunning porn WordPress theme designed specifically for swingers clubs and topless bars. However, it can be used for any kind of amateur porn website. For example, you can use it for an escort service website or a platform for selling homemade porn. You can even use it to create an online store.
The different shades of purple were carefully chosen to appeal to potential clients. Plus, we really like the lively fonts. Of course, you have the option to change either of these if you don't quite fancy the coloring.
Laurania by 7theme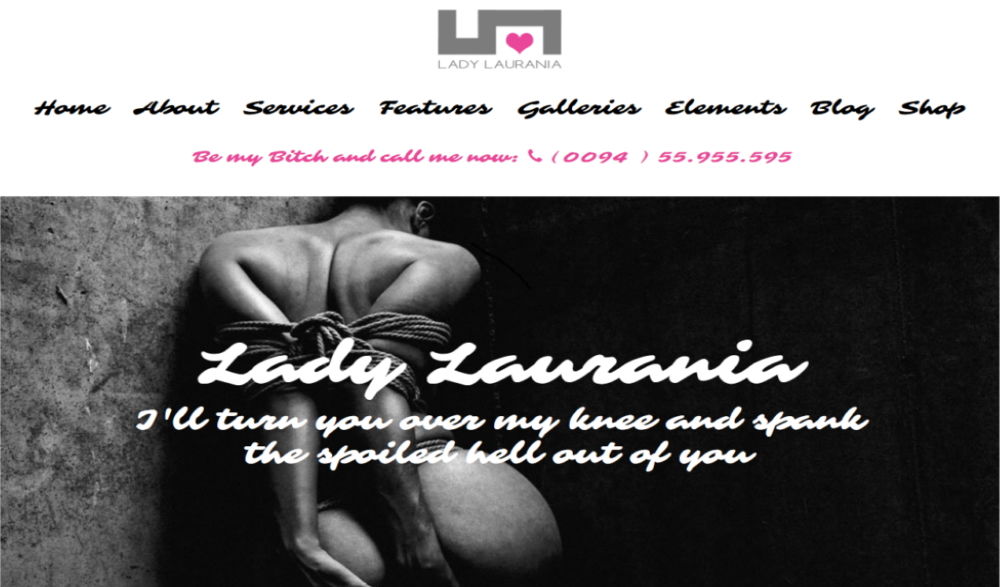 Laurania is a WordPress porn theme designed for dominatrix websites. Still, you can use it for other types of adult websites as well, provided that you're ready to invest some time to customize the layout.
This is a fantastic niche-specific theme, but it might not be the best option if you're looking to create other types of porn sites. That's why it's not any higher on our list.
Cora Amateur by 7theme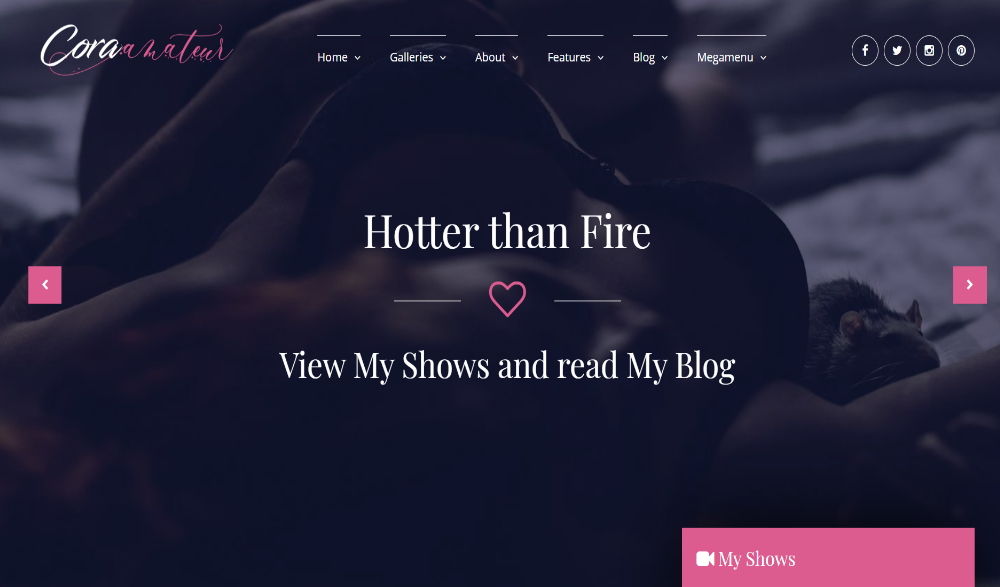 Cora is a modern porn WordPress theme. It was designed for amateur porn performers and webcam models.
You can use this theme to promote your shows as well as your homemade content for sale. Additionally, Cora has a "Custom content" section where you can list your custom content services. You can even add a list of porn tube sites where you're a content partner.
There's the "Fan Club" section as well, that lets your fans become part of your exclusive network for a small membership fee.
Rouge by 7theme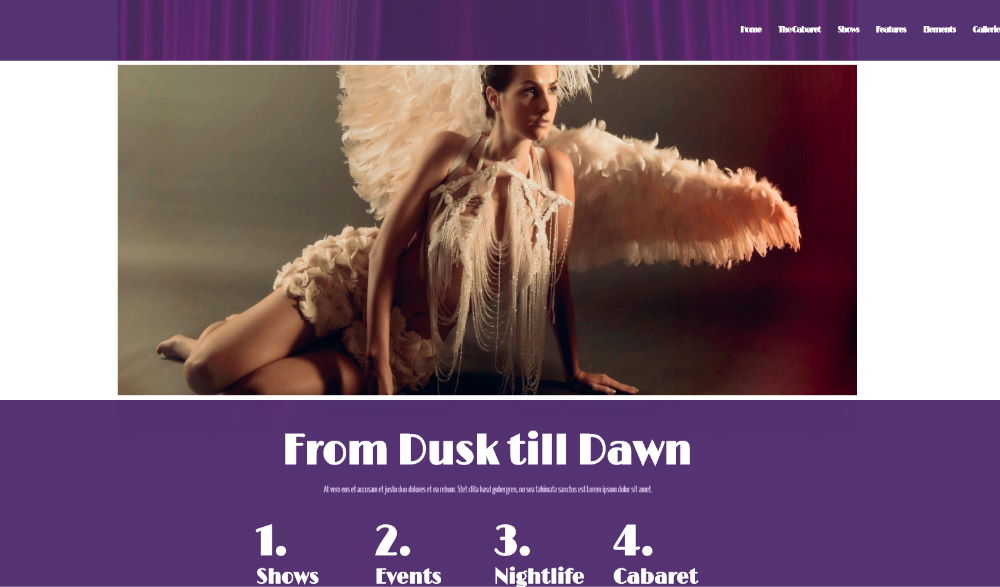 Rouge is an amazing WordPress theme, created for burlesque show websites, but there's no reason why cam girls and adult models can't use it as well. Its design is a bit retro, but it's still stylish and appealing.
An interesting feature is the "Upcoming shows" section, which you can use to announce when you'll be doing live shows.
There's also a segment called "VIP area", which you can turn into an exclusive fan club and charge subscriptions.
Honey by 7theme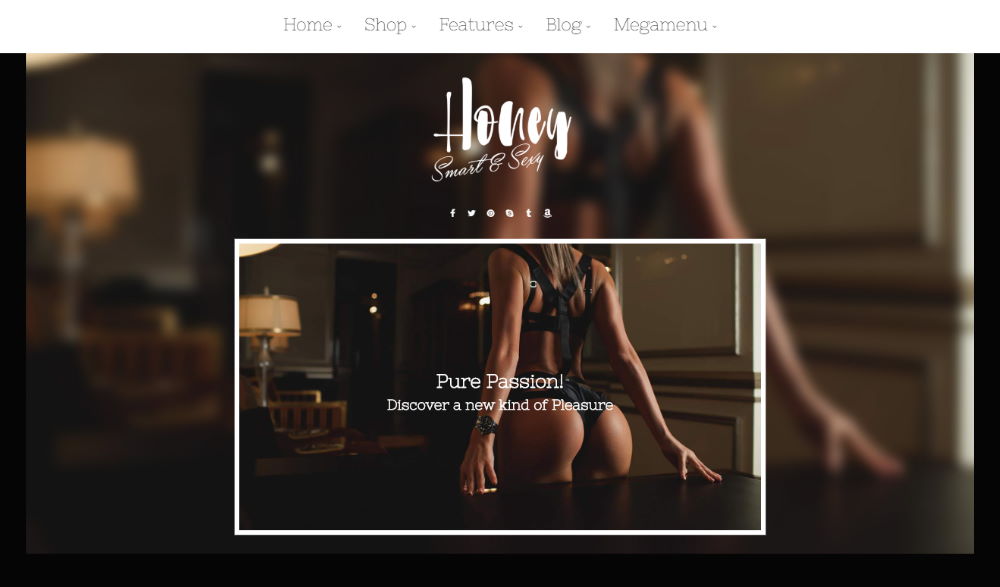 Honey is a chic WordPress theme designed for cam girl websites. It has an easy-to-use interface that lets you present your services in a very modern way.
What makes it different than the rest of the themes on this list is that it supports the Easy Digital Downloads plug-in for selling digital content (photos, videos, etc.). In addition to that, Honey has two pre-made sections – "Buy my used panties" and "Buy my videos and pictures" – that you can add right to the home page.
What's more, it has a feature that allows you to password-protect certain pages and galleries on your website and charge access to them.
Obsession by 7theme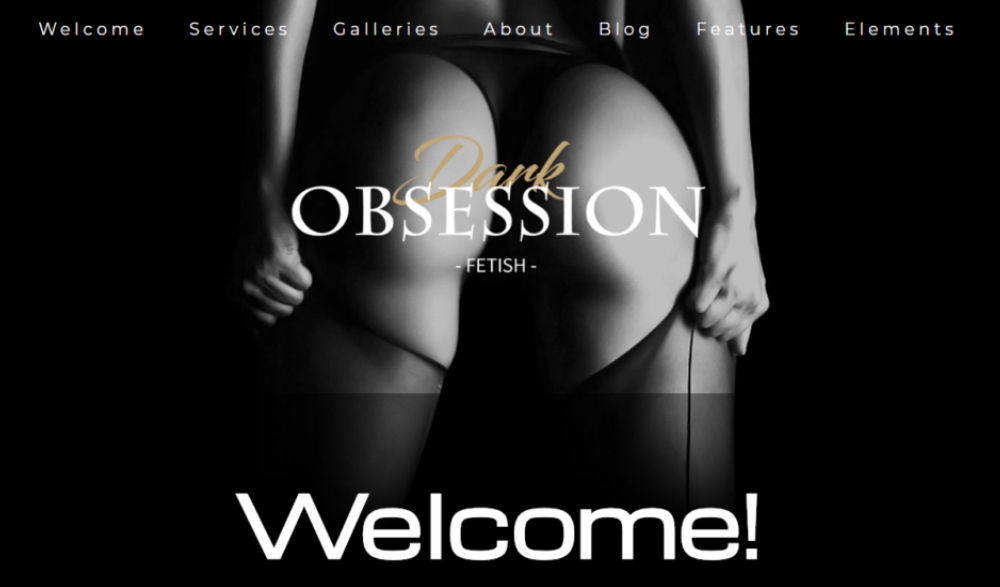 Obsession is a polished and elegant porn WordPress theme, made for a fetish or dominatrix websites. However, it's fully customizable and can be used for any kind of porn website, no matter what services you plan to offer.
What's especially remarkable is the home page slideshows and the way it's seamlessly integrated with the rest of the page. This gives the theme a very professional look.
A great feature of this theme is the "What's your favorite fetish?" section. This will give your viewers a quick overview of certain fetishes, right there on the home page. If you're making a dominatrix website, you can use this feature to list your services.
Roxanne by 7theme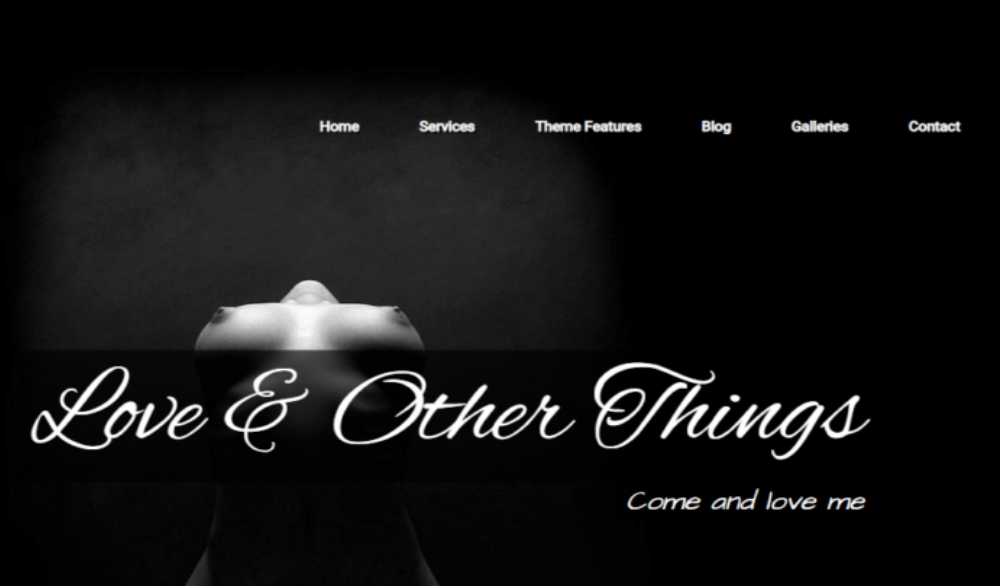 Roxanne is a porn WordPress theme that was originally designed for call girl websites. It can be used for dominatrix sites as well.
It's an excellently designed, simple yet attractive theme. It's 100% customizable, which you can change the layout as you like, but its original black and hot pink design is great on its own. The hot pink parts are particularly attractive, as they accentuate the most important elements of the website.
PornX by Vicetemple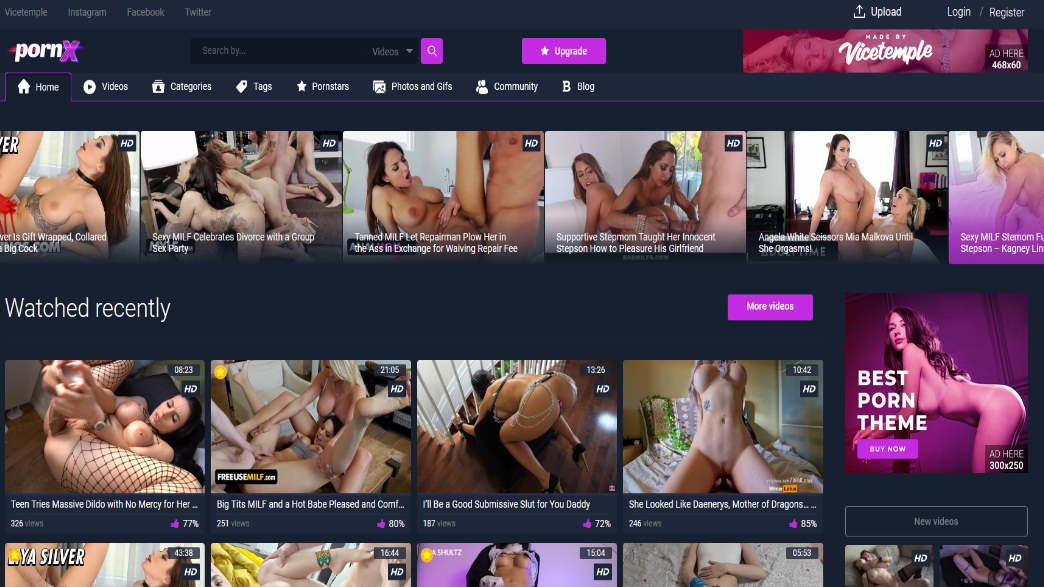 PornX is the leading adult tube theme made for everyone who wishes to start a porn website without any hassles and it's the latest addition to Vicetemple's growing collection of adult themes. It comes packed with many useful plugins, including Mass Embedder, Mass Grabber, Single Embedder, Vicetemple Video Player, and many others. All that for a low price of $99.
This concludes our list of the best WordPress porn themes. We're certain you'll find a theme that is perfect for you on our list, regardless of the kind of website you're starting. However, it's up to you to decide whether you want to – and how much – to invest in the design of your adult site.
You've probably noticed that there are no adult tube website themes on this list, though. Well, that's because we have an extensive guide to the best adult tube themes on the market.