You've heard that there's big money to be made in the porn industry. You've read up on the subject and now you want a piece of that profit for yourself. But you're not sure how to get started.
Well, you've come to the right place.
In this article, we will explain how you can make money uploading porn. Now, you may be wondering: Why uploading porn? Aren't there other (and better) ways to earn money from porn?
It depends. While there's no doubt that you can earn much more money by becoming a porn star, chances are you're not ready to get into action. That's why we've decided to present you with porn uploading, the best method to make money from porn. In fact, porn uploading is the easiest and the most cost-effective method to make money, as you'll soon see.
Everyone can learn how to make money uploading porn. All you need is a decent Internet connection and some basic knowledge of the most popular porn sites. It's that simple.
But if want to read about other methods that you can use to make money from porn, feel free to check out our extensive guide on making money from porn.
To cut to the chase, here are the 3 easiest methods that you can use to make money posting porn.
Make Money Uploading Porn With These 3 Easy Methods
If you want to get a steady income from uploading porn, you will have three different methods at your disposal:
Adult affiliate marketing
Starting your own porn tube website
Partnering up with popular porn sites
Naturally, each of these methods has its advantages and disadvantages.
In the end, it's entirely up to you decide which method you want to use, but we're here to help you make that decision. We've researched them thoroughly and compiled all the information that you will need to start earning money from porn.
Once you finish reading our article, you'll hopefully be able to make an informed decision and select the method that best suits you.
If you're still undecided after reading this article, you can always try out each of these methods on your own. None of them requires large investments, apart from your time. That's why we recommend that you give each of them a shot and see which one works best for you. Provided that you have enough free time, of course.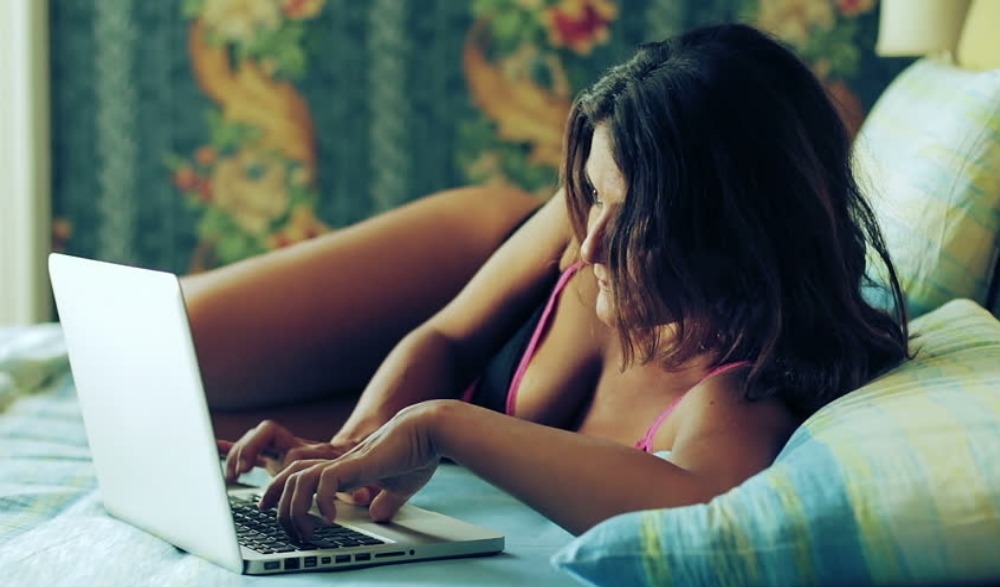 In any case, you won't regret trying out these methods, because they're all proven to work.
Before we go on and explain each of the methods in great detail, we need to stress something. Don't even consider working with child porn.
No hosting provider, onshore or offshore, will let you get away with it and your website will quickly get banned. Don't think that you can game the system and outsmart your providers. They will find you sooner or later and they will punish you. We're not even going to mention the ethical and legal issues that this raises in and of itself.
Adult affiliate marketing
Affiliate marketing is the most popular method used to make money uploading porn. It's probably the simplest of them as well.
A brief introduction to adult affiliate marketing
In short, with adult affiliate marketing, you'll be promoting one adult website on another porn site. You will be doing that with an affiliate link that you will be given from the site that you're promoting.
You will set up your own domain and start downloading and reuploading porn videos from one site to another. That's all you need to do.
This works because you receive a certain amount whenever someone opens your link and gets redirected to your affiliate website. Although you won't earn much from a single visitor, you'll see that the profit quickly adds up. Using this method, you can earn anywhere from $2 to $1000 per day.
However, before we go into more detail, we want to be completely honest with you – there are rumours about this being an outdated method. Lots of people are reluctant to start with it nowadays, because the competition has become so high that it's no longer easy to earn large profits.
Nevertheless, there are still people doing this method – and earning tons of money from it. But if you want to maximize your profits, you'll have to avoid the most popular adult niches like webcam or lesbian porn and find a less popular, underserved niche. Something like golden shower porn, for example.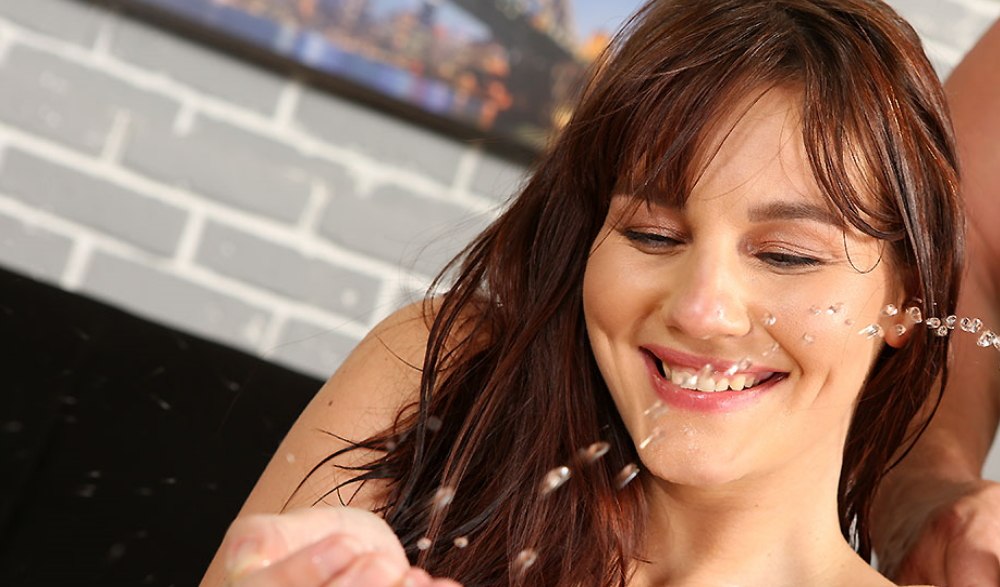 How to get started
Below, we're going to describe two different versions of the reuploading method. With the first version, you'll need to get a domain and a web hosting server, set up a website, then upload videos to both popular tube websites and your own. There, you'd post ads on your website and make money through them.
With the second version, you'll just need to get a domain name, but not set up a website. You'll include the name of your website in the titles of videos you post. When someone who views the video enters the domain name into their address bar, they'll be redirected to a link that your affiliate will give you. This link will take them to an advertiser's webpage or offer. When the viewer performs an action on that webpage, such as register for a free account or fill out a form, you'll receive a certain commission.
1. Find a domain and a hosting service
If you want to start earning money from affiliate marketing, you'll need to buy a domain and hosting. Preferably an offshore domain that can ignore DMCA complaints. This way, you won't have to worry about your website getting taken down due to copyright issues.
That means it's probably best if you avoid large hosting companies like GoDaddy, TMDHosting or Hostgator. Instead, we recommend that you get your domain and hosting from a proven adult hosting provider, like ViceTemple.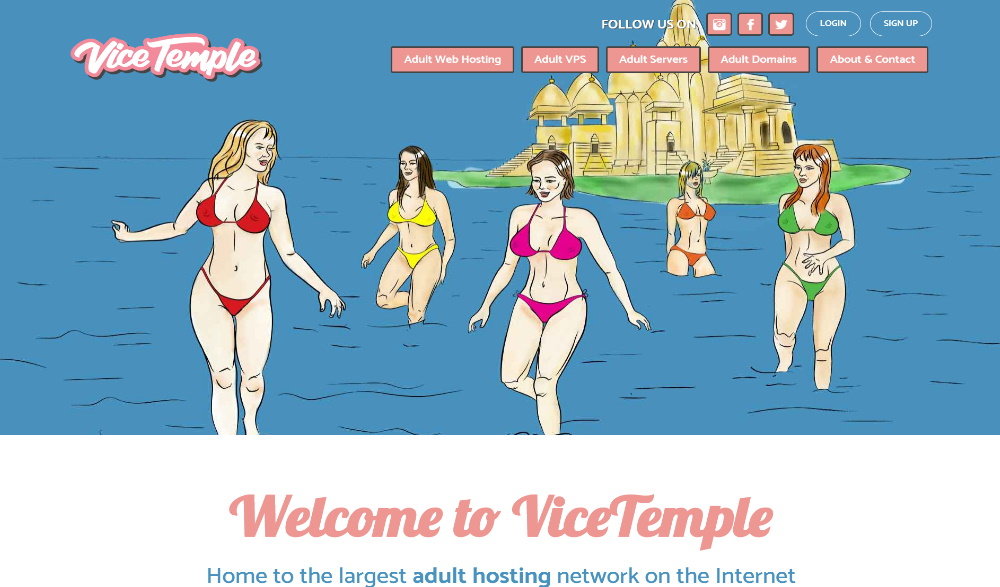 When you're choosing your domain name, make sure that it targets a specific niche in the adult industry. For example, HotGirlWebcam.com is a great domain name because it clearly tells your prospective visitors what your site is all about.
However, you should probably avoid the webcam niche, as we explained earlier. Similarly, you might want to use a domain extension other than .com, .net or .tv. While they're recognizable and trustworthy in the eyes of most people, they might cause you problems down the line. That is because most of these domains are subject to US law and DMCA.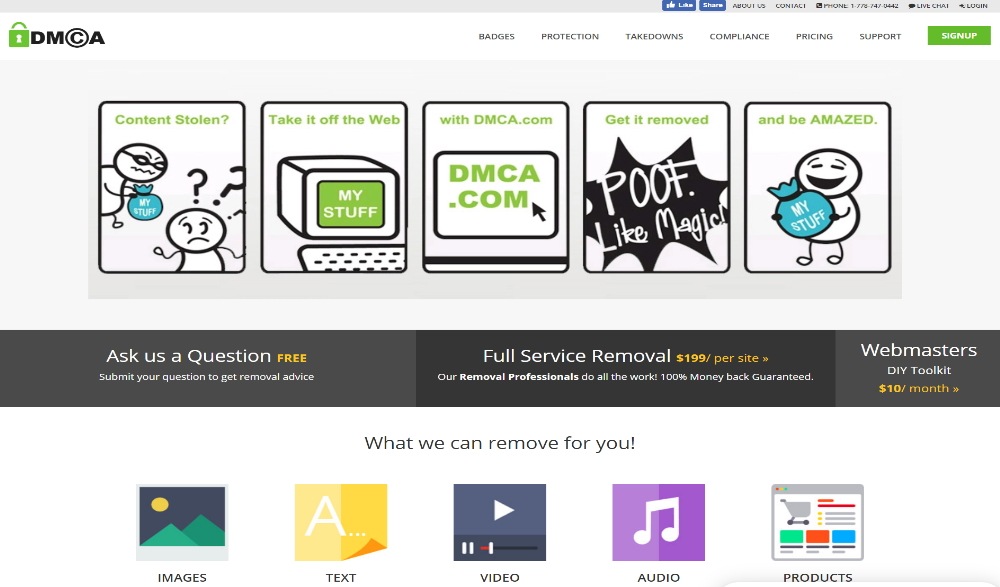 Therefore, you should consider picking a less popular, offshore extension instead. Extensions like .cam, .porn, .sex or .xxx are great options because they'll be more resistant to DMCA complaints and they're easy to remember. There will be no doubt what your site is about with a name like HotTeens.sex or BustyMILF.porn.
2. Redirect your traffic
Once you've picked your domain name, you should look for an affiliate marketing website and sign up as their affiliate. When you pass the standard check-up – don't worry about it, nearly everyone passes this test – you'll be provided with a link to an advertiser's website that you can use to redirect traffic to them.
In practice, someone will see your domain in the title of a video and type it into their browser. However, Instead of being taken to a website, they'll be redirected to the advertiser's website. The most popular sites that offer this type of agreement are CrakRevenue and Chaturbate.
After that, you can start uploading porn on popular porn websites and/or your own website. This part is pretty straightforward.
3. Start reuploading porn videos
Now, you can start reuploading porn videos.
All you have to do is browse popular porn sites, like PornHub and xHamster, and download amateur videos or videos shot with webcams. In other words, you need to download videos with no trademarks on them and reupload them on another popular porn website and/or your tube website.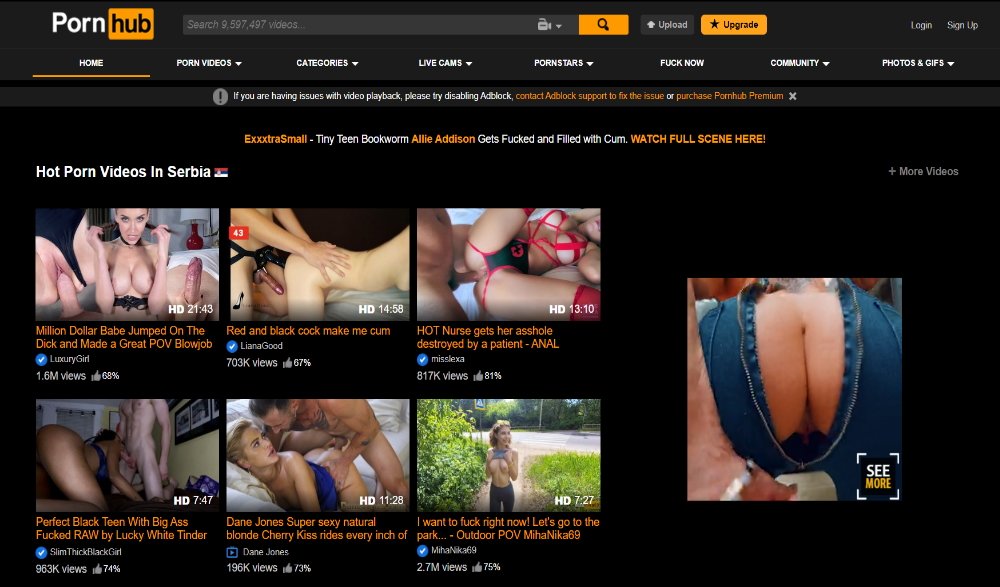 Then, you can use a video editor of your choice and add your own trademarks and watermarks to the video. You can also use a video editor to cut the videos in half. You would then post to first part to a popular tube site, and the second part to your website. However, you only need to do this if you plan to post videos to your tube site as well. We'll explain this in a bit.
Bear in mind that both these steps are optional. You don't have to do this, but it will likely drive more traffic to your website and in turn, earn you more money.
However, if you decide to do this, be careful. Most popular porn websites have restrictions in place regarding trademarking and they might close your account. It's best to test their policies by posting a few videos with trademarks to see how they fare. If they ban you, you will know to skip this step in the future. Of course, it's not the end of the world if you do get banned.
When that happens, you can simply create a new email address and register a new account with the porn website that you plan to use for porn uploads. Then, you just start all over again, keeping in mind what you can and can't do.
4. Include your domain in the video title
While you're uploading the videos, make sure to mention your domain in the video title. This is a crucial part, you can use titles to the tune of: Girl on Girl Scene – Watch More at mydomain.com.
If you cut the video in half, you'll want to add "Part 1" to the video you're uploading to a tube site. So, for example, your video title would look something like this: Girl on Girl Scene Part 1 – Watch More at mydomain.com. That way, if the viewer wants to watch the second part of the video, they'll have to go to your website.
Don't hesitate to play around with the titles, compare their performance and see what works best for you. You might find that your specific niche is more responsive to a certain type of headlines.
This will be the main source of traffic, so make sure to include a call to action that will get visitors to enter your domain name. Now, when they go to your site, they will automatically be referred to your affiliate site, like CrakRevenue or Chaturbate. The difference between these two sites is minor.
CrakRevenue is a CPA network. You're wondering what's CPA, right? CPA means cost-per-action and it's a type of affiliate marketing. Simply put, the affiliate partner is paid a commission whenever a user takes a certain action – open a webpage, fill out a form, register, or make a purchase.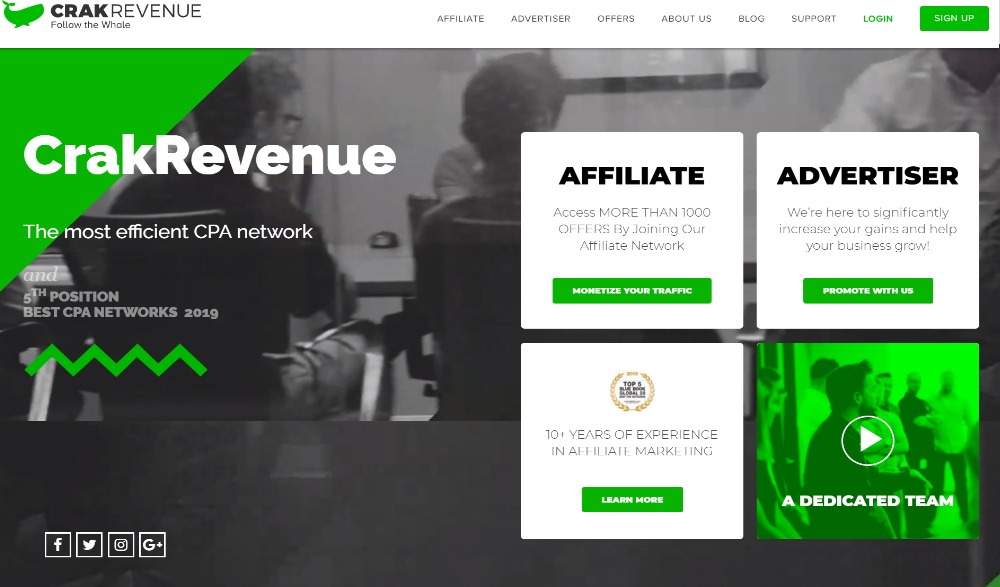 Chaturbate, as you probably already now, is a camming website. However, they have one of the best affiliate marketing programs in the adult niche. Because of what they call their "Genuinely Free" model (the visitor can enjoy the site without paying – free cams, adult chat, and more included), their program will significantly increase your conversions.
But their affiliate program is also essentially a CPA program. From your website, the user will be redirected to Chaturbate, where they'll have to complete an action, such as register for free, for you to get a commission.
However, if a user registers and starts spending tokens on Chaturbate, you'll get 20% from the lifetime amount spent by the referred user. This is what differentiates Chaturbate from CrakRevenue, and this is what makes it a great affiliate network to join.
Aside from that, you'll get a certain amount whenever someone registers on their website from your link. The amount you'll earn this way varies a lot, but it's usually 1-3$ for each new free account, and significantly more for paid accounts.
To get a steady income from this method, you'll need to spend at least 2-3 hours per day. That way, you'll be able to earn anywhere from $20-$1000. Of course, the more time you invest, the more money you'll be able to earn.
5. Consider outsourcing your work
Once you go full time on this, you can even consider outsourcing some of this tiresome work to some lower-income, developing countries. For example, you can try to find workers from India, the Philippines or Turkey. Since these countries have lower standards of life, you will be able to pay your workers less than you'd have to pay people from, say, Germany.
Now, don't expect to be bathing in money from day 1 with this method (or any other method for that matter). In order to build a regular stream of traffic to your website, you'll probably need to spend a few hours on this method for 2 to 3 months. Of course, if you decide to invest more time per day, you'll be able to get there more quickly.
6. Diversify
However, if you plan on spending more time on this method, you should look to diversify. Most porn websites will ban you if you spam them with 20-30 videos per day. To reduce the risk of getting banned, you should upload 5 to 10 videos per websites.
Luckily for you, there's an abundance of alternatives to PornHub and Xvideos. We've compiled an entire list of them for you to get started: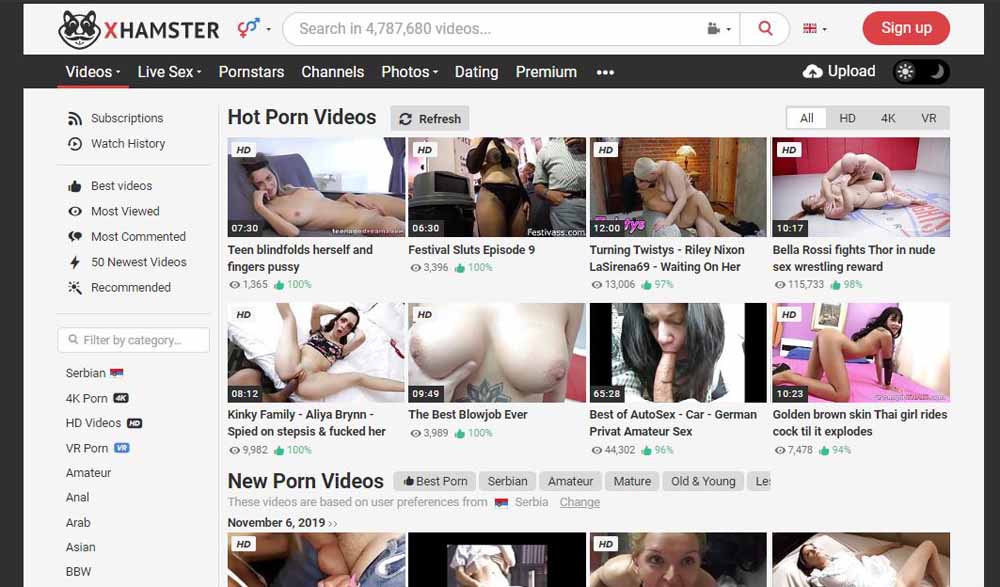 That's it! Once you upload a certain number of videos, you can lie back and just watch money pouring into your account. Now, how does that sound to you?
Start Your Own Porn Website
Of course, you can always start your own porn website. A porn tube website, to be more specific.
1. Buy a domain and a hosting service
This method is similar to the previous one, but with one notable difference: you actually need to find an adult hosting provider and a suitable tube theme for your site. Of course, it goes without saying that you need an offshore hosting service, as well. You're dealing with copyrighted material and you don't want to get into any DMCA-related trouble.
Again, we recommend ViceTemple for your adult hosting needs. They're a proven offshore hosting company with years of experience and expertise. What's more, they can help you optimize your site to increase conversions. More conversions = more money.
Don't worry about designing your website. Nowadays, you can find a suitable, pre-designed theme for next to no money. You'll just need to install the theme and personalize it a bit, by adding your own logo, contact information etc. If you're not sure what theme to pick, you can check out our article on the best adult tube themes.
We've already mentioned that you need to add contact information to your website. However, that doesn't mean that you have to use your real name and e-mail address. In fact, you can remain completely anonymous. Just use a fake name and e-mail address that you made just for the purpose of the website.
Your visitors need to have a way to contact you. Some of them might even help you grow your site and generate more traffic. You never know.
2. Start reuploading videos to your website
Now that your website is up and running, you can start uploading videos to it. There are a few different ways you can find videos that you're going to upload to your website.
The first one is the easiest. You can just embed porn videos from popular tube sites. Most of them allow this because it drives even more traffic to their website.
You just visit a tube site and open a video that you'd like to add to your site. Below the video, you'll see a "Share" option and under it, an "Embed" option. When you click on it, you'll get a little box with a code in it. This is the code of the video you're going to copy to your website. Then, you just need to copy the code to your website and you'll have a brand new video.
The other option is to try and find original content to upload. You can do this by looking for amateur porn performers or rising porn stars. Look for them on platforms like ManyVids, ExtraLunchMoney, and similar. When you find one you like, you can contact them and ask if they'd be willing to sell you their content and give you copyrights so that you can upload it to your site.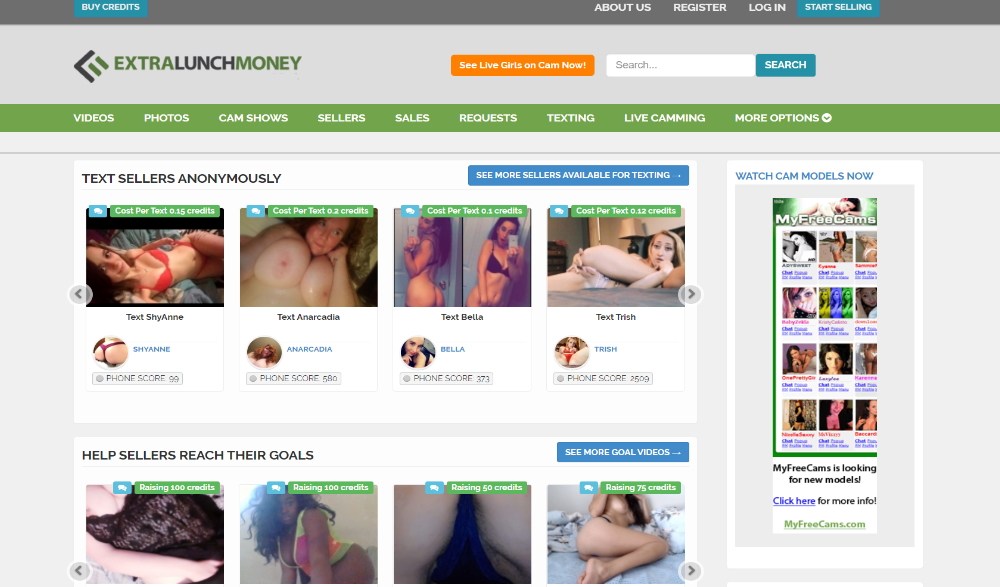 So far, starting your own porn website sounds pretty easy, right? But this is not all that there is to it, though. If you start your own porn website, you'll need to market it on other platforms.
3. Market your website
You can have the best content in the world, but you will not earn a penny unless you do your marketing right and generate traffic. Again, traffic is the key to your earnings. The more traffic you get, the more money you will earn.
First you'll need to advertise your website on various other platforms. Social media networks are great for this, except Facebook and Instagram. They don't allow adult content, so try to avoid them. Instead, focus on marketing your site on networks like Reddit, Tumblr, and Twitter.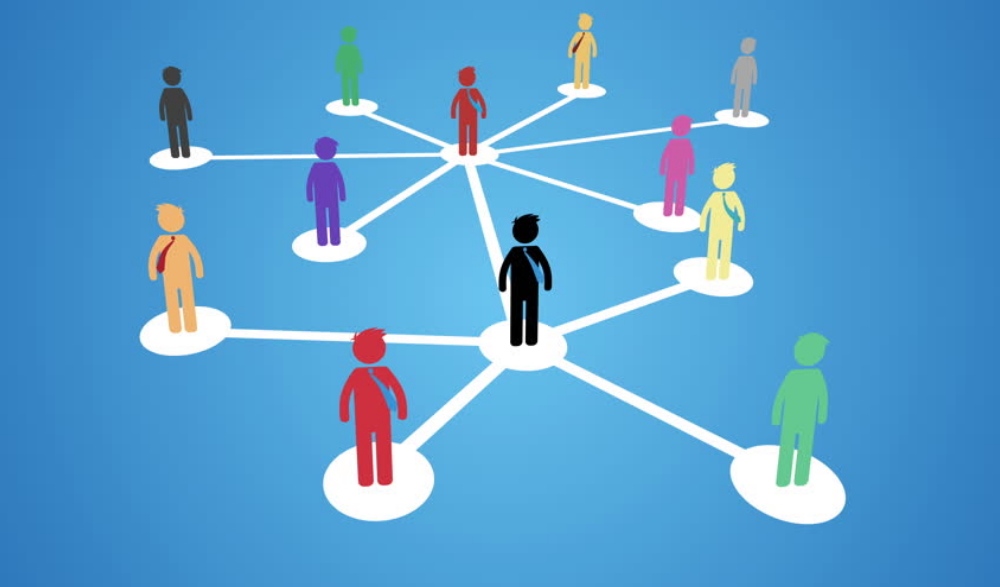 Create a Tumblr blog and post some screenshots and previews of the videos you're going to be uploading to your website. Find a bunch of Tumblr blogs similar to yours and follow them. Then, take a look at the notes on their posts, and follow the users who reblog them. Odds are a lot of these people will follow you back and then start visiting your website. Then, you can do the same thing with Twitter.
Reddit is another great network to market your website. What's even better is that there are subreddits that are niche-specific. So, for example, if you've made a BDSM, or foot fetish, or BBW tube site, just search for a thread related to one of those niches on Reddit, and promote your site there.
Another way to get more traffic (if you're going to be posting original content) is to upload previews of the clips on popular tube sites. Of course, you'll have to watermark them to prevent other people from stealing it.
Make sure to include your website domain in the title. For example, a great title looks something like this: Hot camgirl masturbates – Watch More At www.yourdomain.com.
Post these kinds of previews to all popular tube sites – Pornhub, Xvideos, xHamster, 8Tube, YouPorn, RedTube, etc. You'll start getting more and more visitors in no time.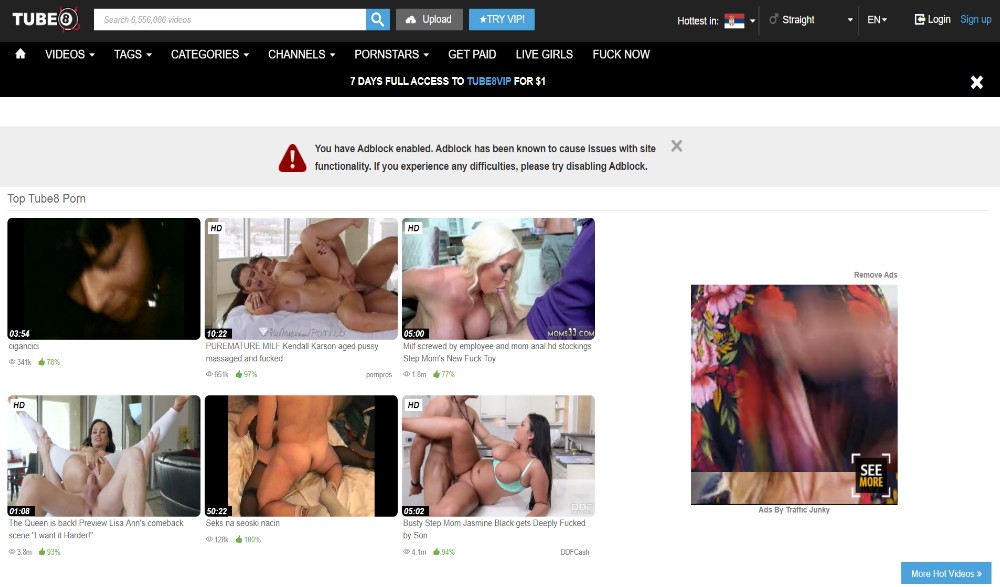 4. How to make money from your porn website
The best way to generate some money from your tube website is by displaying ads. There are a few different types of ads you can display – video ads, animated ads, text post ads, and pop-up ads.
The easiest way to get ads for your website is to join an affiliate program. There are many affiliate networks out there, but the best adult-friendly ones are CrakRevenue, Adxx, CPAmatica, and AdCombo. All you have to do is register with one of these networks, and you'll get an advertising code that you'll add to your website.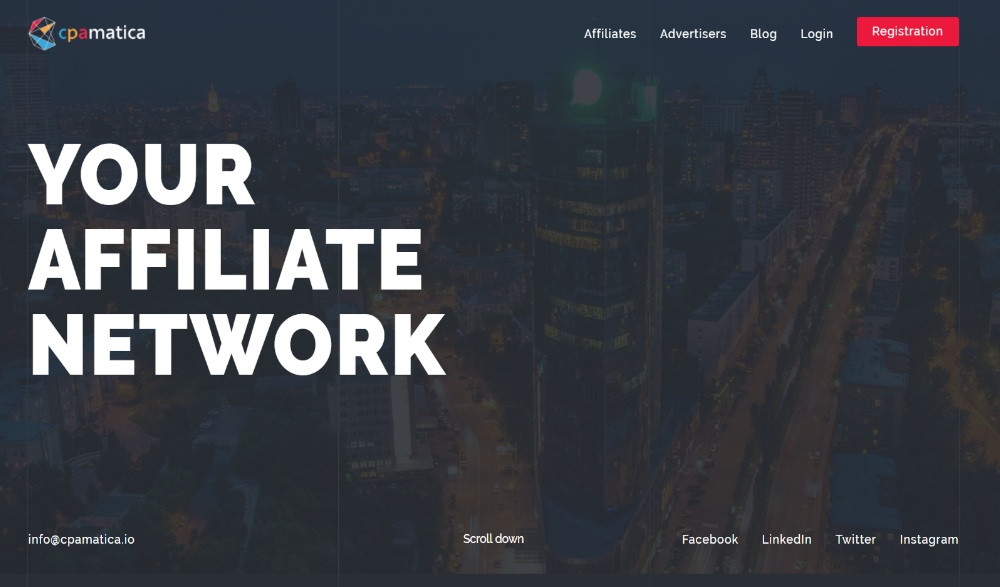 Of course, your earnings will depend on the number of visitors your website gets. In the beginning, you'll likely earn a modest income, but as your website grows, so does your earning potential.
When you get enough traffic, a few thousand visitors per day, you'll be able to sell your ad space and earn even more money. At that point, you can sit back and relax. The hardest part is over. You just need to keep the site running and continue uploading fresh videos.
Although this may sound too good to be true, it's actually not that easy. Getting traffic to your website is typically the hardest part. Luckily, we're here to help you with that.
5. How to get traffic to your website
Now, there are numerous methods that you can use to optimize your website and get more traffic.
One great on-site SEO technique you can use are meta tags. Meta tags are invisible tags that provide search engines with data about your page. In essence, they tell the search engines what the content of your website is about. Meta tags essentially highlight the most important elements of your web content.
They need to be coded into your theme, but don't let this scare you – it's not hard to do! For example, adult WordPress themes have a section for tags.
There are a few different types of meta tags; title tags and meta descriptions are the most relevant for people who are starting porn tube sites.
A title tag is one of the first things that is going to be noticed. A title should contain a clear description of your videos are about. Adding a title tag is simple, especially if you're using a WordPress plugin like Yoast SEO (which we highly recommend). You can also add a title tag through the site's HTML by adding <head> before the tag. Additionally, you can also include keywords you're targeting in the title. This will boost your SEO even further.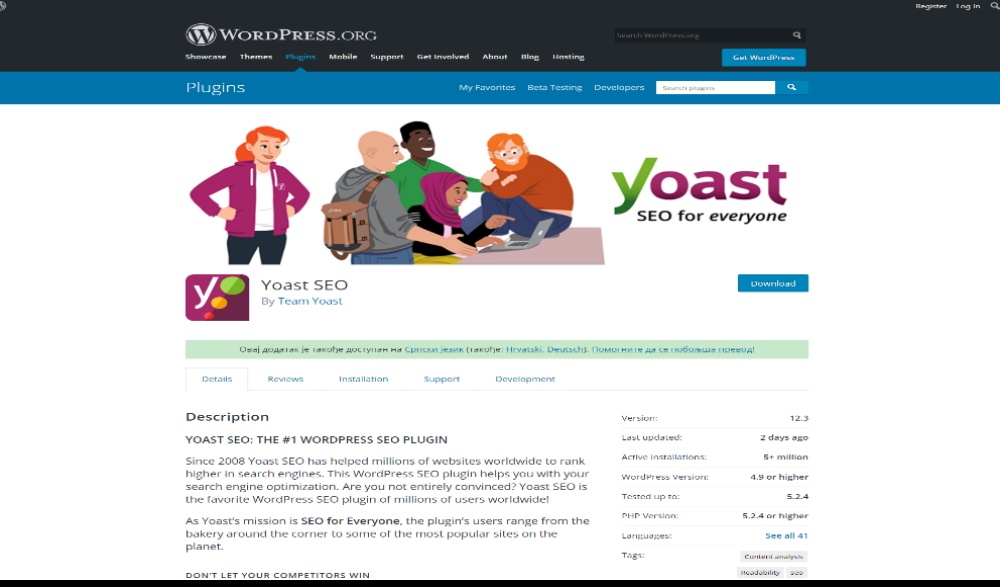 Meta descriptions are as important as title tags. For example, a meta description can briefly describe the contents of the videos you post. The ideal length of a meta description is between 150 and 165 characters. You can add them the same way you'd add a title tag – via Yoast SEO or the site's HTML.
Another great SEO tool are keywords. First you have to find which keywords you're going to target by doing keyword research. For this you can use the free Google Keyword Planner Tool. When you identify which keywords you're going to target, you just have to add them to your video titles and descriptions.
Additionally, you should also try to include SEO-friendly URLs. Typically, shorter URLs tend to rank higher. But most importantly, URLs that contain keywords perform considerably better. And ideally, the more readable the URL, the better. For example, a URL like yourdomain.com/word-keyword-word looks better than yourdomain.com/word-post?ID=77&kw=keyword-33567-word.
Remember, you'll need to market your website whenever you can. Don't hesitate to reach out to people that you find on social media and share your new videos with them.
If you're considering this method, you need to carefully review all your options before you get started. This will take a lot more time than the affiliate marketing technique that we explained earlier.
Become a partner
Last but not least, you can become a content partner of popular porn sites. However, this method is probably the hardest one.
If you want to become a partner of Xvideos, for example, you'll need to produce original content. This means that you either have to star in the videos that you upload or hold all the copyrights over the content. Naturally, most people looking to earn money from uploading porn don't fall in either of these categories.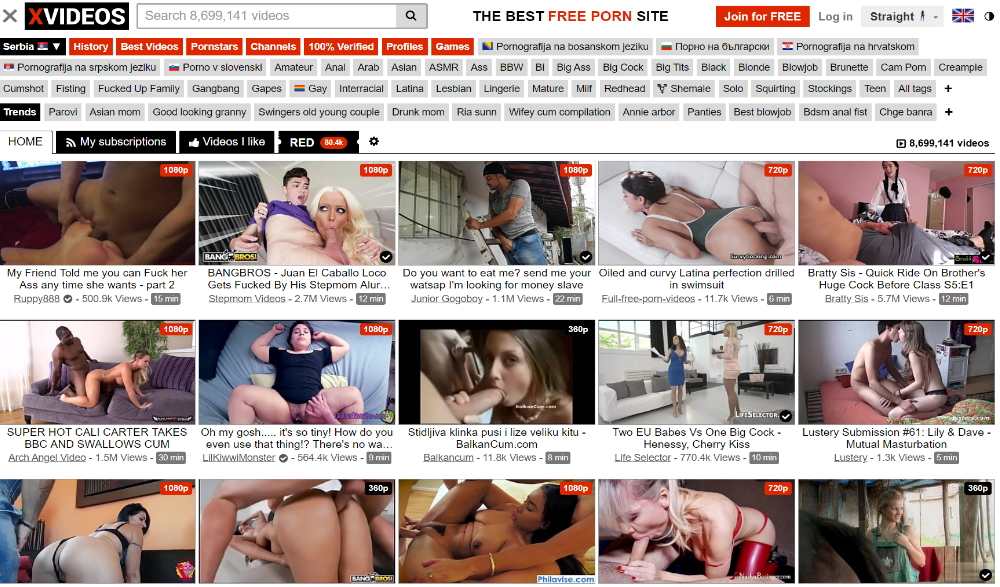 Therefore, it's hard to make money this way. Hard, but not impossible.
1. Acquire the copyrights
If you're not ready to perform in front of cameras and upload your own videos, you can buy out copyrights of amateur girls or up-and-coming porn actresses. Of course, you can do this with male performers as well, but your profit margin will be significantly lower in that case.
Once you get the copyrights, it's all a matter of you creating a partner account with a popular porn site and uploading videos. You'll earn a share of the ad revenue that your videos generate for the porn site.
Now, you might be thinking that you'd need ridiculous amounts of money to buy sharing rights to porn videos, but that's not necessarily true. Here, everything comes down to research.
2. Research up-and-coming porn stars
It will take some time, but with a bit of luck, you will be able to find porn stars that are only starting out. In most cases, they'll either have no agent or have a bad one.
If that is the case, they'll just need some persuasion and you'll be able to land the gig. Instead of asking them to pay you (which they probably can't afford), propose that you get a percentage of their profit. They will be more likely to accept that deal and you'll probably be able to become their representative.
The best place to find amateur performers and porn stars that are just starting out is on platforms for selling homemade adult content such as ManyVids, OnlyFans, and FanCentro. Just go through these websites and find girls whose content you like and reach out to them with an offer. You can even split the profits.
3. Start uploading the copyrighted material
Once you get there, you should be looking to promote her on various sites, and that means you can start uploading her videos to porn sites. Since you're her representative, you have full copyrights to share her videos and earn a share of the revenue from the videos.
However, bear in mind that this will likely be a limited profit in the beginning. Remember, the porn site takes a large share of the revenue, your porn star gets most of their share and you only get a piece of their profit.
Nevertheless, you shouldn't lose faith in this method.
4. Spread to the wider porn industry
It might be hard to get going, but once you start uploading the videos and spreading the word of your performer, you can begin making contacts in the porn industry. Then, your profit can skyrocket. Over time, you can find more porn stars that you will represent and become a full-time porn agent. Needless to say, your profit opportunities are endless.
What's more, once you spread your portfolio in the porn industry, some porn talent agencies might even offer to employ you. You could even eventually start your own porn talent agency. However, this is far along the way, and you'll need at least a few years of experience in the porn industry to get there.
5. Protect your copyright
Once your performer starts gaining more attention, people will start re-uploading her videos to popular porn sites. This is bound to happen in any case, so don't beat yourself up over it.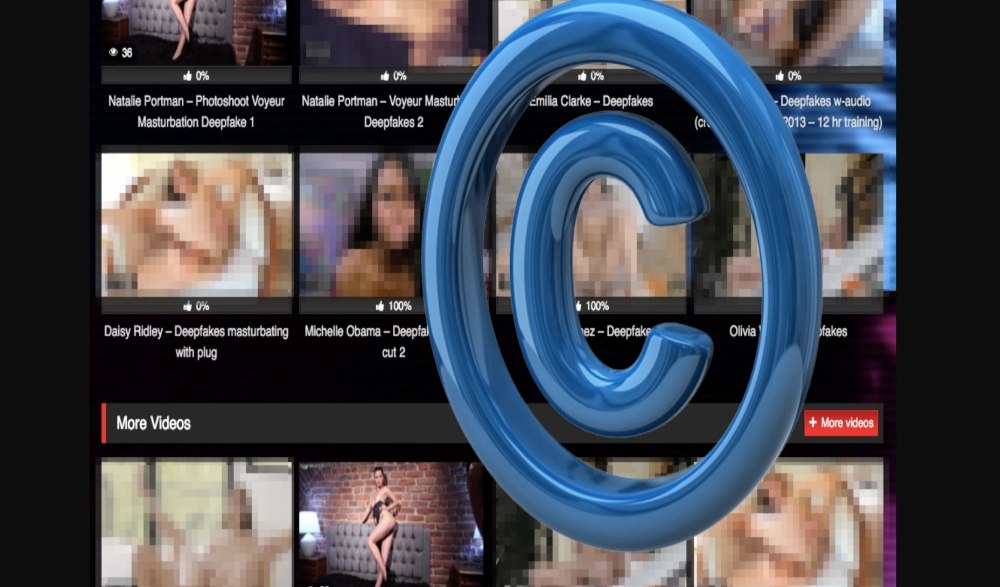 Instead, try to find as many cases of illegal uploads and report them. Once the sites confirm that you hold the copyright to the specific video, they'll either take down the video or better yet, they'll send you a share of the revenue that it generated. In other words, people will be uploading your videos and you'll be taking all the money from it.
Review
That's it! That was the last method that you can use to make money uploading porn. As you may have noticed, uploading porn videos as a partner is practically your gateway into the porn industry. That is why this method is the hardest, but also the most lucrative, if you have enough time and if you're willing to learn on the go.
We advise to carefully review your options before you make any decision. While ViceTemple offers a certain money-back guarantee, most domain and hosting providers won't be able to offer you that.
In the unlikely event that you don't figure out how to make these methods work and earn money, you might be forced to give up your initial investments. Although most people can let go of $20-$80 (or slightly more) during the course of the first three months, we understand that that's not a small amount by other people's measures.
With that in mind, we can't stress enough how important it is to inform yourself before making a decision that could impact your short-term future. Before you decide on anything, we advise you to check out our article How To Make Money From Porn and read about all the other ways that you can earn money with porn.
When you finally decide on what works best for you, simply follow our steps, dedicate your time to the chosen method, and you'll be making money sooner than you expect!